Return to the Home Decorating & Design Forum
|
Post a Follow-Up
---
| | | |
| --- | --- | --- |
| Today's Curbside Find | | |
Posted by
TheFoxesPad
(
My Page
) on
Sun, Jul 27, 14 at 11:50
On the way

home
from church today I scored this coffee table and 2 side tables. Luckily today we took separate vehicles so I was able to fit it all in my van. Can't wait to choose a paint color for the legs and aprons.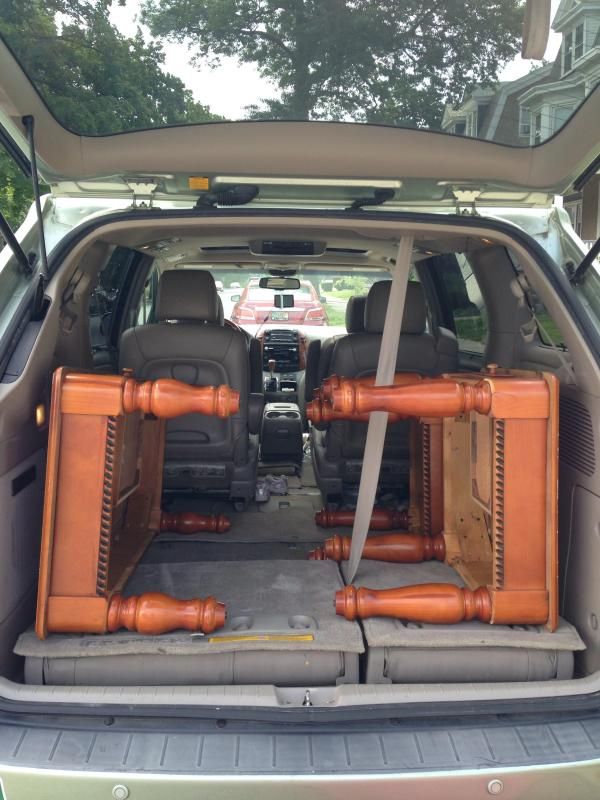 Last Spring we got our patio table, 4 chairs & outdoor living room set from the same household for the same price. Free was the offer but Mr. Fox always gives anyways. I guess that makes us regulars!
This post was edited by TheFoxesPad on Sun, Jul 27, 14 at 12:02
---
Follow-Up Postings:
| | | |
| --- | --- | --- |
| RE: Today's Curbside Find | | |
Score 3 for Mrs. Fox! Seriously, you must have radar or something!
---
| | | |
| --- | --- | --- |
| RE: Today's Curbside Find | | |
Ha! Both times we were passing their house just as they were putting the last piece down on the lawn. Excellent timing!
---
| | | |
| --- | --- | --- |
| RE: Today's Curbside Find | | |
Score is right! I wonder why they are just giving away such nice things. Perhaps to avoid the aggravation of selling? I wonder. Anyway, congrats!
---
| | | |
| --- | --- | --- |
| RE: Today's Curbside Find | | |
Nice! They are going to start thinking you are just hanging out at the end of their block waiting to see what they'll put out. Give them your # for their next go-round. Who knows what you've missed!
---
| | | |
| --- | --- | --- |
| RE: Today's Curbside Find | | |
dedtired, we have a nice Chinese elm wood cabinet that is 6 ft. tall. It cost $1,500 about 14 years ago. We don't have a good spot for it in this house. Tried local ebay and no takers. I volunteer at a local non-profit thrift store, but they have no room for large furniture. Tired of it sitting in the rear garage and we will probably just put it at the curb with a free sign. I've seen similar ones, of lesser quality, going for what we paid for it. I don't need to make money off of it and would like it to get picked up by someone that appreciates the piece.

We had better luck with a solid farm table and 8 chairs on local ebay. Those got picked up right away by a younger family in our same town. They got a great deal.

Sometimes it is just about nice pieces that no longer work in your house (or new house in our case) and you just want to pass it on, at no cost, to someone that will appreciate and enjoy the piece.
---
| | | |
| --- | --- | --- |
| RE: Today's Curbside Find | | |
They were merging 2 households under 2 roof's to 1 household under 1 roof. They've never really been interested in selling the stuff as much as just getting rid of it as quickly as possible.

Nice family!

Chispa - do you have a Purple Heart charity in the area? They often look for and will pick up large furniture items.
---
| | | |
| --- | --- | --- |
| RE: Today's Curbside Find | | |
Foxes, I had never heard of that charity group and will look it up. Thanks

Edit - just looked and they want small furniture that can easily be picked up by one driver. Mine will be too heavy.
This post was edited by chispa on Sun, Jul 27, 14 at 23:39
---
Post a Follow-Up
Please Note: Only registered members are able to post messages to this forum.
If you are a member, please log in.
If you aren't yet a member, join now!
---
Return to the Home Decorating & Design Forum
Information about Posting
You must be logged in to post a message. Once you are logged in, a posting window will appear at the bottom of the messages. If you are not a member, please register for an account.
Please review our Rules of Play before posting.
Posting is a two-step process. Once you have composed your message, you will be taken to the preview page. You will then have a chance to review your post, make changes and upload photos.
After posting your message, you may need to refresh the forum page in order to see it.
Before posting copyrighted material, please read about Copyright and Fair Use.
We have a strict no-advertising policy!
If you would like to practice posting or uploading photos, please visit our Test forum.
If you need assistance, please Contact Us and we will be happy to help.

Learn more about in-text links on this page here