Return to the Home Decorating Forum
|
Post a Follow-Up
---
| | | |
| --- | --- | --- |
| What do you think of black kitchen appliances? | | |
Posted by
jockewing
(
My Page
) on
Fri, Jul 24, 09 at 11:19
I came home from work the other day to find a big puddle of water in front of my refrigerator. Looks like the compressor is blown, so I decided to go shopping since I needed a dishwasher anyway.

I have a rather small kitchen that is part of a large open LR/kitchen combo, although the kitchen is partially enclosed by a half wall so the appliances aren't totally out in the open.

I have ugly pickled cabinets and have been wanting to paint them a white or cream and add really sharp nickel or chrome pulls. I formerly had white appliances, and really wanted stainless, but I just can't afford the "true" stainless stuff. I ended up getting a textured black 22 cu ft side by side Whirlpool with water and ice dispenser in the door with built in filter for a really great price of $800, and got a standard black Whirlpool DW. How do you think this will look with white or cream cabinets? The walls are BM Azores (may change to SW Halcyon Green), a lovely mid-tone blue green. I think blue green looks fantastic against black and white, so I'm really excited about how this might look. I was worried that if I got white appliances again, once I paint my cabinets white it would be way too white.

For now, the range and range hood will be white, but once I pay off the fridge and DW, I plan to purchase a new range. I notice alot of the black ranges have stainless accents. I thought getting one of those with a stainless hood will finish off the look.

So, the finished Kitchen will be --- white or cream cabs with nickel or chrome pulls, black fridge and DW, black and stainless range and vent hood, blue green walls, tan ceramic tiles. Currently have a sort of orange-y rust colored laminate countertops that go well with the blue green, but would love to eventually change these. Eventually would also like to add a stone or tile backsplash, or maybe even stainless.

Did I make a mistake with the black apps, or does it sound like I'm headed in the right direction?
---
Follow-Up Postings:
| | | |
| --- | --- | --- |
| RE: What do you think of black kitchen appliances? | | |
I personally love black appliances. I'm not a fan of stainless. Resale would do better w/ stainless, but if you're not planning on selling anytime soon, then get what you like. I do like the black appliance/stainless hood combo, though. I saw that on an episode if Get It Sold recently (I think that was the show!).

I recently replaced my diswhaser and struggled w/ getting white or black. My stove is a white/black combo (body is white; drawer, oven door and knob/clock area are black), the new OTR range is black, and the fridge is white. I finally went w/ white, but after it was installed I wished I had chosen the black. I am starting to have problems w/ the 11YO fridge (had a icemaker leak that resulted in a $3,000+ insurance claim, broken shelf in the door, etc). It'll probably be replaced w/ a black one unless I get a great deal on something else. I got such a deal on the DW (discontinued model at Lowes) that if the fridge can hold out 3 years or so, I would even consider replacing the DW then w/ a black one!
---
| | | |
| --- | --- | --- |
| RE: What do you think of black kitchen appliances? | | |
I have a black fridge & DW. My countertop microwave is stainless, but the stove & hood remain white. I love the black appliances and want to change out my stove, too, but due to a gas line problem (moving would require major renos) it remains cream for now. I've got black burner covers, and since my stove is a push in, it's not really TOO noticeable.

My cabs are all cream with an antique glaze and I have ORB fixtures. It all works well for me!
---
| | | |
| --- | --- | --- |
| RE: What do you think of black kitchen appliances? | | |
We have stainless now but had black in our last house. We loved the black.
---
| | | |
| --- | --- | --- |
| RE: What do you think of black kitchen appliances? | | |
I like black appliances, but only with darker colored cabinets and/or counters.
---
| | | |
| --- | --- | --- |
| RE: What do you think of black kitchen appliances? | | |
My only problem with out black cooktop, wall oven, microwave and DW is fingerprints and grease (cooktop). Our side by side is stainless with textured black sides so there's a fingerprint problem there too. The grease and stainless were the hardest to find something to keep them looking clean. I've never buy a black cooktop again unless it was a glass top.
---
| | | |
| --- | --- | --- |
| RE: What do you think of black kitchen appliances? | | |
I am switching out black appliances for SS. Black would be fine in a refrigerator or DW, but I hated my black range. I had to wipe it down at least daily, more often if company was coming, even if I hadn't cooked a thing, because the flat surface would collect a visible layer of dust faster than anything in the house. It never stayed looking clean for long. Think of a shiny black car - high maintenance to keep it looking its best. Do yourself a favor and look for one with a black and grey speckled top and black sides rather an a solid black top so it isn't quite as noticeable. In order to look right with white cabinets, personally, I think you will really have to embrace a black and white theme and carry the black in other things as well so the appliances don't stick out. You might be able to add a third color to brighten things up, but you will be commiting to black and white for quite a while as your main theme. If you post on the kitchens forum you can probably find photos from people who have done it.

Sue
---
| | | |
| --- | --- | --- |
| RE: What do you think of black kitchen appliances? | | |
Maybe you should consider painting the lower cabinets a darker color to tie into the new appliances.
Diane
---
| | | |
| --- | --- | --- |
| RE: What do you think of black kitchen appliances? | | |
Well my black refrigerator was delivered today. I can't say that I love it yet, but I don't dislike it. I think it will just take some getting used to. I don't think it looks bad at all. I think it will look great with the painted cabs and knobs, etc. It goes fantastic with the blue green wall color
---
| | | |
| --- | --- | --- |
| RE: What do you think of black kitchen appliances? | | |
You'll need to post some photos, Jock! I have mostly black appliances. When we moved in, the Microwave was black, built-in oven black, DW and cooktop were almond. So when the micro went out, we replaced with black. When we did a small makeover in '06, we bought a stainless look frig with black sides, a black glass cooktop, and a black DW. It wasn't hard to make the decision on color, because we were trying to update while keeping costs down.
Right now, I'm thinking about a similar wall color in there........something that goes from soft green to blue to gray. My cabs are oak and I won't be painting them this time around, although that idea is not out of the question. Here is my Before...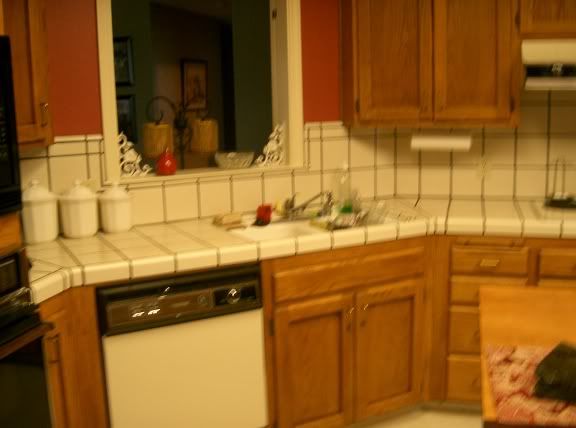 The After (Budget Remodel)

I like mine quite well, but might do a stainless wall oven if I get to replace it soon. Of course, then, I would have to replace the microwave. I think we have to keep a balance between what looks good and what we can realistically afford to update.
And I HOPE that the wall color I want, similar to Jockewing, will work with the wood cabs, brown gold flooring, and black appliances.
Red
---
| | | |
| --- | --- | --- |
| Halcyon Green | | |
Looking for images, I found this one of a lady painting her kitchen in Halcyon Green. Real pretty.

Red
Here is a link that might be useful: photo
---
| | | |
| --- | --- | --- |
| RE: What do you think of black kitchen appliances? | | |
Before we moved I had black appliances for well over 12 years. Frig, cooktop, 2 ovens, compacter, dishwasher. I loved all of them.......except the sink. DH actually picked it out (not sure why I let that happen) but he's never been allowed to make any decisions for my kitchens since. LOL . Anyway, our hard water left a white film on it that was next to impossible to remove. No amount of waxing kept it free from that film. The only thing that came close to working was my bathroom shower cleaner which I sprayed on it faithfully every single night before heading to bed. It was horrible.
---
| | | |
| --- | --- | --- |
| RE: What do you think of black kitchen appliances? | | |
I love black appliances and I did have a mix of SS and black for about 3 weeks and did not mind it at all. In fact, I kind of liked it. My stainless steel solid surface electric cooktop is, of course, black and the sides of stainless fridge are black, my built-in microwave was black. The dishwasher was black. Dishwasher went out during our upgrade of countertop and backsplash, so that was easy to move to stainless and as fate would have it, three weeks after the upgrade was complete, the microwave went out and we replaced it with stainless and I had no aversion to going to a mix for the long haul, but as it worked out it was a short haul.

Personally, I prefer black over stainless just as I like other surfaces better than granite, but sometimes the man writing the check gets to pick some of the stuff.

I also did not like the black sink when I had it in another house in another life, and in this house even with the black appliances, we immediately changed to a stainless sink (which we had done in the former house) as well. I think black and stainless are a good mix and match whereas some colors just do not do that well.

Red, I love that Halcyon color and it will give your beautiful red kitchen a new look. (You have such great taste and that tile is to die for).

I loved my red kitchen too but now I am loving my dry sage kitchen just as well. I am sure one day I will tire of that and perhaps, if and when that happens, I can find a pretty wheat color that I will fall in love with.
---
| | | |
| --- | --- | --- |
| RE: What do you think of black kitchen appliances? | | |
I have black apps, and my walls are painted SW Grassland. The color is much like the Halcion. We love these colors, my H picked the green, we get so many compliments. As the daily light progresses,the tones in the paint change, a very soothing feeling. I use windex vinegar and never have a problem with fingerprints. Please don't flame me, this is not spam, just a suggestion.
---
| | | |
| --- | --- | --- |
| RE: What do you think of black kitchen appliances? | | |
The black appliances look great in red's kitchen because the cabinets are darker and the counters are very dark.
---
| | | |
| --- | --- | --- |
| RE: What do you think of black kitchen appliances? | | |
You are right, terriks. The black in the Tropical Brown granite pulls out the black in the appliances. That makes a difference....

Red
---
Post a Follow-Up
Please Note: Only registered members are able to post messages to this forum.
If you are a member, please log in.
If you aren't yet a member, join now!
---
Return to the Home Decorating Forum
Information about Posting
You must be logged in to post a message. Once you are logged in, a posting window will appear at the bottom of the messages. If you are not a member, please register for an account.
Please review our Rules of Play before posting.
Posting is a two-step process. Once you have composed your message, you will be taken to the preview page. You will then have a chance to review your post, make changes and upload photos.
After posting your message, you may need to refresh the forum page in order to see it.
Before posting copyrighted material, please read about Copyright and Fair Use.
We have a strict no-advertising policy!
If you would like to practice posting or uploading photos, please visit our Test forum.
If you need assistance, please Contact Us and we will be happy to help.

Learn more about in-text links on this page here