Return to the Home Decorating & Design Forum
|
Post a Follow-Up
---
| | | |
| --- | --- | --- |
| looking for slipcover fabric | | |
Posted by
ratherbesewing
(
My Page
) on
Sat, Jul 28, 12 at 10:50
I found this fabric on the MaryJo site and ordered a sample. Unfortunately, in real life, it's much darker-it looks like a regular old tan color from the other side of the room. So disappointing-I guess that's why you order a sample instead of purchasing 20 yards. I plan on slipcovering a family room sofa and want something that won't show every smudge and stain. Have you slipcovered/upholstered anything recently with a fabric you love? I need some inspiration and only have a local Joanns.
Here is a link that might be useful: Mary Jo's
---
Follow-Up Postings:
| | | |
| --- | --- | --- |
| RE: looking for slipcover fabric | | |
No slipcovers here but I have been playing with upholstery. I got the fabric for this one from Country Curtains; it was $30.50 per yard on sale for $3.99, and it's fabulous. They are sold out of 2 colorways, including mine, but they have it left in a neutral, which may be what you want. I have linked it below. I used the back side of this 'Belvedere' fabric facing out.
I also recommend Barn Fabric Center, as Gary usually sells his 'drapery' weight fabrics for $5.99 a yard and ships very quickly. http://www.barnfabriccenter.com/
His upholstery fabric is $6.99 a yard right now.
I bought the linen to re-do this antique chair from the Barn. Modelling it after this Restoration Hardware one for $1695. http://www.restorationhardware.com/catalog/product/product.jsp?productId=prod80194&categoryId=cat280016
Before -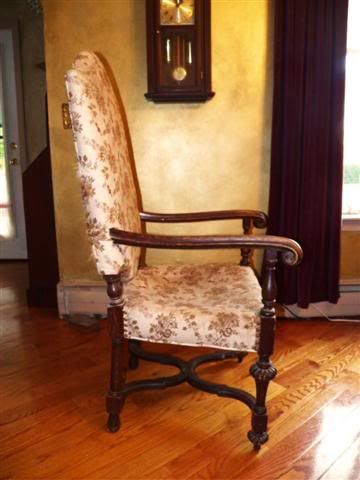 During/almost after! Please try to ignore that awfully messy background.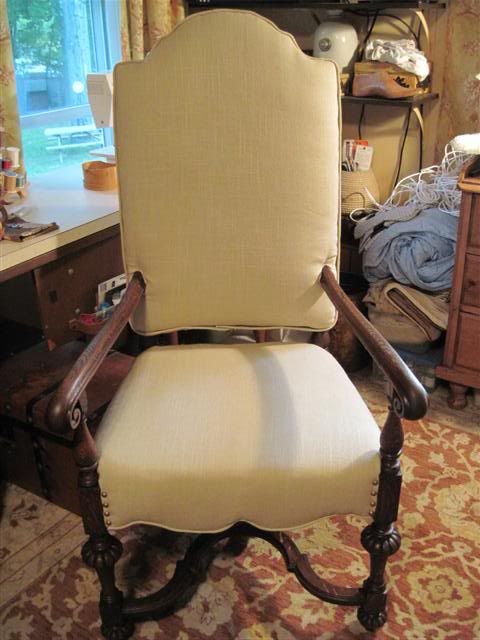 I'll make a large down pillow for it from this 100% flax fabric from eBay. This was just a small sample one.

I can't recommend eBay for fabric enough, if you have the time to scroll through hundreds - thousands of options. I have bought so much fabric there, at incredibly good prices, as well as from FabricGuru.com.
Here is a link that might be useful: Belvedere Fabric
---
Post a Follow-Up
Please Note: Only registered members are able to post messages to this forum.
If you are a member, please log in.
If you aren't yet a member, join now!
---
Return to the Home Decorating & Design Forum
Information about Posting
You must be logged in to post a message. Once you are logged in, a posting window will appear at the bottom of the messages. If you are not a member, please register for an account.
Please review our Rules of Play before posting.
Posting is a two-step process. Once you have composed your message, you will be taken to the preview page. You will then have a chance to review your post, make changes and upload photos.
After posting your message, you may need to refresh the forum page in order to see it.
Before posting copyrighted material, please read about Copyright and Fair Use.
We have a strict no-advertising policy!
If you would like to practice posting or uploading photos, please visit our Test forum.
If you need assistance, please Contact Us and we will be happy to help.

Learn more about in-text links on this page here