Return to the Home Decorating & Design Forum
|
Post a Follow-Up
---
| | | |
| --- | --- | --- |
| Another Silver Identification | | |
Posted by
nanny2a
(
My Page
) on
Tue, Jul 8, 14 at 10:40
You all did such a great job identifying that last silver pattern inquiry, I thought I�d add mine. This is silver that my DH inherited from a deceased aunt. I have no idea what it is. Do you?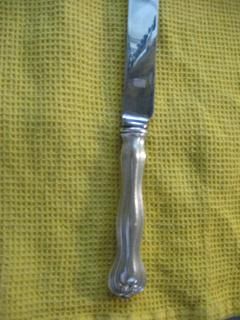 ---
Follow-Up Postings:
| | | |
| --- | --- | --- |
| RE: Another Silver Identification | | |
If you could provide a manufacturer's name, it would help immensely. Check on the back of a fork.
---
| | | |
| --- | --- | --- |
| RE: Another Silver Identification | | |
No help there, unfortunately. All I can read is STERLING.
---
| | | |
| --- | --- | --- |
| RE: Another Silver Identification | | |
Did you use a magnifying glass? Are there any other marks? Sorry to keep asking, but there are a million sterling patterns, so any information you can provide to narrow the search is helpful.
---
| | | |
| --- | --- | --- |
| RE: Another Silver Identification | | |
Your photo is also a little blurry. You might contact Replacements.com and see if they could help with a photograph ID.
---
| | | |
| --- | --- | --- |
| RE: Another Silver Identification | | |
I used a magnifying glass, and couldn't find anything else. I sent a better photo months ago to Replacements, and never heard back from them, so got discouraged and forgot about it. Perhaps I'll dig out that older photo and give it another try.

Since y'all were so quick with the other identification, I thought maybe someone here would recognize this pattern, too. It's not that different from my Gorham Chantilly, which I have service for 6 in. This set is another service for 6, so I've married the two sets and we're in great shape with our sterling pieces for all our holiday and family gatherings.
---
| | | |
| --- | --- | --- |
| RE: Another Silver Identification | | |
What is the stamp on the knife blade?
---
| | | |
| --- | --- | --- |
| RE: Another Silver Identification | | |
Well, that's not very helpful of the folks at Replacements! Guess they have gotten too 'big'. Maybe if you try to call and speak with someone in customer service and get an email to send the photo to you might have better luck. It does look similar to Chantilly now that you mention it. Could it be something English or German perhaps? Glad you have several place settings and can use it!
---
| | | |
| --- | --- | --- |
| RE: Another Silver Identification | | |
Whatever pattern it is, I like it a lot and I love the shape of the knife handle.
---
Post a Follow-Up
Please Note: Only registered members are able to post messages to this forum.
If you are a member, please log in.
If you aren't yet a member, join now!
---
Return to the Home Decorating & Design Forum
Information about Posting
You must be logged in to post a message. Once you are logged in, a posting window will appear at the bottom of the messages. If you are not a member, please register for an account.
Please review our Rules of Play before posting.
Posting is a two-step process. Once you have composed your message, you will be taken to the preview page. You will then have a chance to review your post, make changes and upload photos.
After posting your message, you may need to refresh the forum page in order to see it.
Before posting copyrighted material, please read about Copyright and Fair Use.
We have a strict no-advertising policy!
If you would like to practice posting or uploading photos, please visit our Test forum.
If you need assistance, please Contact Us and we will be happy to help.

Learn more about in-text links on this page here