Return to the Home Decorating & Design Forum
|
Post a Follow-Up
---
| | | |
| --- | --- | --- |
| Metropolitan Museum Inspiration | | |
Posted by
AnnieDeighnaugh
(
My Page
) on
Sat, Jul 12, 14 at 10:15
We haven't been to the Met in a long time. I wanted to go see the Charles James exhibit which was phenomenal (see conversations side.)

But we of course had to do a quick spin through the joint while we were there. They had a display of Wm Morris stuff...very disappointing as it was so tiny...just a few fabrics and wallpaper samples. Still, what was there, was lovely.

I had to go visit the tiffany windows, of course. A must see for me at every visit. These windows have zero paint...all of the color comes from the glass itself. Quite amazing.

We hit the roof-top garden for some great views of the city.

Had to stop by to see the faberge stuff on display.

And went to see the period rooms. Had no idea that they actually moved a Frank Lloyd Wright room to the place. My cell phone camera was not up to taking pictures of most of it as one whole wall is glass facing central park. The ceiling was full of stained glass, and the use of space which is so much a hallmark of FLW was apparent with low entrances, grand open spaces, cozy edges with built in seating all along. Quite something.

And as we were running out of time, we took a quick run through some of the European interiors. OMG! Simply OMG! Tapestries, wall papers, murals, furnishings, chandys, window treatments, fireplaces, ceilings, YOWZAH! Talk about design inspirations!

This post was edited by AnnieDeighnaugh on Sat, Jul 12, 14 at 10:52
---
Follow-Up Postings:
| | | |
| --- | --- | --- |
| RE: Metropolitan Museum Inspiration | | |
What a wonderful trip you had! Thanks for sharing!
---
| | | |
| --- | --- | --- |
| RE: Metropolitan Museum Inspiration | | |
Love the Met, and It's been awhile since I went through the decorative arts areas, thank you for sharing your trip Annie!
---
| | | |
| --- | --- | --- |
| RE: Metropolitan Museum Inspiration | | |
Thanks for the show, one of my fav places to visit while in the city.
---
| | | |
| --- | --- | --- |
| RE: Metropolitan Museum Inspiration | | |
That stained glass is amazing!! No paint?!!! I love the whole room interiors. It's my favorite thing at the Legion of Honor in SF.
---
| | | |
| --- | --- | --- |
| RE: Metropolitan Museum Inspiration | | |
DH and I were there a few months ago (went to see the Martin guitar exhibit, and listen to a luthier discuss his own guitar-making process). Saw all the rooms/items you posted, and then some, incl. the JAR jewelry exhibit. Talk about inspiration! Definitely worth a visit--so much, and such a wide variety of things to see.

PS I have dibs on some of those Tiffany windows! LOL
---
| | | |
| --- | --- | --- |
| RE: Metropolitan Museum Inspiration | | |
Yes Yes Yes, and Boston's BFA museum has great home furnishings as well. A row a chairs from Philadelphia ,to Virginia, to England, showing how they vary in the details. Amazing game tables and highboy dressers.
---
| | | |
| --- | --- | --- |
| RE: Metropolitan Museum Inspiration | | |
Thanks for this post.

Don't you think that some of these "ugly and dated, please-help-me" fireplaces on GW could be transformed into a FLW one?
---
| | | |
| --- | --- | --- |
| RE: Metropolitan Museum Inspiration | | |
The Met is just about my favorite place in the world. I used to "run away" there all the time as a kid and teen. Recently I've been very drawn to the Islamic Galleries. The patterns and motifs are just stunning. And I always have to sit in the American Wing courtyard -one of my favorite spots.
---
| | | |
| --- | --- | --- |
| RE: Metropolitan Museum Inspiration | | |
nosoccermom, perhaps you are right. But I wonder how well it would work given what's going on in the rest of the room. What makes it work here is the weight and mass of the fireplace is offset by the large scale room, the strong horizontal lines and the tremendous amount of natural light and skylights that enliven the entire room. It makes the fireplace area a welcoming spot.

I also noticed that, if it were my room, I'd never put the asymmetric tchotchkes over the fireplace as was done here. To my eye, it just looks wrong. But I do really like the effect of the tall vertical accessories that again work to balance the horizontal lines in the room....no curves or circles.

Here are much better pics of the room from the museum web site.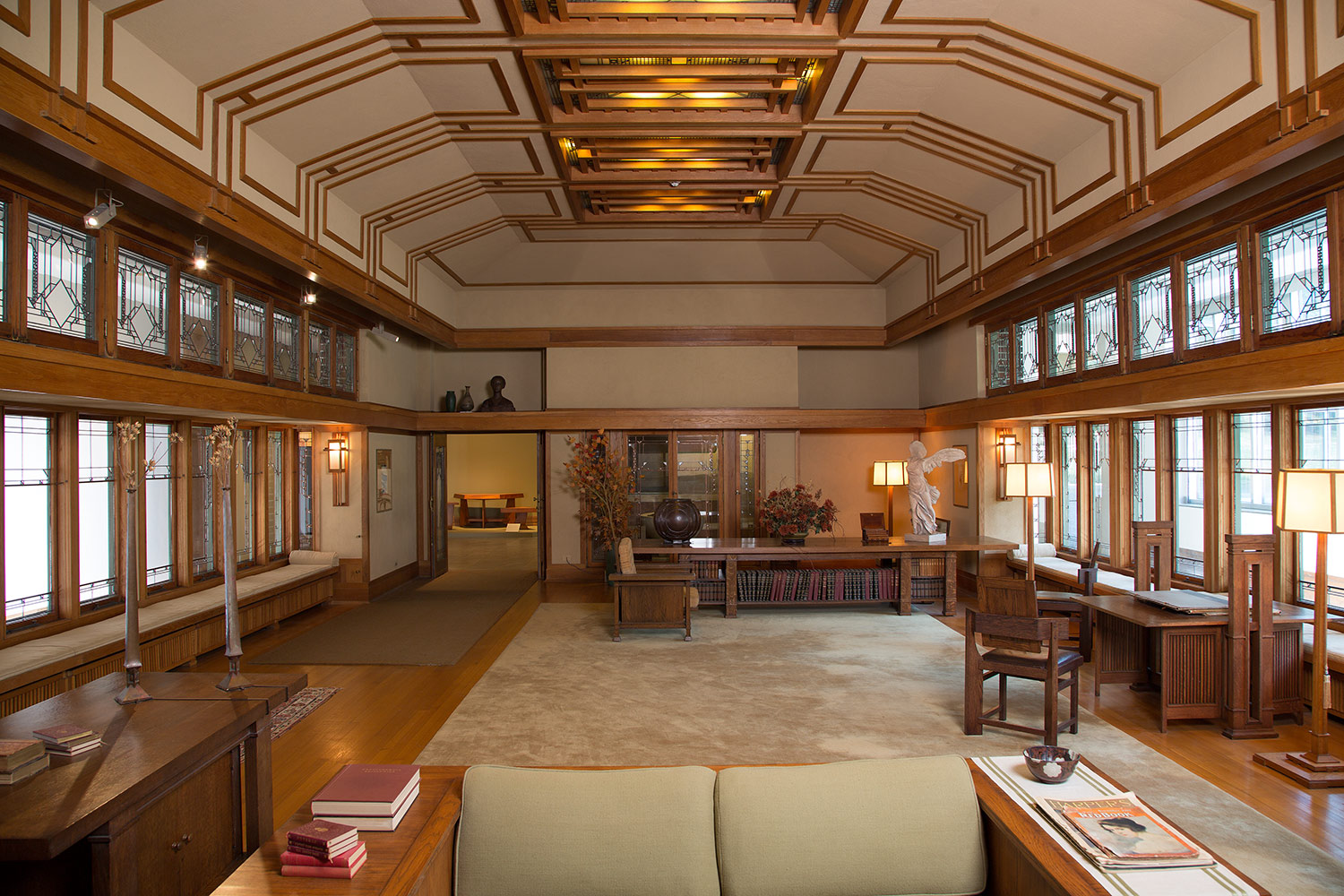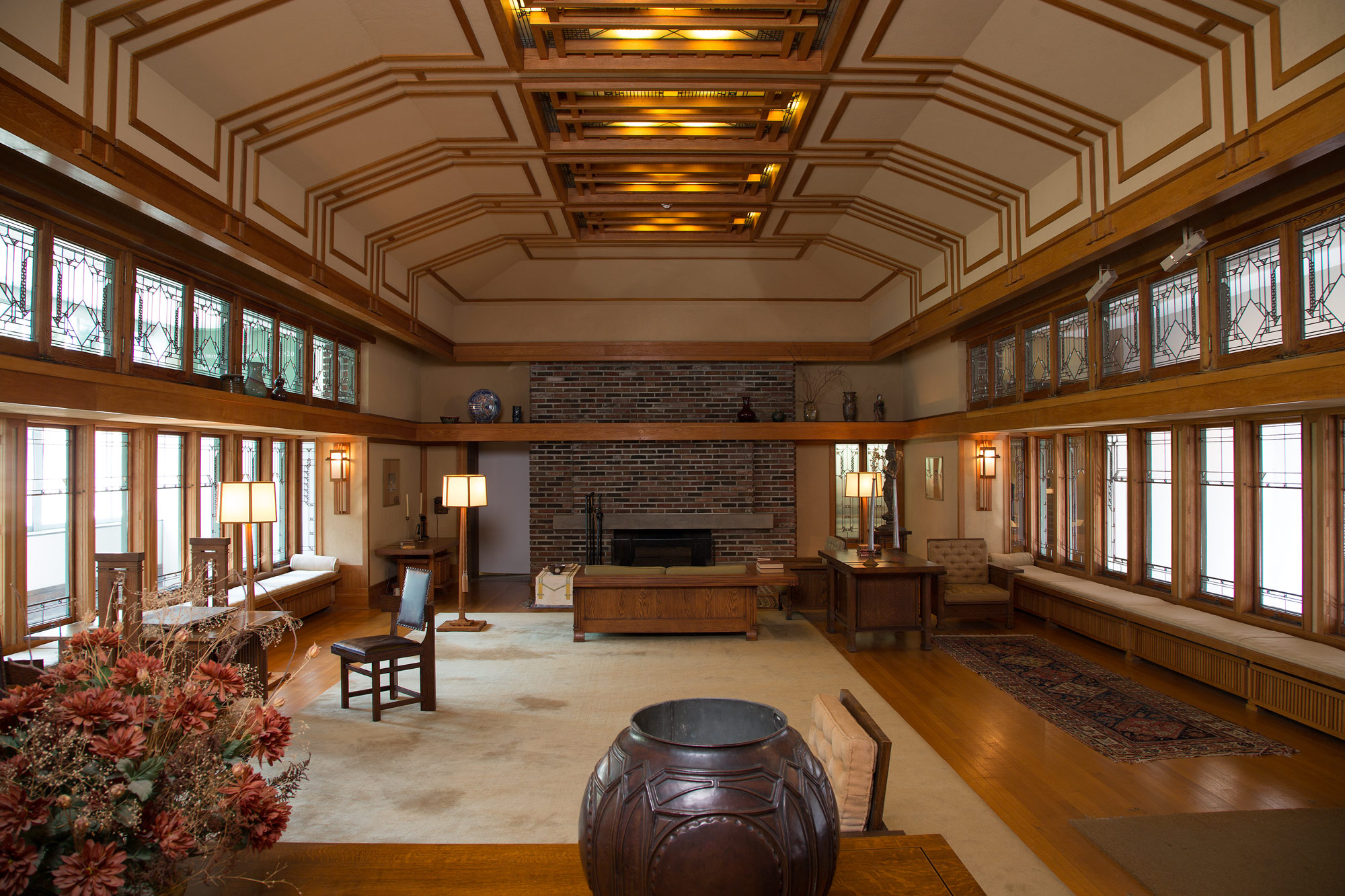 ---
Post a Follow-Up
Please Note: Only registered members are able to post messages to this forum.
If you are a member, please log in.
If you aren't yet a member, join now!
---
Return to the Home Decorating & Design Forum
Information about Posting
You must be logged in to post a message. Once you are logged in, a posting window will appear at the bottom of the messages. If you are not a member, please register for an account.
Please review our Rules of Play before posting.
Posting is a two-step process. Once you have composed your message, you will be taken to the preview page. You will then have a chance to review your post, make changes and upload photos.
After posting your message, you may need to refresh the forum page in order to see it.
Before posting copyrighted material, please read about Copyright and Fair Use.
We have a strict no-advertising policy!
If you would like to practice posting or uploading photos, please visit our Test forum.
If you need assistance, please Contact Us and we will be happy to help.

Learn more about in-text links on this page here