Return to the Home Decorating Forum
|
Post a Follow-Up
---
| | | |
| --- | --- | --- |
| Artificial plants/flower for outside | | |
Posted by
lottamoxie
(
My Page
) on
Thu, Jul 2, 09 at 9:33
Do you use artificial plants & flowers outside? If yes, let's talk. I'm about to take the plunge to do some deck rail boxes and possibly some window boxes, using artificial plants. Yes, I'm 'that' person. The one with the black thumb who just wants some nice color (and no upkeep) for some front-facing planters. Nothing too elaborate. I'm thinking of some red geraniums for the deck rails and some simple english ivy for the (3) hanging plants.

Have any of you used faux plants outside? Any special tips for keeping them from fading or tips for protecting them? Mine will not be in direct sunlight as my front porch is shaded by trees.

Any places you'd suggest for getting the best price?

Please share. Include links and pictures if you'd like!
---
Follow-Up Postings:
| | | |
| --- | --- | --- |
| RE: Artificial plants/flower for outside | | |
Well, I'll warn ya - you're sure to receive some, "Oh horrors!" responses from the purists who wouldn't think of using anything but real, live plants outdoors, but hey, it's your house and you should do as you please. I wanted my front porch to sing with color, and artificial flowers helped me get there! Might be a bit difficult to make out in this pic, but the Talavera planter on the coffee table holds a bouquet of pink-hued artificial blooms. Since my flowers get no direct sunlight, fading is not an issue, but dust sure is. I'm just trying to keep them as dust-free as possible, but when they get beyond help, I'll just replace them.


I think you can create some really cute planter boxes with artificial plants, so long as the ones you choose look as real as possible.

Have fun!
---
| | | |
| --- | --- | --- |
| RE: Artificial plants/flower for outside | | |
The dust and having bright blue roses as a flower choice is what would put me off the artificial flowers outside thing....No, I will not take pictures of my neighbor's front porch. *giggle*

With that said, I've done the "horrible" and added some silks outdoors and I don't care who doesn't like it, it looks fine.

The area I live, Calif. never has had freezes before.
Two winters ago we had a freeze that pretty much destroyed the little-leaf trailing ivy I had growing as filler in a window box.

I removed the dead parts of the ivy, added some new growth ivy from another area of my yard and filled the rest of the window box in with fake ivy until the real ivy took hold.

The real ivy has taken hold but is not as filled in as it used to be so I haven't removed the fake ivy. But the dust gets sprayed off every time I water the real ivy and plants in the window box.

Another....
I picked up a 7' Charlie Brown Ficus tree from the curb.
The ficus leaves were almost non-existent but the 3 trunks of the ficus were made from real bark.

I secured the real-looking trunk in a nice pottery container, added some faux vines to the limbs of the ficus then started adding all my pretty hummer feeders to the limbs.

My little Jewels have a place to eat, a place to rest, a place to hide, a place to take in the morning sun, I get wonderful entertainment watching them.
All of that is worth the naysayer or two.

AuntJen,
I'll never get tired of gazing at the pictures of your beautiful porch!
---
| | | |
| --- | --- | --- |
| RE: Artificial plants/flower for outside | | |
We have neighbors who opted to go artificial a couple years ago. They bought plants at Hobby Lobby. Sales are frequent ... same with Michaels. HL has all floral/greenery at 50% off this week.
Here is a link that might be useful: Hobby Lobby's current ad
---
| | | |
| --- | --- | --- |
| RE: Artificial plants/flower for outside | | |
Lots of ones here -- too hot, too much sun, too much upkeep -- so I went to articial plants in my window box under the breakfast area's window. Replace them as they fade out .... And a big half-basket of seasonal blooms on the wall by my front door. Yep. Faux. Fake.

Places to look -- Garden Ridge; Hobby Lobby -- and yes! go for ones that look as real as possible.


Jan at the faux-everywhere-if-she-could Rosemary Cottage
---
| | | |
| --- | --- | --- |
| RE: Artificial plants/flower for outside | | |
I think if you're going to do this, then do it right and use plants that can't possibly exist in nature. No one's fooled anyway, so why not bright yellow geraniums, navy blue roses and purple sunflowers? Or large Mexican paper flowers?

Personally, I'd grow succulents before I'd use plastic, but really wacky fake flowers have a "garden on Mars" appeal. You can buy cheap plastic ones at Pic 'n' Save or whatever it's called now, and recombine them to make new species, which lessens the granny factor. Be bold.

Whatever thy hand findeth to do, do with thy might and so on.
---
| | | |
| --- | --- | --- |
| RE: Artificial plants/flower for outside | | |
No one's fooled anyway...
From a distance you'd be surprised how "real" some of the greenery can appear. If you buy the really cheap stuff that's how it's going to look. It's not something I would use, but I understand why some people do.
I take that back. I use the fake garland at Christmas. ;)
---
| | | |
| --- | --- | --- |
| RE: Artificial plants/flower for outside | | |
Lottamoxie, I'm understanding you. My petunias - which were in hanging planters this spring, bloomed gloriously all spring and looked beautiful until our summer temperatures of 95+ degrees began a few weeks ago. After being out of town a week, I returned to dried up, brown, withered out old stalks.

Since it won't cool off until October, and we're entering our drought season, I'm tempted to do the same! I'm convinced that some selective shopping at Michael's might find some replacements that could fool 95% of the public that gets close enough to these planters to notice - and who cares what the other 5% thinks!! Michael's ivy looks natural to me, I haven't looked at their geraniums but it's worth a try, if that's what you want.
---
| | | |
| --- | --- | --- |
| RE: Artificial plants/flower for outside | | |
Me! Me!

I have these windowboxes -- see 'em? where no real plants or flowers will grow. They just won't, I have tried.

So, in desperation, I went to Michael's and bought a bunch of silk flowers -- inexpensive silk flowers -- and some green florists foam, and voila! my worries are over.

The flowers in the photo are silk hydrangeas -- they were on sale. In the fall, I switch them to fall flowers, and in the winter, I switch them to fake evergreens.

These flowers are five years old, and the weather doesn't seem to cause them any distress. I swish 'em in soapy water before putting them away for the season, and they seem happy.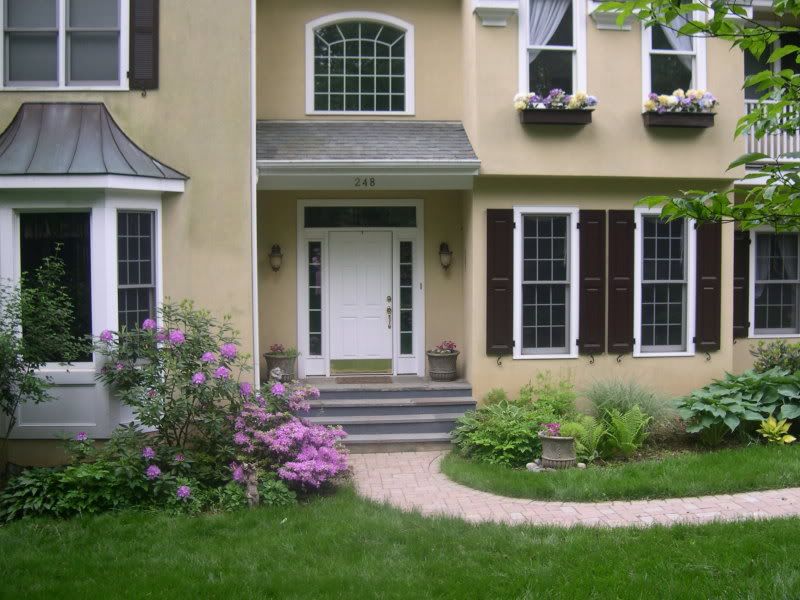 ---
| | | |
| --- | --- | --- |
| RE: Artificial plants/flower for outside | | |
I think as with most things, if it's done with some intention of blending in, it can work, but personally, it's not something I'd do. I'd prefer instead to get some of whatever "kill proof" plants are available for the region I'm living in and have life out in the yard.
---
| | | |
| --- | --- | --- |
| RE: Artificial plants/flower for outside | | |
Like Jen said, I expected this to turn into a "horrors" thread. But, as we see, many people can and do get it right. I think the only time fakes look bad is when they start to go bad. And you can find pretty realistic faux if you look. My favorite faux plants are succulents since the real stuff looks fake anyway!

Mclarke, your house is lovely. I don't recall having seen it before. It leans nicely towards French without being a caricature of French.
---
| | | |
| --- | --- | --- |
| RE: Artificial plants/flower for outside | | |
Thank you, Amy.

It's French? Oh good. I never know what to call it.

I confess, I don't think I would put the artificial flowers in the windowboxes if the windowboxes were at ground level. But up on the second floor, they don't get close scrutiny, and I hope they blend in.
---
| | | |
| --- | --- | --- |
| RE: Artificial plants/flower for outside | | |
mclarke - none of those flowers are real?
i hope not... so there'll be hope for me and fake plants in my future... lol!

my sister does!
"I'd grow succulents before I'd use plastic"
she has acres of cacti, oleanders etc. but she'll also put a ficus tree on her porch and some silk? fake ones from Michaels' (w/ coupon). looks great. no one knows. except family and friends. her land is gated and the porch can only be seen from way down at the road.

I'll do the same once I get into my new place. I have several acres here with cacti, mesquite, bird of paradise etc but I'm terrible in growing them. all but the BOP have been here for ages - long before me.

I'm hoping to have a porch of some sort out front!
---
| | | |
| --- | --- | --- |
| RE: Artificial plants/flower for outside | | |
Steph, lol!

All the flowers are real except for the windowboxes on the second floor. Don't look too close at them!
---
| | | |
| --- | --- | --- |
| RE: Artificial plants/flower for outside | | |
A couple of years ago my neighbor took me to task because I didn't, at that time, have year around color in my yard. She is from Ohio, and I'm a Master Gardener. We live in FL. I didn't take her seriously because her plastic daffodils looked a little off, but I did plant a block of the most gaudy crotons I could find. Instant color and impressive too!
---
| | | |
| --- | --- | --- |
| RE: Artificial plants/flower for outside | | |
I haven't done it because I've made an effort to ride my house of the fake stuff on the inside, but as I look at the dead flowers on my porch (that I paid >$100 for) I'm thinking I may reconsider.

It also made me remember that my mom used to plant the fake stuff. Our lawn was huge, lots of sun, and no sprinkler system. In the spring she'd go out after dark and "plant" little silk flowers on the corner of the lot. Right in the ground. At the end of the summer she'd repeat - sneaking out at night and pulling them up. I'd tease her, but perhaps I'm becoming my mother!
---
| | | |
| --- | --- | --- |
| RE: Artificial plants/flower for outside | | |
mclarke, how do you keep your artificial flowers in the boxes? I had fake geraniums in mine but the wind kept whipping them out. So now I went the opposite way and put real geraniums in the boxes. It has been less work because they stay in the boxes. In the fall, however, I would like to put in some fall decorations, so any advise?
---
| | | |
| --- | --- | --- |
| RE: Artificial plants/flower for outside | | |
Prairiefox (love your name!),

I went to Michael's craft store and bought a bunch of those green bricks of florist's foam. They're like crusty green styrofoam bricks, and I poked the stems into them. They stay in the windowboxes all year and I use the same holes when I change out the flowers.

Florist's foam looks like this:
You can buy it in all different shapes and sizes; mine came in brick-like shapes.
---
| | | |
| --- | --- | --- |
| RE: Artificial plants/flower for outside | | |
Here's my front door -- unfortunately many of the plants in the pots are dead -- thanks to our heatwave of over 100 (or close) degree weather in DFW. Sigh.

Yes. Faux flowers in the half-basket. Changed seasonally.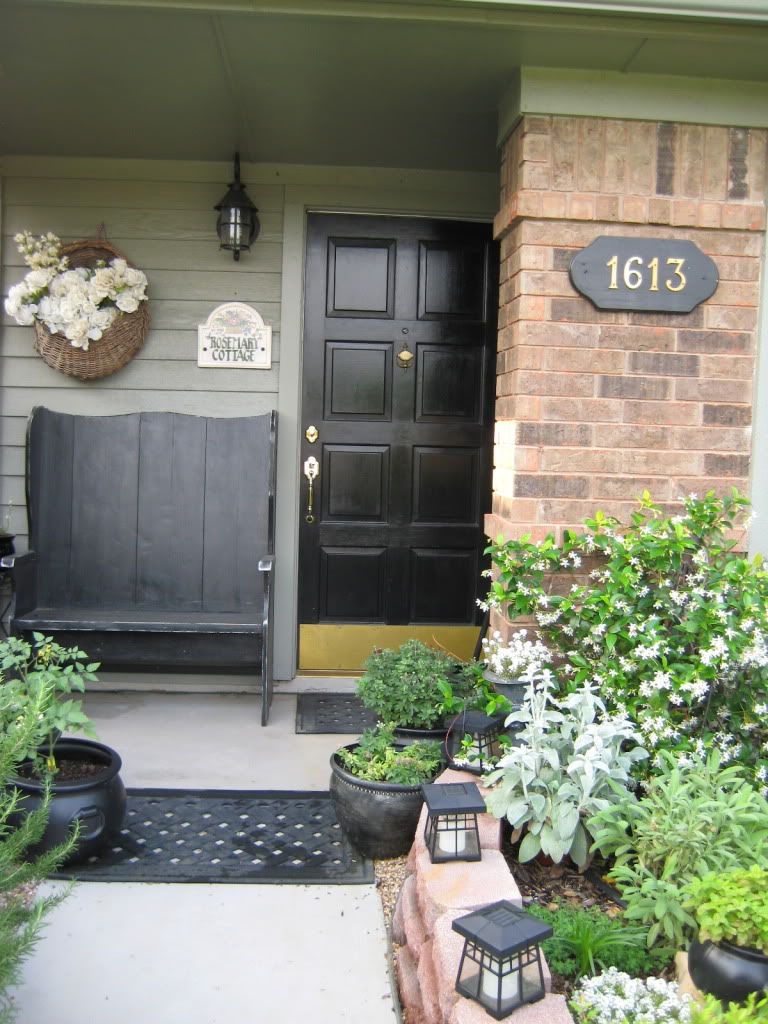 ---
| | | |
| --- | --- | --- |
| RE: Artificial plants/flower for outside | | |
I love fake flowers. Used wisely they can extend the gardening season. I use them in my very extensive flower beds when the greenery is up but flowers aren,t yet. I just work them into the greenery before the flowers start to show up. I pull them when the real flowers bloom then put them back when I deadhead the last of the flowers. I use daffodils and pansys the most and work them right in with the real thing. Now if I can just find some affordable real looking silk iris for my two hundred feet of iris beds
---
| | | |
| --- | --- | --- |
| RE: Artificial plants/flower for outside | | |
A neighbor asked if I'd water her plants/shrubs while she was away and I watered them all. When she got home we laughed because unbeknownst to me I had also watered some plastic plants that were mixed in with her real ones in her front planters and on her plant stands! They looked real to me, even close up!
---
| | | |
| --- | --- | --- |
| RE: Artificial plants/flower for outside | | |
My house gets full morning sun in the front. Potted plants don't have a prayer no matter how diligent I am. I tried. And tried. And tried. And I want color at my entrance. So off to Michaels I went. Nice silk flowers in pots at the entrance. Its pretty. I also use them in shady areas out back in the hottest months of summer when things tend to die back. Under a shady oak, they are a beautiful sight out of my kitchen window. And it looks better than cacti (which would probably also be challenged there). They don't make plastic flowers anymore do they? They wouldn't survive anyway :)
---
Post a Follow-Up
Please Note: Only registered members are able to post messages to this forum.
If you are a member, please log in.
If you aren't yet a member, join now!
---
Return to the Home Decorating Forum
Information about Posting
You must be logged in to post a message. Once you are logged in, a posting window will appear at the bottom of the messages. If you are not a member, please register for an account.
Please review our Rules of Play before posting.
Posting is a two-step process. Once you have composed your message, you will be taken to the preview page. You will then have a chance to review your post, make changes and upload photos.
After posting your message, you may need to refresh the forum page in order to see it.
Before posting copyrighted material, please read about Copyright and Fair Use.
We have a strict no-advertising policy!
If you would like to practice posting or uploading photos, please visit our Test forum.
If you need assistance, please Contact Us and we will be happy to help.

Learn more about in-text links on this page here