Return to the Home Decorating & Design Forum
|
Post a Follow-Up
---
| | | |
| --- | --- | --- |
| Choosing a paint color for Kitchen and open LR | | |
Posted by
vinudev_liny
(
My Page
) on
Mon, Jul 21, 14 at 9:19
We are in the midst of a kitchen/LR renovation and need to pick a paint color in the next few days. I could use your help in picking a BM paint color.

The cabinets are Cherry with a medium tone stain called Honey by the cabinet maker and we are trying to decide between Siena Bordeaux or White Springs granite. The other big elements in the LR are cream colored leather sofas. We are looking for new DR table and sideboard.

Here's the cabinet sample with the Siena Bordeaux granite.

Here's the White Springs

I was thinking of a light gray in the Stonington Gray/Revere Pewter line but they are not quite right. Revere is too peachy and Stonington too washed out. Unfortunately, the stone yard doesn't have samples for me to take to the paint store.
Any idea of other medium gray that I should try out-I am looking for grays with green undertones. Should I go darker or maybe look in the sage family of colors. Am I going in the right direction?
Thanks for any input.
---
Follow-Up Postings:
| | | |
| --- | --- | --- |
| RE: Choosing a paint color for Kitchen and open LR | | |
I like the Siena Bordeaux. Can you say specifically what colors are in there? It's hard to tell from the photo. Looks like all browns and grays?

The second looks like it has some purple/red tones in it?

I wouldn't go with gray. snore. I'd pick a color that will add some depth, esp. in the kitchen area. Kitchens tend to be great places to get some bold color up because of the lack of wall area.
---
| | | |
| --- | --- | --- |
| RE: Choosing a paint color for Kitchen and open LR | | |
Tibbrix..."snore"...you make me chuckle. I actually like gray but it seems it's become a requirement.

Vinu, when you say cream, do you mean it has a yellow undertone? I like gray with yellow in the same saturation--so a light gray without undertones might look nice. I like the White Springs because it has larger patches of cream and cleaner grays. The other feels muddier to me. Your house is small so I'd let the dining room furniture and cabinets be the dark tones.
---
| | | |
| --- | --- | --- |
| RE: Choosing a paint color for Kitchen and open LR | | |
| | | |
| --- | --- | --- |
| RE: Choosing a paint color for Kitchen and open LR | | |
Sorry for absconding after posting yesterday. I had to get more detailed pictures that were on a different computer.

So here are so more details:

This is our LR from a few years back: We chose Nantucket Gray after this picture was taken. We took down a few walls so it is more open . After this current remodel we will keep the sofas/chair and maybe the display shelf. I haven't decided on the art-it is nothing fancy-so wouldn't mind changing it out if it doesn't work with the new wall color.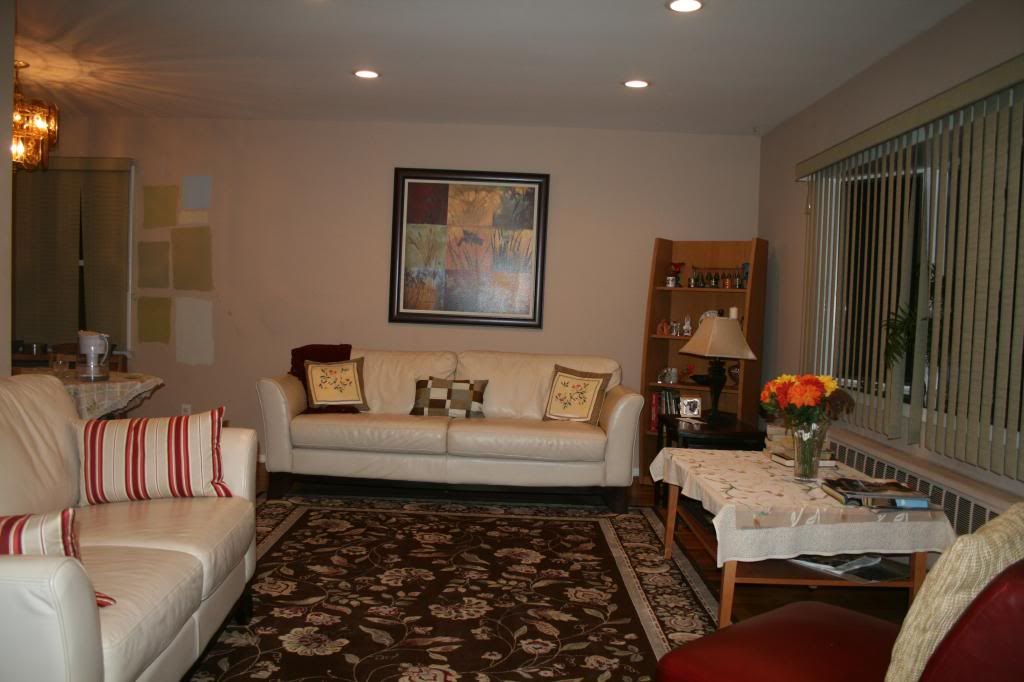 The new kitchen space-The only wall showing will be above and below the window.

Dining area(so tiny-can't call it a room!)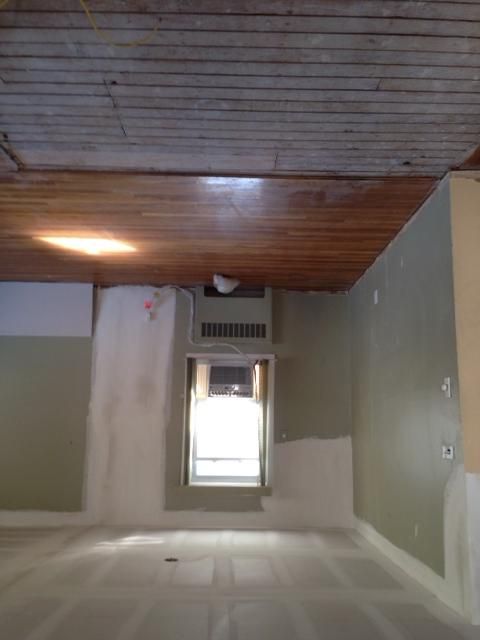 Close up of the granite:

Another shot from mid distance:

The paint will go all around the LR/DA/Foyer/Kitchen. The kitchen will have medium tone cherry cabinets. I am not sure on the hardwood floor color yet.

I was thinking of BM Baltic Gray or Ashley Gray. They are in the Gray/Brown family with Ashley Gray being substantially darker.
BM Baltic Gray

BM Ashley Gray

What do you guys think? Will it be too dark for the room? Should I stick to something lighter like BM Nimbus?
Thanks for reading this far and I will take any suggestions you have for me.

---
| | | |
| --- | --- | --- |
| RE: Choosing a paint color for Kitchen and open LR | | |
I think with that granite, you can go more blue with your gray if you like...BM feather gray
---
Post a Follow-Up
Please Note: Only registered members are able to post messages to this forum.
If you are a member, please log in.
If you aren't yet a member, join now!
---
Return to the Home Decorating & Design Forum
Information about Posting
You must be logged in to post a message. Once you are logged in, a posting window will appear at the bottom of the messages. If you are not a member, please register for an account.
Please review our Rules of Play before posting.
Posting is a two-step process. Once you have composed your message, you will be taken to the preview page. You will then have a chance to review your post, make changes and upload photos.
After posting your message, you may need to refresh the forum page in order to see it.
Before posting copyrighted material, please read about Copyright and Fair Use.
We have a strict no-advertising policy!
If you would like to practice posting or uploading photos, please visit our Test forum.
If you need assistance, please Contact Us and we will be happy to help.

Learn more about in-text links on this page here