Return to the Home Decorating & Design Forum
|
Post a Follow-Up
---
| | | |
| --- | --- | --- |
| Favorite yellow/gold paint colors | | |
Posted by
cocorhum
(
My Page
) on
Mon, Jul 16, 12 at 8:37
Has anyone used Benjamin Moore Waterbury Cream and have pictures you could post? I'm also considering Tobacco Road but need the formula. I got a sample mixed at SW and it's very gold!
---
Follow-Up Postings:
| | | |
| --- | --- | --- |
| RE: Favorite yellow/gold paint colors | | |
I used BM wilmington tan in my FR and get lots of compliments on it.
---
| | | |
| --- | --- | --- |
| RE: Favorite yellow/gold paint colors | | |
Don't forget to check the "Gallery" which has rooms listed by paint colors, blues, greens, yellow/gold, etc. Since it was started several years ago, some links to pictures are missing. I did notice one with tobacco road and you might find others that look interesting. Fun to see colors and members rooms. Hope others will post room pictures for you here.
Here is a link that might be useful: Favorite yellow and golds - In Gallery
---
| | | |
| --- | --- | --- |
| RE: Favorite yellow/gold paint colors | | |
BM Wilmington Tan looks very nice! I have been considering that color as well, but I wonder if it sometimes pulls a little orange? My room gets A LOT of natural light.
---
| | | |
| --- | --- | --- |
| RE: Favorite yellow/gold paint colors | | |
There is no orange in my Wilmington Tan.
---
| | | |
| --- | --- | --- |
| RE: Favorite yellow/gold paint colors | | |
Another vote for Wilmington Tan. No orange at all. It's more of a golden tan (darker than SW Blonde).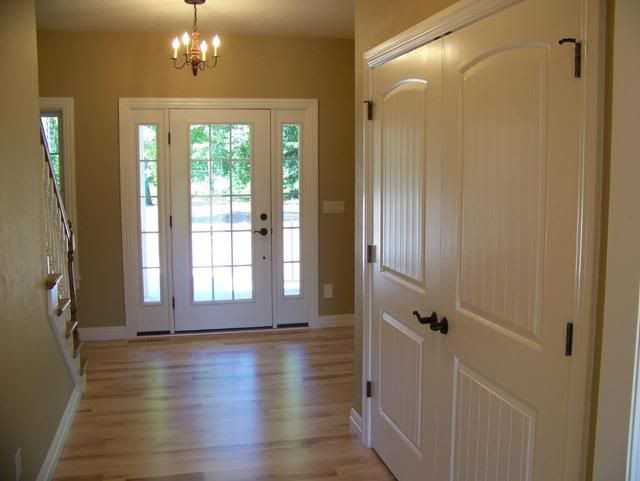 ---
| | | |
| --- | --- | --- |
| RE: Favorite yellow/gold paint colors | | |
If you're buying at SW, you could get a sample of Stonebriar. It's extremely close to Wilmington Tan. Don't look at their website because the chip they show isn't even close to the true color. If you want more gold, then SW Blonde is another choice. Not a bright gold but more subdued and lighter than Stonebriar.

You might be looking for more of a warm neutral if you think Tobacco Road is too gold. Asking for "yellow/gold" is an invitation to some pretty bold color choices.
---
| | | |
| --- | --- | --- |
| RE: Favorite yellow/gold paint colors | | |
I'm sorry - I do want a neutral yellow/gold color and from the pictures I have seen of Tobacco Road, that is what I want. However, the batch I got mixed from SW formula match of TR looks pretty bright in some lights and in other lights I love it. I have read some who have said the SW formula is a little off with a definite green cast compared the the true TR.

I have been considering Wilmington Tan and Stonebriar - they are very close for sure. I have a sample of Stonebriar and something was off about it for me - it was a bit peachy looking maybe.

I will be using whatever color I finally choose in a large area of my house - foyer, family room, kitchen, hallways - these all get A LOT of light and the foyer and family room are both open to the second story. I think it will be difficult to find a color that will look good in every light. I'm unsure how having these tall ceilings and tons of light will affect the final appearance of the color - will it become brighter looking or lighter?
---
| | | |
| --- | --- | --- |
| RE: Favorite yellow/gold paint colors | | |
My family room has southern exposure and gets lots of daylight...no orange at all in wilmington tan and it's a really good color, day or night, lamp light too.
---
| | | |
| --- | --- | --- |
| RE: Favorite yellow/gold paint colors | | |
| | | |
| --- | --- | --- |
| RE: Favorite yellow/gold paint colors | | |
In your post, you asked about Waterbury Cream. I painted my kitchen that color thinking that it was a soft gold. It has a definite green cast to it. We had to repaint. I chose BM Desert Tan instead. It is very close in color to SW Blonde. I like it but it can have a butterscotchy undertone in some light.

I tried tobacco road at one point as well and I thought it also had a green undertone.

I like the Wilmington Tan that the others have posted!
---
| | | |
| --- | --- | --- |
| RE: Favorite yellow/gold paint colors | | |
To me, Wilmington Tan looks like it has a butterscotchy undertone even looking at the sample chip. Have you used that color as well dawnp? What about BM Decatur Buff? Anyone tried that?

Today looking at my swatch of SW mixed Tobacco Road, it looks really nice. That color seems to change a lot depending on the lighting but also the angle I am viewing it from. Right now I don't see much green, but other times of the day I do. Looking at it straight on it is a very nice warm rich looking color, but when I look from an angle, it seems it does not have much color at all. I suppose this will happen with every paint color. Maybe I am being too picky. I'm just nervous to paint this huge area with that color and dislike it.
---
| | | |
| --- | --- | --- |
| RE: Favorite yellow/gold paint colors | | |
Maybe you should buy a quart and paint a larger section. I've found that colors look so different once they're on all 4 walls.

I had Wilmington Tan in my kitchen of my old house, and it was a very warm medium dark gold. I had Pittsfield Buff in my Family Room and liked that very much too. It's a lighter gold - similar to Powell Buff.

Funny story, my Mom called me from FL and told me she painted her entire condo Ivory. So I'm expecting an off white when I went to visit.

It's Ivorie from the SW Blonde strip! It was very gold and actually sort of dark looking in her condo, so you might try going up that one color and seeing how Ivorie looks against the Blonde.

The one thing I do love about SW is how their color strips are true color families. BM doesn't really do that so a color on the strip next to one you like isn't necessarily a shade darker or lighter of the color beside it.

Anyways, I digress! I also love Kilim Beige which one would think would be pinky taupe based on the strip it resides on, but it's a wonderful neutral beige/tan.
---
| | | |
| --- | --- | --- |
| RE: Favorite yellow/gold paint colors | | |
I have SW compatible cream in my LR which doesn't get much light. I think it looks great with white trim and mahogany colored furniture.
---
| | | |
| --- | --- | --- |
| RE: Favorite yellow/gold paint colors | | |
My rooms will be getting lots of light so I think I need darker than SW Ivoire, however I do like that color. The main color of my curtains match SW Ivoire almost perfectly. I have considered using Blonde or Restrained Gold, but I had Blonde in my last house and it was a bit too orange-y looking for my taste, I would prefer more yellow or brown in the color. I'm ready to give up on re-painting. The previous owner of my house had just had it painted in Behr Basketry but the paint job looks terrible and the color is a bit too muted / blah looking for me and sometimes it has a strange pinkish tone to it and sometimes greyish. I'm not a big fan.
---
| | | |
| --- | --- | --- |
| RE: Favorite yellow/gold paint colors | | |
Did you take a look at SW Biltmore Buff? It's a lovely gold with no overtones that I've noticed. No orange and a bit more yellow than Blonde.
---
| | | |
| --- | --- | --- |
| RE: Favorite yellow/gold paint colors | | |
I have SW Believable Buff and Whole Wheat in my house and love them both
---
| | | |
| --- | --- | --- |
| RE: Favorite yellow/gold paint colors | | |
I have the paint chip of SW Biltmore Buff and I do like it, but I think it will be too light of a color. A deeper version of Biltmore Buff would work!
---
Post a Follow-Up
Please Note: Only registered members are able to post messages to this forum.
If you are a member, please log in.
If you aren't yet a member, join now!
---
Return to the Home Decorating & Design Forum
Information about Posting
You must be logged in to post a message. Once you are logged in, a posting window will appear at the bottom of the messages. If you are not a member, please register for an account.
Please review our Rules of Play before posting.
Posting is a two-step process. Once you have composed your message, you will be taken to the preview page. You will then have a chance to review your post, make changes and upload photos.
After posting your message, you may need to refresh the forum page in order to see it.
Before posting copyrighted material, please read about Copyright and Fair Use.
We have a strict no-advertising policy!
If you would like to practice posting or uploading photos, please visit our Test forum.
If you need assistance, please Contact Us and we will be happy to help.

Learn more about in-text links on this page here