Return to the Home Decorating & Design Forum
|
Post a Follow-Up
---
| | | |
| --- | --- | --- |
| What to do with this spot? | | |
Posted by
phallky03
(
My Page
) on
Fri, Jul 6, 12 at 8:29
We have done a total transformation of our kitchen and it looks great!

I cannot, however, figure out what to put on this wall. I love the bench and have been thinking about a shelf or perhaps a collection of items. The space measures almost six feet from the window to the door. I don't need a clock as there is a large one on the other side of the door. What are your thoughts? Thanks!!

---
Follow-Up Postings:
| | | |
| --- | --- | --- |
| RE: What to do with this spot? | | |
A large piece of art would look great. Do you have an eat in kitchen? If not a small round table and chairs would also work.
---
| | | |
| --- | --- | --- |
| RE: What to do with this spot? | | |
Do you plan more stools at the peninsula?
---
| | | |
| --- | --- | --- |
| RE: What to do with this spot? | | |
It would help to see what's going on in the rest of the room. I'm not really sure I like the bench there. Bar stools at the bar would be nice being that there is an overhang. Is that an exterior door beside the bench? If it is and you need a spot for guests (or yourself) to put purses and jackets, a small hall tree would be better than the bench. The other suggestion of a large art piece and small table and chairs would be nice as well if you don't already have a set.
---
| | | |
| --- | --- | --- |
| RE: What to do with this spot? | | |
It strikes me as a natural spot for a table and chairs, too. Or, two overstuffed chairs with a small table between, like a coffee nook. I'm not loving the bench there, but if you do, perhaps it just needs something else to tie it in. How about a potted ficus tree to the right of the window to make use of that lovely light? And then some storage baskets under the bench or a coffee or side table with it...I think it needs to look like it has a purpose there. On the wall I agree with yayagal that a large piece of art would work, or possibly also a smaller picture or two grouped with a shelf or two. Maybe even one long shelf with a large picture or mirror and some smaller items on it (or is that getting too mantle-like?). Do you have a collection in mind you wanted to display on a shelf?
---
| | | |
| --- | --- | --- |
| RE: What to do with this spot? | | |
like sleigh said, if that door is your entrance to the deck or patio, the bench will be a landing spot for trays, etc. I would put a mirror above the bench.
---
| | | |
| --- | --- | --- |
| RE: What to do with this spot? | | |
If you put bar stools at the counter you will want space behind them so people can easily slide in and out. I would probably replace the bench with something like a mirror with shelf & coat hooks under it for keys and jackets. I'm focusing more on the idea of "stuff you need near the door" as opposed to "kitchen or sitting area" stuff.

Where does the door lead to?
---
| | | |
| --- | --- | --- |
| RE: What to do with this spot? | | |
First -- add some kitchen barstools -- perhaps those saddleseat backless ones that could slide under the counter?

Yes -- an excellent thought above -- "stuff you need by the door" -- perhaps a row of black-iron coat hooks? Maybe add a shelf (check for height to allow anyone to sit on the bench and not hit their head!) with a basket for keys etc.?

Or how about a vertical row of family black-and-white photos? Or maybe fun ones of sights around your town -- or a favorite vacation spot?
---
| | | |
| --- | --- | --- |
| RE: What to do with this spot? | | |
Do you have a mail station? If not, I would put i there....a small desk area to catch the mail, the keys, maybe a charging station...

Or maybe an antique water bench that can be combined as display and storage and mail catch....
---
| | | |
| --- | --- | --- |
| RE: What to do with this spot? | | |
You guys are great! I was just out looking for a large mirror to place there. The kitchen is on the front of the house and the door is the "front door." Although there is a side door that gets used 98% of the time. To the right of the door is the dining room. I am waiting on these stools from Overstock.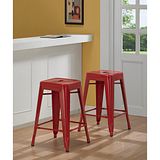 This is the other side of the room

---
| | | |
| --- | --- | --- |
| RE: What to do with this spot? | | |
I think something like this, in an antiqued white finish or black, would be great there. It would have height to balance all the cabinetry, give you useful seating and storage by the door, and break up all the wood in the space with some color. You could even hang a framed mirror on the back wall of this.
---
| | | |
| --- | --- | --- |
| RE: What to do with this spot? | | |
Along the lines of the "hall tree" since you like that bench you could look for a wall-mounted partial hall tree or "hat rack" that could go with it as an entryway with cubbies for purses and hooks for keys etc.

Items like this:

http://www.overstock.com/Home-Garden/Kelly-Espresso-Wall-Mirror/4877310/product.html

http://www.potterybarn.com/products/mirrored-wood-ledge/?pkey=cmirrors

http://www.potterybarn.com/products/entryway-wall-mount-cubby-organizer/?pkey=cmirrors

http://www.ikea.com/us/en/catalog/products/90152659/

http://www.halltrees.com/coat-racks/wall-coat-racks/merlotwinemudwall.cfm

this kind would replace the bench of course:

http://www.amazon.com/Home-Styles-5527-49-Homestead-Distressed/dp/B0035458ZK/ref=sr_1_2?ie=UTF8&qid=1341627334&sr=8-2&keywords=hall+tree

http://www.amazon.com/Powell-998-299-Heirloom-Cherry-Hall/dp/B001JS9HDI/ref=sr_1_13?ie=UTF8&qid=1341627334&sr=8-13&keywords=hall+tree
---
| | | |
| --- | --- | --- |
| RE: What to do with this spot? | | |
les917 and tinan, wow! What great ideas. I love the large cabinets/bench. Perhaps that is something I really should consider! Right now I think I will stick with a mirror/shelf combo. Tinan, you were really busy giving me all those suggestions. Thanks!
---
| | | |
| --- | --- | --- |
| RE: What to do with this spot? | | |
phallky03, you are welcome! We just moved in to a new home and I had a similar predicament - what do use near the front door. We wanted a bench to sit while putting on shoes, and a tidy area to keep keys and odds and ends. The hall closet is nearby but didn't have a good spot for small items (my husband likes to keep his cell phone and wallet near the door) and shoes. So we went with a hall tree with built in bench and shoe storage, but I liked the other items I linked above as well so I thought I'd pass them along!
---
Post a Follow-Up
Please Note: Only registered members are able to post messages to this forum.
If you are a member, please log in.
If you aren't yet a member, join now!
---
Return to the Home Decorating & Design Forum
Information about Posting
You must be logged in to post a message. Once you are logged in, a posting window will appear at the bottom of the messages. If you are not a member, please register for an account.
Please review our Rules of Play before posting.
Posting is a two-step process. Once you have composed your message, you will be taken to the preview page. You will then have a chance to review your post, make changes and upload photos.
After posting your message, you may need to refresh the forum page in order to see it.
Before posting copyrighted material, please read about Copyright and Fair Use.
We have a strict no-advertising policy!
If you would like to practice posting or uploading photos, please visit our Test forum.
If you need assistance, please Contact Us and we will be happy to help.

Learn more about in-text links on this page here