Return to the Home Decorating & Design Forum
|
Post a Follow-Up
---
| | | |
| --- | --- | --- |
| Granite: purple dots update | | |
Posted by
SaraKat
(
My Page
) on
Tue, Jul 17, 12 at 7:52
I wanted to let you know that I finally got the granite mistake changed out! Thank you so much for helping me to stand up for myself! Even though they did not do a great job of installing the new remnant of Carerra and damaged my mirror and left a scratch on the marble when drilling the faucet hole, I didn't even say anything I was so happy to have the other piece removed. It took several months but it's changed out and I am thrilled to not have to "live with" the other top that I had resigned myself to. I can fix the mirror by just adding some trim around the mirror as it is damaged right above the backsplash. I just wanted to be done with this company and we can take care of the rest somehow. We just have to have the floor tiled now and we will be finished! Thanks so much again! I tried to link the original message but it wouldn't let me.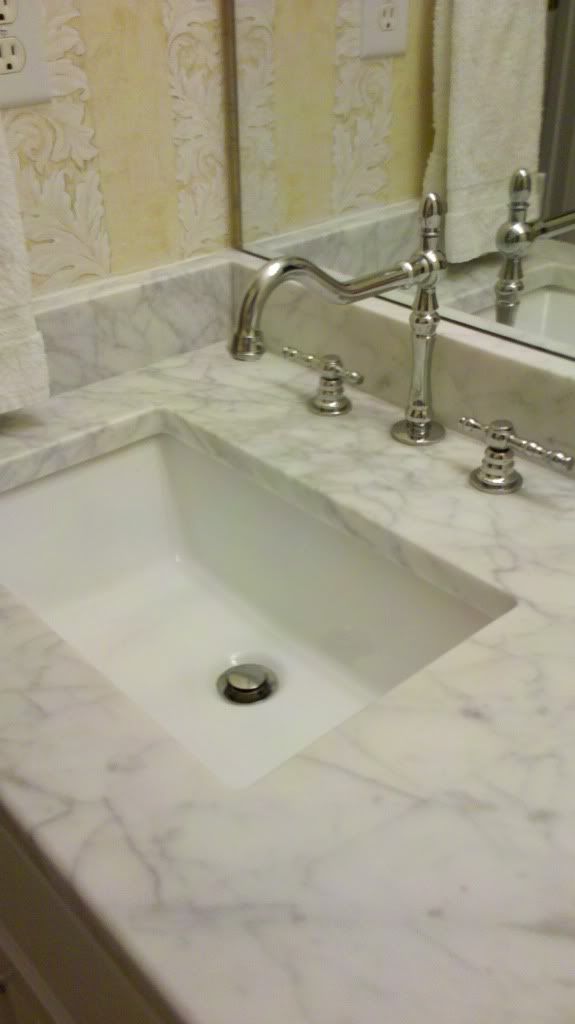 The new top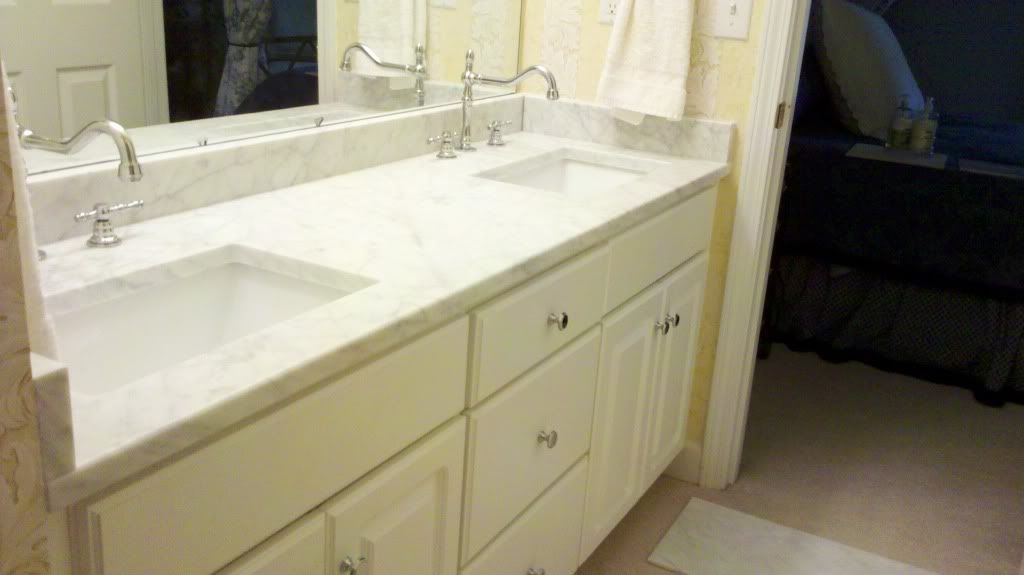 I love the Carrera


Here's a picture of the first counter top that was cut from a different piece than we picked out and the veining running front to back instead of side to side


another view, we changed out most of the old brass but still some to go
They had a Carrera remnant and since it was there they let us switch to it thank goodness. I will eventually change the wallpaper and the new tile sample is sitting on the floor in the second picture. Not sure which size of the floor tile we'll end up using. Even though they cut the wrong sinks in the first try we decided to keep them rather than try to get that resolved, I'm getting used to them now and it's ok with me. Faucets from Signature Hardware dot com.
---
Follow-Up Postings:
| | | |
| --- | --- | --- |
| RE: Granite: purple dots update | | |
Sara, it's absolutely stunning, classic and timeless. I'm so glad that you finally got what you wanted. The marble changes everything and the sinks look very nice in them. Congratulations!
---
| | | |
| --- | --- | --- |
| RE: Granite: purple dots update | | |
Thank you so much, my3dogs, I'm so much happier with this and it did wonders for the look of the bathroom. You can see the damage to the mirror in the current pictures as opposed to the pictures of the first counter. I am hoping that some mirror trim will cover it, I think it will. I'm looking forward to getting the tile in and I also purchased some tiny brick tiles to put on the side of the bathtub to crisp that up. They are backsplash tiles in Carerra and I think they will look good on the side of the tub in the adjoining room. The tub has a slab face of cultured marble.
---
| | | |
| --- | --- | --- |
| RE: Granite: purple dots update | | |
My it pays off to keep after them. It looks so much better. You must be soo relieved.
---
| | | |
| --- | --- | --- |
| RE: Granite: purple dots update | | |
yayagal it definitely looks about a 1000 times better. I actually like it now and can see a pathway to a finished room instead of wondering how I was going to make that work. We have been doing several updates in this house and it's so frustrating at times. I don't ever seem to like anything after it's done!! I mean I appreciate that it looks and functions better but I just wish it was giving more appealling aesthetics bang for your buck. I think it's harder to do updates and work around things than to start out being able to change everything!!! Thanks for your comment, I am very relieved!
---
Post a Follow-Up
Please Note: Only registered members are able to post messages to this forum.
If you are a member, please log in.
If you aren't yet a member, join now!
---
Return to the Home Decorating & Design Forum
Information about Posting
You must be logged in to post a message. Once you are logged in, a posting window will appear at the bottom of the messages. If you are not a member, please register for an account.
Please review our Rules of Play before posting.
Posting is a two-step process. Once you have composed your message, you will be taken to the preview page. You will then have a chance to review your post, make changes and upload photos.
After posting your message, you may need to refresh the forum page in order to see it.
Before posting copyrighted material, please read about Copyright and Fair Use.
We have a strict no-advertising policy!
If you would like to practice posting or uploading photos, please visit our Test forum.
If you need assistance, please Contact Us and we will be happy to help.

Learn more about in-text links on this page here