Return to the Home Decorating & Design Forum
|
Post a Follow-Up
---
| | | |
| --- | --- | --- |
| If You Could Change Your Home's Exterior Colors... | | |
Posted by
catkin
(
My Page
) on
Tue, Jul 8, 14 at 1:44
...just for fun, which colors would you choose?

We may paint later in the Summer and I'm stuck for ideas except medium/light gray with crisp white trim...

Thanks!
---
Follow-Up Postings:
| | | |
| --- | --- | --- |
| RE: If You Could Change Your Home's Exterior Colors... | | |
I would definitely choose Dunn Edwards Play on Gray and DE Calico Rock, with roughly half of the house surface in each color. I know this because we are hopefully applying paint to the final section tomorrow. :)
---
| | | |
| --- | --- | --- |
| RE: If You Could Change Your Home's Exterior Colors... | | |
Our house was inspired by the colors on our vet's house. When I mentioned it to our architect, he said that's interesting since he selected those colors...he had done their remodel, unbeknownst to me.

The walls were taupe, the windows and trim were almond, the shutters were black and the door was a rusty read. They also had some stonework on the front so it all worked beautifully.
---
| | | |
| --- | --- | --- |
| RE: If You Could Change Your Home's Exterior Colors... | | |
We just painted this summer. We have brick with trim. I wanted a nice olive/sage green, but DH wanted to keep the cream color we had, so it looks the same.

I'll need to take an after photo, but really it's just a cleaner version of what we had.
---
| | | |
| --- | --- | --- |
| RE: If You Could Change Your Home's Exterior Colors... | | |
I got to choose our new siding colour and our house went from one that depressed me to see, to one that I looked forward to seeing as I crested the hill in our tiny subdivision.

Okay, so it was just siding, so nothing great in terms of choice, but the previous colour (a pale grey) was hideous with our brick red roof and the new brown just sang. I never got to painting the door before we left, but I wish I had.

Before (taken as the old siding was being ripped off).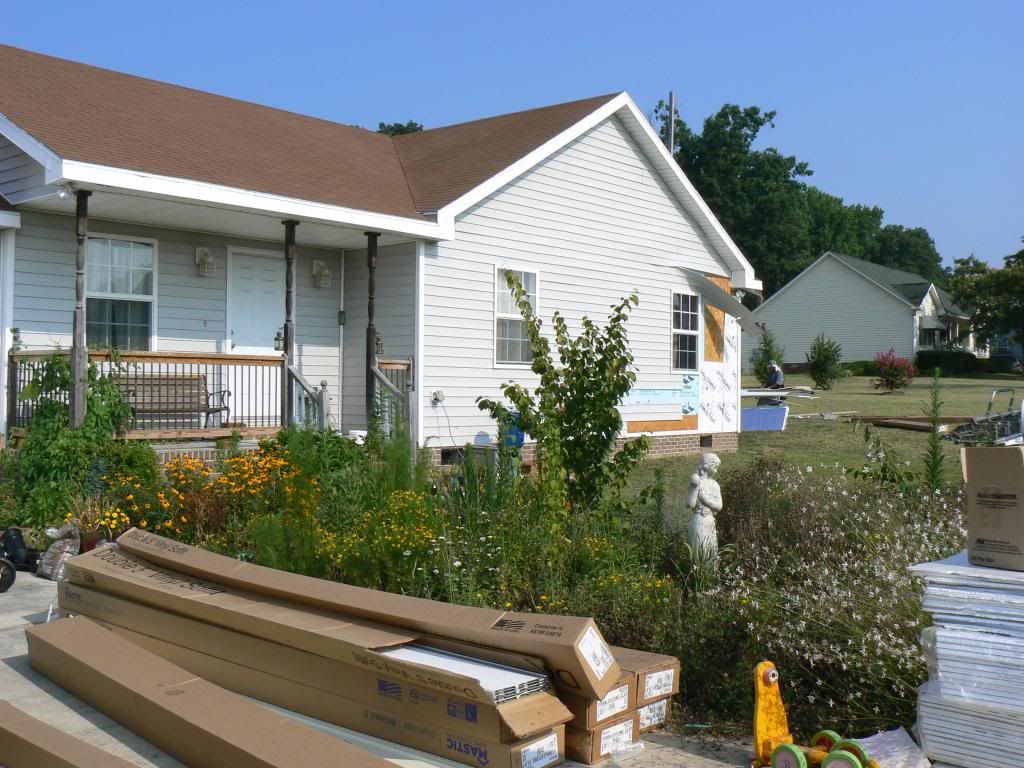 After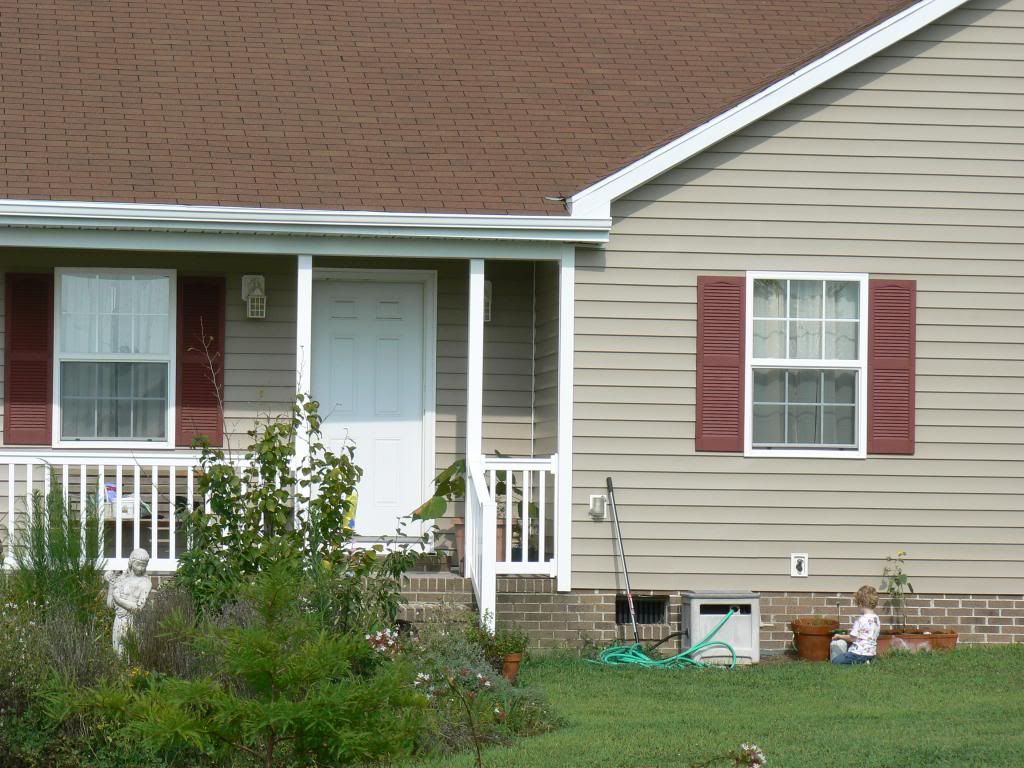 Our current house is brick, except at the back where the extension is that previous owners added. That's painted a dark brown. I'm not sure what colour it should be, but the brown does nothing for the house, even though it seems as though it would blend in with the dark mottled brick.
I love brick houses, so I was over the moon when our estate agent showed us this one.
(But putting up these photos made me miss that front garden. I bet the trees are so much taller now. That witch hazel had just managed to be visible from sitting down in the dining room when we left. My sole purpose for planting it was to shade the due west front porch.)
---
| | | |
| --- | --- | --- |
| RE: If You Could Change Your Home's Exterior Colors... | | |
I just got back from a vacation in NOLA, and all I can picture is anything colorful, although that's not likely what you're wanting. The one that stood out most to me was a very pale yellow w/aqua blue shutters and door. So cute, but not colors *right* for just any neighborhood.

My own home is a putty color stone and brick, and cedar shutters/ barn style garage doors are a putty stain. Front door is stained a dark walnut w/black wrought iron over the top portion of glass. It's supposed to be French 'influenced', and think the colors lend themselves very well to the style. Style sometimes dictates color, IMO.
---
| | | |
| --- | --- | --- |
| RE: If You Could Change Your Home's Exterior Colors... | | |
My dream-butter color stucco and white trim, red tile roof, a kind of Spanish'y contemporary look. No fences, butter color stucco walls. Dream on, Deb...
---
| | | |
| --- | --- | --- |
| RE: If You Could Change Your Home's Exterior Colors... | | |
We have used brick of multi colors. When we built our house this was not the color of brick that I wanted but another couple were building a house across the street at the very same time and as it turned out we had unknowingly picked out the very same brick that I still pine for and love to this day. It was called something romantic like "white rose tudor". Funny, I can't even remember the name of our brick, but I can still remember the name of their brick!. It would bring tears to your eyes it's so beautiful. I look out the front window and see my house sitting over there, complete with the trim color I was going to use as well. It's funny you posted this today because I was just thinking how I should have used that brick anyway since it was my first choice and the people only lived there a few years and sold it to retire in Florida. I remember how it was a big deal and that I thought the right thing to do was to acquiesce since their house was a little further along than ours and I could still change our brick before it was delivered. I did this with deep regret and sorrow and honestly I don't think they had any idea how much it pained me to give up that brick. We will most likely be here until we die since we are quite a bit younger than the retired couple. It's not like it's the end of the world but you do want to like what you chose and not just because you had to come up with a second choice instantly because your builder needs to order something different. I didn't HAVE to but it would have been weird to have two such distinctive new brick houses with the exact same brick and trim color directly across the street from each other. OK so it's pathetic that I still lament nearly ever day when I see that gorgeous house and know that is exactly what I wanted for my own house. What are the odds? It's not like it was a developer's subdivision with only a few choices. We're in a metro area of millions of people and one small subdivision where everyone hired their own builder, bought their own house plan and bought their own lot and picked out everything from A to Z from separate vendors and building suppliers. It's eerie! How could this happen??? Just so you all know, I'm very thankful for my home and am very fortunate to have it but this is just in answer to the question!!!
---
| | | |
| --- | --- | --- |
| RE: If You Could Change Your Home's Exterior Colors... | | |
Our house is currently varying- browns brick, with off-white siding and kind of grey/taupe shutters and front door. This summer we will paint the siding a very soft, hint-of-spring green (when the leaves are just starting to think about coming back in March) with cream trim and shutters. Still need a front door color. Inspired by a house in a nearby neighborhood with same brick. I can't wait!
---
| | | |
| --- | --- | --- |
| RE: If You Could Change Your Home's Exterior Colors... | | |
I have this: The entire house, inside and out, walls and trim and carpet were all the tan color. We painted the white trim and green door for right now.

The house was originally white with some black slate on it. The deteriorating stoop is slate. I want to skew toward this for the exterior:
div>
---
| | | |
| --- | --- | --- |
| RE: If You Could Change Your Home's Exterior Colors... | | |
I did change my homes exterior a few years ago. The house needed to be repainted and since I was doing it myself, I wanted to have something to show for my efforts. Also, I felt like the color that was on the house was boring and pretty much the same color as the majority of the houses in my neighborhood.
So I went from this:

To this:

Now I just have to figure out what color for the new roof we are getting later this summer.
---
| | | |
| --- | --- | --- |
| RE: If You Could Change Your Home's Exterior Colors... | | |
I was actually just talking about this today. I'd pick cream siding, black roof, black shutters, red door.
---
| | | |
| --- | --- | --- |
| RE: If You Could Change Your Home's Exterior Colors... | | |
I have a Spanish style house with red clay tile roof. The previous owners had painted the stucco a mustard/gold that was a bit too bright and looked too Crayola/clownish with the red tile. We did an addition an painted/repainted in a more neutral tan/beige. The house looks so much better with the less garish color. Another major improvement was removing the cheap garage door (painted brown) and replacing them with custom stained wood doors.

The only change I might have made is all the stucco walls and retaining walls we added ... who knew that raccoons would climb all over them and leave muddy paw prints on my pretty tan paint! Some kind of stone or pavers would have been less stain prone ... my painter loves me though ... he gets to come by every year and spend the day touching up.
---
| | | |
| --- | --- | --- |
| RE: If You Could Change Your Home's Exterior Colors... | | |
Thanks for sharing everyone! Great choices and photos!

I have slept with the SW paint fan book and am going back and forth from Moody Blue to Underseas...leaning toward Moody Blue, which is a deep sort of spa blue. With white trim and black gutters I think it'd look okay.

In the past, all of our house colors have been in the brown family and I'm ready for a change!
---
Post a Follow-Up
Please Note: Only registered members are able to post messages to this forum.
If you are a member, please log in.
If you aren't yet a member, join now!
---
Return to the Home Decorating & Design Forum
Information about Posting
You must be logged in to post a message. Once you are logged in, a posting window will appear at the bottom of the messages. If you are not a member, please register for an account.
Please review our Rules of Play before posting.
Posting is a two-step process. Once you have composed your message, you will be taken to the preview page. You will then have a chance to review your post, make changes and upload photos.
After posting your message, you may need to refresh the forum page in order to see it.
Before posting copyrighted material, please read about Copyright and Fair Use.
We have a strict no-advertising policy!
If you would like to practice posting or uploading photos, please visit our Test forum.
If you need assistance, please Contact Us and we will be happy to help.

Learn more about in-text links on this page here