Return to the Home Decorating & Design Forum
|
Post a Follow-Up
---
| | | |
| --- | --- | --- |
| Possible piece for under my TV? | | |
Posted by
fillagirl
(
My Page
) on
Tue, Jul 17, 12 at 0:05
Please weigh in....I have been searching for a TV stand for under my wall-mounted TV, but everything I've found is not tall enough. I currently have an old buffet under the TV, but it is not wide enough to visually balance out the TV.

I saw this piece on CL and thought maybe it would work. I think I would paint it black and try to figure out how to take the drawers out to make it look more like a TV stand.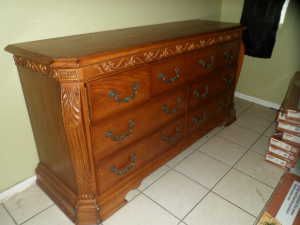 Here's a pic of the buffet (and the TV before it was wall-mounted,) now the middle of the TV screen is even with the fireplace mantle. Here's the furniture in the room, ignore the old coffee table, it's got to be replaced as well.
a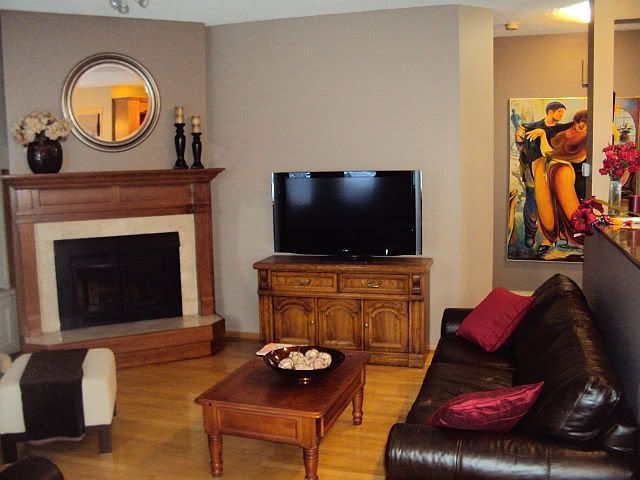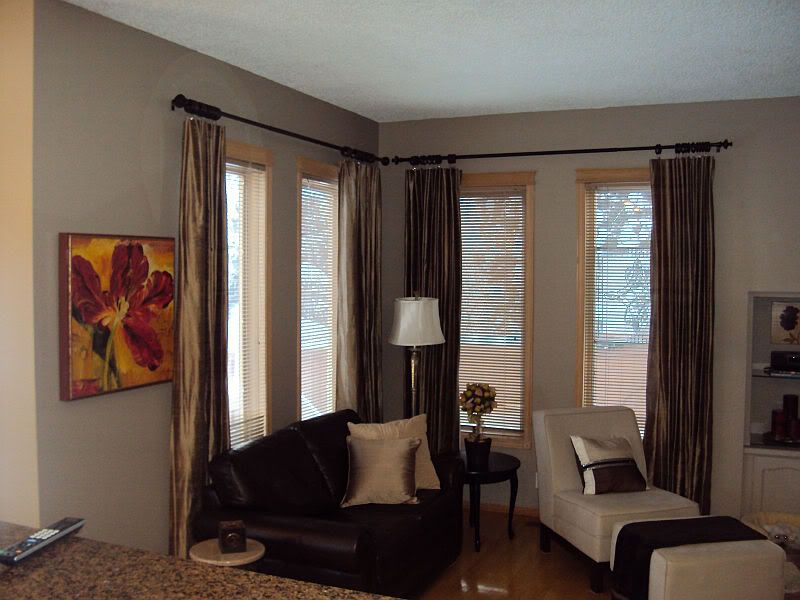 What do you think? Should I keep looking or maybe even have something custom-made? Does that dresser look too heavy, too ornate? Thanks for your opinions and ideas, open to any and all feedback, thanks!
---
Follow-Up Postings:
| | | |
| --- | --- | --- |
| RE: Possible piece for under my TV? | | |
Honestly? I think your TV is mounted too high. For your room size, the center should be at sitting eye height. I like the original set-up with the TV on the buffet. If you want the TV mounted, I'd lower it and look for something shorter to put under it. You don't want a piece that's too wide because it will crowd your fireplace.
---
| | | |
| --- | --- | --- |
| RE: Possible piece for under my TV? | | |
To each his own I guess. I would not say your TV is too high..for viewing,neck strain it is perfect, I may even go higher. I love the new piece but would agree it may be too long for the balance with the fireplace. We searched for such a piece but my fireplace is stone and a much larger presence in my space. In my mind the TV should not overpower the fireplace. I found the bottom of a china cabinet that was perfect but they would not sell me just the bottom. I would not touch the drawers if you do not need an open place for electronics. It is a beautiful piece!!
---
| | | |
| --- | --- | --- |
| RE: Possible piece for under my TV? | | |
I'm not sure I understand all this 'neck strain' issue people keep raising about their TVs. Ours is a 55" TV and the bottom of the unit is at 41" off the floor. It tilts down slightly. It is a great height and we have no neck strain. I like it that high as I can be doing things, like using the laptop and glance up to see the screen....one is not in the way of the other...neither are our feet which we prop up all the time. Our family room is also open to the kitchen so the screen is high enough for easy viewing from there while I'm working. Also for when we have company, it leaves the top of the credenza free for drinks and snacks and stuff and we can use it as a conversation area...nice in winter as the woodstove is just off to the left.

I wouldn't want the screen a lot higher, but where it is is great for us.
---
| | | |
| --- | --- | --- |
| RE: Possible piece for under my TV? | | |
I'm sorry, I shouldn't post late at night when I should be sleeping. :)

From Annie's picture, it looks like a great height. I got a different impression of the height of fillagirl's fireplace from her photo.

Love your artwork, fillagirl!
---
| | | |
| --- | --- | --- |
| RE: Possible piece for under my TV? | | |
I wouldn't put that CL piece in your room. A wide, solid piece like that would be too much for the space. And removing the drawers will make it look strange. How about just a narrow black table?
---
| | | |
| --- | --- | --- |
| RE: Possible piece for under my TV? | | |
The height of TV's, computers is all about ergonomics. Those of us with neck issues need to look straight ahead, not our head tilted up or down. And those that don't have problems could possibly develop them! The TV did not look too high to me. But I do think the piece is too heavy to put beside your FP. My eye did not know where to go. It is beautiful, is there somewhere else you can use it?
---
| | | |
| --- | --- | --- |
| RE: Possible piece for under my TV? | | |
I think it's too heavy and similar in width to the fireplace. If you do find something else, think in terms of a lighter shade so the fireplace will be able to hold it's own without competing. A table works well and place a wicker basket under it with the components in it.
---
| | | |
| --- | --- | --- |
| RE: Possible piece for under my TV? | | |
My TV might look high, but it's actually works because that room is actually sunken and open to the kitchen. We mounted the TV at that height so I could see the TV from the kitchen, over the breakfast bar. It works, no neck strain from those in the family room. Thanks for posting your photo Annie, that's what my TV looks like.

After reading through your comments, the piece does look too heavy for that space. I like the idea of a narrow black table, thanks for the idea graywings.
---
| | | |
| --- | --- | --- |
| RE: Possible piece for under my TV? | | |
I ended up in physical therapy for neck/head muscle strain after visiting in a home with a wall mounted tv. It didn't look too high, but after being there for a week I could barely move my head. Never had neck issues before.
---
| | | |
| --- | --- | --- |
| RE: Possible piece for under my TV? | | |
When I look at the seating side of your LR, it seems very clean and modern. The fireplace trim is a bit more involved, but still pretty quiet. And you're replacing the spinle-legged coffee table with -- I assume -- something more clean/modern. So I don't think the big acanthus-leaf-adorned dresser is the way to go in your space. Nevermind that it seems too long and deep to work there, I just don't think it goes with the "look" of the rest of your room.

Do you need the depth of a dresser? Meaning, do you have components in the cabinet that need a certain depth to fit? If not, I would stick with something shallow, since it will sit next to the entrance to the room. Do I see a built-in to the left of the fireplace? Would you consider putting something similar to the right of the FP? Not necessarily built-in, but made to look that way, and painted to match the built-in on the other side?
---
| | | |
| --- | --- | --- |
| RE: Possible piece for under my TV? | | |
Hello and thanks for your opinions and comments! Jakabedy, that built in wouldn't work on this side, as the TV is right in the middle of where it would go.
I'm leaning towards a narrow black table for under the TV. I don't think I need a whole bunch of space for components, but that's just because we're not big TV watchers.

Attached are a couple of tables that I thought might fit the space. I would have to have them custom built, because none of them are long enough to visually balance the TV.

The TV is 50" wide, the current "TV Stand" is 55 wide, and the chunk of wall that it sits on is 82" wide.
I was going to build the table at least 60" long or even maybe 64", I want it to look noticeably wider than the TV.

What do you think of the table -too plain or OK? and do you think 60 or 64 inches will be long enough for the table? Thanks again for your ideas and opinions.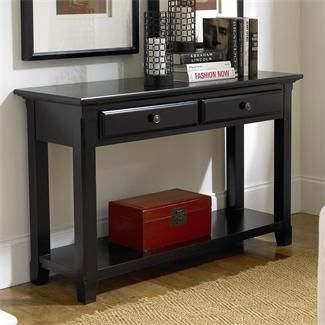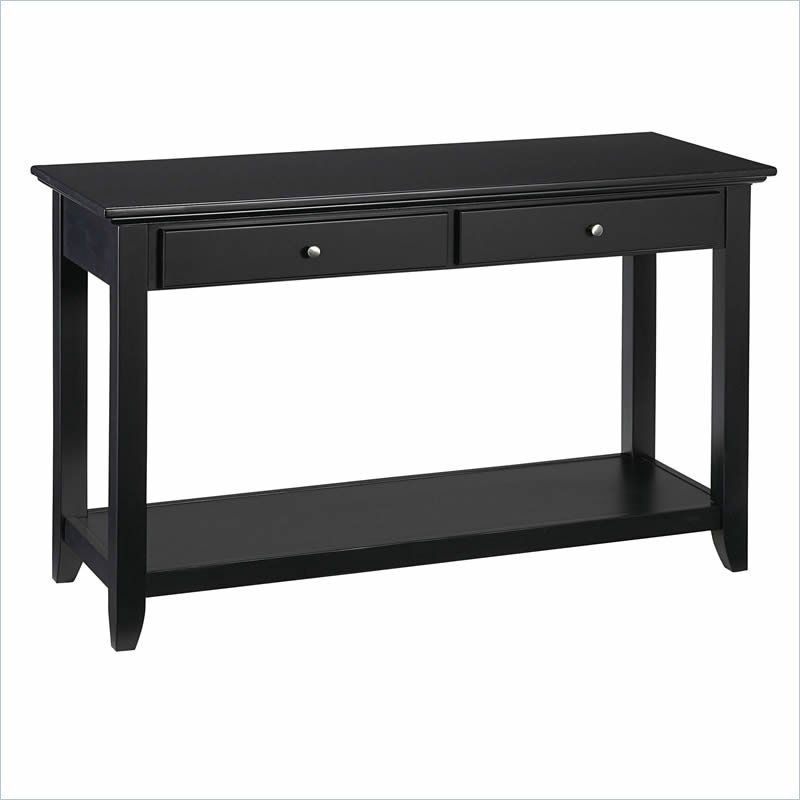 ---
| | | |
| --- | --- | --- |
| RE: Possible piece for under my TV? | | |
I think your current stand is wide enough for that TV and that if you use anything wider you are crowding that wall. Good luck!
---
Post a Follow-Up
Please Note: Only registered members are able to post messages to this forum.
If you are a member, please log in.
If you aren't yet a member, join now!
---
Return to the Home Decorating & Design Forum
Information about Posting
You must be logged in to post a message. Once you are logged in, a posting window will appear at the bottom of the messages. If you are not a member, please register for an account.
Please review our Rules of Play before posting.
Posting is a two-step process. Once you have composed your message, you will be taken to the preview page. You will then have a chance to review your post, make changes and upload photos.
After posting your message, you may need to refresh the forum page in order to see it.
Before posting copyrighted material, please read about Copyright and Fair Use.
We have a strict no-advertising policy!
If you would like to practice posting or uploading photos, please visit our Test forum.
If you need assistance, please Contact Us and we will be happy to help.

Learn more about in-text links on this page here