Return to the Home Decorating & Design Forum
|
Post a Follow-Up
---
| | | |
| --- | --- | --- |
| For bronwynsmom's - request on chalk paint mirror | | |
Posted by
my3dogs
(
My Page
) on
Sat, Jun 30, 12 at 21:02
This will be short, as there is really no trick to what I did on that CL mirror. It was like this when I bought it, and while it was very nice, I didn't like the stark black against my wall.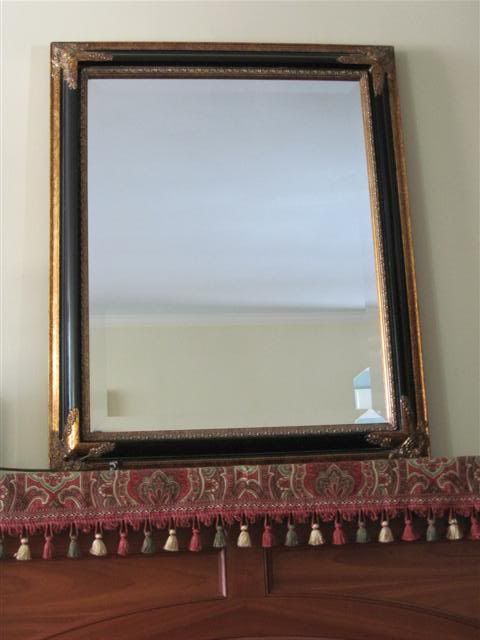 I have bought several sample size jars of AS chalk paint by phone order, calling a shop in MA, which is the closest one to my home in Maine. I did this mirror with one of the sample jars, as well as that entire bureau that you saw in the other post about chalk paint, and I still have some left!
On the mirror, I used Old White, Paris Grey, Provence and Cream. I wanted something to blend with these old hand painted vases that I got on CL, two for $10! They were sloppily made into lamps and dirty when I bought them.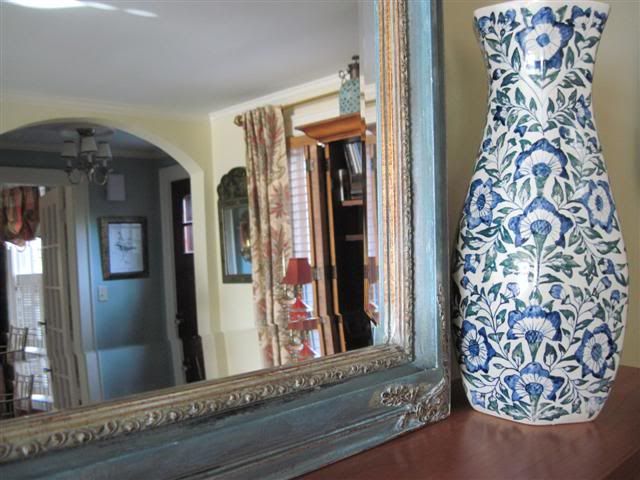 I just kept the vase nearby, and layered the colors on the mirror, using more of one color in one area, etc. I didn't wash the brush between colors. I probably spent 2 hours on the darn thing as I would put on another color and not like the look I got.
I also would rub some off before it completely dried with a damp paper towel. That is how I re-exposed the gold in the corners. I didn't sand any of the pant off this, just did the rubbing while damp, blotted on more of those colors if I got too far back down to the black.
IMO, it's the wax that makes the look. I don't have her wax, but I do have BriWax in light brown and dark brown, as well as good old clear Butcher's Wax. To me, it adds depth and a great aged look. I used all three of the waxes on the mirror, playing around til I got the look I wanted. Start with clear, as the dark can really change the color of the paint, and maybe more than you want, til you get used to it. I hope this helps!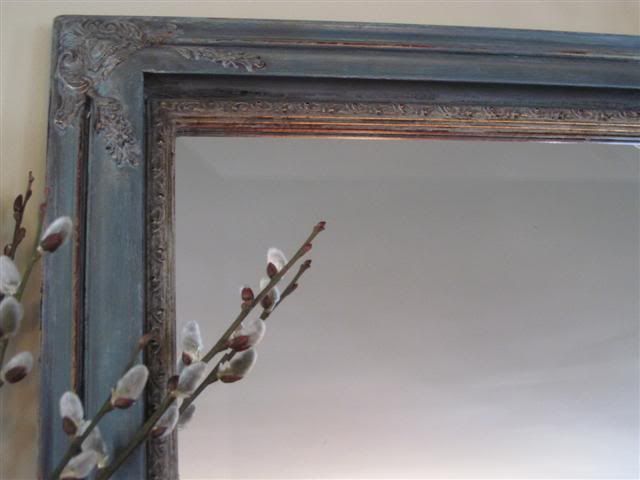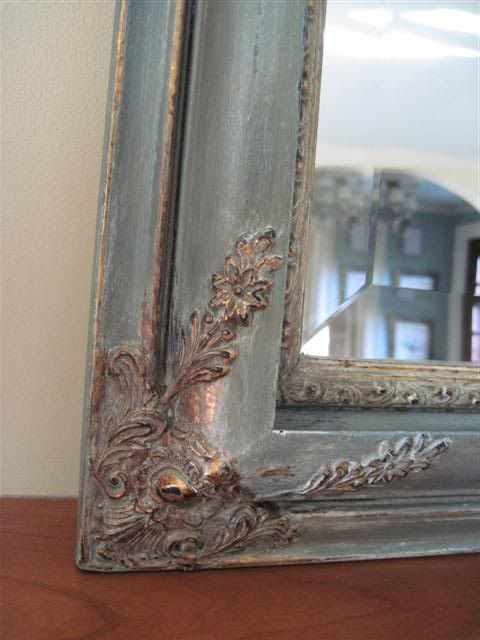 ---
Follow-Up Postings:
| | | |
| --- | --- | --- |
| RE: For bronwynsmom's - request on chalk paint mirror | | |
Oooh my3 - I though you had used the Duck Egg, but now I see it's the deeper blue. Looks lovely with your vase!

Have you used the gilded wax? I'm dying to try it too but so far don't have a project for it. I also bought some crackle stuff that I have not used - it's for more of a chippy, time-worn look. I've been looking at an old column that sadly has been repainted. I'm thinking the crackle might work just right on it. Haven't made up my mind yet.

tina
---
| | | |
| --- | --- | --- |
| RE: For bronwynsmom's - request on chalk paint mirror | | |
Thanks, my3dogs! and bronwynsmom for asking her! I have a mirror that needs help and this may be just the ticket. Yours is beautiful and the directions much appreciated.
---
| | | |
| --- | --- | --- |
| RE: For bronwynsmom's - request on chalk paint mirror | | |
Hi, tina!
I haven't used the gilding size. From what I see, the size is the medium to glue on faux gold, silver or brass leaf. In the past I bought a small silver leaf kit at AC Moore with one of their 40% off coupons to use on a mirror. It's a great fun project, but I chose the wrong mirror, as it didn't have nooks and crannies, and was just too flat.

If you want a 'wax' type substance to try inexpensively, I'd go for Rub N Buff, which I have used. A tube is inexpensive and it comes in many colors. A little bit goes a long way!

Good morning, sujafr,
I hope you get the results you want! It's really just playing with the paint until it looks good to your eye, and knowing that if you are going to use one of the colored waxes, it WILL change the color of the paint look, but it adds a richness that I couldn't do without. Even a clear wax will make the paint color look slightly different, but GOOD!
---
| | | |
| --- | --- | --- |
| RE: For bronwynsmom's - request on chalk paint mirror | | |
Thank you, thank you!
That's exactly what I wanted to know.

Now if you would meet me at the transplant clinic so we can infuse some of your talent into my brain, I'll get started.
---
| | | |
| --- | --- | --- |
| RE: For bronwynsmom's - request on chalk paint mirror | | |
Ditto what bronwynsmom said about the transplant. Here's hoping my eye can tell how to reach something that looks good. I already have the rub n buff, so now to just get the paint. At least my mirror can only improve. Thnx again for all your wonderful pictures.
---
| | | |
| --- | --- | --- |
| RE: For bronwynsmom's - request on chalk paint mirror | | |
Ha, bronwynsmom - I'll gladly trade a small portion my creativity for an equal amount of yours, any day!

I've finally managed to strip all the old darkened finish off the 2nd Eastlake chair and have applied the tung oil. I hope to be able to get some fabric on it tomorrow. I'm VERY eager to see how that fabric I've stashed for ages looks on it. Fabric is my biggest vice, I think.
---
| | | |
| --- | --- | --- |
| RE: For bronwynsmom's - request on chalk paint mirror | | |
My dear, you must find the bumper sticker that says, "She who dies with the most fabric wins."

And thank you - I am not without creativity, but I don't claim to have your level of craft and artistry.
---
| | | |
| --- | --- | --- |
| RE: For bronwynsmom's - request on chalk paint mirror | | |
Wow. Just wow.....again. Sigh.
---
| | | |
| --- | --- | --- |
| RE: For bronwynsmom's - request on chalk paint mirror | | |
It's beautiful... I just love the mirror! I just started to use the chalk paint, and find myself looking around for paint projects.. but I need to focus and finish painting the inside of the house!

I do have a question regarding the wax. I have waxed everything I painted so far... but the furniture "feels" waxy.. did I use to much, do something wrong.. or does it take a long time to cure?
---
| | | |
| --- | --- | --- |
| RE: For bronwynsmom's - request on chalk paint mirror | | |
Thank you very much for this thread, my3dogs. I was not familiar with chalk paint, though I am now headed off to investigate!
---
| | | |
| --- | --- | --- |
| RE: For bronwynsmom's - request on chalk paint mirror | | |
Hi, Tinker! How long ago did you wax your items? Mine don't feel waxy, but I just use a small amount and buff it dry with a a cotton rag.

lazydaisy, I was amazed when I experimented with chalk paint and 'regular' latex on a piece of furniture to test colors. I have linked the prior post below. Chalk paint will adhere with no sanding at all; I just make sure the piece is clean. I would have had to sand the sample chalk paint colors off that piece, but the latex just came right off when I dragged a fingernail over it.

It also goes a long way, and in the picture of my decoupaged bureau, you will see some of the sample sized jars below it, that I use. It IS pricey, as I paid $6.95 each for those jars. I have not made my own, as I'd be concerned about duplicating the color later, if I needed more.

I have NO connection with Annie Sloan chalk paint, but that is what I have used. Here is a link to a search of stores that sell her paint in the US. You may luck out and find one near you. http://www.anniesloanunfolded.com/retailers
Here is a link that might be useful: Previous chalk paint post
---
| | | |
| --- | --- | --- |
| RE: For bronwynsmom's - request on chalk paint mirror | | |
In the pic of the "best in show" chair I see , and want to see more!!....a painted or decoupaged chest. More of your wonderful work, I presume. Please post a pic of this piece, if it's your art work. Thanks!
---
| | | |
| --- | --- | --- |
| RE: For bronwynsmom's - request on chalk paint mirror | | |
It's not my doing, but I'm happy to post pictures of it. The moment I saw it, I fell in love.

Last summer, I bartered for this bureau, with some of my eBay and CL finds in my favorite local shop. I saw an original tag inside it once I got it home showing a NY antique dealer, and also discovered a date written inside in the European way of '26/2/26' (Feb 26, 1926) and what is either a signature or perhaps where it came from. It appears to be Pilona, which is a town in Spain, which MAY explain the format of the date written next to it.

It isn't in perfect condition as far as the painting on it, so I can tell that the painting has existed for a long time, and has yellowed. But, I also didn't notice the painting of VR on the sides til I got home. That combined with the date inside makes me feel it was done after the reign of Queen Victoria (Victoria Regina) who died in 1901.

It's really all just fun theories, as I don't know if that date and 'name' inside are just of someone who owned it at that point in time, or those of the builder, or a place!

I also found that "fifteen ships of the British Royal Navy have carried the name HMS Tiger after the feline tiger, with a number of others provisionally bearing the name at various stages in their construction" (Wikipedia), but I doubt any of them looked like the ship painted on the top of my chest!

First 2 pics are taken in the shop. I just took the 3rd standing on a stool trying to capture the whole top, with the lovely window AC unit in the background. 4th one is taken in my garage when I got it home.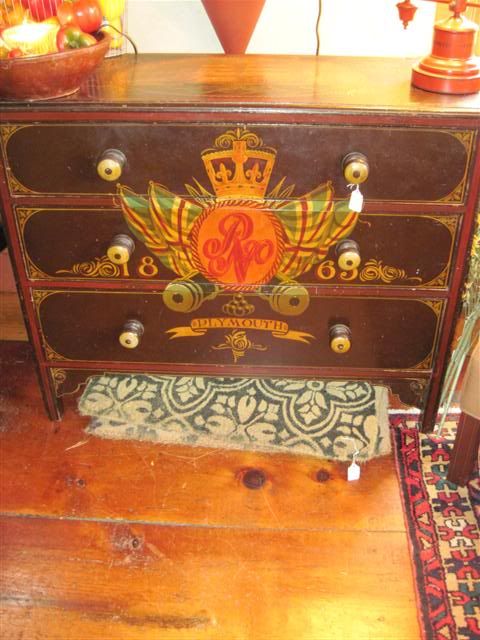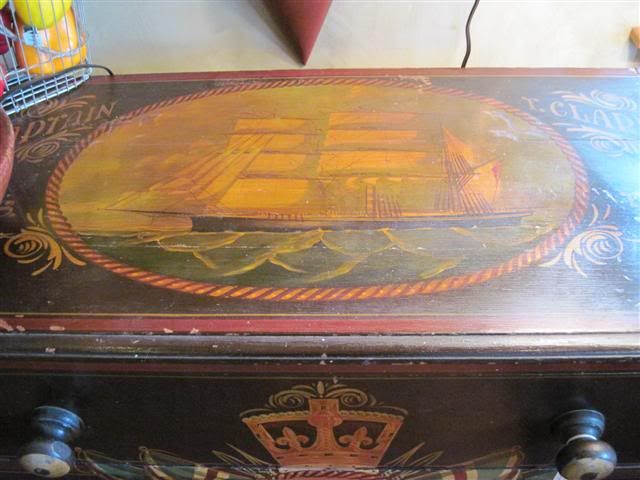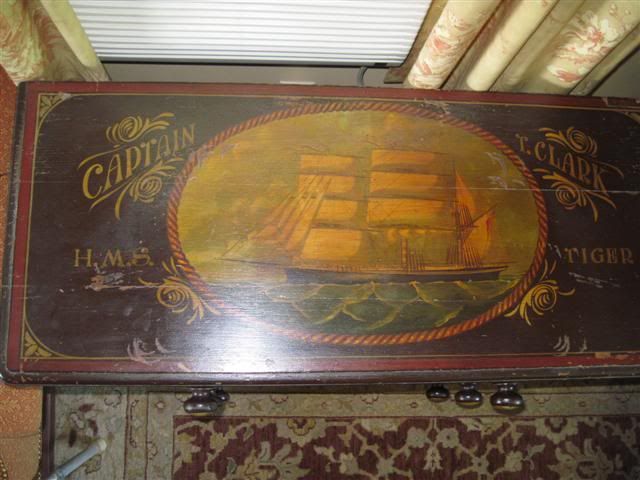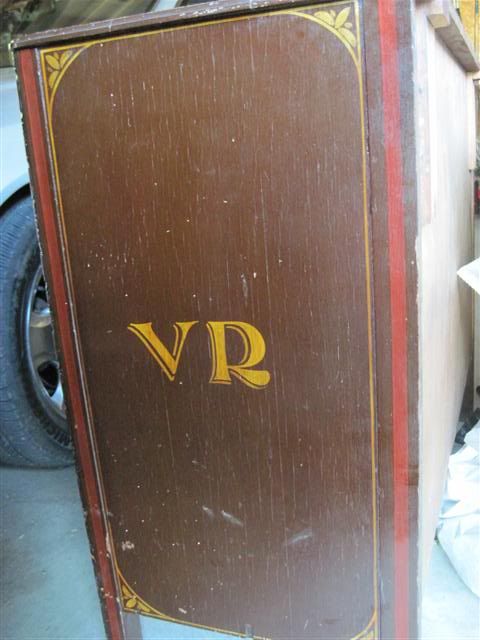 ---
| | | |
| --- | --- | --- |
| RE: For bronwynsmom's - request on chalk paint mirror | | |
Thanks so much for the pics.....it's pretty special! Finding something unique is exciting, and more so...oh so much more so , when nabbed as a bargain! Oh the thrill of the hunt.
---
Post a Follow-Up
Please Note: Only registered members are able to post messages to this forum.
If you are a member, please log in.
If you aren't yet a member, join now!
---
Return to the Home Decorating & Design Forum
Information about Posting
You must be logged in to post a message. Once you are logged in, a posting window will appear at the bottom of the messages. If you are not a member, please register for an account.
Posting is a two-step process. Once you have composed your message, you will be taken to the preview page. You will then have a chance to review your post, make changes and upload photos.
After posting your message, you may need to refresh the forum page in order to see it.
Before posting copyrighted material, please read about Copyright and Fair Use.
We have a strict no-advertising policy!
If you would like to practice posting or uploading photos, please visit our Test forum.
If you need assistance, please Contact Us and we will be happy to help.

Learn more about in-text links on this page here