Return to the Home Decorating & Design Forum
|
Post a Follow-Up
---
| | | |
| --- | --- | --- |
| Kaldun and Bogle, Fitz and Floyd | | |
Posted by
musicgal
(
My Page
) on
Wed, Jun 11, 14 at 20:17
I have a lot of Fitz and Floyd holiday pieces, but I discovered Kaldun and Bogle at the gatehouse shop at Biltmore on our trip there three years ago. I bought their swan tureen as a summer centerpiece. What are your favorite art ceramic pieces and how do you use them?
---
Follow-Up Postings:
| | | |
| --- | --- | --- |
| RE: Kaldun and Bogle, Fitz and Floyd | | |
My favorite are the very few pieces I have of the Mottahedeh Tobacco Leaf - I have an urn and a charger plate - not these exact, but similar

For my kitchen I have an assortment of Port Merion Botanica, Villeroy and Boch Botanic Garden and a few Royal Worcester Evesham serveware and bakeware pieces that I mix into my tablesettings. I missed out big time, always planning to "someday" buy the Coalport Countryware in white as my everyday dinnerware. I realized recently that they discontinued it while we were out sailing.
---
| | | |
| --- | --- | --- |
| RE: Kaldun and Bogle, Fitz and Floyd | | |
I love the Biltmore gift shop. I am familiar with Fitz and Floyd but haven't heard of Kaldun & Bogle. I will be googling them to take a look see.

Marji, your Mottahedeh pieces are lovely. The colors are beautiful. You can probably find the Coalport at Replacements or even on Ebay.

I have some Franz teapots that I like but will have to post them when I get home.
---
| | | |
| --- | --- | --- |
| RE: Kaldun and Bogle, Fitz and Floyd | | |
| | | |
| --- | --- | --- |
| RE: Kaldun and Bogle, Fitz and Floyd | | |
I have some of the Fitz and Floyd Christmas pieces (large swan, angel, and rabbit) that I put out at Christmas. I have a couple of the botanic pieces (cherries, orange) that I put out in the summer. Also a couple of summer rabbits.

In my kitchen, I have primarily English, Scottish and Irish pottery, including Mosse Pottery, Laura Ashley, Royal Worcester, Buchan Pottery, and Emma Bridgewater.

In my family room, I have French pottery including hand-painted floral plates and vegetable plates from Pierre Deux.

In my living room, I have a tray table with a large Mottahedeh platter in the sacred bird and butterfly pattern.
---
| | | |
| --- | --- | --- |
| RE: Kaldun and Bogle, Fitz and Floyd | | |
I'm not sure exactly what fits into your definition of ceramic art pieces, but I have four Villeroy and Boch leaf bowls that I bring out for Easter, a collection of Royal Crown Derby china buildings that are displayed in a vitrine in my home office and, of course, the ubiquitous Department 56 Christmas village.

If I had tons of space, I would collect cookie jars. I love some of the cute figural ones.
---
| | | |
| --- | --- | --- |
| RE: Kaldun and Bogle, Fitz and Floyd | | |
I absolutely adore the Walking Ware line from Carlton Ware: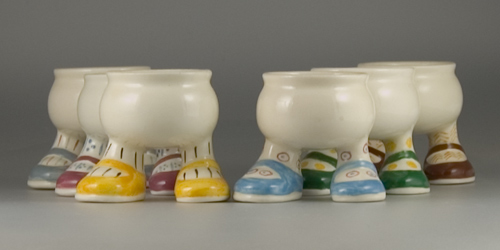 I have a few of the cups, although they don't really go w/ anything else in the house.
---
| | | |
| --- | --- | --- |
| RE: Kaldun and Bogle, Fitz and Floyd | | |
I love them Beagle! Very intriguing.
---
| | | |
| --- | --- | --- |
| RE: Kaldun and Bogle, Fitz and Floyd | | |
Oh you guys! Loving the pictures. Keep them coming. This is my swan... okay, goose. But she's beautiful to me.
This post was edited by musicgal on Thu, Jun 12, 14 at 23:26
---
Post a Follow-Up
Please Note: Only registered members are able to post messages to this forum.
If you are a member, please log in.
If you aren't yet a member, join now!
---
Return to the Home Decorating & Design Forum
Information about Posting
You must be logged in to post a message. Once you are logged in, a posting window will appear at the bottom of the messages. If you are not a member, please register for an account.
Please review our Rules of Play before posting.
Posting is a two-step process. Once you have composed your message, you will be taken to the preview page. You will then have a chance to review your post, make changes and upload photos.
After posting your message, you may need to refresh the forum page in order to see it.
Before posting copyrighted material, please read about Copyright and Fair Use.
We have a strict no-advertising policy!
If you would like to practice posting or uploading photos, please visit our Test forum.
If you need assistance, please Contact Us and we will be happy to help.

Learn more about in-text links on this page here