Return to the Home Decorating & Design Forum
|
Post a Follow-Up
---
| | | |
| --- | --- | --- |
| hanging a tree swing | | |
Posted by
GWlolo
(
My Page
) on
Wed, Jun 26, 13 at 20:00
DD has been asking for a simple swing. I found a couple of vendors online and on etsy who make nice single wood swings. I want to get this installed before the holidays end. Some websites suggest drilling a hole and using stainless steel eye bolts to install the swing (the holes apparently are like ear piercing and the tree heals around). Some others suggest a rubber piece under the rope that goes around the tree branch. Has anyone done this and has a comment on what is better?
---
Follow-Up Postings:
| | | |
| --- | --- | --- |
| RE: hanging a tree swing | | |
Use the eye hooks. Drilling into the tree actually does less damage, putting a rope around the branch - even with rubber- wears away the bark around the branch and will kill the branch.
---
| | | |
| --- | --- | --- |
| RE: hanging a tree swing | | |
Just editing to add - over $300 for a board with some holes drilled in it and rope strung through? My dad made me a swing like this when I was little it cost less than $10.

You could easily have a nice hardwood board cut and drilled at Home Depot, stain it pretty and run the rope yourself - this price seems insane to me!
---
| | | |
| --- | --- | --- |
| RE: hanging a tree swing | | |
Eye bolts are better for the tree. Make sure your tree is healthy and that the branch is healthy. The branch needs to be big, at least 8 inches in diameter(not circumference) and you need to place the swing an ample distance from the trunk. If you have any doubts about the health of the tree/branch, consult an arborist. If she were ever swinging and the branch broke, egad. This Old House has good information, or maybe Family Handyman.
Be choosy about the rope, it must be pleasing to the senses; not splintery, not itchy, not slimy after a rain, not smelly.... I am not a rope expert but I know what I don't like when I see, smell or touch it.
Hanging a swing sounds like it should be simple, it is not. You know the chore you ask your DH to do and you think it should take an hour, tops. Hours later, he is sweaty, swearing and you are contemplating divorce- this can be that task. For the second tire swing, I invited over my sweet, brother, put a six pack in the cooler and took the kids out for ice cream and a movie.
PS I am assuming your daughter has(or will have) RL Stevenson's "A Child's Garden of Verse" and knows "The Swing" by heart. I still do!
---
| | | |
| --- | --- | --- |
| RE: hanging a tree swing | | |
How old is DD? I agree with tinan that $300 is a ridiculous price for a swing and that rope does not look like one that is safe for children. It's going to be too slippery for little hands to grip. Plus, I noticed the swing seat is 30" wide and that's much too wide for a child to safely use.

We installed a swing 2 years ago for GD, drilling thru an oak tree limb, and as localeater said, it's not a simple job. It took DS and DH nearly all day, and I had to make an extra trip to the hardware store to find lock nuts and a longer drill bit. Oh, we also had to rent a cherry picker!

If you want DD to have a safe swing, visit one of the suppliers of playsets (the BIG ones) and they'll have everything you need that will keep your child safe.
---
| | | |
| --- | --- | --- |
| RE: hanging a tree swing | | |
We prefer our tire swing. That too is supposed to be a cheap do it yourself thing. $300?!! you would have to be INSANE!! Board or tire, this is not rocket science. My first instinct is if your little swing is going to threaten the tree--the tree isn't large enough to handle the weight of a person on the swing.
---
| | | |
| --- | --- | --- |
| RE: hanging a tree swing | | |
I had a swing as a child in our tree that was a disk with a hole in the middle...the rope went through the hole and you straddled it to swing...worked great.

I agree a swing in a tree should not be expensive. $20 should do it for a disk swing: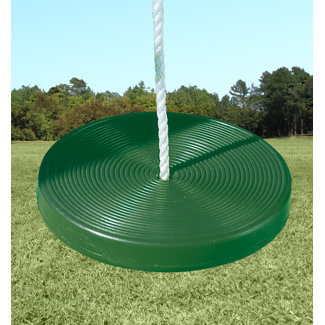 Of course you can just tie a rope around a tree limb so long as you don't leave it there for any length of time...maybe a year or so. If you want to do that, best to put some rubber sheeting between the rope and the top of the limb to protect the bark. And make sure of your knot.
---
| | | |
| --- | --- | --- |
| RE: hanging a tree swing | | |
You must be right about the eye bolts. I have my settee swing with the chain wrapped around a large apple tree branch. The branch has died. Should have asked about this as the poster did. Tree is so big I can use another branch, will try the bolts.

Here is a DIY for a wooden tree swing.
Here is a link that might be useful: tree swing
---
| | | |
| --- | --- | --- |
| RE: hanging a tree swing | | |
I checked out the link above and I don't think I'd trust an eyescrew to hold over time, especially if a heavy person decided to try the swing. Below is the hardware that we bolted to the tree limb. It allows for smooth swinging.........
Here is a link that might be useful: Hardware
---
| | | |
| --- | --- | --- |
| RE: hanging a tree swing | | |
Nope, wouldn't trust an eye screw either. But would be easy to change to strong bolt hardware. There are many plans online for swings.
---
| | | |
| --- | --- | --- |
| RE: hanging a tree swing | | |
My husband made a tree swing for our grandkids at our last house. He got a big tire from the local truck repair place....FREE! The tire swung flat, so lots of kids could ride at the same time by sitting on the edge, or standing as they often did. There were three ropes bolted into the tire swing (equal distance around the tire) that came together just under the branch and tied into a winch hook (not sure I'm using the correct term). Then one rope from the hook over the branch. So the rope over the branch did not move at all and did not damage the branch. Does that make sense? The kids used that tire swing for 10 yrs without any harm to the tree.
---
Post a Follow-Up
Please Note: Only registered members are able to post messages to this forum.
If you are a member, please log in.
If you aren't yet a member, join now!
---
Return to the Home Decorating & Design Forum
Information about Posting
You must be logged in to post a message. Once you are logged in, a posting window will appear at the bottom of the messages. If you are not a member, please register for an account.
Please review our Rules of Play before posting.
Posting is a two-step process. Once you have composed your message, you will be taken to the preview page. You will then have a chance to review your post, make changes and upload photos.
After posting your message, you may need to refresh the forum page in order to see it.
Before posting copyrighted material, please read about Copyright and Fair Use.
We have a strict no-advertising policy!
If you would like to practice posting or uploading photos, please visit our Test forum.
If you need assistance, please Contact Us and we will be happy to help.

Learn more about in-text links on this page here