Return to the Home Decorating & Design Forum
|
Post a Follow-Up
---
| | | |
| --- | --- | --- |
| paint color choices? | | |
Posted by
cottonpenny
(
My Page
) on
Tue, Jun 26, 12 at 19:48
The drywall is up in our new build and our builder wants paint color selections ASAP.

We have a relatively open but not totally open floor plan...Here's what I am thinking of so far.

Foyer, kitchen, breakfast room: BM Edgecomb Gray
Dining room: BM Chelsea Gray (with Simply White paneling on lower half)
Study: BM Nantucket Gray
Family room: BM Gray Owl
Laundry room, powder room, son's bathroom: BM Palladian blue
Master bathroom, other bedrooms: BM Gray Owl
Master bedtoom: BM Nantucket Gray or BM Gray Owl??
Baby's room: SW Celery
All Trim and ceilings: BM Simply White

Does this all go together? Builder says he thinks the Chelsea gray and Nantucket Gray are too dark and I should pick something lighter. But the dining room and study are both facing south with really large windows and get a lot of light.

I've never really had dark painted rooms but I like the look in photographs.

Also, is this too much gray?
---
Follow-Up Postings:
| | | |
| --- | --- | --- |
| RE: paint color choices? | | |
As much as I love gray (used gray owl in my new master bedroom and various other shades of gray in house), you might want slightly more color variation. Instead of using so much gray owl and Nantucket gray, you may want to use a unifying color throughout halls and then branch out into darker or lighter shades in the rooms. It will still flow, but be less boring to you. Also keep in mind with grays that they almost always have undertones and look diff depending on whether you have natural light or artificial.
---
| | | |
| --- | --- | --- |
| RE: paint color choices? | | |
Thanks Dvarnell!

That's what I was trying to do with making the downstairs foyer and upstairs hall edgecomb gray but I afraid of and my builder is discouraging any dark colors - really any colors at all. He is advising to pick from the "whites" card actually! The Nantucket gray reads really green to me (which I like) but you don't think it's different enough from the edgecomb gray?
---
| | | |
| --- | --- | --- |
| RE: paint color choices? | | |
| | | |
| --- | --- | --- |
| RE: paint color choices? | | |
I like all the colors you've picked, and I don't think Nantucket Gray is similar to Edgecomb Gray at all. NG is a gray green and in the room where I've used it, EG reads more beige than gray. I just wonder with all the great colors out there, why you're repeating the colors you have chosen rather than add a few others? Palladian Blue is a great color but it's pretty strong IMO and I wouldn't want to use it in 3 rooms. Just my 2 cents!

Don't listen to your builder for paint color advice! It's your house.
---
| | | |
| --- | --- | --- |
| RE: paint color choices? | | |
I like grey and I like muted colors - I was hoping to have everything flow nicely to make the house cohesive. I struggle with thinking of different colors, actually. I don't like pink/purple/red colors. I like orange but don't want an orange room. So that leaves white/brown/grey/blue and green. So I picked brown-grey and blue-grey and green-grey. I don't know if that makes any sense.

Sueb - I was trying to stick with 5-6 colors cause every color is an upcharge...I figured the powder room, laundry room, and upstairs bedroom are pretty far separated and wouldn't really be seen at the same time. Bad idea?
---
| | | |
| --- | --- | --- |
| RE: paint color choices? | | |
Ahh, the upcharge. I have never done new construction so I wasn't thinking of that. It's not necessarily a bad idea, as long as you love the color. I personally would have a hard time limiting myself to just those few when I love so many! That's just me.

Another great pale blue-gray-green color that would work well with your others, if you decide to branch out, is Quiet Moments. Or a step lighter, Healing Aloe. We have a beach house where our master bedroom is Edgecomb Gray with a Healing Aloe Ceiling, Healing Aloe in the master bath, and Quiet Moments in the closet. Similar in a way to Palladian I guess (I don't have my paint deck in front of me) but lighter and grayer.

Edgecomb Gray walls with Healing Aloe on ceiling.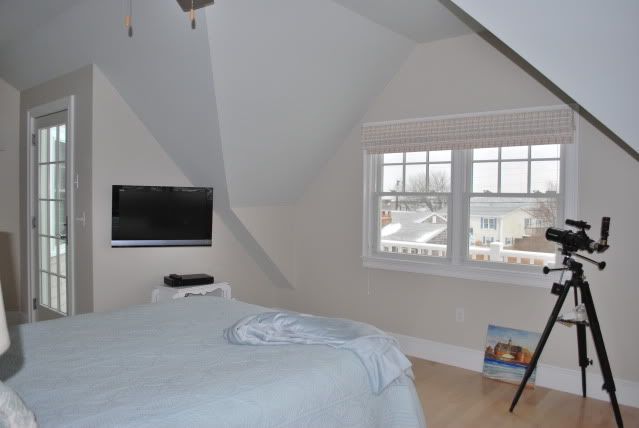 And look, I repeat colors too! I have Quiet Moments in this TV room/den, in my master closet, and in my oldest DS's bedroom at home.
---
Post a Follow-Up
Please Note: Only registered members are able to post messages to this forum.
If you are a member, please log in.
If you aren't yet a member, join now!
---
Return to the Home Decorating & Design Forum
Information about Posting
You must be logged in to post a message. Once you are logged in, a posting window will appear at the bottom of the messages. If you are not a member, please register for an account.
Please review our Rules of Play before posting.
Posting is a two-step process. Once you have composed your message, you will be taken to the preview page. You will then have a chance to review your post, make changes and upload photos.
After posting your message, you may need to refresh the forum page in order to see it.
Before posting copyrighted material, please read about Copyright and Fair Use.
We have a strict no-advertising policy!
If you would like to practice posting or uploading photos, please visit our Test forum.
If you need assistance, please Contact Us and we will be happy to help.

Learn more about in-text links on this page here