Return to the Home Decorating Forum
|
Post a Follow-Up
---
| | | |
| --- | --- | --- |
| Need help with paint choices two story foyer w/chair rail | | |
Posted by
smiles33
(
My Page
) on
Wed, Jun 29, 11 at 19:31
We have lived here for over 6 years and are FINALLY emerging from the haze of parenting young kids to re-do some aspects of our house. Of course, my 2 year just drew on the wall with a black crayon last week, but at least it was on the ugly part of the wall and not a freshly painted wall!

First, I have long HATED the faux finish magenta color scheme below the chair rail that runs through the two-story foyer, hallway, and family room. *shudder* See photos below. There are actually yellow and teal accents in it, which isn't quite clear in the photos. I don't know what the seller was thinking. Plus, the oak color chair rail clashes with the white baseboards. We are definitely changing this as soon as feasibly possible!
I had a 2 hour consultation with a local designer and she suggested ripping out the chair rail and painting the entire room and ceiling BM Shaker Beige.
So here are my questions re: refreshing this 2 story foyer:
- What about painting the chair rail BM Dove White with BM Lenox Tan above the chair rail and BM Shaker Beige below it? Someone on GW posted a great photo of his/her stairwell with this color scheme and chair rail. It looked fantastic and really made me second-guess the designer's idea to rip the chair rail out entirely. But does this not work for a two-story foyer?
- Do I also paint the back of the double doors BM Dove White (assuming we keep the chair rail) or paint it BM Shaker Beige?
- We have the 1990s era oak staircase/railing. Yuck. I would much prefer cast iron or even a darker mahogany or cherry color but am unsure of what this requires in terms of time and expense. I saw another photo where someone painted the spindles white and left only the stair railing itself the wood color. What do you think of that idea? It would tie in with the white of the chair rail then, right (assuming we keep it and paint it)? Or do I hire someone to stain the wood a darker wood color? [Please ignore the bookcase against the wall and general clutter in the photo below. We're cleaning out the nearby den/bedroom that was mostly used for storage the past 6 years!]
- The designer also suggested changing out the light fixtures, which are way too modern for our home decor and the style of this home. I'm thinking a dark metal (oil rubbed bronze? an antique copper?) and more traditional looking. Your thoughts?
For what it's worth, we live in a planned subdivision community (there are a half dozen floor plans but very similar layouts). The exterior of the house is more Mediterranean with the red tile roof. We have a very casual vibe and prefer either a breezy Californian/beachy style or something slightly more formal like British Colonial style.
---
Follow-Up Postings:
| | | |
| --- | --- | --- |
| RE: Need help with paint choices two story foyer w/chair rail | | |
I forgot to mention that we have a trio of windows on the east-facing wall. The foyer gets a LOT of light!

Plus, that entire east wall is painted a weird olive green/vomit brown color. The windows are currently uncovered with just a decorative cornice and fixed drapes, but I'm ordering plantation shutters for them.
The furniture is 9 years old and will be eventually replaced (I no longer like that light color wood). For now, it's a glorified art table for my kids.
Thanks in advance for any and all advice!
---
| | | |
| --- | --- | --- |
| RE: Need help with paint choices two story foyer w/chair rail | | |
I'd love to see your pictures but they are tooooooooo small, can you please repost them in a larger size?
---
| | | |
| --- | --- | --- |
| RE: Need help with paint choices two story foyer w/chair rail | | |
So many things you could do with the stairway. I think I would replace the spindles with wrought iron ones.

As for the chair rail, not sure. Are you going for a mediterraen look, or spanish colonial? If so I would remove it.
---
| | | |
| --- | --- | --- |
| RE: Need help with paint choices two story foyer w/chair rail | | |
Lukkiirish: sure! I am just used to posting small photos per normal message board etiquette.
Now that they are so big, I also have to explain that this really doesnt represent the style we currently prefer. It's a bit embarassing, but we did nothing when we moved in 6 years ago. The carpet, the drapes, the gigantic oak-framed mirror (it looks like 4 bathroom sized mirrors put together!), etc. are not really our style. We also didn't put much artwork up as DH and I can't agree so the few wall decor items are family photos.
Anyhow, any and all advice would be greatly appreciated!
---
| | | |
| --- | --- | --- |
| Reply to sloyd | | |
Sloyd: I really don't know if we could even get the Spanish colonial look inside (without significant renovation) when it really just seems like a blank canvas. There aren't archways, beams, or any architectural details inside. It's very "builder's grade" fit and finish.

Ideally, I like bright, open and airy decor to take advantage of our gorgeous California sunshine. As mentioned earlier, I like the casual beach look and some British Colonial touches. Images like these:
I guess looking at photos of what I really like, we probably should remove the chair rail as it doesn't fit with what I'd eventually like to have.
---
| | | |
| --- | --- | --- |
| RE: Need help with paint choices two story foyer w/chair rail | | |
Yes, I would remove the chair rail.
---
| | | |
| --- | --- | --- |
| RE: Need help with paint choices two story foyer w/chair rail | | |
Your house has GREAT bones~~
Look at inspiration pic #2...paint the house all 1 color like the shaker beige recommended or I'd go a bit more yellow with BM standish white or SW blonde etc.
---
| | | |
| --- | --- | --- |
| RE: Need help with paint choices two story foyer w/chair rail | | |
I have Shaker Beige in my foyer and hall. I have very small house. I don't think I would like it in your very elegant, sweeping foyer and stairway. I agree with Lori, check out SW Blonde. Other popular colors to look at: SWIvoire, SW Raime, BM Pashmina and SW Believeable Buff.
Another vote for removing the chair rail.
---
| | | |
| --- | --- | --- |
| RE: Need help with paint choices two story foyer w/chair rail | | |
Hi all! I had told the designer I wanted a color that didn't clash too much with the honey oak color of the railing. While I eventually want to stain it darker or replace it entirely with wrought iron, I'm investing much of my decor funds into plantation shutters right now.

The other issue is that we have the once popular 90s era honey oak throughout the downstairs: cabinets in our kitchen, entertainment niche in the family room, built-in desk in the kitchen, etc. The color we choose for the foyer/living/dining area will likely need to run through the family room and kitchen, too so I have to take into account all this oak. I guess that's the drawback to the big open plan layout.

The prior owners (kooky people based on their paint choices) actually painted the kitchen a medium gray/green color and STOPPED it at the presumed border where the family room begins--in the middle of the wall! So you have a white family room with the oak chair rail and atrocious magenta faux finish below it directly smack dab against a dark gray/green kitchen. Atrocious. But that's another thread.

Anyhow, I would love to hear thoughts re: whether a different color can work with the honey oak we have throughout the downstairs. I imagine it will be a decade or more before we gut the kitchen and replace the cabinets. DH wants to have healthy college savings accounts for both girls before we do any real renovations.

If I go with a yellower color, won't it make the oak look orange?

P.S. I will grudgingly provide photos of this eyesore when I get home from work if folks really want to see the kitchen and family room layout. I still can't believe I lived with it for 6+ years but it's amazing what sleep deprivation can do.
---
| | | |
| --- | --- | --- |
| RE: Need help with paint choices two story foyer w/chair rail | | |
Hmmm....I am going to go against the tide and suggest keep the rail, add wainscotting, paint it all a washed out neutral like Sherwin Silliams "Worldly Grey" or Glidens "Natural Wicker,"( a hint cooler than the BM. I would gear toward eventually refinishing the oak a bit darker and matte finish giving the foyer a casual old world, (scandanavian?) feel. Nothing to fussy or "theme-ish." You house has great light. Lots of possibilities!
Here is a link that might be useful: just to show feel/colors
---
| | | |
| --- | --- | --- |
| RE: Need help with paint choices two story foyer w/chair rail | | |
To satisfy your wanting for California beach and Spanish colonial, I would paint everything a nice neutral color. I would paint the spindles black and stain the handrail. The contrast will instantly start referencing Spanish colonial. You ca bring in more beachiness through furniture selection like white slipcovers.
I would also remove the chair rail. Your room has plenty of architectural interest.
---
| | | |
| --- | --- | --- |
| RE: Need help with paint choices two story foyer w/chair rail | | |
ptamom: LOVE the photo you posted. I think there's something about the dark stain and neutral color that really appeals to me! I do love wainscotting, but it just seems a bit too formal for our style (and 2 kids under 5).

htnspz: I think the black spindles and darker stained handrail is an intriguing idea. I can't find any photos of black spindles with wood handrails other than the wrought iron ones. I did find this one from House and Home painted all black:
What do you think of all black staircase handrail and spindles?
---
| | | |
| --- | --- | --- |
| RE: Need help with paint choices two story foyer w/chair rail | | |
Yes. A brillant idea to paint the spindles and handrail in satin black.

Yes. Remove the chair rail and/or paint the entire area in one color. Perhaps just Dove White everywhere. Fresh and cohesive.

Yes. Paint the back of the double doors in Dove White Or paint them black to work with the new color of the stair railing.

Yes. Change the lighting. ORB would look wonderful.
---
| | | |
| --- | --- | --- |
| RE: Need help with paint choices two story foyer w/chair rail | | |
When I said waiscotting I was leaning toward rustic villa. I have 5 kids and beadboard wainscotting was our answer to handprints all down the hallway walls. Since our house has 4 levels I was painting every 6 months! I magic erasered the paint right through until we decided on the beadboard, which I painted, painted, glazed, and distressd. The pic I posted is one of the inspiration pics for my new kitchen..soon to post... BTW, loving the pic just above!
---
| | | |
| --- | --- | --- |
| RE: Need help with paint choices two story foyer w/chair rail | | |
teacats: Thanks for the affirmation re: the black staircase. It's very bold, but I like it! I hadn't considered Dove White everywhere: I'm so tired of builder's grade white that I was thinking something warmer. I still really like Shaker Beige (you can see the square I painted directly on the wall of the 2nd floor hallway). I'm thinking I'll paint the upstairs Shaker Beige this weekend to see how I like it, take a picture, and try to Photoshop the staircase black to see how it matches. I think it would still look elegant and yet not stuffy formal.

My bigger concern is that the existing living room sofa (not pictured in the set of photos I posted above) is a mahogany frame "plantation" style with beige cushions. Similar to this but the cushions are more like pillows so it's more casual:
We also have a mahogany buffet right at the bottom of the staircase. FH uses the top of it for his valet (keys, cell phone, mail, etc.). It's a mess in the photo but I think I'd have to move it elsewhere if we paint the staircase black, right? I already need a better option for that space as it's a curved wall and things are forever falling behind the buffet.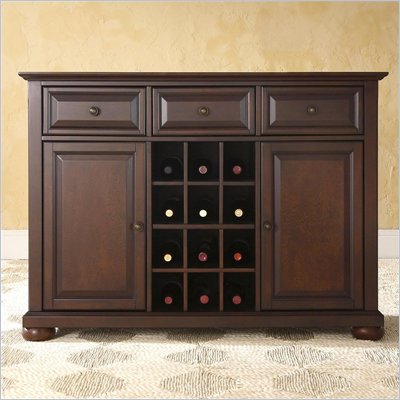 ptamom: I'm looking forward to seeing your photos!
---
| | | |
| --- | --- | --- |
| RE: Need help with paint choices two story foyer w/chair rail | | |
Hi Smiles, I'm back and thank you so much for enlarging the pics, I don't know about the etiquette part but these old eyes just can see that small anymore. You have a lovely foyer with lots of potential.

I haven't read through the responses, but the colors you are considering should look really nice. Honestly though if it were me, I'd want to put some real color there. Green maybe because it goes well with the oak or possibly a soft welcoming yellow. Just a thought.

Since you can't get the wrought iron you want, the black is a wonderful compromise. It looks elegant.

New lighting is always fun. I think a beautiful ORB Lantern would be really pretty and it would help to give you the traditional/casual feeling you're after.
---
| | | |
| --- | --- | --- |
| RE: Need help with paint choices two story foyer w/chair rail | | |
Another vote for painting the stair rail black. We did that in our last house and everyone assumed it was iron unless they inspected it closely. It was originally white spindles. It took prepwork and time but was definitely within our DIY capabilities although we had a smaller area than you. We painted the handrail black too. I do have to say that the handrail tended to chip with use but that could have been our faulty prepwork. (It was one of our first DIY projects.) A gel stain might hold up better.

I like the idea of removing the chair rail to highlight the drama of the two story foyer. We had an "old world stone" faux technique in our last house that combined the colors of SW Blonde and SW Navajo White and a third color that I can't recall. It really warmed up our foyer. I think SW Blonde definitely can stand alone too.

Enjoy the process!
---
| | | |
| --- | --- | --- |
| RE: Need help with paint choices two story foyer w/chair rail | | |
I'm back! I painted the entire second floor hallway BM Shaker Beige and we love it. In the bright sunlight during the day, it's a nice neutral. In the evening, it's a much warmer color. Either way, we're thrilled. On a side note, I also primed the ugly maroon faux paint and am kicking myself for not doing that YEARS ago.

Anyhow, I have 2 concerns and would love feedback.

First, the interior designed suggested painting the ceiling BM Shaker Beige, too. I can see how it would work for the first floor but will it make the second floor (which has normal height ceilings) feel cramped? It already feels a bit dark at the end of the hallway closer to my daughter's room (the northern end of the house). But I can't paint the ceiling of the first floor without having an awkward white line where the white ceiling starts on part of the second floor.

My second concern now is that the cabinet at the top of the stairs are the same oak stain as the stairway railing. See the far left of the photo below. There's another set of cabinets farther down the hallway (right on the wall to the right of the stair railing). If I paint the railing and spindles black, doesn't that mean I need to paint the cabinets, too?

See this photo. Maybe I should just stain the railing and all the cabinet a darker mahogany or cherry color? Thoughts?
---
| | | |
| --- | --- | --- |
| RE: Need help with paint choices two story foyer w/chair rail | | |
I painted my spindles black and I love them. I would have liked to darken the railing but the rest of the woodwork matches so I decided to leave it.

---
| | | |
| --- | --- | --- |
| RE: Need help with paint choices two story foyer w/chair rail | | |
I would most definitely lose the chair rail, it really serves no purpose with those tall walls. Then get to work on that beautiful staircase. Below is the link to one of my favorite bloggers/designers, Centsational Girl. She is SO AWESOME that she was actually featured on The Nate Berkus show awhile back. Take a look and see how she renewed her staircase. It is really pretty!
Here is a link that might be useful: Centsational Girl's Staircase
---
| | | |
| --- | --- | --- |
| RE: Need help with paint choices two story foyer w/chair rail | | |
addyson, that staircase does look amazing! It just seems to be a lot of work compared to just painting it black/dark brown. I don't know if I care that the grain shows through. I am still wondering about the cabinetry, though. Whatever I do to the staircase will need to be done again to the cabinetry so it matches. That's a lot of work and a bit intimidating!
---
| | | |
| --- | --- | --- |
| RE: Need help with paint choices two story foyer w/chair rail | | |
It IS a beautiful staircase but I'm with you, it is definitely A LOT of work. However, I think staining the wood instead of painting, especially if you are going for a rich, dark, elegant look, just looks SO much better. Below I've linked to another blogger who did it and she said it was much easier. See what you think.....

Link #1: http://southernhospitalityblog.com/staining-an-oak-banister/
Link #2: http://southernhospitalityblog.com/polyshades-stain-project/
---
| | | |
| --- | --- | --- |
| RE: Need help with paint choices two story foyer w/chair rail | | |
I know I suggested to paint the staircase spindles a black and the railing stained but I have to agree that it would be best all stained in the darker color. It will look richer.
---
| | | |
| --- | --- | --- |
| RE: Need help with paint choices two story foyer w/chair rail | | |
Let me take a step back and say that I have nothing against PAINTED railings and/or spindles, especially if they are done well. However, it is just my personal preference to see them stained.

~ Addy
---
| | | |
| --- | --- | --- |
| RE: Need help with paint choices two story foyer w/chair rail | | |
Addy, I could KISS you! Thank you so much for linking to that blog and the writer's beautiful makeover of her honey oak to a dark, rich mahogany color. I love that you don't have to sand, prime, or any of the other prep work with this Polyshades product. I can't wait for this weekend when I can tackle this project! Will definitely post after pics!
---
| | | |
| --- | --- | --- |
| UPDATE with photos! | | |
I wanted to post some after photos and thank everyone who took the time to comment. It turns out that the wall was "indented" when we removed the chair rail so my DH has spent several weekends to build it back up with joint compound and texture it to blend in with the walls. It was a painfully tedious process (first trying to do it by hand, then with a sponge, then with spray-on compound that dribbled everywhere, and finally with a trowel lightly loading dabs of compound on). If you look closely you can still tell, but it's not as glaring as it was several iterations ago.

Suffice to say, we are thrilled to be done with sanding, priming, texturing, and painting! Now, I need to figure out what wall decor to put up as the removal of the chair rail makes it a much easier space to deal with!

Any and all advice would be appreciated. I was thinking of doing a photo gallery near the front entry, but that is a HUGE wall and I don't know that I can put photos high enough where you can still see them but not so low that the wall looks off-balance.

Forgive the quality of the photos, taken without a flash on my iPhone.
---
| | | |
| --- | --- | --- |
| RE: Need help with paint choices two story foyer w/chair rail | | |
It looks great without the chair rail. I am not against all chair rail and it can really make sense in a hall or stairwell, but what you were left with was also installed too high. (it looked to be about 38-39)--it really should be no higher than about 30" no matter how high the ceilings are. Chair rail is related to dining table and chair height, not the ceiling.

The pictures should also remain just about where you would put them in a normal ceilinged room, they are related to the human scale, unless you are doing salon style mounting of numerous large pieces of art.

One of the things about a high ceiling (in a properly scaled room) is that the ceilings are supposed to look high, that's the point. Truncating them by raising chair rail and other decorative elements much higher than normal kind of defeats the intent.
---
| | | |
| --- | --- | --- |
| RE: Need help with paint choices two story foyer w/chair rail | | |
Thanks for sharing your insight, palimpsest! It makes sense that I shouldn't be trying to match the scale of the high ceilings. I just worried that a collection of small 5x7 and 8x10 photos wouldn't look right. I think I'll cut out paper mock-ups of the frames and tape them up to see how they look.

And yes, I agree that removal of the chair rail has made a tremendous difference. I'm thrilled to be done with the atrocious maroon faux finish and oak chair rail. Once we get the final walls painted (not pictured), we move on to the stair railing stain project. DH started by testing out the Polyshades on unsanded oak chair rail remnants but it turns out it looks much better sanded. So it will take a while to sand out all the bannisters and stair railing!
---
| | | |
| --- | --- | --- |
| RE: Need help with paint choices two story foyer w/chair rail | | |
It looks fabulous! We just removed our chair railing in our stairway/ hallway , retextured ALL the walls and painted with aura bm shaker beige. It made a huge difference too and now looks so warm and open.
I love that color and it looks stunning in your home. I read on some designer's blogthat shaker beige pairs well with dark woods,so that is the perfect color for home!
---
| | | |
| --- | --- | --- |
| RE: Need help with paint choices two story foyer w/chair rail | | |
In searching "how to paint a two story front entry foyer" in Google, I came across this forum (which is PERFECT for my needs and question, especially since one of my top choices for painting my personal foyer was already's BM's Shaker Beige). I was really searching for ways to approach painting a two story entrance, especially since we don't have any kind of trim or moldings to give the entrance a "style." They're huge, tall walls with no detailing and it's a small area. I'm having a hard time picturing how to give it some "umph." I already planned on giving some more color to it by going from builder's white to Benjamin Moore's Shaker Beige and had seen darker railings and spindles on Pinterest that I liked, so this thread really appealed to me.

Smiles33, I know it's been awhile since this thread started and since it's been commented on, but I'm curious to know if you have any recent photos that you can share that show the final "product" with the stained railings against the Shaker Beige walls. I would really love to know how it turned out. Thank you!
---
Post a Follow-Up
Please Note: Only registered members are able to post messages to this forum.
If you are a member, please log in.
If you aren't yet a member, join now!
---
Return to the Home Decorating Forum
Information about Posting
You must be logged in to post a message. Once you are logged in, a posting window will appear at the bottom of the messages. If you are not a member, please register for an account.
Please review our Rules of Play before posting.
Posting is a two-step process. Once you have composed your message, you will be taken to the preview page. You will then have a chance to review your post, make changes and upload photos.
After posting your message, you may need to refresh the forum page in order to see it.
Before posting copyrighted material, please read about Copyright and Fair Use.
We have a strict no-advertising policy!
If you would like to practice posting or uploading photos, please visit our Test forum.
If you need assistance, please Contact Us and we will be happy to help.

Learn more about in-text links on this page here