Return to the Home Decorating & Design Forum
|
Post a Follow-Up
---
| | | |
| --- | --- | --- |
| Is this too "fancy"? | | |
Posted by
mrsmortarmixer
(
My Page
) on
Thu, Jun 27, 13 at 19:29
My first time posting in Home Decorating.

While looking for ideas on how to integrate all of the flooring types in our home (poplar, ash, and walnut just on the main floor), I stumbled upon this that I really like. I have a lot of leftover of each and would like to use it for something like this inside of our back entry, which is the only door anyone uses. I'm thinking maybe a 5x8 or so rectangle and then using the ash for the rest of the entry so it meets up with the ash in the dining room. The dining room is currently the only room that can be accessed from the back door.

A little bit about the house. It's a early 1900's farmhouse. Most of the exterior details were lost in the last century, and only one room had the original trim inside. I'd say it probably had Victorian influences, but I don't have much to go by. I love the Victorian style, dh loves rustic, the house is a bit of a mix of the two.
---
Follow-Up Postings:
| | | |
| --- | --- | --- |
| RE: Is this too "fancy"? | | |
I think it would look great to combine your floors...cost effective too...go for it!
---
| | | |
| --- | --- | --- |
| RE: Is this too "fancy"? | | |
I think mixing woods is lovely and historically appropriate, I do, however, think that the type of inlaid parquet that your representational image brings to mind is a bit "fancy". i think you would be better served using one wood species as a border and another as the meat. Or just mixing two or three and selecting one as the "main" flavor.
Think about the walls, and the definition of space. think about transitions and again about definition of space. If the entry is truly an entry than I would opt for a bigger, less busy, more open pattern of wood species.
---
| | | |
| --- | --- | --- |
| RE: Is this too "fancy"? | | |
It's definitely not a big formal entry, just a mud room. I was thinking of using this as a rug inset inside the ash floor.
Something like this. Scale is not perfect. Just a quick sketch.
---
| | | |
| --- | --- | --- |
| RE: Is this too "fancy"? | | |
Yes, it IS fancy for a back door mud room.
---
| | | |
| --- | --- | --- |
| RE: Is this too "fancy"? | | |
In my house, we put an industrial strength rug at the doorway and it takes a lot of abuse and helps keep the house clean....if you find you need one, it'd be a shame to cover up that pretty woodwork.

Instead, you might consider making a border of the fancy woodwork around the whole room...lots of ideas available on line...this is just one of many
With the border, it will not only be seen but be less trod upon so it will stay looking nicer longer. I think it will be more in keeping with the character of the house too, rather than a single big fancy rectangle in a plain background.
---
| | | |
| --- | --- | --- |
| RE: Is this too "fancy"? | | |
Maybe I will play around with a border then. I definitely don't want to do something that doesn't work in the house. I will look at borders and see what ideas I can come up with. Thanks for everyone's ideas. Will definitely update when I get it figured out.
---
| | | |
| --- | --- | --- |
| RE: Is this too "fancy"? | | |
Who says a mudroom can't be "fancy?" I think "interesting" is a better word to describe what you want to do....parquet, border...whatever you decide, if you like it that's what matters. I think any design and combination of wood will "go" because all 3 woods are already in your house.
---
| | | |
| --- | --- | --- |
| RE: Is this too "fancy"? | | |
What kind of footwear/equipment go through your mudroom? What kind of weather do you have? As another option what about slate. It ties into the rustic idea of the house and because of it's variegated colours (there are all sorts of different types) you could find one that ties in the colours of your various woods. It also comes in a variety of sizes. It would then not look like you were trying to match. Just a thought.
---
| | | |
| --- | --- | --- |
| RE: Is this too "fancy"? | | |
Mrs. Mortarmixer,

Just wondering if you ever finished your kitchen and if so is their a link to photos somewhere that I missed.
---
| | | |
| --- | --- | --- |
| RE: Is this too "fancy"? | | |
I love the picture AnnieDeighnaugh posted. I think a border is a wonderful idea.
---
| | | |
| --- | --- | --- |
| RE: Is this too "fancy"? | | |
I'm intrigued by the idea of using a variety of woods to create a rug look. I'd want to be sure, though, that it wouldn't look lost or like an area that had needed repair. Doing a patterned border that forms a rectangle filling most of the room might be something to consider instead.
This post was edited by lazydaisynot on Fri, Jun 28, 13 at 14:50
---
| | | |
| --- | --- | --- |
| RE: Is this too "fancy"? | | |
There's great historical precedent for doing a border pattern, even a quite fancy one: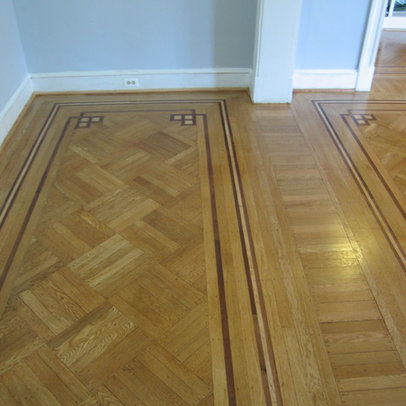 Or consider an allover design, a la:

Here is a link that might be useful: interesting blog post on DIY parquet in UK
---
| | | |
| --- | --- | --- |
| RE: Is this too "fancy"? | | |
blfenton- all footwear and equipment go through. It has the widest doorways that work with everything. We keep a rug outside on the covered patio and everyone does a decent job wiping feet. If anyone has muddy shoes they stay outside. Scratches are bound to happen. I can live with them. A no shoes house wouldn't work for us, considering we spend more time out than we do in and make frequent trips in and out during the day. We live in Indiana, so weather is all over the place. Snow, mud, dust, dirt, debris, the works. We have slate in the bathroom now and I like it okay, but it's cold. I don't know if I'd want the entire mudroom space tile though. Would it look silly just to do a "rug" of slate right inside the door and then do the ash around that?

lyban- it's not really finished. It's closer, but I haven't figured out lights, and I'm not sure if I'm going to do a backsplash, and I need to paint where the proposed backsplash was going to be. We finished up all of the trim last weekend, but I haven't taken any pictures since. I really need to take more pictures.

Here are a few in process. I'll try to wrap things up this weekend and get some pictures posted.

Best picture of the island that I've got.
Here it was before we put the countertops back on
circuspeanut- does it matter that there aren't any borders in any other rooms? The only borders that have ever existed in this house are where the POs stained around a piece of carpet remnant stapled to the floor upstairs :/
I like the herringbone pattern, but don't know if I'm quite bold enough to do 3 different woods in the whole room. Not to mention, I'd have to spend 3 months laying it out so that the pattern was the same. Maybe herringbone the ash and then do a small pinstripe border with the poplar and walnut around the outside edges? The blog post is interesting and it looks like a ton of work. Normally I pretend that I can whip it out in 2 evenings so I find the motivation to start. Nothing ever takes to evenings and months later I will be cussing the floor. When I was thinking about how to do the "rug", I figured I would just set up a piece of subfloor on sawhorses and pull up a stool and assemble at a comfortable height. Then screw down the subfloor leaving holes in the pattern where screws would be required. I doubt I could convince anyone to use the front door for a few weeks while I worked at the back door.
---
| | | |
| --- | --- | --- |
| RE: Is this too "fancy"? | | |
I think a tile rug in a wood floor looks great. It's what I am doing when I have saved up for the next round!
here are some pictures

---
| | | |
| --- | --- | --- |
| RE: Is this too "fancy"? | | |
I guess I never thought about the tile that we have in the living room where the wood stove sits. It's slate sitting in the poplar.
---
Post a Follow-Up
Please Note: Only registered members are able to post messages to this forum.
If you are a member, please log in.
If you aren't yet a member, join now!
---
Return to the Home Decorating & Design Forum
Information about Posting
You must be logged in to post a message. Once you are logged in, a posting window will appear at the bottom of the messages. If you are not a member, please register for an account.
Please review our Rules of Play before posting.
Posting is a two-step process. Once you have composed your message, you will be taken to the preview page. You will then have a chance to review your post, make changes and upload photos.
After posting your message, you may need to refresh the forum page in order to see it.
Before posting copyrighted material, please read about Copyright and Fair Use.
We have a strict no-advertising policy!
If you would like to practice posting or uploading photos, please visit our Test forum.
If you need assistance, please Contact Us and we will be happy to help.

Learn more about in-text links on this page here