Return to the Home Decorating & Design Forum
|
Post a Follow-Up
---
| | | |
| --- | --- | --- |
| Opinions on this dining set? | | |
Posted by
noellabelle
(
My Page
) on
Wed, Jun 26, 13 at 18:05
I found this on Craigslist and I love it. They are asking $850. My husband didn't seem that wowed by it when I showed him, but I think it has the not too ornate but still lovely and not as typical as most I have seen. We would get a glass top to protect it, as we have 3 kids and it would be our only table. Any concerns or flags about it?
Thanks for any advice.
---
Follow-Up Postings:
| | | |
| --- | --- | --- |
| RE: Opinions on this dining set? | | |
How many chairs and are there any leafs that come with it? The table looks nice, but I can't see the chair backs...I think the chair back I see is at the next table, not this one...
---
| | | |
| --- | --- | --- |
| RE: Opinions on this dining set? | | |
$850.00 would be a high price for a craigslist table and chairs where I am.

ML
---
| | | |
| --- | --- | --- |
| RE: Opinions on this dining set? | | |
There are 6 chairs. I'm pretty sure that the chairs at the table behind it go to the set. It has 2 leaves and expands to 84 or 96 inches. There are 5 in our family, so I'm definitely looking for something that can accommodate company.

850 is a little high, but they said this was a 4k table, and I'm comfortable paying that if I really like it. But there are much more expensive sets on Craigslist here.
---
| | | |
| --- | --- | --- |
| RE: Opinions on this dining set? | | |
Look at the carving on the apron! So pretty. I love the shape of the chair arms and legs, too.

If I were you, I'd still try to negotiate. Whether Craigslist, consignment, owner, antique mall-they all expect some haggling. I only pay asking if I think they've already set an EXTREMELY reasonable price, which often means they've under-valued it because the want to sell it.
---
| | | |
| --- | --- | --- |
| RE: Opinions on this dining set? | | |
I really like it and it looks in good condition too! If it's good quality, chairs are comfy and sturdy and it fits your space then I think it's a good possibility. Most CL sellers put a bit of negotiating room in their price and expect potential buyers to make an offer. Not sure about the condition of the chair cushions. Are you planning to redo them?
---
| | | |
| --- | --- | --- |
| RE: Opinions on this dining set? | | |
It's lovely - and if it's a high-end piece, they probably paid more than $850 for a single chair - so a great price.
---
| | | |
| --- | --- | --- |
| RE: Opinions on this dining set? | | |
Buy it or you'll regret it forever. It's beautiful.
---
| | | |
| --- | --- | --- |
| RE: Opinions on this dining set? | | |
| | | |
| --- | --- | --- |
| RE: Opinions on this dining set? | | |
Clearly the chairs at the table behind match the captains chairs they show in the picture you posted. I love the fact that there are both styles with the set. I too would balk at $850 on CL but once you get there and determine if the set is in a good a shape as it looks..for sure the chairs alone are worth this price.
---
| | | |
| --- | --- | --- |
| RE: Opinions on this dining set? | | |
I like the carving on it, too. If you can get them down a little bit in price, great.

Furniture glass is pretty cheap, or you may want to consider pads more with the kids vs. glass.

Good luck!
---
| | | |
| --- | --- | --- |
| RE: Opinions on this dining set? | | |
By the picture, it does look like this person is in the business of selling used furniture as opposed to an individual owner. I agree to try to get the price lower.
Although this is a beautiful set, my gut reaction would be to try to get something more kid friendly.
Even if you protect the table, kids are hard on things.
I can see how your DH might think it is a bit formal for everyday, every meal use.
---
| | | |
| --- | --- | --- |
| RE: Opinions on this dining set? | | |
| | | |
| --- | --- | --- |
| RE: Opinions on this dining set? | | |
Thanks for your thoughts. I agree, I will probably try to haggle a bit. But like jen said, one chair probably cost that new. They haven't contacted me back yet about going to see it, so we'll see if it is meant to be.

There are sets on my craigslist for 5k, so it's actually fairly reasonable for here. I have tried to get several low priced sets, and they are always gone immediately.... So I tend to feel I can never get the bargain sets.

Ellen, it is kind of formal, but most extendable sets that can go 8+ feet , especially on the used market, are from formal dining rooms. The most typical ones that I like are the cherry queen Anne style, and I think that would feel much more formal than this set. I have a love for vintage mahogany sets from around the 40s,but I haven't yet found one that's big enough, not super expensive, and I like the chairs.

My youngest is 5,and I think we are starting to get a little easier on our furniture (our current is a mess). We found a good local glass place that could make the top quite inexpensively.
---
| | | |
| --- | --- | --- |
| RE: Opinions on this dining set? | | |
This is not high end. I had the same or very similar set years ago. Just sold the last 2 arm chairs from the set for $50 for both. The table cost around $125 30 years ago. Not an antique and not unusual at all. And way over-priced for craigslist (and I'm a craigslist whore!!!!). I always check out cl and am so surprised by the vast differences in prices and what people think they can get for very common stuff. Doesn't matter to me what they paid for it, it's worth what someone else will now pay for it.
People want hundreds for TV armoires that others are giving away for free!! You really have to peruse the ads when you're looking for something for a steal :)
---
| | | |
| --- | --- | --- |
| RE: Opinions on this dining set? | | |
I agree with rafor, the set is not high end at all, and the top is veneer, not solid wood. I don't know where you are and what CL prices are for dining sets, but in my area you can buy something like that for $150 - 250 all day long (and we are not in a big metro area), $850 would buy you solid cherry, Harden, EA, Stickley, etc.

sandyponder
---
| | | |
| --- | --- | --- |
| RE: Opinions on this dining set? | | |
Bummer if it's not nicely made, but they haven't contacted me back so it's probably sold anyway.

I'm jealous of you that have so many inexpensive dining tables on cl. I'm in a pretty high cost of living state, so I would imagine it's very regional. The set I posted is in Fairfield County, ct, the priciest county in our state (a lot of hedge fund millionaires /billionaires live there).

I linked a picture of what 300 typically buys you on Craigslist here.
---
| | | |
| --- | --- | --- |
| RE: Opinions on this dining set? | | |
I see a problem with the oval and your idea of a glass top to protect it from the children:

It's hideously expensive to get oval glass ... and you either have to have it in 2 pieces with extras bits for the leaves when you extend, or do without when you have company, and have a safe place to stash the glass top when it's not on the table.
---
| | | |
| --- | --- | --- |
| RE: Opinions on this dining set? | | |
Sorry I can't speak to quality or origin, but I think it's a really lovely table. I find myself rather picky about chairs, and I actually really like those. Compared with the $300 tables that you are finding, it's hands down gorgeous. If it seemed sturdy and relatively good quality when I looked at it in person, I would probably haggle but might be willing to pay full price anyway.
---
| | | |
| --- | --- | --- |
| RE: Opinions on this dining set? | | |
Prickly - I really like the lines of the chairs too.

Here's another possibility, but I am not loving the chairs. I think it's 425 for the table, 400 for the 6 side chairs and 100 each for the arm chairs. I like the table quite a bit and am considering getting it and waiting for better chairs, maybe painting some white . I can only post 1 picture per post on my tablet.
---
| | | |
| --- | --- | --- |
| RE: Opinions on this dining set? | | |
| | | |
| --- | --- | --- |
| RE: Opinions on this dining set? | | |
| | | |
| --- | --- | --- |
| RE: Opinions on this dining set? | | |
I actually love both tables. I don't think 850 is too much to pay. Yes kids are hard on things but why deny yourself a pretty set?

I like the second set a lot. It is a tad more formal than the other one.
---
| | | |
| --- | --- | --- |
| RE: Opinions on this dining set? | | |
I actually like the first set better. $850 is reasonable if the set is of nice quality and sturdy; what could you ever get new for that price? Agree to try reducing the $. Would like to point out to those who think veneer always means cheap , that very high end furniture constructed with veneer was often of far superior quality to "solid wood".
BTW, don't mean to be negative about the 2nd set, especially if you pick that one - you should select what you like and what works best for you, but it seems to my eye a little clunky - design of the chairs lacks gracefulness that one would expect with the lines of the table, and the chair design seems to be an amalgam of almost unrelated parts. Anyway, good luck!
---
| | | |
| --- | --- | --- |
| RE: Opinions on this dining set? | | |
Noellabelle you are so lucky nothing is more beautiful then Fairfield Co in the fall. I live in Westchester Co. so I know what your talking about living in a expensive area.. Check out craigslist in Hudson valley it is less then a hour drive from you and so much cheaper. Even if you have to rent a van the savings would be worth it. Good luck in your hunt.
---
| | | |
| --- | --- | --- |
| RE: Opinions on this dining set? | | |
nyboy has a good suggestion, consider looking a little further afield, perhaps even Springfield, MA or Albany, NY areas, the cost savings would be worth the price of renting a van or borrowing a pick up truck and filling it with gas.

Regarding veneers, I don't think anyone was saying they are inferior to solid wood, just that the first table was veneer, and I should know, I have a very similar table to that one.

I like the second table better, but it's quite formal and a very different vibe from table #1, IMO can you post pics of the room you want to put the table in, noellabelle?

sandyponder
---
| | | |
| --- | --- | --- |
| RE: Opinions on this dining set? | | |
There's an EA table for sale from their French Country collection; however, it's only the table and it's not oval. It's a bit more rustic.
Here is a link that might be useful: EA French table
---
| | | |
| --- | --- | --- |
| RE: Opinions on this dining set? | | |
I also used to live in FF county (Newtown), and the CL prices are high. Depending on what part you're in, definitely check the NW CT and New Haven ads. I was able to find much better prices on those.

I think the first table is lovely, but I would rather just use placemats than glass.

Oh, and I don't think 850 is out of a line for a quality used piece. Chairs alone are worth that.
---
| | | |
| --- | --- | --- |
| RE: Opinions on this dining set? | | |
Thanks again for all the advice. We had company and I haven't had the chance to see either yet. I am actually in new Haven county, but people in Fairfield co often post in our craigslist. I tend to check my whole state often, and then ri and western /Worcester ma a few times a week.

I think I will probably pass on the first one, even though I like it I think it would be too delicate. I will hopefully like the 2nd one as it's much closer.... I have a van, but with 3 kids home for the summer it gets more complicated if it's too far, especially if it involves multiple trips.

I haven't looked much in ny. Our craigslist is kinda wacky in that it's always suggesting things in long Island since we're so close, but it doesn't take into account the fact I'd have to take a ferry to get there.

No soccer, the listing you posted was gone, but thanks for looking.

I'll post some pictures later.
---
| | | |
| --- | --- | --- |
| RE: Opinions on this dining set? | | |
I would not worry about it being delicate. My vintage DR set is holding up fine with 5 young children (youngest is 18 months). They sit on the chairs and I put a vinyl pad underneath a tablecloth (DH would do damage without it). I also leave just a runner on sometimes and use placemats. The chairs in the 2nd set will always bother you. I know it is a hassle (DH sees zero value in decorating) but worth it not to settle.
This post was edited by anele on Sat, Jun 29, 13 at 15:36
---
| | | |
| --- | --- | --- |
| RE: Opinions on this dining set? | | |
Might be worth a look:
http://newhaven.craigslist.org/fuo/3865088188.html

http://newhaven.craigslist.org/fuo/3854456660.html

I saw a few pretty mahogany tables but since it is your only one, the glossy finish requires more babysitting than others, so too tough. But, the price is nice on this one. http://newhaven.craigslist.org/fuo/3831964704.html

Your CL is not bad. Similar prices to mine.
---
| | | |
| --- | --- | --- |
| RE: Opinions on this dining set? | | |
Anele, thanks for the links. I like the first set quite a bit. I have gotten a lot of good stuff on my cl (my kitchen island, hutch, range, orange chairs), so I shouldn't complain about it!

Here's the room with the current table. We have a pretty open floor plan. The kitchen we completed a couple of years ago, and I think it's the most "me" room. I'm trying to change the great room to have a better flow. We already have a mahogany secretary near the table (another cl find) as well as a computer cabinet, which I don't really like anymore but probably won't change for awhile. The sofa is going hopefully very soon.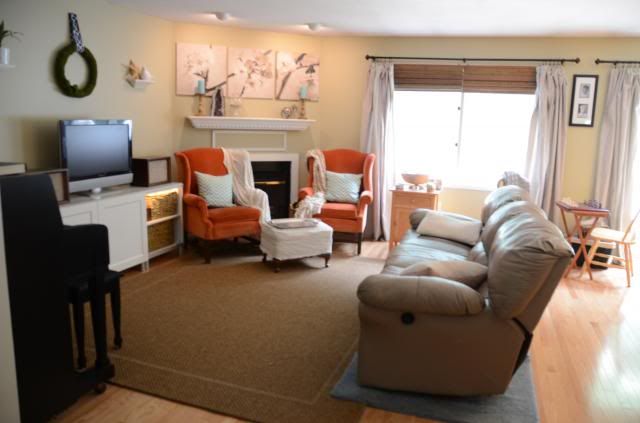 ---
| | | |
| --- | --- | --- |
| RE: Opinions on this dining set? | | |
Pics of your home are very helpful. Very sweet and welcoming! Since your kitchen is the most "you," I sort of think none of the sets would work. BUT, can we see more pics? Inspiration pics? Things you LOVE? (Not necessarily dining sets-- just in general.)
---
| | | |
| --- | --- | --- |
| RE: Opinions on this dining set? | | |
Anele thAnks for your help.I am on my nook and the autocorrect was out of whack,so I will try to make this quick

1vintage double pedestal mahogany table with not too ornate but charming chairs (I like some labeled as Duncan phyfe style).

2 more rustic tables paired with metal, white, or ghost chairs.

3 medium t to dark wood tones mixed with white (wood table, white chairs or vice versa)

I am all over the place! :-)

I found an ethan Allen set for 250 with not pretty chairs, but a nice table that extends to96". I like ikeas white ingolf chairs that are49 each, and i think that could make a comfortable not too pricey set that i could sell if my dream set and house ever come my way.I would like to get parson chairs for each end that we could move to a little side table for chess...my 8year old is obsessed right now.

Chair
---
| | | |
| --- | --- | --- |
| RE: Opinions on this dining set? | | |
| | | |
| --- | --- | --- |
| RE: Opinions on this dining set? | | |
Would you consider painting your current table and the chairs (maybe even with chalk paint, either bought or homemade? It might be fun and you wouldn't have to worry about knicks.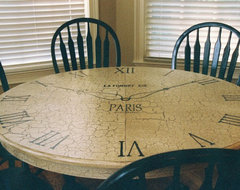 For a more subtle paint job (wood and cream), see below link.
Here is a link that might be useful: chalk paint round table and Windsor chairs
---
| | | |
| --- | --- | --- |
| RE: Opinions on this dining set? | | |
That Ethan Allen table is not real wood on top. Not sure what it is, some type of plasticky material. I bought the exact one with 4 chairs about 15 years ago at auction for $100 and sold it a few years ago on CL for $100. The chairs are very small too.
---
| | | |
| --- | --- | --- |
| RE: Opinions on this dining set? | | |
thanks for the tip, May. Did you find it an icky plasticy material or looks enough like wood and the kids can't hurt it type?

nosoccer, I actually bought gel stain to do something like this table and paint the chairs white. But I guess it doesn't solve the fact that I don't have seating for guests. I keep thinking that the perfect set will surface on cl any day now!
---
Post a Follow-Up
Please Note: Only registered members are able to post messages to this forum.
If you are a member, please log in.
If you aren't yet a member, join now!
---
Return to the Home Decorating & Design Forum
Information about Posting
You must be logged in to post a message. Once you are logged in, a posting window will appear at the bottom of the messages. If you are not a member, please register for an account.
Please review our Rules of Play before posting.
Posting is a two-step process. Once you have composed your message, you will be taken to the preview page. You will then have a chance to review your post, make changes and upload photos.
After posting your message, you may need to refresh the forum page in order to see it.
Before posting copyrighted material, please read about Copyright and Fair Use.
We have a strict no-advertising policy!
If you would like to practice posting or uploading photos, please visit our Test forum.
If you need assistance, please Contact Us and we will be happy to help.

Learn more about in-text links on this page here