Return to the Home Decorating & Design Forum
|
Post a Follow-Up
---
| | | |
| --- | --- | --- |
| What is your office chair? | | |
Posted by
wigardenerwannabe
(
My Page
) on
Sat, Jun 9, 12 at 17:40
I am hoping to tackle my office this summer and am contemplating the Sayl Chair by Herman Miller. It is currently on sale so I have to act on this by Monday. My quandary is that I sit at the computer for extended periods of time, and end up with hip/low back problems from the current office chair I use. So I'm willing to invest a bit more than the $125 I likely paid for the one I own. However, my style isn't contemporary and this chair is. Just made me curious what kind of chairs you use and how comfortable are they? Show pictures if you can.
Thanks.
wig
Here is a link that might be useful: Sayl Chair
---
Follow-Up Postings:
| | | |
| --- | --- | --- |
| RE: What is your office chair? | | |
I got extremely lucky when a friend in MA bought a Hancock Moore 'Berwind' office chair on Craigslist and it was too large for her office space. I bought it from her for what she paid, $200, and never in my life have I had a more comfortable chair.

I work from home, and between work, and just spending time on mt PC, I can easily spend 18 hours in my office. I no longer have any back, shoulder or neck pain, as I did when I worked in the office. And when I say extremely lucky, it's because I think I recall that it sells new for over $2,000!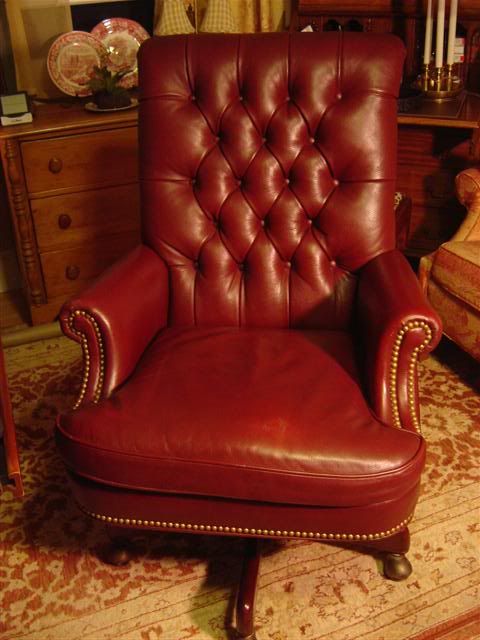 ---
| | | |
| --- | --- | --- |
| RE: What is your office chair? | | |
I've linked a picture that looks like mine below. I bought it from a surplus sale and love the comfort and low profile.
Here is a link that might be useful: Chair
---
| | | |
| --- | --- | --- |
| RE: What is your office chair? | | |
I use a parsons chair, which is a smidge too low and I am thinking of replacing it. Looking forward to more replies on this thread. My3dogs, that's a lovely chair and a great deal!
---
| | | |
| --- | --- | --- |
| RE: What is your office chair? | | |
I was going to say the same thing kswl said. I also use a Parsons chair and it's probably screwing up my back and posture! But my office is very un-officey and I've been hesitant to buy a real office chair. I too will be checking back to see what others are using!
---
| | | |
| --- | --- | --- |
| RE: What is your office chair? | | |
I've been an office worker all my life, though not a secretary for the last 30 years, and found the best chair for me was always a secretarial style chair...no arms to get in the way (very often the arms would prevent me from sliding my chair in close enough for comfort) good back support, easy to roll around and move. Often, though the chair had to be high enough to not strain my neck and shoulders relative to the height of the desktop, but then my feet wouldn't touch the ground, (I'm 5'4") so I ended up with a foot rest under my desk.

Now that I'm no longer working, the craft room is as close to a desk as I have, and I still went with the secretarial chair and it still works for all the same reasons.
---
| | | |
| --- | --- | --- |
| RE: What is your office chair? | | |
We decided to splurge for DH's office chair. He has minor hip and back issues and spends at least 30 hrs a week in that chair. We went to an office supply store and tried out dozens of chairs. I loved the styling of many Henry Miller designs, but they were all way too complicated to adjust. The kids and I occasionally use the office as well, and one little twist of a knob or push of a button would be a disaster!
We ended up ordering a Steelcase Think. It is self adjusting, warrantied for life, and we were able to customize colors. We spent over $700, but after buying at least half a dozen $99 Office Depot chairs over the years, the price is justified.
Style-wise, we aren't very contemporary, but function wins out every time when it comes to seating, IMO.
---
| | | |
| --- | --- | --- |
| RE: What is your office chair? | | |
Mine looks a lot like Annie's but it has half arms so I can rest my elbows on them and still pull in close to my desk. My former office had office chairs in storage closets that no one was using, so I asked if I could have it. I got it free! It's very good quality and I like it a lot. I am fussy about chairs because of lower back problems. The wrong chair can be agonizing. Having good lumbar support is key for me.

A lot of people like the mesh chairs that have no foam padding. Makes sense that it won't squish down over the years. I think this style just says "office", and would go with anything. The one you link to looks very contemporary to me.
Here is a link that might be useful: mesh chair
---
| | | |
| --- | --- | --- |
| RE: What is your office chair? | | |
I am thinking of switching to a balance/yoga ball. We received a grant in two of the classes for which I am a co-teacher and all the students (and we teachers) use them rather than chairs unless they decide they would rather use a regular chair. The kiddoes love them-they get to bounce a little to use up excess energy and they are also getting some exercise throughout the day. Unbelieveably comfortable and strengthens your core! I plan to get one this summer for my office (not just the classroom)next year! Might even try to talk DH into using one at home!
---
| | | |
| --- | --- | --- |
| RE: What is your office chair? | | |
Thanks for all of your responses. my3dogs, I also love that chair! I picked up a similar chair on Craigslist (not an office chair) for $90 last summer hoping to put it in my office, and I couldn't get it in the door! Blah!
Cyn, I also considered a ball chair (since I'm a school OT and so make those kinds of recommendations, but don't use one myself!) but wondered if it would be comfortable for longer periods of sitting. I would love your feedback on that if you're able...although I suspect as a teacher you are likely not sitting for any length of time in general, but perhaps on non-student days you've sat on them for longer periods of time? I use the standard office chair at work (similar to Anne's) but they still bother me when I use them for more than a hour or so. I'm still leaning toward the Sayl chair since it was SO comfortable, and gave me great lumbar support. I would be getting the basic model, so not too many bells and whistles to adjust, but enough to make it fit me (I am also around 5'4"). I am the only one using it, so it wouldn't have to be adjusted once set. Although the shape is very contemporary, I would likely get it in black/white which tones it down a bit I think. I guess I'm talking myself into it..... : )
---
| | | |
| --- | --- | --- |
| RE: What is your office chair? | | |
Annie, please tell me that wonderful craft room doesn't usually look that tidy!!
---
| | | |
| --- | --- | --- |
| RE: What is your office chair? | | |
We have two Sayl chairs in our office and they are THE BEST. Insanely comfortable. We both sit for hours every day in them (work from home) and we never have back or hip issues.

Good luck!
---
| | | |
| --- | --- | --- |
| RE: What is your office chair? | | |
wigardenerwannabe, our students sit on them for the whole day, but off and on. We do get them up and moving throughout the day. I would say it is rare they are on them for more than an hour except on days when we test which is actually way too often. On our state testing days, we have had kids on them for several hours. I haven't sat on a ball for longer than about an hour, but I really like them. I think they are way more comfortable than chairs. The ones we have don't have backs like some of the new office chair ones I've seen.
---
| | | |
| --- | --- | --- |
| RE: What is your office chair? | | |
bronwynsmom, I'm afraid it does, unless I'm in the middle of a project....then it can get quite messy and stay that way until a project is done. But the beauty of finally having a craft room is I have space to put stuff away so it's easy to keep clean. (Room includes a walk in closet for fabrics and supplies.) Also, it's so much faster to get stuff done. Just to shorten pants at the old house was a major ordeal...getting the iron out, the sewing machine, etc, etc and then putting it all back. Here, I rethread the machine and I'm ready to go.
---
| | | |
| --- | --- | --- |
| RE: What is your office chair? | | |
I use a yoga ball too, but I don't sit for long periods.
---
| | | |
| --- | --- | --- |
| RE: What is your office chair? | | |
I tried an exercise ball that I had upstairs, and kept falling off!

My office chair - and the most comfortable for me - is an antique dining room straight back, hard seat chair with arms. Has a needlepoint seat.
---
| | | |
| --- | --- | --- |
| RE: What is your office chair? | | |
Annie, I bow to your discipline.
And thank you for the picture. I'm about to embark on a new home office, moving from the too-small room I'm in to a better, brighter, bigger one, and it's nice to see a well organized space like yours that works.
I know - I''m a designer - how hard can that be?
The shoemaker's children have no shoes....
---
| | | |
| --- | --- | --- |
| RE: What is your office chair? | | |
new home builder, that chair breaks my heart...we had one very similar and in our move, it wasn't secured enough and went off the back of the pick up and smashed. I was heart broken....please enjoy yours for both of us!
---
| | | |
| --- | --- | --- |
| RE: What is your office chair? | | |
This is mine.I'm not trying to be flip.....when we went to lap tops and wireless networking it caused me to totally rethink my home office. I still have a desk and chair but I don't think anyone has used it in years.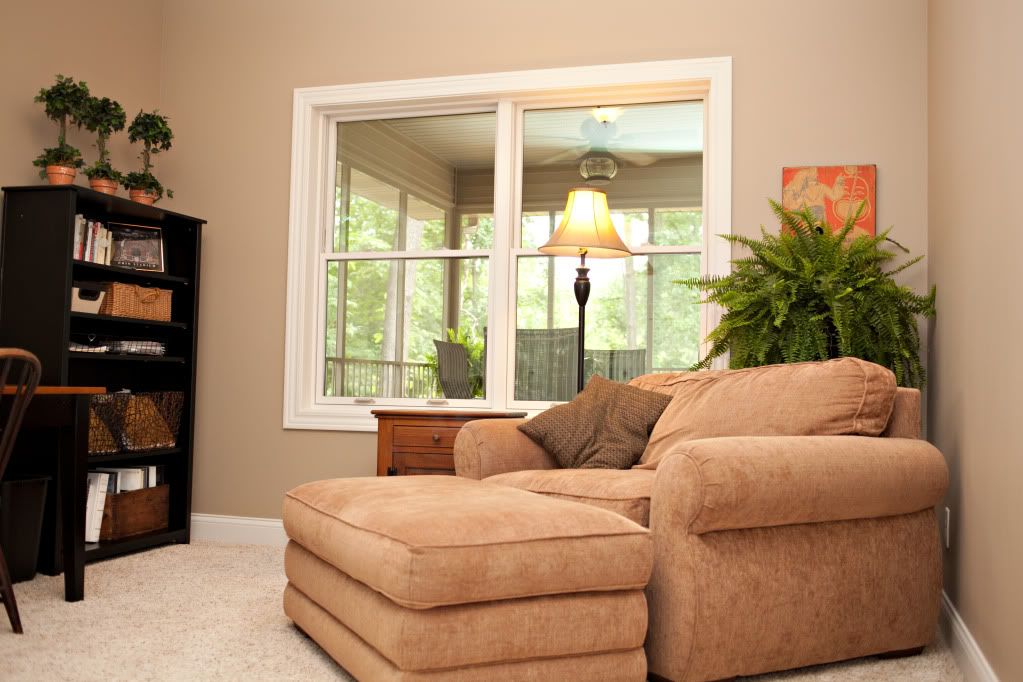 ---
| | | |
| --- | --- | --- |
| RE: What is your office chair? | | |
wigardenerwannabe - I'm so glad you asked this question. I work from home and I thought I picked out a comfortable chair, but now my neck and back hurt and wasn't sure how to find a good chair. Have you actually sat in the Sayl or would you be taking a chance and ordering it? They're not showing a location near me that carries it. I don't think I've seen any of the more expensive chairs mentioned here in places like Office Depot. Where are you guys going to try them out?
---
| | | |
| --- | --- | --- |
| RE: What is your office chair? | | |
There was a store that carried them in a neighboring, larger city so I did have the opportunity to try it out. I ended up ordering it online. I believe that Herman Miller only has an annual sale on their products, which expired on the 11th. By ordering online I was able to save on another trip, get free shipping and saved on sales tax as well. I'm eager to get it as I'm really ready to get rid of the chair I currently use. I think it is likely that you will have to find a place in a larger city that carry the more expensive chairs mentioned. I have never seen them in a place like Office Depot or Staples.
---
| | | |
| --- | --- | --- |
| RE: What is your office chair? | | |
Well, drats! I might have taken a chance and ordered one if I had read this before the sale was over. I'm interested in that one and the one bronwynsmom bought.
---
| | | |
| --- | --- | --- |
| RE: What is your office chair? | | |
Treating back pain requires right furniture for you to rest more than therapy. Choose a chair which must be comfortable for your back, neck and entire body. It will increase your productivity too.
---
| | | |
| --- | --- | --- |
| RE: What is your office chair? | | |
I noticed that this thread is about 10 months old and "someone" has brought it back to the top.

AnnieDeighnaugh-

The chair belonged to my parents and grandparents. I am still using my chair and have had no back pain in the last 6 years since I quit using an "office chair."
---
| | | |
| --- | --- | --- |
| RE: What is your office chair? | | |
I have a Recaro leather chair. Based on the chairs used in race/sports cars. I've had it for about 4 years now and I'm really happy with it. DH has a Herman Miller, but I have never liked the way they feel.
Here is a link that might be useful: Recaro Chair
---
Post a Follow-Up
Please Note: Only registered members are able to post messages to this forum.
If you are a member, please log in.
If you aren't yet a member, join now!
---
Return to the Home Decorating & Design Forum
Information about Posting
You must be logged in to post a message. Once you are logged in, a posting window will appear at the bottom of the messages. If you are not a member, please register for an account.
Please review our Rules of Play before posting.
Posting is a two-step process. Once you have composed your message, you will be taken to the preview page. You will then have a chance to review your post, make changes and upload photos.
After posting your message, you may need to refresh the forum page in order to see it.
Before posting copyrighted material, please read about Copyright and Fair Use.
We have a strict no-advertising policy!
If you would like to practice posting or uploading photos, please visit our Test forum.
If you need assistance, please Contact Us and we will be happy to help.

Learn more about in-text links on this page here