Return to the Home Decorating & Design Forum
|
Post a Follow-Up
---
| | | |
| --- | --- | --- |
| Why the hate? | | |
Posted by
sundance510
(
My Page
) on
Thu, Jun 12, 14 at 17:32
I posted a few days ago about my kitchen with orange oak cabinets. I think in the end, I have decided that I need to paint the cabinets to be really happy with them. I always wanted a white kitchen. However, several of you commented that I already have a really cute kitchen. This got me thinking.... why the hate towards orange oak? I have seen so many young bloggers announce that they are in heaven now that the "horrid, orangey oak" is gone and covered with "dreamy" white paint. I truly have a love/hate relationship with my cabinets.... does the hate part only come from blogland brainwashing? Do people think it looks cheap? Is it the actual color that is offensive? Is it because there is not a color of appliance that looks wonderful with them?

My kitchen: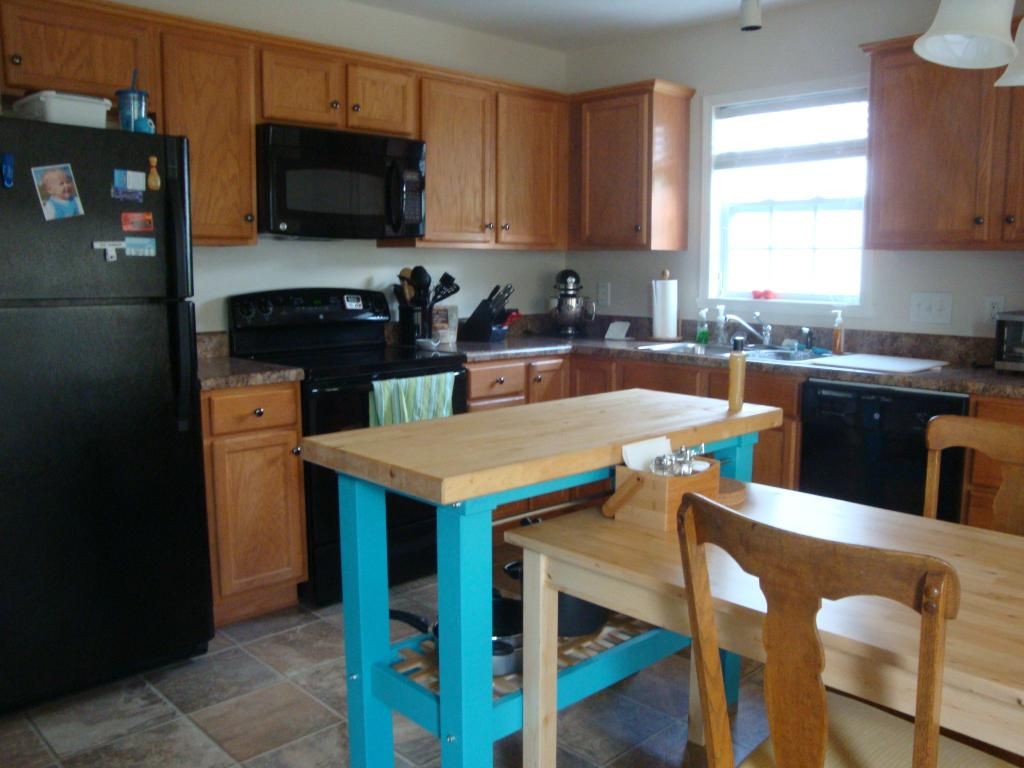 I have included a picture of a kitchen that I actually think looks quite lovely, even though there is probably some photoshopping going on. It has me wondering if a change of counter and sink, simple subway tile and new appliances could change the entire space. I'm not sure that the orange oak works with the sort of coastal-inspired look I have going in the living room (not open floorplan), but this picture really has me thinking.
This post was edited by sundance510 on Thu, Jun 12, 14 at 17:45
---
Follow-Up Postings:
| | | |
| --- | --- | --- |
| RE: Why the hate? | | |
| | | |
| --- | --- | --- |
| RE: Why the hate? | | |
I don't think they're inherently so awful. Part of the hate might be that they were so widespread in the 80's and 90's.

I think they look great with black appliances and okay with white and stainless steel.

Lots of people don't want to associate themselves with something so common and ordinary. Which might happen with white painted cabinets, but some say that white kitchens are classic and never will be outdated. I don't think that's likely, but who knows.

I like the kitchens you posted- I think they're fresh looking.
---
| | | |
| --- | --- | --- |
| RE: Why the hate? | | |
I personally think a lot has to do with the constant exposure to something else, i.e. white kitchens of the moment. It's hard to keep your compass of what you truly love with the constant barrage of images telling you what you should want. I'm in the middle of building now, and I have catch myself now and then, even though I'm usually the opposite, I love something until it starts to become popular then I don't want anything to do with it anymore!

I like your inspiration kitchen and annkh's very light and airy, even if they're not white paint cabinets! :)

As far as your oak, you could always compromise, have you ever thought about just stripping the old finish off. Then you could restain a lighter stain or pickle (whitewash) and still have the beauty of the wood grain. Just a thought.
---
| | | |
| --- | --- | --- |
| RE: Why the hate? | | |
I wouldn't chose oak, but I wouldn't say I hate all oak either. I don't like the very heavily grained oak, whether in flooring, furniture or cabinets. That is usually my first objection. Color is more likely the finish applied turning yellow and that can be corrected. A pain, but possible.

When I see your kitchen, what I would first look at changing would be the appliances (at least some stainless and black - that's a lot of black) and the open space above the cabinets (create open shelves, cabinets - glass fronts might be easier to mix in, or a taller crown). The counters could be upgraded, but nothing about the cabinets makes me say they have to go.
---
| | | |
| --- | --- | --- |
| RE: Why the hate? | | |
Personally, Ive never lked oak. Its just not a wood grain or texture that appeals to me. I dont uunderstand why its always got that very orangey stained finish either. When we uncovered oak floors in our house, we had them stained dark.

Oak screams 80`s to me. As soon as I could, I painted my oak cabs. I`d prefer unpainted- beech would be my first choice-anything but oak! Id even pick hickory over oak...thats how much i dislike it.
---
| | | |
| --- | --- | --- |
| RE: Why the hate? | | |
Quite right -- one of the problems that I had with orange oak kitchens (or cabinets) was that they were EVERYWHERE hereabouts .... so I had our kitchen and bathroom cabinets spray-painted white when we moved in -- in 1993! and I have loved that look (here in this house) every single day. I think that it helped our house become much lighter - and fresher ....

Soooooooo ... I do think that many looks stay fresh -- and many need a change (maybe new hardware?) -- depending on the person and on the house .....
---
| | | |
| --- | --- | --- |
| RE: Why the hate? | | |
The trend for oak was over but it is about to resurface. The white will soon be in the rear-view mirror soon, but if you like something (and I love both white and oak cabinets), you should have what you want. It's your house, you make the payments, you are the one who sees it everyday and I quite like oak cabinets with dry sage or an olive green. I like white cabinets with those same colors but I love oak cabinets with espresso and white cabinets with blues.
---
| | | |
| --- | --- | --- |
| RE: Why the hate? | | |
For the most part, I could care less what kitchen cabs look like. Mine are awful..hideous pine, and a total mess. But I don't care. they hold the stuff, and tenants can bang them around all the want, and I don't have to worry. But, they're also literally the only thing in my house people routinely suggest I 'Might want to do something about". Lol. I say, "love to! You paying?"

Anyway, the only kitchen cabinetry that makes my skin crawl is that stuff from the '80s that is an ivory color with a strip of oak along the top. When I was house hunting, no matter how much I loved a house, if that was the cabinetry in the kitchen, that sealed the no-deal, and we'd leave. No idea why I have such a visceral reaction to it, but I do.
---
| | | |
| --- | --- | --- |
| RE: Why the hate? | | |
This got me to pondering... I loathe & detest metal kitchen cabinets & cupboards LoL. Yet, they were/are becoming popular. Too many memories of stripping, sanding, rust-proofing, and repainting. That and peeling off layer upon layer of wallpaper or Contact paper.

Could it be hold-over distaste from our formative days? A reminder of making due with what our parents deemed fashion-forward?

I understand not liking certain wood grains, textures, the random way it absorbs stains, etc. For some it is not aesthetically pleasing. Too much visual stimulation...especially from something so utilitarian.

We have older 1950s maple cabinetry. Slowly restoring it; cleaning, polishing and buffing. Eventually, I may completely refinish them to get rid of age-worn spots and a few splinters.

DH would love to have an all white painted kitchen, tho. That's what he grew up with and that's what says "Home" to him. Clean, crisp, starched. He particularly likes the "foil" finish, no pulls or knobs...

BTW, black appliances can look great paired with black wrought iron cabinetry pulls. That little touch of extra black draws the eye around the room. JMVHO.

Your kitchen is cute & homey! The turquoise table looks inviting, as if you're not going to mind if someone sits at the table to chat and help string green beans.
---
| | | |
| --- | --- | --- |
| RE: Why the hate? | | |
I actually like that rectangular style with the inset panel and the "flame stitch" grain. I'd love to do a kitchen with cabinets like yours and use tortoise shell colors, starting with a black & warm brown checkered floor. Or maybe a brown and tan checkered floor
Arched doors (cathedral doors, they used to be called) look dated to me, more the style than the material used.
---
| | | |
| --- | --- | --- |
| RE: Why the hate? | | |
I'm not really a fan of the oak either. I think it is because is is usually pretty plain without a lot of detail. Oak furniture usually is pretty bulky.

I think it is because if you have the orangish color, you really need to embrace it. Most people don't. They have the cabinets and then some bland light colored mixture of countertops, flooring and wall color. With orange oak, you need to bring in some other warmer elements to make it feel alive.
---
| | | |
| --- | --- | --- |
| RE: Why the hate? | | |
I think it was just over used to the point where everyone burnt out on it. It seemed like for about 20 years oak or the white laminate with oaktrim was the go to builders basic cab that got put in every home but the custom builds. I had dark oak floors put in one house and everyone seemed stoned to find out oak comes in other colors. It has many benifits over other woods its really hard and durable and is easy to get. For white kitchens I think painted white kitchens will always be a classic because they are light and airy and the easiest kitchen to decorate around so you don,t get as tired of them as you do a three or 4 walls full of wood.
---
| | | |
| --- | --- | --- |
| RE: Why the hate? | | |
I don't know why I don't like oak cabinets, but I never have. I don't like the heavy grain and I don't like the orange color. I have orange oak floors and would love to refinish them to a more neutral brown tone, but it's not going to happen in my lifetime. It's just too much hassle and expense.

I think maple cabinets are gorgeous and I don't mind cherry if they are done well. I really like painted cabinets. I think I like the unpatterned surface which complements all the other elements of a kitchen.
---
| | | |
| --- | --- | --- |
| RE: Why the hate? | | |
I'm another who likes oak cabinets - in certain homes. We have custom solid oak cabinets in our house - built about 18 years ago. Ours are not orange - nor or our oak floors. We have mostly antique pieces (wood pieces not sofas, etc.) and many are in oak, although we also have some mahogany. Nothing is orangey and nothing is "bulky". Anyhoo - I believe the stain on our cabinets is provencial. It's a medium brown.

I like painted cabinets too - not white-white, but cream and soft colors such as grey. Our kitchen is light - walls, floor, backsplash, etc. (and plenty of natural light), so the cabinets do not make it look dark or heavy.

We did have bisque appliances but are in the process of changing over to stainless. I'm hanging on to my bisque fridge for a while, it still works perfectly fine!
---
| | | |
| --- | --- | --- |
| RE: Why the hate? | | |
Bear with this rather lengthy reflection. I'm really interested in this trend. There seem to be quite a few people who still like unpainted cabinets (not necessarily "golden oak" though).

I certainly didn't start this thread to imply that there was something wrong with painted cabinets. I am simply interested in this vehement aversion on many blogs and forums to "orange oak"... almost to the point that ANYTHING is an upgrade. What I find most interesting is that this feeling seems especially prevalent among young people (I'm 25 and have several friends who felt this way). I've done a lot of searches regarding painting vs working with golden oak. There are very few bloggers who kept their oak and many, many in the 20-30 age range who chronicle their painting process.

I understand that most young people cannot afford a true remodel (I know I can't). However, many commented on here and on my x-post in the kitchen forum that perhaps the aversion to oak was many living with it in their parents' kitchens and wanting to get away from that. To which generation does that refer? My parents have lived in the same house for the majority of my life with painted off-white 80's cabinets (with wallpaper inside!!). They were like that when they bought the house in the late 90's. I honestly don't remember the kitchens of family or friends.... they mostly had newer houses, so I have no idea what the trends were at the time. I do know that I do not have a negative aversion to painted cabinets just because I grew up in a painted kitchen that many here would probably regard as a total tear-down.

On that note, Tibbrix, I appreciate your perspective.... reminds me of my father. I think in the quest to make everything pretty, it is important to be thankful for the simple merit of having a kitchen/house at all.
Here is a link that might be useful: X-post in kitchen forum
---
| | | |
| --- | --- | --- |
| RE: Why the hate? | | |
My opinion isn't swayed by blogs or message boards, but I've never liked orangey oak cabs.

I've yet to see a wall paint that looks good with orange cabinets. I like to look at a kitchen where my eye's sweep over everything instead of stopping on the cabinets.

For some reason I have an aversion to all things orange. Except an orange. :)
---
| | | |
| --- | --- | --- |
| RE: Why the hate? | | |
Sundance, we must be @ the same age, because I definitely get that from my father, a Depression Era baby. That generation was smart and practical and thrifty! They new how to spend their dollars wisely; simple was better and smarter; if duct tape can't fix it, THEN and only then do you go out and get a new one! That sort of thing.

Lol.

The Yuppies of the 1980s ushered in this era of over-the-top "necessities". I am NOT grateful to them! Lol.

Does it work? Is it comfortable? Does it do the job? IF yes, then it's fantastic!
---
| | | |
| --- | --- | --- |
| RE: Why the hate? | | |
I'm 46 and have never been found of oak. Cabinets, trim, furniture, any of it. Maybe it was the overexposure as a young adult? It was everywhere in the late eighties, early ninteys, here.

My other house is a tiny cape cod. I bought it when I was 20 and I can remember house hunting and being adamant about not wanting any oak. It turned out not to be an issue, as all of the homes with oak were out of my budget. The house I bought had pine slab cupboards (all four of them) with black iron hardware. Years later I built a few more cabinets to match, changed to black appliances, and added a few black accents. It looks great :)
---
| | | |
| --- | --- | --- |
| RE: Why the hate? | | |
IMO the aversion to golden (orange) oak is that it has been overused for decades especially in lower end kitchens which makes it something to avoid for those who want a higher end look.

Yes, it's possible to have golden oak in a high end kitchen but most people (especially younger people) want something that looks higher end with a lower price tag and high end golden oak is sort of the opposite. Costs more but most people will not know that.

There is also the effect of blog envy for the insecure where those white painted kitchens have become the 'in' style.

Personally, I've never liked golden or orange oak altho do like antique dark oak.
---
| | | |
| --- | --- | --- |
| RE: Why the hate? | | |
I appreciate this question. I'm upper 50's and have a house full of golden oak- both cabinets (with cathedral doors) and woodwork. The house was built mid-90's. The idea of painted cabinets or other woods never even crossed my mind when we built. While I'm tempted to paint the cabinets, the truth is they are an extremely practical cabinet, solid and sturdy and look nice. I don't have an eye for design and I am not obsessed with decor so having the latest and greatest trend isn't for me. I have Corian countertops which I know many detest. I've purchased the gel stain and Rustoleum Cabinet Transformations and used them on small projects, but it's just not for me. As longs as it's clean and functional- that's for me!

Years ago when I first came on this site and posted a few pictures of my rather neutral home, many made suggestions to paint. So, away I went and started painting in other colors. I hated in. Now I'm back to painting everything neutral. I'm afraid the same would happen if I painted my golden oak cabinets. I'd want the oak back.

Perhaps I had a lot of influence on practicality from my depression era relatives, but I'd rather keep what I have and what I like and use my money and funds for travel and fun things instead of fixing what isn't broke.
---
| | | |
| --- | --- | --- |
| RE: Why the hate? | | |
High-fives hilltop.

Psst.: When in doubt, leave it out.
---
| | | |
| --- | --- | --- |
| RE: Why the hate? | | |
Addressing the oak cabinets versus painted cabinets. I have been told by contractors that oak cabinets are more expensive than painted cabinets because the wood used for painted cabinets is inferior to oak. This is not my opinion; this is what builders and designers have told me. My contractor had a fit when I mentioned painting my oak cabinets and so did my designer sister. She asked why did I waste the money to get oak cabinets and then want to paint them, that I should sell the house and get another one with painted cabinets and sell this house to someone who would "love" the cabinets. Nonetheless, I painted the cabinets and not a day goes by that I have not had my husband regret it. I try to segue any conversation of that by saying, "but it makes the kitchen so much lighter and brighter," and then we go into what a beautiful day or rainy day, whatever.
---
| | | |
| --- | --- | --- |
| RE: Why the hate? | | |
There is oak and then there is orange...

I had medium warm oak in my last house. I loved the warmth and homey-ness from 1991 to 2006 and then all of a sudden I hated them - along with all my "country" decor. I blame HGTV :-) The whole kitchen went from homey to dated in a blink of an eye. (hunter green formica counters and backsplash didn't help!). I painted them cream in 2009 (anticipating future house sale) and LOVED the change. Notice I maintained warm terra cotta paint color. So the hate must have been more oak than orange.
Now I am in my brand new and new construction (spec) condo space, I've got fairly decent maple cabinets but OMG the color is so ORANGE. I hate them!!! Someday I will paint them white/cream, but hard to justify that for brand new cabs.
Nothing goes with it. I think the granite counter is a decent color, but hate it with the cabs. I can't get a good color scheme going. Had to stick with orange.
---
| | | |
| --- | --- | --- |
| RE: Why the hate? | | |
I had golden oak cabs and painted them white. It was major bang for my buck and I'm very glad it worked out so well. That being said, if I could have my ideal kitchen, it would be oak...quarter-sawn. Oak has gotten such a bad rap because it was used so badly. Ugh, all those curved edges and waterbeds and matching bedroom sets.
---
| | | |
| --- | --- | --- |
| RE: Why the hate? | | |
I just have to get in on this discussion, our first house, which we lived in for 35 years, originally had what we now refer to as the "cockroach brown" Formica cabinets. (OMG were they ever yucky!) That was the only choice in these low-cost subdivision homes in 1970. Needless to say, when the mid-80's rolled around I dreamed about the newer "orangey" oak cabinets that everyone was replacing them with. I finally got them and loved them. But after twenty something years of that I now have white cabinets, (newer house) which in the 70's I probably would have hated because a lot of the old houses I grew up in had those. So I agree that it's just that people who grew up with the orange oak cabinets are running away from them because they grew up with them. No-one wants their mother's kitchen.
---
| | | |
| --- | --- | --- |
| RE: Why the hate? | | |
Well-built oak kitchens are organically gorgeous! For me it's more about the sheen and quality than picking on the wood or the woods color stain. A high gloss or semi-gloss top coat over something with such an obvious organic look I think is behind part of the hate. We can all appreciate well done cabinetry regardless of our personal tastes. Low to no sheen oak makes me want to curl up next to it and rub my face on it like a cat soaking up affection.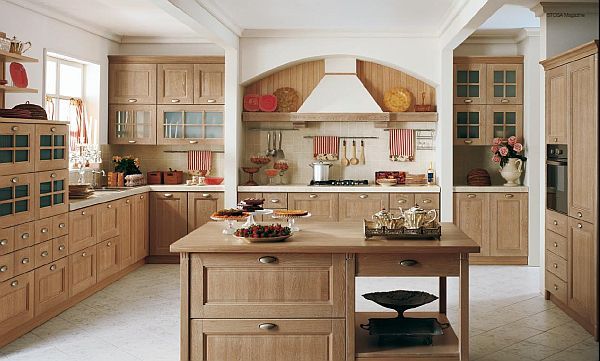 ---
| | | |
| --- | --- | --- |
| RE: Why the hate? | | |
I have never since the first time I saw them liked the golden or brown oak cabinets and the way the grain is on some of them.

I do love quarter sawn oak though or oak that has been left natural - ie unstained. Your cabinets do not look like the traditional golden oak that I don't like. It actually looks nice. The same goes for annkh and the other picture you posted from the blog, but wendyb's original cabinets falls in the category of not to my liking.

I think if you like what you have and it works with what you want to do then keep them as is. No need to paint them if they work for you, but I also don't worry so much about what others think. What matters to me is what the person(s) that have to live with it thinks.
---
| | | |
| --- | --- | --- |
| RE: Why the hate? | | |
Linelle, quarter-sawn oak is beautiful. My family has always had the quarter-sawn antique, claw-footed pedestal tables, which are beautiful. When I bought my house, a friend of mine gave me one (sans the leaves she couldn't find! So I had two made).

I do think there are cheap forms and quality forms of just about everything.
---
| | | |
| --- | --- | --- |
| RE: Why the hate? | | |
Linelle - I agree. Quarter-sawn oak is some of the most beautiful stuff I've ever seen. Stickley Mission oak ... ahhh, my heart goes pitter-patter.
---
| | | |
| --- | --- | --- |
| RE: Why the hate? | | |
If I had a choice, I would have chosen quartersawn oak when we built this house. Since the company we worked with did not have quartersawn at the time, we chose a beautiful maple wood.
If they would have had quartersawn oak, I would have chosen a dark stain.
As for changing your cabinets have you thought of putting a brown glaze over them to take away that orange look?
---
| | | |
| --- | --- | --- |
| RE: Why the hate? | | |
Tibbrix- My dad was born in 1955, so a little past that time. However, he and his family left Cuba in 1962 since my abuelo, who was a wealthy businessman, did not want to take part in the new government. They arrived in Miami with absolutely nothing. Though his family was able to establish another successful company, there were many rough years and he has never lost that sense of practicality. He rolls his eyes at me when I talk about changing things in our house simply because of aesthetics.

linelle- that quarter-sawn oak is beautiful! My mother has a quarter-sawn buffet that belonged to my great grandmother.

wendyb- interesting that you blame HGTV, those are exactly the things I'm trying to uncover. Maybe you saw all those white kitchens on TV and just discovered that you loved white. Or maybe HGTV told you to like it? Either way, lovely kitchens!
---
| | | |
| --- | --- | --- |
| RE: Why the hate? | | |
Yep, quartersawn takes me back to a place, a memory of a time. It makes me feel complete and connected. Difficult to express. I do have a simple, custom QS corner table in my living room. I keep toying with the idea of having the guy make me a dining table.
---
| | | |
| --- | --- | --- |
| RE: Why the hate? | | |
What does quarter-sawn mean?
---
| | | |
| --- | --- | --- |
| RE: Why the hate? | | |
Quarter sawn oak means the way the board was cut from the tree Musicateacher. It's cut at an angle inward where as regular sawn oak is straight across give the "big" pattern so many don't care about with oak.
I Googled and found a picture to help explain it. Sorry, the image is blurry. GW enlarged the original I shared.
This post was edited by justgotabme on Fri, Jun 13, 14 at 13:08
---
| | | |
| --- | --- | --- |
| RE: Why the hate? | | |
We built a home in 1976 and I knew I didn't want oak cabinets, even tho they were all the rage. I have my grandmother's quartersawn oak dining set from the early 1900's and love it, but the oak cabinets people were using looked to me like generic plywood (because of the bold wide and flat grains). So I chose birch, stained med dark.

We sold that house in 1983 and bought one with birch shaker style cabinets, natural finish (custom made by the po). I still love them and the color they've mellowed to.

I think people have identified the main reasons oak is now out of favor: overuse and especially in lower end homes trying to seem more "upscale" when oak was the rage - many very poor quality cabinets installed during those years. If I purchased a home today with nice quality oak cabinets, that leaned orangish, I probably would try to stain them slightly darker to eliminate the orange tones. I'm not a white kitchen fan, but like some of the painted kitchens using other cabinet colors, so I might think about that for myself.
---
| | | |
| --- | --- | --- |
| RE: Why the hate? | | |
I actually found better info on the different ways wood can be sawn to give the same wood many different looks.
Go figure, this one GW shrunk. I'll add the link so you can see it better.
Here is a link that might be useful: Various ways to saw wood logs and the results.
---
| | | |
| --- | --- | --- |
| RE: Why the hate? | | |
I don't know about the oak hate, but I think that if you don't hate them, save your cash and just update your light above the sink with a cool pendant, add a backsplash and a roman shade and suddenly you'll have a freshly updated kitchen!!! I will say though that I am beginning to have a stainless appliance hate... so sick of the finger prints!!!
---
| | | |
| --- | --- | --- |
| RE: Why the hate? | | |
Wendy b I have had the same reaction to my maple cabs stained the same color as the hated oak. I loved it for awhile then one day hated it. DH won,t let me paint them because they are still new and in perfect condition. I wonder if a few years from now we are all going to be having this conversation about wild patterned granite countertops and supway tile backsplashes
---
| | | |
| --- | --- | --- |
| RE: Why the hate? | | |
I think that the updated oak kitchen you posted shows that with some well thought out tweaks you could have a really nice kitchen without painting your existing cabinets. I had a darker oak cabinet in my last house and they had a high gloss finish that was definitely part of the 80's! My house now has white cabinets and I love white cabinets!! Just clean, crisp and fresh looking.

Here's just some thoughts:
1 - Your inspiration kitchen has a nice crown feature around the tops of the cabinets. This alone makes the kitchen feel updated and current.

2 - The oak kitchen is a professional photo, but it also looks pretty open and has a lot of light. If your kitchen is in a darker part of the house or doesn't have a lot of natural light, white cabinets will really make the area feel brighter and fresher.

3 - I agree with other posters that your cabinets really are ok - they may just need a fresh coat of poly - matte or low sheen will make them look more like your inspiration photo. Also, you're right, the new countertop and the white backsplash really brighten up the area as does the new cabinet hardware.

So, I think you can't go wrong with either option. Even if you paint the cabinets, I'd add a crown spacer board and crown molding to give your cabinets more height.
---
| | | |
| --- | --- | --- |
| RE: Why the hate? | | |
I am in the "hate oak" group. Always have, always will. We don't have oak cabinets, but our downstairs is oak hardwood. House built mid-80s and we were not the original owners. Would love to replace all of it, but keep as much as possible covered with area rugs. I could hardly wait for my 2 youngest sons to go to college so we could get rid of their oak bedroom furniture.
---
| | | |
| --- | --- | --- |
| RE: Why the hate? | | |
justgotabme, thanks for the illustrations. I really like the Live Sawn!
---
| | | |
| --- | --- | --- |
| RE: Why the hate? | | |
Justgotabme, those illustrations were really interesting. I didn't know anything about that.

Good topic, sundance. People do have strong feelings about oak. Oak and knotty pine. Much more so than with other woods.
---
| | | |
| --- | --- | --- |
| RE: Why the hate? | | |
I think your kitchen would look beautiful with only the top cabinets painted a warm white, maybe change a couple of the doors for glass inserts.

You'd still have the warmth of the oak, which goes well with the countertops, but the upper cabinets wouldn't look so heavy.

You could always the top cabinets first, decide if you want to stop there or paint the bottoms also.
---
| | | |
| --- | --- | --- |
| RE: Why the hate? | | |
Oy. Patricia stated that the 'white will soon be in the rearview mirror'. I hope it is not that soon, when I moved in a few years ago my cabinets were white and it is a frogawful bunch of work to do cabinet painting.
---
| | | |
| --- | --- | --- |
| RE: Why the hate? | | |
You're welcome Linelle.
Nancy, I'm a nut for wood. I even have folders full of photos of different species of wood on my old computer. I need to get them all transferred to thumb drives or get the cable I bought to connect my two together to work.
---
| | | |
| --- | --- | --- |
| RE: Why the hate? | | |
Totally agree with caroleoh ....
I think the reason most people hate oak is b/c its done in almost every builder basic kitchen with no frills.....if it's done right it really looks nice....like that Amish, old-style kitchen. I could really appreciate a kitchen like that.
Most people see pictures of white kitchens with all the bells and whistle and fall in love with that...well I don't necessarily think it's the white cabinets, b/c if they were builder basic white cabinets then it be just like those oak cabinets that everyone hates.
If you added the molding at the top of your cabinets like your inspiration kitchen and added a really nice back splash, your kitchen would look really warm and cozy.
I do agree with agree about the black appliances though, they seem to overwhelm the space.
---
| | | |
| --- | --- | --- |
| RE: Why the hate? | | |
I have red oak floors. The oil-based poly has turned them very golden. :) I adore them. They're warm and happy. I love the variety of grain patterns.
---
| | | |
| --- | --- | --- |
| RE: Why the hate? | | |
I have posted this before. Here is the kitchen of my daughter and SIL. The Before and After with orange oak.



---
| | | |
| --- | --- | --- |
| RE: Why the hate? | | |
Newhomebuilder, what did your daughter do to obtain the "after" picture? Is it just a matter of paint and new counters, or did she strip and refinish them? Very curious because I have some custom-built oak furniture that are a built TOO gold that I would like to take down a shade. Would love to hear about their process.
---
| | | |
| --- | --- | --- |
| RE: Why the hate? | | |
On a side note, I am one of those that hates knotty pine. Could be because I grew up in Minnesota lake country and every cabin had knotty pine on all walls and ceilings and every kitschy tourist shop trinket, so I associate it with "cheap." And, while I love wood furniture and floors, I hate wood all over the walls and ceilings. Again, I think it's a throwback to inexpensive cabins built along MN lakes that taints my view.
---
| | | |
| --- | --- | --- |
| RE: Why the hate? | | |
When DH and I moved into our current home 15 years ago I loved the big oak kitchen. It was 15 years old, but in decent shape, with some minor chipping of the tile counter and discoloration of the grout. No biggie.

But we eventually realized that the kitchen was laid out horribly, although there was lots of space it was poorly utilized. And while the exterior was in good shape, the actual cabinet boxes were poorly constructed and the drawer hardware was crap. It turns out that many of the ubiquitous oak cabinets installed in the '80s were pretty poor quality. So every time I see an oak kitchen now, it reminds me of that poor quality kitchen. And when I see a white kitchen I am reminded of the much more functional and sturdy white kitchen that replaced it.

I know it isn't fair to damn all oak kitchens for the sins of one, but I suspect this kind of experience has something to do with many folks' attitude.
---
| | | |
| --- | --- | --- |
| RE: Why the hate? | | |
Kees_Lover - Nothing was done to the cabinets. The original yellow paint on the walls, combines with the light bouncing off those walls, made the cabinets even more orangey looking. Different paint, new counter tops, hardware and stainless steel appliances completed the look.

Hope the new look is attractive enough for someone house hunting, because the kids are putting the house on the market on Monday morning.
---
| | | |
| --- | --- | --- |
| RE: Why the hate? | | |
It's all HOUSE FASHION ... it'll change in a year or so.

You should have your kitchen ... the way that appeals to YOU and YOUR family.

I like the way your kitchen looks (with the exception of the blue-legged table. If anything, I'd think about replacing that piece which something which fits into the oak wood theme.

I'd also look into getting some oak wood chairs for your kitchen table.

Next year it will be all the rage ...
---
| | | |
| --- | --- | --- |
| RE: Why the hate? | | |
I never have like oak, and it is the grain in particular that I find to busy and visually overstimulating.

Quartersawn/antique in a dull and darker finish doesn't bother me much. And for whatever reason oak floors don't bother me.

We painted our 1987 cabinets white and love them now. They looked just "fine" as they were, but painting them did give me a wider range of options for choosing other things in my kitchen in colors and having the look not fight the color of the oak. For me, the unpainted oak made the oak very prominent visually in the space, and the painted cabinets made the cabinets less imposing and less visually dominant in the overall space.
---
| | | |
| --- | --- | --- |
| RE: Why the hate? | | |
aegis500- you're the 2nd person to say they don't like the blue "table" and I'm starting to doubt my color choice. It's actually the Groland island from Ikea. I desperately needed the work space. I decided to paint because the unfinished wood was not that attractive and I thought the kitchen needed some color. I picked the color since I thought a less saturated blue would not hold its own next to the orange.

What color would you repaint it if it was in my inspiration kitchen??
---
| | | |
| --- | --- | --- |
| RE: Why the hate? | | |
If you like the color, I'd leave it. ;)

If it were mine, I'd probably paint it black or the color of your walls.
---
| | | |
| --- | --- | --- |
| RE: Why the hate? | | |
I think if you like the blue of the island worktable, you need to just add that color elsewhere in the room. If you notice in your inspiration pic, they have the turquoise color repeated several times in accents.

I think the color is a little bright, in your inspiration photo the color is a little more muted and a tad more green than blue.

I'd leave the table as is right now. Make your decision on the cabinets, countertops/backsplash. Get the changes you want to do now done, then look at the island color. You might find another accent color you like better. Plus if you do paint your cabinets, you might feel totally different about the color with white cabinets vs. oak.
---
| | | |
| --- | --- | --- |
| RE: Why the hate? | | |
I don't like the blue either, it's too bright. Here is a kitchen that almost has the same colors as you it's just tweaked a little and it makes it looks great. ...ignore the person who walked right in from of my shot that I was quickly trying to take before I was told not too...lol...it was a parade of homes. Your blue needs to be more muted like this blue.
---
| | | |
| --- | --- | --- |
| RE: Why the hate? | | |
newhomebuilders's photos remind me of a story.

Guy buys a house with an all pink bathroom. Everything in it is pink! One night he starts demo. Hauling out the sink and toilet to the curb. Next morning he finds nice bone colored fixtures at the curb. Turns out the only thing pink in the bathroom was the paint. It made everything else looks pink.
---
| | | |
| --- | --- | --- |
| RE: Why the hate? | | |
Wall color and window covering color makes a huge diff. in how other colors in a room are preceived. Mix orange and blue or green paint and you will get a brown grey color because they cancel each other out. Yet you will get some people that tell you that using colors oposite each other on the color will to make the colors pop. That only works if your working with matt colors with no reflective qualitys. I think the problem with your island is it doens,t look like it belongs there but if you need it you need it. I would try some of that color like they used it in your inspiration pics. splashes of the color with assesories here and there.
---
| | | |
| --- | --- | --- |
| RE: Why the hate? | | |
Regarding bright paints, an old wives' tale (well, my mother's tale at least) is that when you see a color you like, go at least 2-3 shades lighter.
This post was edited by patricia43 on Sat, Jun 14, 14 at 18:14
---
| | | |
| --- | --- | --- |
| RE: Why the hate? | | |
sundance, didn't there used to be a photo (inspiration perhaps) with a deeper blue island? That color was fine, a deep rich teal. The current table is a little chalky looking, almost like it was photoshopped in. Sorry, I didn't say anything earlier because I didn't think you were asking about it.
---
| | | |
| --- | --- | --- |
| RE: Why the hate? | | |
Thanks for the feedback. This was my first foray into saturated color. I do think it's a bit confusing because of the differing views on color pairings. Pick a color on the opposite side of the color wheel vs muddier colors etc.

linelle- I had a different picture on my other thread. I've attached it below. The kitchen gets a lot of light and it's hard to photograph at certain angles.

debrak2008- that made me laugh! the power of paint is amazing. Is that a true story?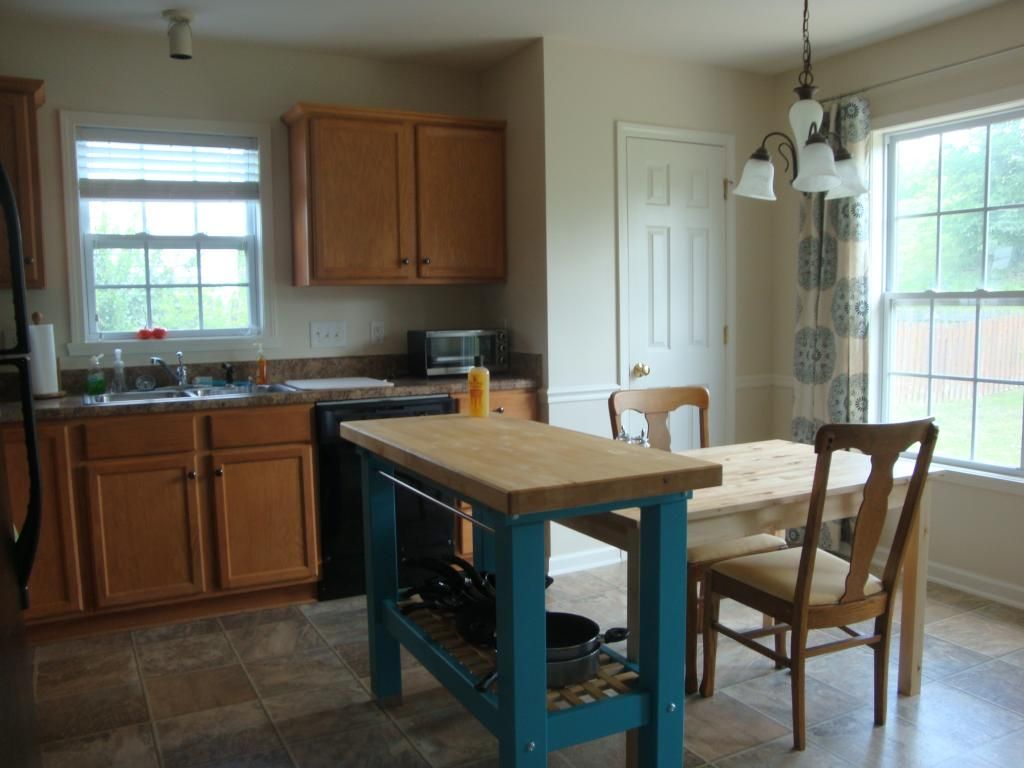 ---
| | | |
| --- | --- | --- |
| RE: Why the hate? | | |
In this light, I like the color of the table legs. Spreading that color around a bit would make your kitchen adorable.
---
| | | |
| --- | --- | --- |
| RE: Why the hate? | | |
And a little more on topic....

Several posters have mentioned that paint should only be used to cover shoddy workmanship or materials. That has left me a little confused as to my cabinets. They are definitely the dreaded "builder grade" that everyone has mentioned. They feel like particle board with a veneer?? I don't know anything about cabinets.

So.... would my cabinets seem cheaper if I paint them or would paint help cover up less than quality materials? They are 7 years old and the previous owner seems to have kept them clean and treated them gently. I am now confident that I can make either look work. I feel like either direction I go, they will seem cheap or like I'm putting "lipstick on a pig". I don't want to be confused for an HGTVer who wants caviar on a ramen noodle budget!

I value all of your opinions and I've gotten a lot of good perspectives on "orange oak".
---
| | | |
| --- | --- | --- |
| RE: Why the hate? | | |
As for that story, I think it is true. Read it in Finehomebuilding magazine. The back page of each issue has stories sent in by readers. That one I never forgot.

A little more that I remember..... I'm sure he was single, had a few too many beers one night. Came home and decided he couldn't stand the pink bathroom any more and started swinging away with a sledge hammer. Lots of regrets the next morning.

I assume he was single as I can't imagine a woman letting her drunk SO demo the bathroom late at night, LOL.
---
| | | |
| --- | --- | --- |
| RE: Why the hate? | | |
I think if it were suggested that paint was the sure sign of poor quality materials, a lot of owners of high-end painted kitchens would take to the streets with pitchforks.

I hate saying this, but it is what it is. If painted cabinets look fabulous, it doesn't matter what they looked like in a previous incarnation. Good looks are good looks.
---
| | | |
| --- | --- | --- |
| RE: Why the hate? | | |
Sundance, the picture just above gave me an idea: Danish Oil! The table needs a bit of depth to complement the chairs and island. You could use the walnut colour applied with a cloth rag & rubbed in.

Have you thought of adding seat cushions in a similar shade of turquoise? That might give everything a greater sense of continuity.

You can also give the cabinets & cupboards a rub down with the Danish Oil. I've done it before to "revive" the wood. It's a nice way to keep the natural wood if that's the route you decide to take.

Whenever someone talks about orange cabinets, I envision late 1960s to mid 1970s O R A N G E. That ultra "mod", high gloss stuff O_o ... One kitchen we had was a combo of that ever so magnificent orange and chrome yellow. It was...stimulating. I couldn't wait to get out of that kitchen. Never did dishes so fast. Wash, dried, put away in record time.
---
| | | |
| --- | --- | --- |
| RE: Why the hate? | | |
Yeah, the blue looks better in the new picture. I like what Locrian suggested. Going over it with a stain to antique it would look good.
I would definitely NOT paint your cabinets....you really need to work with what you got. The only thing I would do is maybe glaze or stain them to tone down the orange...
but really if you make the little details high end - like molding, back splash, accessories, lighting, cabinet hardware etc you could end up with a cute kitchen.
I think you can definitely work with the cabinets.
---
| | | |
| --- | --- | --- |
| RE: Why the hate? | | |
Do not paint those cabinets! That orangy oak is beautiful, expensive, tough as nails, and easy to clean.

You paint cabinets with paint when you have poorly stained and dark cabinets of cheap wood (plywood?) and varnish drips.

And the rest of your kitchen looks nice too.

I would have holpostered the chairs and painted the legs on that cutting table to match the blue in the curtains but the current scheme still looks good.

People painting oak, cherry, and other natural woods are mistaken in doing that. Doesn't make it look better and makes it harder to clean.

You paint particleboard or plywood, not good wood.
---
| | | |
| --- | --- | --- |
| RE: Why the hate? | | |
I think if you added crown moldings to the top of your kitchen it would be just as nice if not nicer than your inspiration picture. A few more turquoise items and maybe a new light over the sink and you have a finished lovely kitchen.
I darkened my nice quality natural oak cabinets and lately I sometimes wish I had not but for 6 years they did make me happier than the orange tones had. However, now I find myself liking pictures of natural oak and in you kitchen I like the light oak, orange undertones and all.
---
| | | |
| --- | --- | --- |
| RE: Why the hate? | | |
Sundance - At that angle, I like your blue, and I love your curtains. Add a few accent pieces around, and you are good to go!
---
| | | |
| --- | --- | --- |
| RE: Why the hate? | | |
It must be a generational thing. I'm 59.

We have oak kitchen cabinets and I think they look great. I can't BELIEVE it when people slap paint on quality, well-finished wood. To me, paint is cheap looking, easily smudged or peeled and reminiscent of times when people couldn't afford good wood - so they just painted their plywood cabinets over and over again.

We spent $$$$ two years ago installing solid plank flooring in our living room, dining room and hall. White oak with a clear finish. If DH hadn't strongly preferred carpet for bedrooms, I would have done them too.
---
| | | |
| --- | --- | --- |
| RE: Why the hate? | | |
Love the colour of the table in the second photo.
I would suggest changing the window coverings to something more substantial - same colour as the work table. That would 'balance' the room a little better.
Looking at the second photo - everything on the left side (cabinets) is dark & everything on the right side (white door, light walls & window covering) is light, leading to an imbalance.
---
| | | |
| --- | --- | --- |
| RE: Why the hate? | | |
Sundance, I know what lighting does when taking photos inside your home, so it never dawned on me that the table base was too bright. I'd still like it if were, but I'm with you NHB in thinking you need accessories in that color too.
If this were my kitchen, I'd paint the base of the other table, the pantry door and a few of the accessories the same color as the island base. I'd also buy another panel of the curtains, if you can still get them, and use them to make covers the chairs and a valence for over the sink.
I also think painting the walls behind the cabinets and the lower half of the dining area a warm brown would help tone down the "orange" you're seeing in the cabinets.
---
| | | |
| --- | --- | --- |
| RE: Why the hate? | | |
Wow! Thanks for that mock-up... so many little details! I don't know why, but I am so hesitant to paint the legs of the table- it's a $99 Ikea table, so it's silly feeling to have. I think it's because it has an acrylic lacquer and I've had a furniture painting project go bad before.

I don't think DH will go for a colored door :( He isn't very adventurous. You've given me a lot to think about! Many people have mentioned to upholster the chairs with the curtain fabric. The fabric is a lightweight cotton fabric. Is it still possible to use it as upholstery fabric?
---
| | | |
| --- | --- | --- |
| RE: Why the hate? | | |
to me, all colors including stains and paints are subject to time period popularity our first home (circa 1970) had white cabinets) a friends home in elementary school (circa 1958) had white cabinets and marble countertops, 2 homes from the later 70's had dark stain and
another home from the 90's had white cabinets our present home has white cabinets and our home being built will have white cabinets.....
and white woodwork with stained wood interior doors
you can stain your cabinets any color but the wood grain will be more prevalent on oak than most other woods
---
| | | |
| --- | --- | --- |
| RE: Why the hate? | | |
regarding the discussion on painted cabinets
our gc asked what kind of wood i wanted cabinets made out of
maple, beech, or oak
he suggested maple or beech since there is a very definite heavier grain in the oak which wouldn't be quite as attractive when painted
(according to him) the difference in prices were totally not of consequence
same questions were asked about the butcher block island countertop
i chose maple because i didn't want the heavier grain
if i had existing cabinets the discussion would not have come up...
---
| | | |
| --- | --- | --- |
| RE: Why the hate? | | |
I like the last mock-up, ... except for the fact that the blue table coloring reminds me too much of the coloring of machinist's tables, which are often painted blue.
---
| | | |
| --- | --- | --- |
| RE: Why the hate? | | |
I'm glad you liked the mockup Sundance. I wasn't sure about the door when I first did it, so I removed it and realized that I liked it better painted than not so I went ahead and shared that.
I have a brave husband. We have all sorts of doors in our home. From standard raised panels to pocket doors and quite a few in between. Though all are stained, the pantry door has chalkboard painted raised panels for the grandkids to use and for grocery lists. It comes in quite handy. I'm pretty sure you can get chalk paint in any color now.
I kept the paint program open with your picture just in case you didn't like the idea. I'll share your kitchen with the white door below.
As for painting the table legs. You could either sand the finish off, I happen to enjoy sanding and have done it quite often before, or follow the video instructions linked below. I have some, but have yet to try CitriStrip. The video is stripping paint, but it works on other finishes too.

I have been interrupted so many times I'm just going to send this while it's quiet here and hope it makes sense..
Here is a link that might be useful: How to Strip fFurniture
---
| | | |
| --- | --- | --- |
| RE: Why the hate? | | |
why? because they're orange. And they remind me of every kitchen in every crappy apartment I've ever lived in.
---
| | | |
| --- | --- | --- |
| RE: Why the hate? | | |
I wouldn't use the curtain fabric on the chairs. Too matchy matchy. I'd get either a stripe or small pattern fabric that screams the blue color of your table and curtains. I also think I'd put a coat of something on the island and table to darken them just a bit.
---
| | | |
| --- | --- | --- |
| RE: Why the hate? | | |
I personally don't particularly like the grain of oak (nor am I crazy about dark cherry or mahagony). However, I'm a sucker for pine, especially scrubbed pine (English, Scandinavian), fir, and light cherry.
---
| | | |
| --- | --- | --- |
| RE: Why the hate? | | |
This post reminds me of the time when I was in HS and my best friends father refinished all the woodwork in their 4 bedrm home. Many of the pieces had to be lowered out the window on ropes . Yes we were in the city. The entire summer the kids and dad stripped the layers of white paint off doors and window moldings,etc. as he wanted to remove all the layers of white paint (no water based products then) and make them wood stained. He removed every nicked up old beaten up painted piece of molding, every board, every door, had them set up across sawhorses out in the front yard, stripped them with paint remover, set them up to be washed, sanded and stained. The front yard was the only place he had room to safely do this job, it took all summer. The rest of us watched with awe because they would have the only home in the neighborhood without that terrible white woodwork. He put a light stain on the refinished wood, wow that grain was gorgeous , no idea what kind of wood. I love oak and any wood with a grain. Guess its what you grew up with and what you took from it. This was 1956.
---
| | | |
| --- | --- | --- |
| RE: Why the hate? | | |
I think it is all about not wanting something once it becomes overused and also wanting something different than what was trendy but now dated about your parent's home. It is all cyclical though.

When my folks bought their house in the early 80's the kitchen (original from the 60's) was sleek turquoise steel cabinets, formica countertop with chrome edge, some wild hippie yellow and orange wallpaper, and multicolored bright wall to wall CARPETING. The carpeting and wallpaper went right away and they saved to redo the cabinets. Some of the cabinets had rust inside and were lined with more hippie style contact paper to cover it up.

When they reconfigured and "upgraded" they went with the now passee golden oak raised panel cabinets and almond laminate counters. They also bought a lot of golden oak furniture from a local store that specialized in it to match. It is golden oak overload! It is still functional though and I don't think it makes sense to redo it just for looks. It is also no fun tearing apart something that you worked hard on and spent a lot of money on for no good reason. It is much easier when you move and you rip apart somebody else's hard work!

Funny thing is we were watching an HGTV show recently and saw a high end modern dream home with metal cabinets that looked exactly like the old blue steel ones. It looked really good and I much preferred it to the golden oak. There is still one upper cabinet hanging in the garage. It could be big money!

I also remember my grandma's farmhouse that had really beautiful high quality wood floors, trim, and built- ins. The type of quality that you don't see anymore. My mom said grandma was so thrilled when she covered up those floors in the 60s with wall to wall carpet! At least she never painted the woodwork.
---
| | | |
| --- | --- | --- |
| RE: Why the hate? | | |
molanic, your Mom's metal cabinets could have very well been Youngstown. That's what my Mom and many other homes in our fifties neighborhood had. Oh, I loved that kitchen. So many happy memories took place there. I remember my Mom being so proud of her modern kitchen!
Make sure to watch the video. It's a hoot!
Here is a link that might be useful: Youngstown Kitchens
This post was edited by justgotabme on Tue, Jun 17, 14 at 17:58
---
Post a Follow-Up
Please Note: Only registered members are able to post messages to this forum.
If you are a member, please log in.
If you aren't yet a member, join now!
---
Return to the Home Decorating & Design Forum
Information about Posting
You must be logged in to post a message. Once you are logged in, a posting window will appear at the bottom of the messages. If you are not a member, please register for an account.
Please review our Rules of Play before posting.
Posting is a two-step process. Once you have composed your message, you will be taken to the preview page. You will then have a chance to review your post, make changes and upload photos.
After posting your message, you may need to refresh the forum page in order to see it.
Before posting copyrighted material, please read about Copyright and Fair Use.
We have a strict no-advertising policy!
If you would like to practice posting or uploading photos, please visit our Test forum.
If you need assistance, please Contact Us and we will be happy to help.

Learn more about in-text links on this page here