Return to the Home Decorating & Design Forum
|
Post a Follow-Up
---
| | | |
| --- | --- | --- |
| Please help with bedroom with pine four postercanopy bed | | |
Posted by
nosoccermom
(
My Page
) on
Thu, Jun 28, 12 at 17:30
I have a King four poster/canopy bed that I still love, but I also want to update my bedroom which hasn't been changed for the last 20 years. I'm desperate for inspiration. Below my room and some bedrooms I like. Some other info: the new floor will be wall-to-wall carpet, probably a grey/beige/cream berber type; there's a Cathedral ceiling, and fan over the foot end of the bed that has to stay.
I'd also consider going with a dark wall color but haven't found any examples with a pine poster bed and a more streamlined look.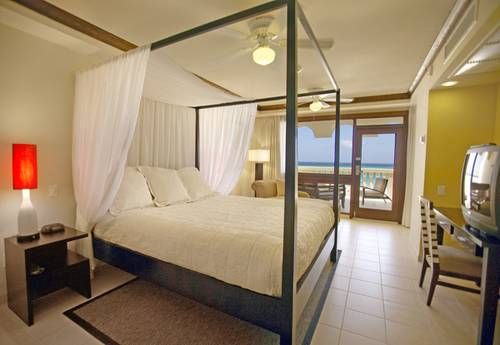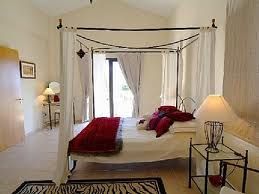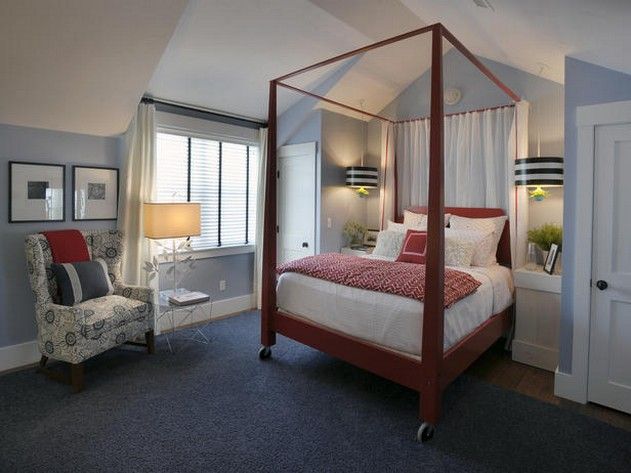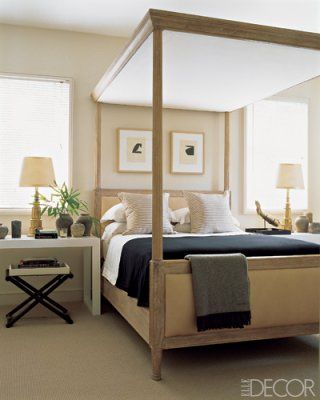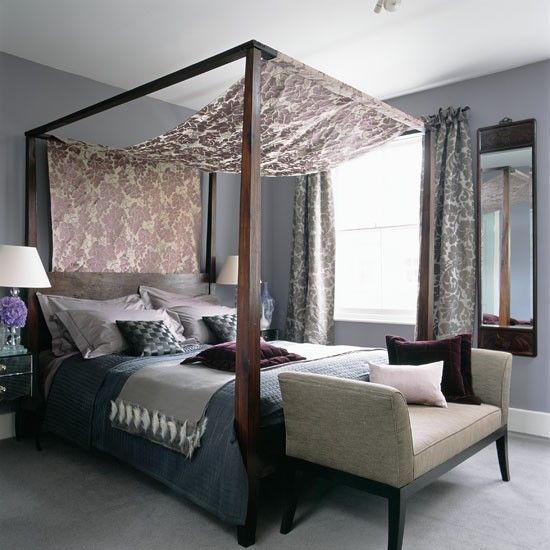 ---
Follow-Up Postings:
| | | |
| --- | --- | --- |
| RE: Please help with bedroom with pine four postercanopy bed | | |
Pretty bed and room! How about changing the art above the headboard with something larger-maybe a big splashy abstract? Then, I would buy some new bedside tables and lamps. There are so many options there and it is a small change that could totally change the feel of your room if that is what you want to do (understandable after 20 years). Your bed could be the centerpiece of almost any style from traditional to modern to glamour (mirrored side table?). It is the perfect bed-simple and clean. It really could be used with any accessories you like. I personally like the white bedding and would keep that!
---
| | | |
| --- | --- | --- |
| RE: Please help with bedroom with pine four postercanopy bed | | |
What a perfect bed choice you made so long ago. I would buy that today. I love it! I am not sure if I have bought in to the popularity of grey, or the fact that you said you might do a grey carpet, but I could really see that bed in a grey room. I would do a different night stand too, or maybe just paint the one you have if you are so inclined. A color from your pillows would be intereseting, but so would black or white.

I know this isnt a bedroom, but i think it has that rustic (pine is sort of rustic in my mind) but streamlined look you re talking about.
I just love that bed and can't wait to see what you do with the room.
---
| | | |
| --- | --- | --- |
| RE: Please help with bedroom with pine four postercanopy bed | | |
I love your bed! Another vote for gray, I'd say fairly dark, like your fifth inspiration picture (or darker if you dare, I'm in love with Farrow and Ball Downpipe at the moment.). Your colourful accent pillows would look wonderful with dark walls. I like the look of a gorgeous fabric for the wall behind your bed, rather than the small pictures, perhaps pulling a colour from those accent pillows. That fifth inspiration pic is my fav i think, but all are lovely.
---
| | | |
| --- | --- | --- |
| RE: Please help with bedroom with pine four postercanopy bed | | |
Thank you for all the feedback. Once I get my camera back, I will post more pictures. One of the nightstands (right) has already been replaced with a white nightstand, and the skimpy prints will definitely have to go.
I love blues and greys but am worried about jumping on the grey bandwagon. Because the ceilings are so high on one side,it will be hard to change the paint color. The funny thing is that I also picked a solid grey carpet 20+ years ago.
---
| | | |
| --- | --- | --- |
| RE: Please help with bedroom with pine four postercanopy bed | | |
I am echoing CYN427's post- I like the idea of a large splashy abstract and leave the room white. Very pretty and timeless the way it is-just change some of the assesories and the lamps and you are good to go.
---
| | | |
| --- | --- | --- |
| RE: Please help with bedroom with pine four postercanopy bed | | |
Definitely the 5th inspiration picture. It classes above the rest if you ask me. I prefer darker bedrooms.
---
| | | |
| --- | --- | --- |
| RE: Please help with bedroom with pine four postercanopy bed | | |
| | | |
| --- | --- | --- |
| RE: Please help with bedroom with pine four postercanopy bed | | |
Lovely bed! FWIW, our bed and nightstands are similar tones and our walls are Restoration Hardware's silver sage. I know it's an "old" color but it works like a neutral in our room. Right now I have bedding in cream and soft yellow/gold tones with a bit of muted green, and I like the look. There are lots of other color combinations that work with the SS and wood tones, too -- e.g., white with accents of lime green, navy or gold; coral; deep red and cream for the holidays; aquas and soft greens. You can switch it up by just changing a couple pieces of bedding. I've found it to be a very versatile color. By the way, I love the nightstand.
---
| | | |
| --- | --- | --- |
| RE: Please help with bedroom with pine four postercanopy bed | | |
nosoccermom, I noticed these common things in most of your inspiration pics:

--Fabric hangings on the bed. All but 2 of the pics have fabric of some sort on the bed itself.

--A mix of furniture. Mostly clean lines, but a mix of wood and metal or of different woods. Gives many of the rooms a slight eclectic feel.

--Mostly lighter colors, with some darker colors in one or two spots--an accent wall, the flooring.

--Some of the rooms have cool-looking statement lamps next to the bed.

So I'd explore the idea of putting some curtains on the bed. Or a treatment like that in photo #5--the gray room. That's a simple hanging, pretty easy to make yourself and it's elegant.

Then change out your nightstands. Maybe a small, round table to balance out all the rectangular lines of the bed. A bench at the foot of the bed.

I'm hopeless at advising people about color. It could be all these rooms have lighter colors because those are the only pictures you can find with beds like yours. Maybe do a search for inspiration pics for bedrooms with colors you like, regardless of what type of bed is in the room.

Lamps--get some larger-scale lamps that can stand up to the statement that your bed makes.
---
| | | |
| --- | --- | --- |
| RE: Please help with bedroom with pine four postercanopy bed | | |
Camlan, thank you so much for your feedback and pulling out the common characteristics of the bedrooms. You're right that I haven't found any pictures of four poster beds with darker paint colors.
---
Post a Follow-Up
Please Note: Only registered members are able to post messages to this forum.
If you are a member, please log in.
If you aren't yet a member, join now!
---
Return to the Home Decorating & Design Forum
Information about Posting
You must be logged in to post a message. Once you are logged in, a posting window will appear at the bottom of the messages. If you are not a member, please register for an account.
Please review our Rules of Play before posting.
Posting is a two-step process. Once you have composed your message, you will be taken to the preview page. You will then have a chance to review your post, make changes and upload photos.
After posting your message, you may need to refresh the forum page in order to see it.
Before posting copyrighted material, please read about Copyright and Fair Use.
We have a strict no-advertising policy!
If you would like to practice posting or uploading photos, please visit our Test forum.
If you need assistance, please Contact Us and we will be happy to help.

Learn more about in-text links on this page here