Return to the Home Decorating & Design Forum
|
Post a Follow-Up
---
| | | |
| --- | --- | --- |
| A Craigslist steal | | |
Posted by
pesky1
(
My Page
) on
Thu, Jun 27, 13 at 16:55
I got all 3 of the darling arm chairs for $20 today! The csning is in excellent condition, and the seats are horsehair-but covered in gold vinyl! I havent yet checked for a makers mark, but it doesnt really matter for the price II paid.

The seller said they had been used in a restaurant. And were from her. Father-in-laws estate. I only wish she`d had more.

I`m going to paint them and recover with ticking, and hoping I.can reuse the original nail head tacks, too. I could go with either white or black for the paint...suggestions?
---
Follow-Up Postings:
| | | |
| --- | --- | --- |
| RE: A Craigslist steal | | |
cute!

wondering . . . y'all are comfortable buying upholstered furniture from CL? I'd be worried about bugs . . . and things (although admittedly there's not that much upholstery in the chairs in this post)
---
| | | |
| --- | --- | --- |
| RE: A Craigslist steal | | |
I really like them. I think an off white paint would look great. Then with new upholstery - what are you thinking there?
---
| | | |
| --- | --- | --- |
| RE: A Craigslist steal | | |
Violet-West, I have never worried about items I have purchased from CL, including upholstered pieces having bugs. Usually one could tell from the surroundings if there would be that possibility and, if that is the case, just call and cancel your appointment to view the item(s).

Pesky, the chairs are wonderful. Great find.
This post was edited by walnutcreek on Thu, Jun 27, 13 at 19:10
---
| | | |
| --- | --- | --- |
| RE: A Craigslist steal | | |
I like the shape, not too overly ornate. Score!!
---
| | | |
| --- | --- | --- |
| RE: A Craigslist steal | | |
I hope my3dogs chimes in. I think the chairs would really benefit from the chalk paint and wax. Give them a lot more subtlety like the 2 she just sold to kwsl. The cloth you choose for the seats along with the color could really make these "show offs " ....fabulous find. c
---
| | | |
| --- | --- | --- |
| RE: A Craigslist steal | | |
I agree they are a steal - better even than some of MY great buys. I had thoughts once of using the original nail heads from one of my re-dos, but they just didn't come out straight.

Nail heads are very inexpensive, if you shop right. There are several on eBay, for example, but just compare prices, as some are ridiculously high.

I used Annie Sloan Old Ochre on the chairs that kswl bought; which to me is an off-white and not ochre at all. Mine had a 'fruit wood' finish when I bought them, lighter than yours. What color ticking stripes do you plan to use? To me, that would decide the color you paint the chairs.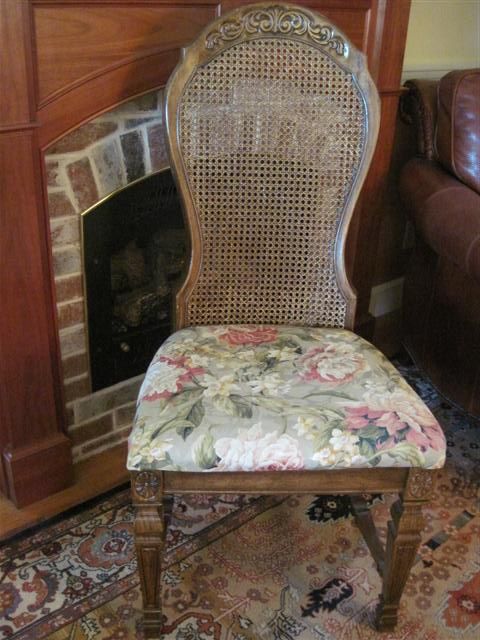 This is after the Old Ochre, sanding, and light brown BriWax.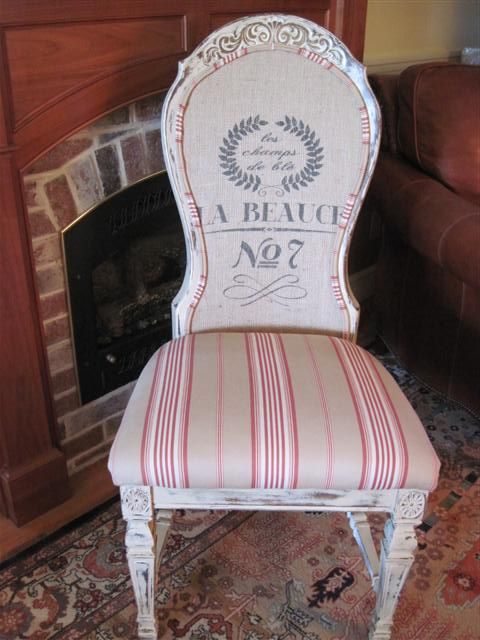 ---
| | | |
| --- | --- | --- |
| RE: A Craigslist steal | | |
omg....are you in Greenville SC too?
---
| | | |
| --- | --- | --- |
| RE: A Craigslist steal | | |
That chair is what made me think of using ticking My3dogs! I love what you did to it. Not sure what color ticking-I think one might go in my guest room once I redo it, and if so, I'd use cream/taupe.

Not sure about the other two-might be that DD2 would like them for her house. Then it'd probably be some pink color. I actually saw a faded out Union Jack print done in very faded colors-almost in the taupe-y tones, and it'd look sooo fun on those chairs.

I live in NW Oregon Bee. Every once in a great while I come across the most amazing scores on CL. A few years ago I got 6 ornate, chippy, wrought iron chairs. They're missing seats, but they are sooo fabulous. One day I'm going to make seats and use them out on the deck during summers. I paid $25 for those six chairs. They're easily worth that for scrap! Actually, I should get those out and fix them up and sell them at the antique mall!
---
| | | |
| --- | --- | --- |
| RE: A Craigslist steal | | |
Pesky, you got a great deal. I have two chairs identical to yours--right down to the gold vinyl seat. I painted them an off white, but didn't want to spend the time or money to reupholster the seats (they were going in a bedroom and probably wouldn't be sat on much). I tried Annie Sloane chalk paint on the vinyl seats and it worked beautifully! You could probably even "paint" a Union Jack on the seat, then lightly distress. Enjoy!
---
| | | |
| --- | --- | --- |
| RE: A Craigslist steal | | |
Oh, Pesky! You've got my creative wheels turning! I looked up Union Jack fabric, and while I LOVE the first 2 in the second row in the link below, it would be over $100 a yard US plus shipping from the UK, if it's still available.

But I have some soft canvas, and recently bought some textile medium to add to acrylic paint. I can play with painting my own fabric, or even piecing fabrics to make a Union Jack to do a chair in. FUN!

Even though I see many images of pieces done with the flag on the seat and back, I think I do it only on the back, and coordinate a seat fabric, out of respect for the flag.
Here is a link that might be useful: Images of Union Jack fabrics
---
| | | |
| --- | --- | --- |
| RE: A Craigslist steal | | |
I know this will probably sound a tad pissy, but using the US flag and, by exension any country's flag, on furniture, clothes, etc. is considered disrespectful. May look cool, but really isn't proper.

Flag Used on Inanimate Objects
The flag should not be emblazoned on items such as lawn chairs, paper products, yard goods and furniture. (U.S. Code, Title 4, Chapter 1, Section 8) "The flag should never be used as wearing apparel, bedding, or drapery. It should never be festooned, drawn back, nor up, in folds, but always allowed to fall free. Bunting of blue, white, and red, always arranged with the blue above, the white in the middle, and the red below, should be used for covering a speaker's desk, draping the front of the platform, and for decoration in general..." The flag should never be used as a receptacle for receiving, holding, carrying, or delivering anything. The flag should never be used for advertising purposes in any manner whatsoever. It should not be embroidered on such articles as cushions or handkerchiefs and the like, printed or otherwise impressed on paper napkins or boxes or anything that is designed for temporary use and discard. Advertising signs should not be fastened to a staff or halyard from which the flag is flown. No part of the flag should ever be used as a costume or athletic uniform. However, a flag patch may be affixed to the uniform of military personnel, firemen, policemen, and members of patriotic organizations. The flag represents a living country and is itself considered a living thing. Therefore, the lapel flag pin, being a replica, should be worn on the left lapel near the heart.
---
| | | |
| --- | --- | --- |
| RE: A Craigslist steal | | |
Oh, and pesky, amazing find. Can't wait to see them when you finish! Just don't use a flag pattern-;)
---
| | | |
| --- | --- | --- |
| RE: A Craigslist steal | | |
I love the idea of painting that on the back of the chair! And I never thought of painting fabric. I want to do the UJ in tribute to my favorite band (and as a reminder of the fantastic time I had with them in Las Vegas this year)
Here is a link that might be useful: Union Jack
---
Post a Follow-Up
Please Note: Only registered members are able to post messages to this forum.
If you are a member, please log in.
If you aren't yet a member, join now!
---
Return to the Home Decorating & Design Forum
Information about Posting
You must be logged in to post a message. Once you are logged in, a posting window will appear at the bottom of the messages. If you are not a member, please register for an account.
Please review our Rules of Play before posting.
Posting is a two-step process. Once you have composed your message, you will be taken to the preview page. You will then have a chance to review your post, make changes and upload photos.
After posting your message, you may need to refresh the forum page in order to see it.
Before posting copyrighted material, please read about Copyright and Fair Use.
We have a strict no-advertising policy!
If you would like to practice posting or uploading photos, please visit our Test forum.
If you need assistance, please Contact Us and we will be happy to help.

Learn more about in-text links on this page here