Return to the Home Decorating Forum
|
Post a Follow-Up
---
| | | |
| --- | --- | --- |
| Sherwin-Williams White Raisin | | |
Posted by
png4eva
(
My Page
) on
Tue, Jun 8, 10 at 16:33
Hi, I'm new here but absolutely love this forum. Everyone is so helpful. I have a question: I'm considering SW White Raisin for most of my downstairs living area (LR, DR, FR, Kit..). I definitely want a nice golden yellow (not tan). Do you think its too bright of a color to be used for the whole downstairs? Can someone posts pics of White Raisin if they've used it? I went to the Sherwin Williams store and they no longer stock the sample chip of this color. I'd like to decorate with olive green and some red for a pop of color.

Other colors I'm considering are:
SW Blonde
SW Restrained Gold
BM Chestertown Buff
---
Follow-Up Postings:
| | | |
| --- | --- | --- |
| RE: Sherwin-Williams White Raisin | | |
If you go to the SW site, it still allows you to pull up White Raisin which on my monitor looks really pretty. That can be very deceiving though. The first lighter color offered in the virtual viewer is #6660 Honey Blush. On my fan deck it's actually a darker yellowish orange color and is near the oranges in the fan deck. When I try to compare the White Raisin with what's on the fan deck, SW Captivating Cream seems more in line with what's shown on the monitor, which is lighter than the Honey Blush. The other colors you've referenced are found in a completely different area of the fan deck closer to the browns and are more golden yellow and they're all very pretty colors. Hope that helps. :c)
---
| | | |
| --- | --- | --- |
| RE: Sherwin-Williams White Raisin | | |
Thank you so much for your help! I might just have to go down to the SW store and purchase a sample of the White Raisin and see how it looks in my lighting. I know that makes all the difference. Hopefully even though they no longer stock the paint chip, they still have the formula.
---
| | | |
| --- | --- | --- |
| RE: Sherwin-Williams White Raisin | | |
well you'd think so huh? You're very welcome and good luck with it! BTW, if you're a fan of the SW paints, their fan decks are not expensive at all, you may want to look into picking one up. I've found it to be so handy.
---
| | | |
| --- | --- | --- |
| RE: Sherwin-Williams White Raisin | | |
Funny you should say that! lol I went to ebay just today to look for a fan deck to buy. I'll check at the store first though just to make sure I'm getting the most current colors.
---
| | | |
| --- | --- | --- |
| RE: Sherwin-Williams White Raisin | | |
I've sampled White Raisin before...it's probably a lot "sharper" yellow than you think it is. To me, it is not at all pleasant, but I do know it's been used in a Southern Living Idea house--not sure which one though. If you want a softer color that is NOT tan, but a pleasant yellow w/o green undertones, try Compatible Cream. Another good yellow is Blonde or even Ivorie (which is lighter)

To my mind, yellow is a very tricky color to choose, especially from a tiny chip. I've found that if the chip looks sorta tan, but with yellow/gold undertones, it might work. If it looks yellow on the chip, it'll be neon.

I've used Ben Moore's Vellum (#207) with great results. It's one of the prettiest yellows I've come across. SW can match it no problem.

Here's Vellum: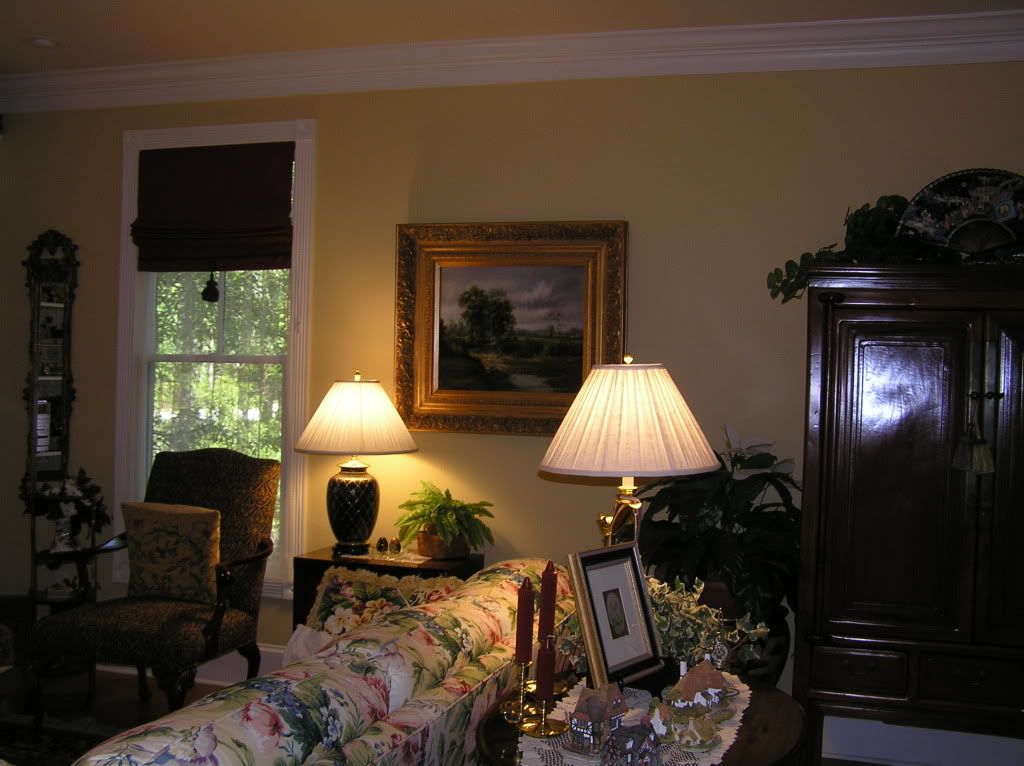 Here is my test of Compatible Cream over my sink:


Hope this helps!
---
| | | |
| --- | --- | --- |
| RE: Sherwin-Williams White Raisin | | |
Wow. Thank you very much. That Vellum is absolutely beautiful! That's exactly the kind of yellow I am looking for and from other pictures I've seen White Raisin looks very similar. I may be totally off though because I know its hard to judge a color by a computer monitor. The Compatible Cream is a little lighter than what I was going for. I will check out the Vellum and also the Blonde and Ivorie and compare. Thanks again!
---
| | | |
| --- | --- | --- |
| RE: Sherwin-Williams White Raisin | | |
Hello!

I have SW White Raisin throughout most of my home! I LOVE it!!! It is an intense color and it is yellow, not cream. I never fail to get compliments on the color scheme in my home. here are some pics...

Foyer during construction:

Upstairs master bath:

Upstairs Landing: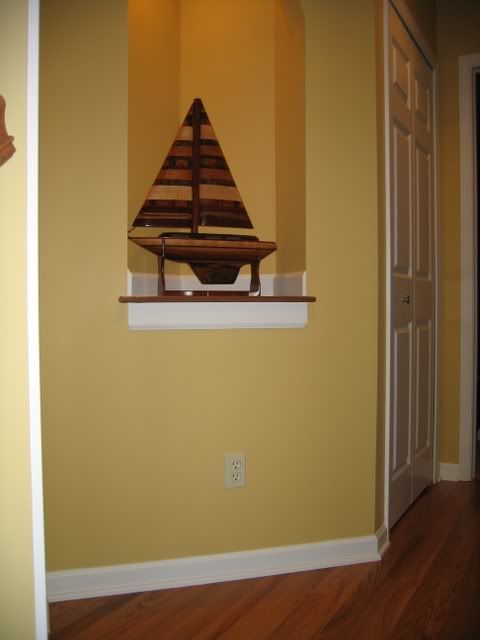 Downstairs Living Room: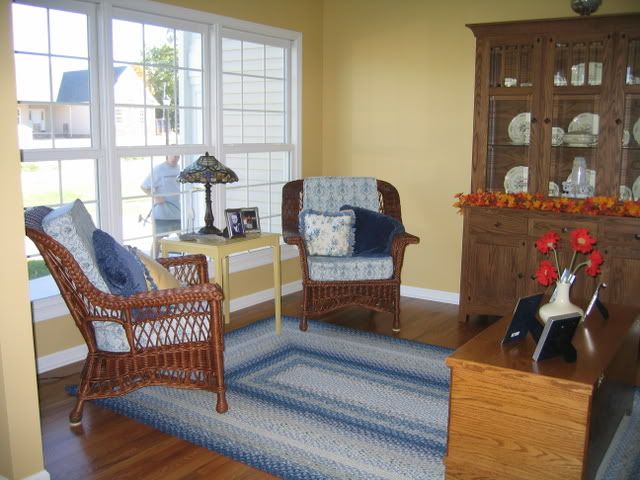 Downstairs Family Room:

I have it paired with 2 other colors in my home SW Steely Gray and SW Bamboo Shoot:
Bamboo Shoot:

Steely Gray:

Elaine
---
| | | |
| --- | --- | --- |
| RE: Sherwin-Williams White Raisin | | |
Thank you so much Elaine! Your house is gorgeous. I believe it was pics I saw of your house that made me fall in love with the color in the first place. I think its so beautiful, and not too intense at all - at least not for me. Looking at the pics again definitely makes me want to go buy a sample and put it up on the wall. All the other colors I've been considering (BM Wilimington Tan, SW Blonde, SW Restrained Gold, BM Decatur Buff and Chestertown Buff) all seem to fall more into the tan family. I really want a nice golden yellow. I'll get the White Raisin and the BM Vellum and compare.
---
| | | |
| --- | --- | --- |
| RE: Sherwin-Williams White Raisin | | |
Wow, Elaine!!! I do like your photos and your house looks amazing!!! Maybe WR is one of those colors you have to just commit to and do the whole room before you make a decision. I liked the card from the store and the Southern Living photos, but my paint sample scared the crap out of me! How does the WR do with lighting? Does it ever get a greenish cast? The Bamboo Shoot is pretty too!
---
| | | |
| --- | --- | --- |
| RE: Sherwin-Williams White Raisin | | |
I have Restrained Gold in my kitchen. It doesn't look as tan in daylight as in the picture. What's funny is that I have Ivoire in my adjoining hall (not pictured) and in some light the two colors look identical. The hall doesn't get a lot of natural sunlight while the kitchen gets tons. I tried Blonde on the kitchen wall but preferred Restrained Gold. I have a Ralph Lauren Oarlock red in the adjoining family and I think the gold and red look great together.
---
| | | |
| --- | --- | --- |
| Sherwin-Williams White Raisin | | |
Hi!

I don't think I ever see a greenish cast in this color. Even against a green wall. All of the pics that I included are in different lighting. I do have a lot of light in my home, it is an open floor plan with a lot of windows. I have never looked at the color and not liked it, regardless of how the light changed it. I originally considered Blonde, but it is not yellow enough for me. I wanted "yellow", true and bright. I'm very happy with this color. Thanks for the compliments!

White Raisin alongside Bamboo Shoot:

Elaine
---
| | | |
| --- | --- | --- |
| RE: Sherwin-Williams White Raisin | | |
Oh I love it alongside the green! That is really pretty. Thanks for all the pics mom2sethc. I really appreciate it.
---
| | | |
| --- | --- | --- |
| RE: Sherwin-Williams White Raisin | | |
Hi... we used Chestertown Buff in our living room and are very pleased with it. It looks similiar to the photos of White Raisin.. the Chestertown Buff is definitely golden yellow leaning more to gold.. hope these photos help..
Sorry the pics are so big... i tried to re-size but idk what I did wrong..
---
| | | |
| --- | --- | --- |
| RE: Sherwin-Williams White Raisin | | |
tomorrow...that painting looks all wrong where you having it hanging in the picture above.

Can you box it up and send it to me to fix the problem? :oP (I love that room LOL)
---
| | | |
| --- | --- | --- |
| RE: Sherwin-Williams White Raisin | | |
Thank you both so much for the pictures of the Restrained Gold and the Chestertown Buff. They are gorgeous colors. But I still prefer the more yellow tones of the White Raisin. Hopefully it looks as good on my walls as it does in mom2sethc's house.
---
| | | |
| --- | --- | --- |
| RE: Sherwin-Williams White Raisin | | |
png4eva,

I'd love to see how the White Raisin turns out in your home if you decide to use it! post pics!! it's a happy color and I also chose it because I wanted a warm, true yellow. It pleases me in all of the rooms that I have it in, even with various different lighting sources.

Elaine
---
| | | |
| --- | --- | --- |
| RE: Sherwin-Williams White Raisin | | |
Oh definitely! We're still about 2 months away from painting, but once its all done I'll show you guys how it turned out. :)
---
| | | |
| --- | --- | --- |
| RE: Sherwin-Williams White Raisin | | |
Our home theater room in our last house was SW Blonde. It is definitely a gold in my house. I had oak furniture, reddish brown leather sofas, and deep rust velvet drapes and they looked great against the walls.

The main area it conencted to was SW Believable Buff, which is a tan to me. There was a drastic difference in the color, and no way I was going to mistake the Blonde for a tan.

SW Restrained Gold is another color that reads to me as a true gold on interiors, but I considered it for exterior on my house and it read greenish in full unfiltered sunlight.
---
| | | |
| --- | --- | --- |
| RE: Sherwin-Williams White Raisin | | |
Hahaha, Igloo! If I ever get a hold on that painting it will be after I've pried it from my mother's cold, dead hands! That's a photo of HER gorgeous living room--I only chose the wall color :)
---
Post a Follow-Up
Please Note: Only registered members are able to post messages to this forum.
If you are a member, please log in.
If you aren't yet a member, join now!
---
Return to the Home Decorating Forum
Information about Posting
You must be logged in to post a message. Once you are logged in, a posting window will appear at the bottom of the messages. If you are not a member, please register for an account.
Please review our Rules of Play before posting.
Posting is a two-step process. Once you have composed your message, you will be taken to the preview page. You will then have a chance to review your post, make changes and upload photos.
After posting your message, you may need to refresh the forum page in order to see it.
Before posting copyrighted material, please read about Copyright and Fair Use.
We have a strict no-advertising policy!
If you would like to practice posting or uploading photos, please visit our Test forum.
If you need assistance, please Contact Us and we will be happy to help.

Learn more about in-text links on this page here