Return to the Home Decorating Forum
|
Post a Follow-Up
---
| | | |
| --- | --- | --- |
| Gel Stain Recommendations | | |
Posted by
amj0517
(
My Page
) on
Fri, Jun 10, 11 at 16:17
I've see many posts here recommending gel stain for furniture. I'm ready to take the plunge and change my blonde desk set to something darker and richer. Is there a particular brand of stain that I should get?
---
Follow-Up Postings:
| | | |
| --- | --- | --- |
| RE: Gel Stain Recommendations | | |
General Finishes. Hands down million times better than min-wax.

Got some last week to redo the bathroom vanity. Oh my oh my. I'm addicted and looking for more projects. I've got my radar on the kitchen table base, the dresser in my bedroom, the vanity in my master bath and the vanity in the powder room. Easy peasy, does take some time because you have to let it dry between steps.

I painted on the stain, did not wipe it off, just let it dry. you read that right.

practice on the back of something first.

Over on Kitchen Forum there are directions from celticmoon, you can just google for the directions.

and use the General Finishes top coat too.
---
| | | |
| --- | --- | --- |
| RE: Gel Stain Recommendations | | |
Thanks. Can I get that at Lowe's or HD, or would it come from a paint store...? What color did you use? Do you have pics of your vanity?
---
| | | |
| --- | --- | --- |
| RE: Gel Stain Recommendations | | |
General Finishes gets another vote here. I had to order mine from Rockler. Great stuff.
---
| | | |
| --- | --- | --- |
| Photos | | |
I would look them up online and see where you can buy it. Not at Lowes or HD. I used the darkest one they had. The Gel STain is oil based, they also have water based but...it's not gel stain it's regular stain.

I just put a top coat on the doors, they are drying in the dining room....ok, i'll snap a photo for you. and show you what the wood looked like before with photo of the vanity in the powder room. The pictures of the doors are not really doing this justice...sorry. but you get the idea.

When reading celticmoon's directions, note that I did not do the step of using the first stain. Didn't need to do that.

before:
and some rotten during photos: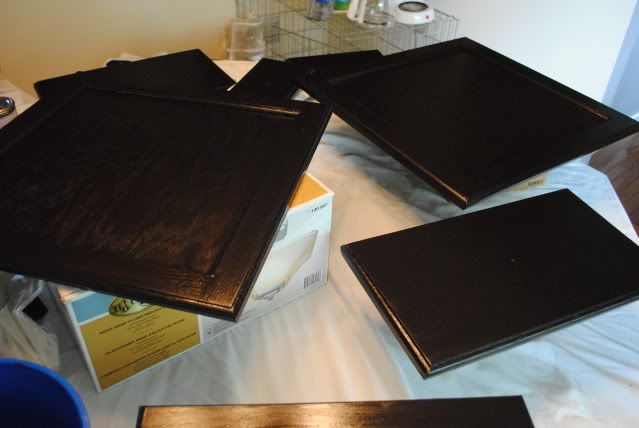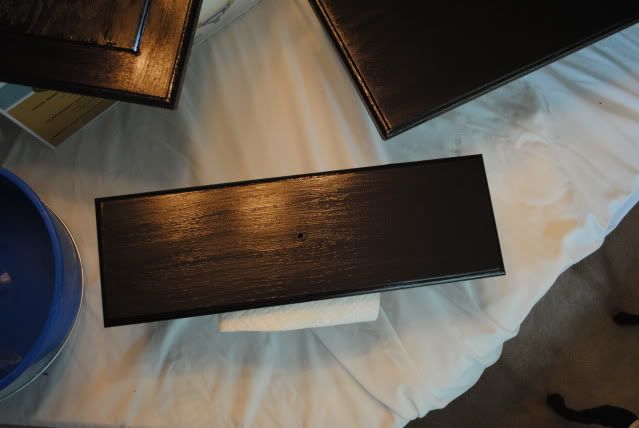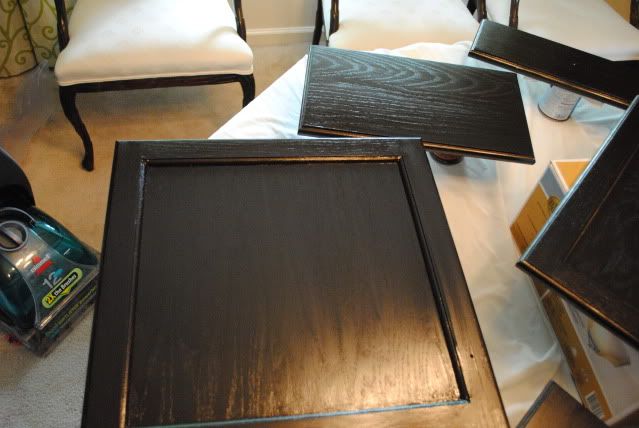 ---
| | | |
| --- | --- | --- |
| since I just ran upstairs... | | |
I snapped a quick photo of the cabinet while I was up there taking a pic of my master bath for prill....

so here you go!
---
| | | |
| --- | --- | --- |
| RE: Gel Stain Recommendations | | |
Your vanity looks great! It is darker than I was hoping for, plus my desk set is much lighter than your original finish. I'll see what I can find! Thanks for all your help!
---
| | | |
| --- | --- | --- |
| RE: Gel Stain Recommendations | | |
amj, I did what BKW is doing now. I found the gel stain easy to work with and I especially loved how it settles over the grain more, making it a little less noticeable. Don't forget to give it plenty of time before you put the doors back on.

Bee, what a great job. Can't wait to see the new hardware on it.
---
| | | |
| --- | --- | --- |
| RE: Gel Stain Recommendations | | |
I have this huge entertainment center that is golden oak (wood or composite) and I would like it to be much darker. It cannot be moved to another location, so my question is, can it be done where it stands, in the living room, without making too much of a mess?

If there are fumes, I can open all windows and have a couple of fans.

I'm just in the thinking stage right now, but am going to try a little on the inside of one of the small doors.
Here is a link that might be useful: entertainment center
---
| | | |
| --- | --- | --- |
| RE: Gel Stain Recommendations | | |
wantoretire (me too, btw):

Yes, you can do it in place, just use lots of drop cloths, open a window. I am staining the shell of the vanity in place, the doors I moved just so I could do them horizontally.

Your entertainment center seems to be an excellent candidtate!

good luck
---
| | | |
| --- | --- | --- |
| RE: Gel Stain Recommendations | | |
Hi,
The first gel stain on the scene was Bartley's, and I have used it since the 90's. They also have the best gel varnish. General is generally more available. Minwax I concur should be avoided as the color is less intense.
All of them set up fast, I think Bartley sets fastest of all.
Casey
---
| | | |
| --- | --- | --- |
| RE: Gel Stain Recommendations | | |
BKW - I just went to the General Finishes website to see their products and find a local retailer. There were several oil based products. Can you tell me if you used "GF Oil Base Liquid Wipe-on Penetrating Wood Stains" or "GF Oil Base Gel Wood Stains" (or something else)? Your cabinets look so nice that I want to follow your lead on this one! :)
---
| | | |
| --- | --- | --- |
| RE: Gel Stain Recommendations | | |
the Gel.

thanks, and good luck!
---
| | | |
| --- | --- | --- |
| RE: Gel Stain Recommendations | | |
I know I could look this up, but do you have to sand off the old varnish, etc. before using the gel stain? Are you using the GS over the old finish?
---
| | | |
| --- | --- | --- |
| RE: Gel Stain Recommendations | | |
BKW - after I read your response, I just though duh - GEL! I got hung up on oil-based vs. water, yadda, yadda, yadda.

Grandmaof3 - I found celticmoon's directions on google. They must be hidden on this forum because I could not find them here. Anyway, she suggests a light sanding.

Following celticmoon's instructions (which I plan to follow):

I have posted a way long 'how to' a bunch of times here. Search engine isn't pulling it up, so with apologies for the repetition here's more than you need to know:

It is a very doable project. You just need time, $50 in supplies, and patience. No skill.

My cabinets were frameless, good condition and good layout. But the finish had gone orange and ugly, with the oak graining too busy for me. Cabinet were 18 years old, very poorly finished oak veneered slab doors. Plain with no crevices. They didn't even take the doors off to finish them!!! No stain or finish was even put on the hinge side edges. Bad workmanship.

I looked into changing out cabinets, but that was way too much money, since my layout was OK. Painting didn't seem right because the doors were plain slabs. I considered new doors but that still meant a lot of money. For a few years I tried to figure a way to add molding toward a mission look, but the rounded door edges made that impossible. Then trolling in a kitchen emporium showroom this last year I noticed dark wood slab doors, kind of like mine, but darker. That was the answer.

First I tried Minwax Polyshades. Dicey product. Hard to brush on neatly, then gummy, then seemed to leave a sticky tacky residue. I did a thread on the Woodworking Forum "Evil Polyshades to the Rescue" which elicited a lot of conflicting "expert" opinions and arguments that one must strip to bare wood. (Thread may still be around as that Forum moves slowly.) Long ago when I was young and stupid I properly stripped acres of woodwork in an old Victorian. Never again! Jennifer-in-Clyde (in the same boat) and I stumbled around on that woodworking thread to get to this method.

SHOPPING LIST:
-electric screwdriver or screw drill bits
-mineral spirits to clean the years of gunk off the cabinet
-miracle cloths (optional)
-fine sandpaper
-box-o-disposable gloves from Walgreen�s or the like
-old socks or rags for wiping on coats
-disposable small plastic bowls or plates, and plastic spoons or forks for stirring/dipping (optional)
-General Finishes water base Espresso stain (pretty thick, but not quite a gel) NOTE: This one may not even be a needed step if the Java gets it dark enough.
-General Finishes Java gel stain (poly based)
-General Finishes clear top coat (poly based)
-old sheets or plastic sheeting or newspaper

Rockler woodworking stores are a good place to find the General Finish products. Or some larger hardware stores. Quart of each was more than enough for my 60 doors and drawer fronts and goes for $12-14 at Rockler. There are smaller sizes if your project is small.

SETUP AND PLANNING:
You will need a place to work and leave wet doors to dry overnight - I set up 2 spaces: garage for sanding/cleaning and basement for staining/sealing. Use newspaper or plastic to protect the surface and floor. Figure out how you will prop doors to dry. Plan blocks of 20-30-minutes for sanding/cleaning bundles of, say, 6 doors at a time. Then just 10-minute sessions to wipe on coats. The coats will need to dry for about 24 hours, so figure that each section of the kitchen will be doorless for 4 or 5 days. Divide the job up into manageable chunks.

PREPARATION:
Take off doors and drawer fronts. Try using screw drill bits on an electric drill if you don't have an electric screwdriver. Remove all the hardware. *Mark alike things so you know what goes back where.* Clean the doors thoroughly. Not with TSP but with something pretty strong and scrub well. There's years of grease there.
Sand LIGHTLY, just a scuffing really. Just enough to break the finish and give it some tooth, no more than a minute a door. A miracle cloth is good for getting most of the dust off. Then wipe well with mineral spirits to clean and get the last of the gunk off.

STAINING:
In order, we're gonna put on:
-General Finishes Espresso water based stain (1 coat) - optional
-General Finishes Java gel stain (couple coats)
-General Finishes Clear urethane gel topcoat in satin (couple coats)
But first put on work clothes, tie up your hair and pop your phone into a baggie nearby (you know it will ring). Glove up.
***First do a trial on the back of a door and check if Java coats alone suffice. If the Java alone is to your liking, just skip the Espresso and return it.

Open and stir up the Espresso stain, then spoon some into a plastic bowl. Close the tin so it doesn't get contaminated. Slide a sock over your hand, grab a gob of Espresso and smear it on. Wipe off the excess. Let it dry well - overnight is good. It will lighten as it dries, but then darken again with any other coat or sealer. A second coat might result in a deeper tone at the end - though it seemed like the second coat was just dissolving the first. YMMV.
Repeat with Java gel. This is thicker and poly based (*not water cleanup!*= messier). Color is a rich dark reddish brown. Wait for the second coat to judge if the color is deep enough for you. I wanted a very deep dark color, like melted dark chocolate. So I went pretty heavy on these layers. I did not sand between coats.
Repeat with clear gel topcoat. This will give you the strength you need in a kitchen.
Do the same process with the cabinet sides, face and toe kick area. Might need to divide that up also, and stagger the work: doors/cabinets/doors/etc.
NOTE: The cloth or socks used for the gels are very flammable! Collect and store them in a bucket of water as you go and then dispose of them all properly.

FINISHING AND REASSEMBLY:
I suggest you put the doors back up after one clear coat, then you can check everything over and darken an area with more Java if needed, followed by a clear coat. When it all looks right, go over it all again with another clear gel coat. Or two. (See my follow up notes below). Install your hardware.
The feel of the finish should be wonderful, really smooth and satiny. Color deep and rich - way nicer than that faded, beat 80's oak color.

FINAL THOUGHTS:
Definitely experiment first with the back of a door or drawer front to be sure it is the look you want. Yes, this takes a couple days to coat, dry, recoat, dry, etc but you may discover that the Java alone does the trick and this will save you a LOT of work. Front-end patience is worth it.

This is a pretty easy project to do. Hard to screw it up. The worst is the prep - relative to that, smearing on the coats is cake. I had over 60 pieces (big kitchen) AND island sides and book shelves, etc and I admit I lost steam partway through. Had to push myself through the last of it. But it was worth it. Folks think I got all new cabinets - it looks that good.

Now the finish will not be as durable as factory finish - go at it with a Brillo pad and you WILL abrade it. But it has held up pretty well. And after a year of pretty heavy use, I had just a few nicks, easily repaired.

(6/08 Add: I'm now (18 months later) seeing some wear near the pulls on the most used cabinets. Will add color with Java if it bugs me.)

(9/09 Add: Never did bother to touch up those couple spots. Bugging me a bit more, and I will get to it soon. It is the drinking glass cabinet and the snack cabinet, LOL. And the garbage pull-out. The rest still looks perfect. Lesson: Use an extra coat or 2 of gel on the way frequently used cabinets.)

(12/09 Add: I did finally touch up the spots that were worn. Used just Java to get the color right, then a bunch of top coats. Looks perfect again.)

I added smashing hardware, raised my pass-through, resurfaced the Corian (also simple but messy and tedious) and replaced the DW and sink. It looks gorgeous to me and I really enjoy the space - how it sits all quiet, clean and serene, then gets all crazy with the food and folks du jour. I couldn't be happier, especially that I didn't have to work another year just to pay for the update!!
Link to cabinets in progress: http://photobucket.com/albums/b45/celticm00n/kitchen cosmetic update project/kitchen during/
Link to almost finished cabinet pix: http://s16.photobucket.com/albums/b45/celticm00n/kitchen cosmetic update project/finished bit by bit/?start=20

Good luck with your project!! And let me know if you try it and how it turns out.

Here is a link that might be useful: more before during and after pix
---
| | | |
| --- | --- | --- |
| RE: Gel Stain Recommendations | | |
celticmoon suggests not to sand between coats, which I did not do. However, if I had the opportunity to play around, I might try it and see what happens with a light sanding. I noticed that the doors seemed a little "rough", so I wonder if a light steel wool would work. It could however, pull off the gel stain. So, it would all be an experiment.

Mine do feel smooth now with the top coat on them.
---
| | | |
| --- | --- | --- |
| RE: Gel Stain Recommendations | | |
I have the ugly fake cabinets in my mobile home. They are peeling around edges. I've seen so many people painting, but I do like the look of stained wood. (Even fake lol) Can I use this gel stain on them? If so, would I sand them first or just go over them?
---
| | | |
| --- | --- | --- |
| RE: Gel Stain Recommendations | | |
Some people have been successful in using the General Finishes brand on the fake paneling on the ends of cabinets. Their website suggests testing it out first. You can buy small cans to try. I finished my kitchen cabinets in GF gel stain and wasn't happy with the look until I hit three thin coats. I can still see the wood grain so it doesn't look painted. Less than three coats, I thought it was streaky and looked DIY.
---
| | | |
| --- | --- | --- |
| RE: Gel Stain Recommendations | | |
I used Java on the ends of cabinets and it worked just fine.

As for lighter colors, I used Antique Walnut on some woodwork in my home, and it is much more difficult than Java because you need to show grain to make lighter colors realistic. I would practice on something else that is similar in base color and level of detail. The tricky part was making the wood grain realistic on moldings, etc.
---
Post a Follow-Up
Please Note: Only registered members are able to post messages to this forum.
If you are a member, please log in.
If you aren't yet a member, join now!
---
Return to the Home Decorating Forum
Information about Posting
You must be logged in to post a message. Once you are logged in, a posting window will appear at the bottom of the messages. If you are not a member, please register for an account.
Please review our Rules of Play before posting.
Posting is a two-step process. Once you have composed your message, you will be taken to the preview page. You will then have a chance to review your post, make changes and upload photos.
After posting your message, you may need to refresh the forum page in order to see it.
Before posting copyrighted material, please read about Copyright and Fair Use.
We have a strict no-advertising policy!
If you would like to practice posting or uploading photos, please visit our Test forum.
If you need assistance, please Contact Us and we will be happy to help.

Learn more about in-text links on this page here