Return to the Home Decorating & Design Forum
|
Post a Follow-Up
---
| | | |
| --- | --- | --- |
| What Size Rug for Large Family Room | | |
Posted by
malhgold
(
My Page
) on
Mon, Jun 16, 14 at 16:12
Hi! I'm redoing our family room which is 24' X 22'. I can't decide if I should buy an 8X10 rug or a 9X12 rug. I know a 9X12 will fit no problem, just not sure if I like the way it will look with the furniture placement. I have purchased 2 couches that are 90"X39". As of now, I am planning on placing them perpendicular to the console, which has the TV above it. The layout below has an 8X10 rug. I have a desk that will be in the lower left corner on an angle, but I couldn't get it sketched on the graph paper properly. I'm not against another "seating area" with a complimentary rug. Let me know your thoughts. Thanks!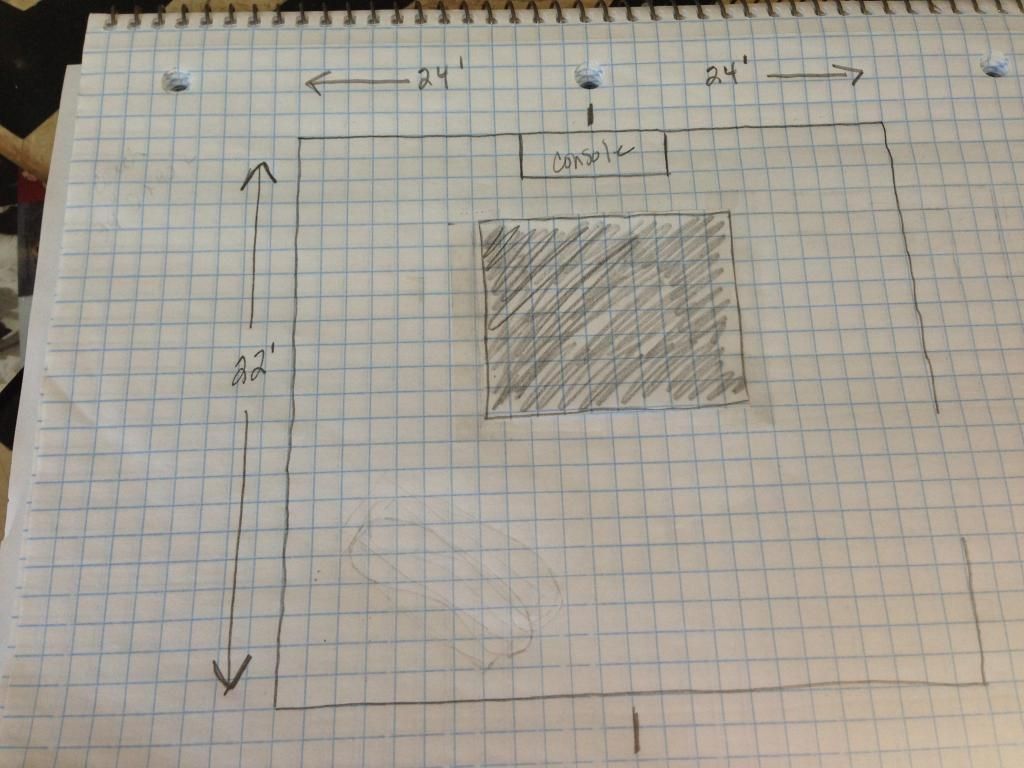 ---
Follow-Up Postings:
| | | |
| --- | --- | --- |
| RE: What Size Rug for Large Family Room | | |
Why not make cut-outs of the furniture (to scale) using your graph paper. Then you can move them around and rearrange much easier that drawing and redrawing. You will probably answer your own question!
Sue
---
| | | |
| --- | --- | --- |
| RE: What Size Rug for Large Family Room | | |
Any windows? Doorways? Fireplace? Hallway?

I have a 10 x 14 in a similar sized room.
---
| | | |
| --- | --- | --- |
| RE: What Size Rug for Large Family Room | | |
Definitely 9x12. Maybe even slightly bigger.
---
| | | |
| --- | --- | --- |
| RE: What Size Rug for Large Family Room | | |
That is the size room that I might use a large bound carpet or sisal with two oriental rugs. That is a big space and two sofas will definitely break it up but I think the rugs might be a nice addition as well.
---
| | | |
| --- | --- | --- |
| RE: What Size Rug for Large Family Room | | |
I use cutouts also, even for the different rug sizes.
---
| | | |
| --- | --- | --- |
| RE: What Size Rug for Large Family Room | | |
2 windows on each wall(for example, on either side of the console and then mirror that on the other walls), opening on the right side of the room leads to the kitchen and is the only entrance.
---
| | | |
| --- | --- | --- |
| RE: What Size Rug for Large Family Room | | |
Is there going to be a lot of TV watching in this room? If so, I'm afraid you'll find the perpendicular sofa set-up to be sub-optimal at best. When we moved into our house last week I wanted to try a similar set-up (only one sofa, facing fireplace, TV on right-angle wall). It was incredibly uncomfortable for watching TV in any position that wasn't some form of lying down. So instead we're going with a layout that isn't as attractive, but is exponentially more functional.

Back to rug size. We got a deal on an 8 x 10 rug, and I figured it would be plenty big. It turns put it's just about the right size, although the seating area for the TV is only about 70% of the room.
---
| | | |
| --- | --- | --- |
| RE: What Size Rug for Large Family Room | | |
This is our main gathering/TV watching room. We are a family of 4 with one off to college in the Fall. Our couches are currently arranged this way. We do have another TV area on this level that DH usually goes to when he doesn't want to watch sports anymore! I was planning on either 2 chairs across from the TV at the top of the rug, or against the southern wall as a second seating area. There is the possibility of arranging the couches as an "L" shape, but I haven't decided yet.
---
| | | |
| --- | --- | --- |
| RE: What Size Rug for Large Family Room | | |
I asked a very similar question recently; I've linked to the discussion and I got excellent advice which I will summarize: go big(ger)!

I also couldn't decide on 8x10 vs. 9x12, and based on the suggestions given decided to go with 9x12. I'm delighted with my rug. In fact I should have taken a picture and posted a follow up to thank everyone who took the time to provide such excellent guidance. Will have to do that ASAP.

Good luck with your decision.
Ann
Here is a link that might be useful: Big rug for big room topic
---
| | | |
| --- | --- | --- |
| RE: What Size Rug for Large Family Room | | |
I was just working with a store designer today on my living room, and he suggested a 9x12 rug in my 13x17 room. We will probably have one Kincaid couch and two club chairs, and one coffee table.

I am wondering on the rug, as we have wall to wall carpeting. Do you think that would look good,one on top of the other?
---
| | | |
| --- | --- | --- |
| RE: What Size Rug for Large Family Room | | |
I think the batter size is 9X12
---
| | | |
| --- | --- | --- |
| RE: What Size Rug for Large Family Room | | |
Here is a picture of my 9x12 jute rug. The room is ~20x15, to give you a sense of the fit. I'm very pleased I went with the larger size.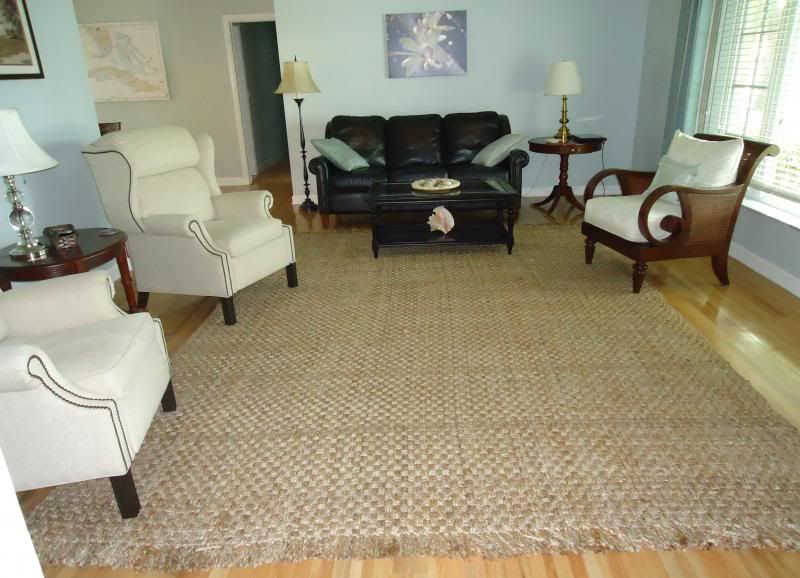 ---
| | | |
| --- | --- | --- |
| RE: What Size Rug for Large Family Room | | |
I would lay out my furniture for the main sitting area to scale and then choose the rug size that would either be big enough to fit all of the front legs of my furniture on it or fit all of my furniture on it. Anything else is too small. If you have other furniture, like a desk or a reading area in a corner, I would leave that without a rug.
---
Post a Follow-Up
Please Note: Only registered members are able to post messages to this forum.
If you are a member, please log in.
If you aren't yet a member, join now!
---
Return to the Home Decorating & Design Forum
Information about Posting
You must be logged in to post a message. Once you are logged in, a posting window will appear at the bottom of the messages. If you are not a member, please register for an account.
Please review our Rules of Play before posting.
Posting is a two-step process. Once you have composed your message, you will be taken to the preview page. You will then have a chance to review your post, make changes and upload photos.
After posting your message, you may need to refresh the forum page in order to see it.
Before posting copyrighted material, please read about Copyright and Fair Use.
We have a strict no-advertising policy!
If you would like to practice posting or uploading photos, please visit our Test forum.
If you need assistance, please Contact Us and we will be happy to help.

Learn more about in-text links on this page here