Return to the Home Decorating & Design Forum
|
Post a Follow-Up
---
| | | |
| --- | --- | --- |
| Some day I'll get new counters (pic hvy)... | | |
Posted by
ghostlyvision
(
My Page
) on
Sat, Jun 23, 12 at 16:09
But in the meantime I had to do something. When we bought this house 2+ years ago, the area going into the kitchen/dining looked like this: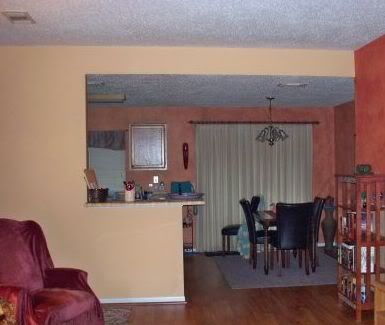 Early last year we had the bar/pony wall removed and an archway wall constructed, it's just hub and I and we prefer a kitchen that's a room in and of itself: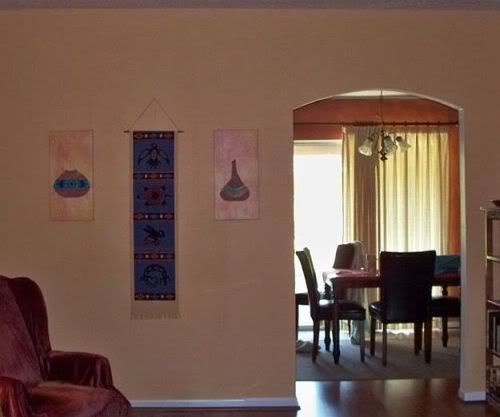 Which left me with this lonely cabinet on the other side of the now full wall: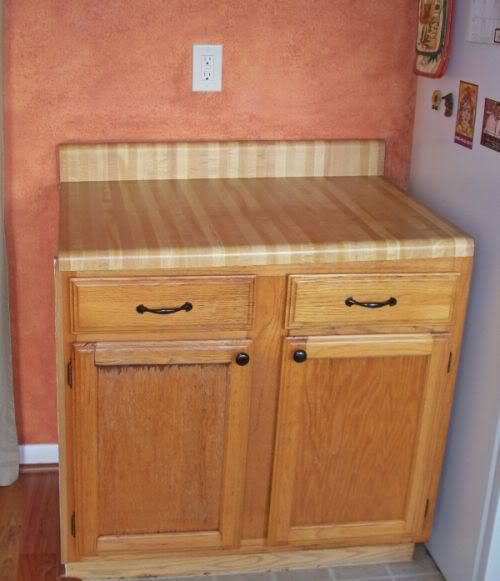 The countertop on it had been attached to the pony wall and with that gone it had a gap on that side and wasn't level any longer (I tried rescrewing it underneath but that didn't work and it looked awful anyways. So after debating it for about a year and knowing I can't have new counters for a little while (some unexpected emergencies like having to have the house levelled twice and the sanitary pipe replaced) I had to come up with something for the interim.
I had some plywood left over from another project so I finally removed the counter, cut the plywood to size, screwed it down and threw a plastic tablecloth on top and put the microwave back on it thinking it could stay that way until I really decided what to do with it. Although 'country' decorating isn't our style, we're quite happy with a rustic, non-modern look, but that blue and white gingham tablecloth just clicked with me, and after a little thought, the countertop went back on and the plywood went back into the garage for a little updating.
Got some wood trim, mitered and added it around the perimeter, 3 coats of primer and 2 of a semi-gloss white, waiting time for some curing, then taped it off, painted yellow stripes front to back with craft paint and glaze, waited, retaped, painted turquoisey blue and spring green stripes going side to side, waited, then 4 coats of polyurethane: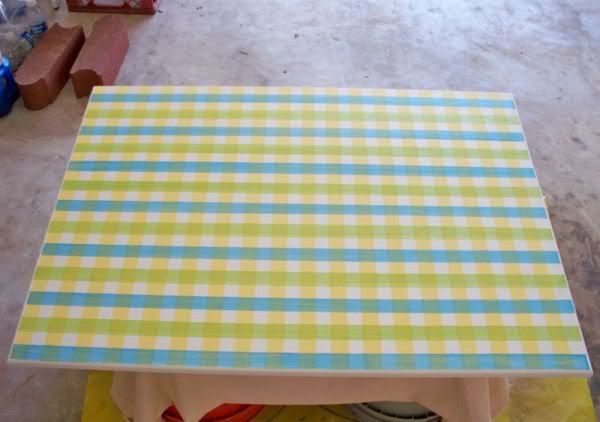 When I initially removed the counter I saw that behind the built-in backsplash the wall had not been textured so knew I had to come up with something to fix or mask it. I wanted some kind of backsplash but didn't want to try builting up that area of the wall to be flush with the rest of it and then tile it (as it could be temporary depending on when I get new counters) and having had a piece of decent wood left over from what was going above this cabinet, I primed and painted it white: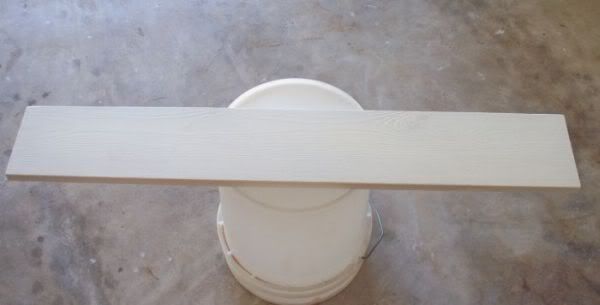 Then taped off and painted a lattice on it. Oh my, hub may freak. lol
While doing the above (during all the drying/curing times), I painted a piece of luan to look like a tin sign, I also took some wood that came with the house (just old stuff left in the garage) cut, glued together, sanded and stained it, got some corbels and another piece of wood and a dowel and made a shelf w/towel bar, put that up, and attached the counter and the backsplash...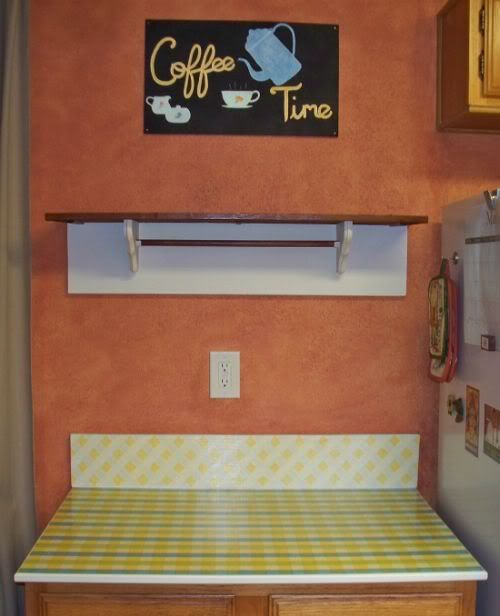 I added a few decorations, put a clear vinyl cover over it for extra protection, put the microwave back on and...holy cow, have I gone country???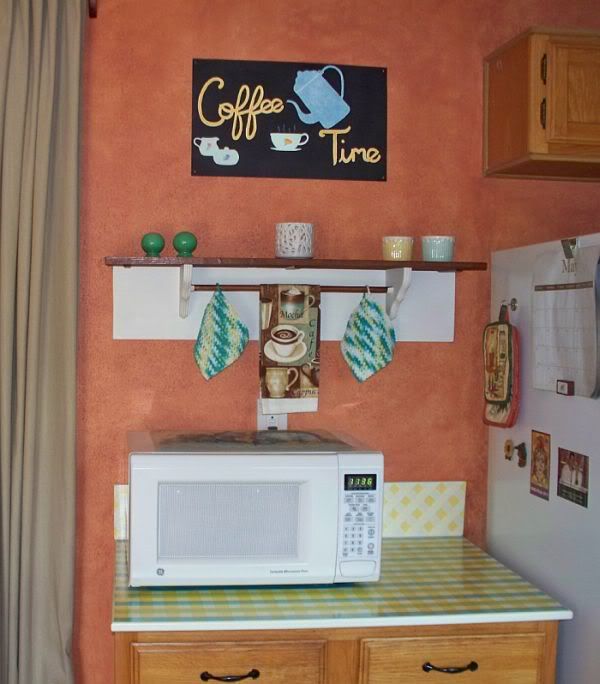 I still have not determined what to do with the cabinets, I gel stained the two bathroom cabinets but don't think that's going to work with the kitchen, don't really want to sand to bare wood and stain as there may be some veneer involved, hub doesn't want them painted, but I do not care for their present look (so will do something). He'll be taking a trip probably around the end of the year and I should have 3 weeks to myself, oh the mayhem I could cause in that lengthy period of time (evil thoughts are occurring!), but suggestions for them are quite welcome.
---
Follow-Up Postings:
| | | |
| --- | --- | --- |
| RE: Some day I'll get new counters (pic hvy)... | | |
holy cow, have I gone country???
Whatever you call it, it's adorable! Especially love the top and backsplash.
---
| | | |
| --- | --- | --- |
| RE: Some day I'll get new counters (pic hvy)... | | |
| | | |
| --- | --- | --- |
| RE: Some day I'll get new counters (pic hvy)... | | |
Your sign says "coffee time" - do you actually have your coffee pot out on the counter all the time? (although you could be like me and just zap water for instant). If so, could you switch the microwave and the coffeepot and make this a real coffee centre. Put up more mugs, a pretty sugar bowl etc, and then paint the cabinet a dark blue or a blue that will tie in the blues that you have in your sign and in the counter. Make it a go-to place for making tea and coffee - a little place in the kitchen with an extra splash of personality.

The blue would look neat against your wall colour.

(Although you could do the same thing even if you use the microwave for zapping hot water for coffee/tea.)
---
| | | |
| --- | --- | --- |
| RE: Some day I'll get new counters (pic hvy)... | | |
Thanks everyone. :)

Usually I make a pot of coffee (maker on the counter opposite this cabinet) and just zap cups in the mic throughout the day. I do like the idea of more blue over there, and making it a real coffee station, not sure if I can sell hub on it, he looked pretty agast when I mentioned making that cab look different from the others before I even did the counter, but I may be able to swing it. Thanks for the suggestions, BL. :)
---
| | | |
| --- | --- | --- |
| RE: Some day I'll get new counters (pic hvy)... | | |
Paint the cabinet part a nice dark brown and you're good to go. You're very creative.
---
| | | |
| --- | --- | --- |
| RE: Some day I'll get new counters (pic hvy)... | | |
Awesome idea, but why not go the extra yard and paint the cabinet one of the colors that 's in you 'new' counter top? Since this space is off by itself, I think it would make it a little more special. Oh, and yes, you need the 'coffee center' there too. Include sugar bowl/creamer on a little plate or tray and maybe a couple of stacked cups. ; o)
---
| | | |
| --- | --- | --- |
| RE: Some day I'll get new counters (pic hvy)... | | |
Looks great! I agree, make it the coffee center and paint the cabinet.
---
| | | |
| --- | --- | --- |
| RE: Some day I'll get new counters (pic hvy)... | | |
Thanks :) I think I will paint it, I'm in the middle of putting a pecan/chestnut stain on a table very similar to the dining table in the pic above (but somewhat larger), I painted the apron and legs a soft ivory, I would love to do the cabinet in a pale yellow, think that would work? All appliances are white and the other counters aren't a consideration as they will be changed in the next year or so. Frankly I'd love to do all the cabs in pale yellow, just not sure if I could convince hub it's the right thing to do.
---
| | | |
| --- | --- | --- |
| RE: Some day I'll get new counters (pic hvy)... | | |
"Whatever you call it, it's adorable!"

it sure is!
---
Post a Follow-Up
Please Note: Only registered members are able to post messages to this forum.
If you are a member, please log in.
If you aren't yet a member, join now!
---
Return to the Home Decorating & Design Forum
Information about Posting
You must be logged in to post a message. Once you are logged in, a posting window will appear at the bottom of the messages. If you are not a member, please register for an account.
Please review our Rules of Play before posting.
Posting is a two-step process. Once you have composed your message, you will be taken to the preview page. You will then have a chance to review your post, make changes and upload photos.
After posting your message, you may need to refresh the forum page in order to see it.
Before posting copyrighted material, please read about Copyright and Fair Use.
We have a strict no-advertising policy!
If you would like to practice posting or uploading photos, please visit our Test forum.
If you need assistance, please Contact Us and we will be happy to help.

Learn more about in-text links on this page here