Return to the Home Decorating & Design Forum
|
Post a Follow-Up
---
| | | |
| --- | --- | --- |
| It's all in the Nook. | | |
Posted by
oakleyok
(
My Page
) on
Fri, Jun 8, 12 at 14:50
More pictures please! We did this a year or two also, little places inside our home's that we simply like.

While I was fixing a pot of coffee (which explains my posting spree!), I thought it was time to do another topic on little nooks and crannies, big or small.

Here's my simple coffee station. We used to use a Kuerig, but that just got too expensive! The melamine tray has a vintage fruit print on top. I buy a lot of my little trays from Pfaltzgraff.
---
Follow-Up Postings:
| | | |
| --- | --- | --- |
| RE: It's all in the Nook. | | |
My upstairs hallway. I can pretend it's a 1770 house instead of a 1970 house :)

---
| | | |
| --- | --- | --- |
| RE: It's all in the Nook. | | |
You've done a good job making the house look "old." Did you paint the mural yourself?
---
| | | |
| --- | --- | --- |
| RE: It's all in the Nook. | | |
Thank you, oakley. No, a friend of mine did that. It was her first project coming out of chemo for breast cancer, a kind of celebration for her. There are drawings of my cat in it, who befriended my friend, and other details that refer to my sons. I do love it so. My friend is doing well, thank goodness, 8 years later, but she did move far away & I miss her. So glad to have some of her & her work in my home.
---
| | | |
| --- | --- | --- |
| RE: It's all in the Nook. | | |
awm03 - How cool! Can we see the rest of it?
---
| | | |
| --- | --- | --- |
| RE: It's all in the Nook. | | |
OH AWM03 that is such a lovely hall! What a wonderful reminder of your friend! She is very talented!
Oakleyok, I love the red accents in your kitchen!
At the top of our landing are two half doors next to each other outside the hall bath and they are really cute and they house tiny his and hers cedar closets. These small, almost useless, closets pretty much sold the house to me :). Parden are baby gates, we still have little ones here.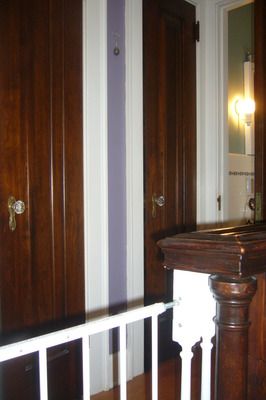 ---
| | | |
| --- | --- | --- |
| RE: It's all in the Nook. | | |
Oakley, I love your touches of red. My favorite color! This is my favorite reading spot, but the second picture is probably my favorite spot in the house.
Breakfast room: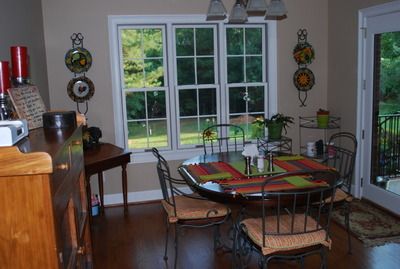 ---
| | | |
| --- | --- | --- |
| RE: It's all in the Nook. | | |
Okay Oakley--I have definitely decided to do white or ivory cabinets now that I've seen yours. Love what I see of your kitchen!
---
| | | |
| --- | --- | --- |
| RE: It's all in the Nook. | | |
Roarah, I meant to comment on your cedar closets. It's 'nooks' and features like those that really are cool.

And AWM, your mural is lovely and so unusual. Like Roarah said, it is a beautiful reminder of your friend.
---
| | | |
| --- | --- | --- |
| RE: It's all in the Nook. | | |
Thanks for the kind words, everybody. I'll take some more pictures soon for a better view of the mural. It's such fun seeing your favorite nooks too. Roarah, when I was a small girl, a neighbor had a house with crystal doorknobs. I just loved them, and was thinking your little ones might find them enchanting too.
---
| | | |
| --- | --- | --- |
| RE: It's all in the Nook. | | |
Thanks for the compliments! Love the cedar closets, especially the size of them. My MIL had one in her house and it was amazing.

You know what a fun topic would be? Areas in our home we simply do not know how to decorate! Boy, do I have a lot. lol.
---
| | | |
| --- | --- | --- |
| RE: It's all in the Nook. | | |
i'm a nook lover too and this thread comes along while i'm thinking about the traffic plan in this house.
we have a large 30' x24' l-shape great room which contains the living and dining rooms.
but as usual everyone is always jammed into the 11'6" x 18 kitchen.
i wonder if i could install the kitchen in the bigger living space and have a living room 'nook' in the kitchen space. we only ever use the living room for tv watching and video games, why not make it a nook size space? i can see a fireplace at one end and tv at the other, with back to back loveseats, sort of similar to a local library's reading nooks.
hmmm.......
---
| | | |
| --- | --- | --- |
| RE: It's all in the Nook. | | |
Great thread, oakley! As a fan of white kitchens, I love yours. I can see why you all enjoy the special places you've posted.

In 2008 we built an addition which included a play area for the grandkids. I wanted a couple of window seats, to encourage the kids to read--even put up some 'Fairy Tale' wall words for fun: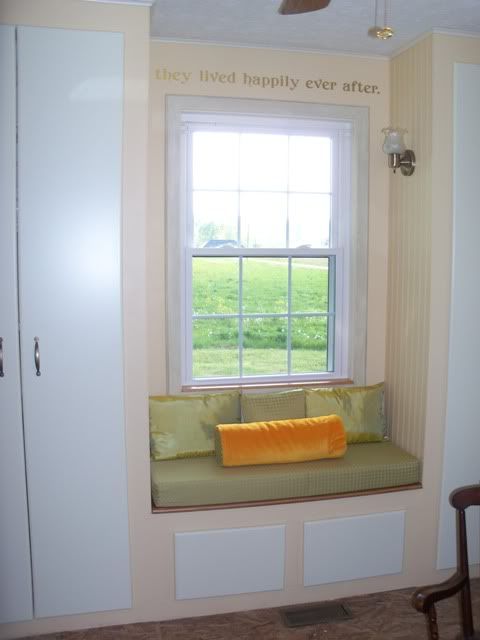 Big, scary son enjoying the sunny window seat: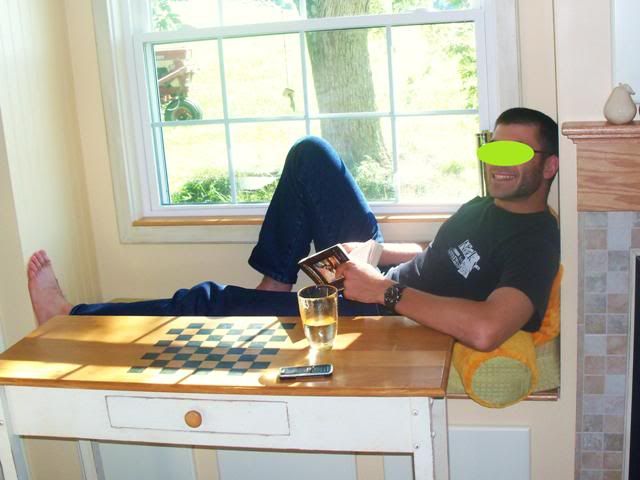 Every kid that comes into the house loves those seats!
---
Post a Follow-Up
Please Note: Only registered members are able to post messages to this forum.
If you are a member, please log in.
If you aren't yet a member, join now!
---
Return to the Home Decorating & Design Forum
Information about Posting
You must be logged in to post a message. Once you are logged in, a posting window will appear at the bottom of the messages. If you are not a member, please register for an account.
Please review our Rules of Play before posting.
Posting is a two-step process. Once you have composed your message, you will be taken to the preview page. You will then have a chance to review your post, make changes and upload photos.
After posting your message, you may need to refresh the forum page in order to see it.
Before posting copyrighted material, please read about Copyright and Fair Use.
We have a strict no-advertising policy!
If you would like to practice posting or uploading photos, please visit our Test forum.
If you need assistance, please Contact Us and we will be happy to help.

Learn more about in-text links on this page here