FORUMS:
GardenWeb
>
Forums
>
Home Decorating & Design Forum
> my3dogs question >
Post a Follow-Up
my3dogs question
Hello My3dogs
I was wondering the height of the beadboard in your bathrooms? Thanks! Love your house:)
Thanks! I do, too, and as I read the post on what makes a house welcoming, I thought that my little house is.

The beadboard is actually different heights. In the upstairs bath, I had taken out the original heavy matched pine that was there and just put the same height back up. In the upstairs bath with the wallpaper, it's 47" high, including the trim on top. In the half bath, it's 49" including the trim.

Upstairs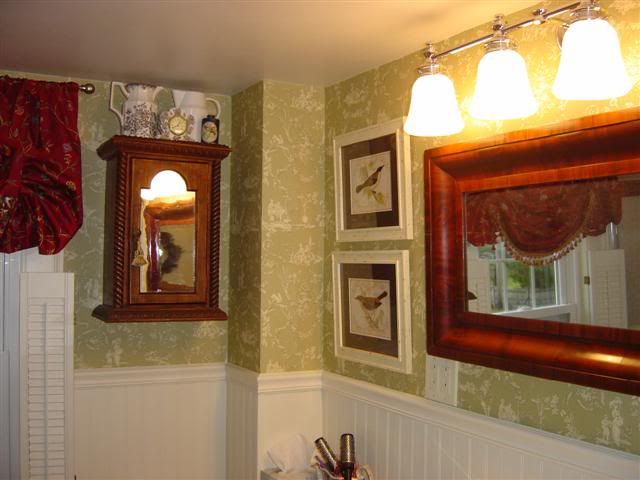 Half bath

---
Is that a custom vanity made from a piece of furniture? It's really pretty!

Also, what shade of green is in your half bath? After seeing that color with you decor, I might consider green for my country kitchen.
---
Awesome! Thanks so much! We are adding some this week and I was contemplating that height. It makes me feel better to see it done well. Yes your home is very welcoming. I'd like to move on in! :)
Blessings.
---
any peek at my3dogs is a good peek!
---
What a wonderful way to start my Saturday! Thanks, ladies!

bleigh, I make my vanities from old bureaus/dressers. That one was purchased from an elderly friend for $100. I had to cut about 8" off the legs as it was taller than would work. Having the top drawer be deeper from front to back helped a lot as I could buy a larger sink.

This is one that I put in my cellar bathroom last year. This one is the more typical size, which measures about 18" front to back, as does my upstairs bath. The only sink I was able to find that would fit in is the Kohler Serif. The drawers in all of them have been cut away so that they are usable for storage.
The green paint is Behr Ryegrass, and it is a wonderful color that goes with so many other colors.
kj and cooper - awww - you're so nice!
---
I second that cooper! And ,it is not only her sense of color and style, but she does everything on a shoestring budget and is also talented enough to do things herself.
---
Ellendi! Thanks so much! I didn't mention that the cellar bureau/vanity was $30 on Craigslist, but needed a lot of work.
It started out like this; pic from the CL ad -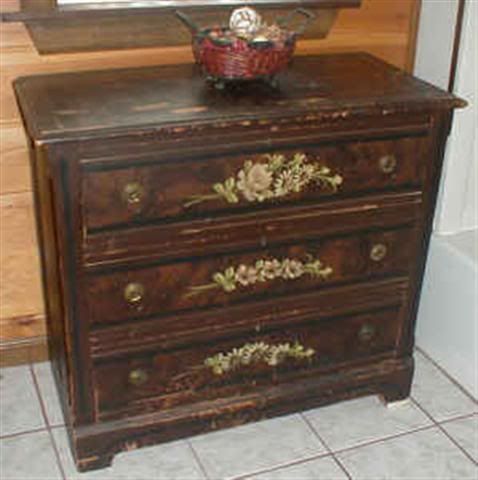 And after re-painting and graining, it looked like this. Not bad for $30 and a bit of craft paint.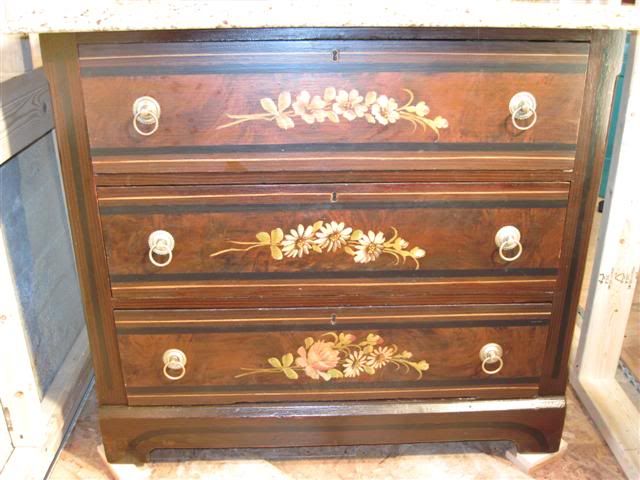 I buy remnants of stone from a nearby stone yard, which are half the cost of a slab per sq. foot.
Today, I am dismembering this bergere chair that I got on CL for $90. I have always wanted one this style, and when I saw that it was Drexel Heritage and in like-new condition, I jumped at it. I am going to attempt reupholstering it, and here is where the real bargain comes in. The fabric that I bought to re-do it was from Country Curtains, marked down from $30.50 per yard to $3.99! It's made in the USA at their factory. So instead of $152.50 for fabric, I paid $19.95!
Pics from the CL ad.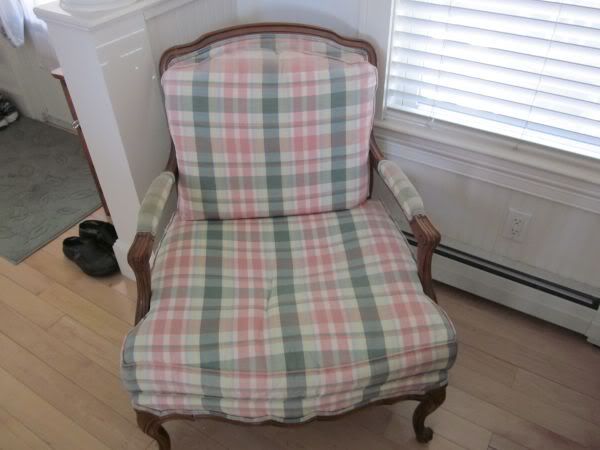 Front of the 'Belvedere' fabric from CC. The small piece of fabric on these pics is a swatch of what my office loveseat is being redone in (by a 'real upholsterer'). It's Robert Allen 'Edwina', which lists for $82.00 a yard and I got mine for $7.00 a yard!

This is the back side, which I prefer and hope to use facing out. I MAY make the welt cord with the red side facing out for a bit of contrast, I have to play with it and see how it will look. I absolutely LOVE doing stuff like this, which I think you have realized! :-)

---
My3dogs, didn't I read in a previous post that the beadboard you used is a vinyl (or something similar) instead of wood? If so, where did you purchase it and are you still pleased with it?
---
fripper, yes, it is vinyl and I got it at Home Depot. I LOVE it. I painted it my trim color, as it comes in pure white. My sister installed wooden beadboard and she likes mine much better.
---
I didn't even realize they made vinyl beadboard until I read your previous post. That's definitely the way I'll go when we get ready to redo our little bath. BTW, the fabric for your chair is gorgeous! Thanks so much!
---
i remember that dresser! It made a beautiful vanity.
---
I am also a big fan of all your projects...so talented...and such a dedicated, hard worker you are! I love thinking about *doing* a lot of projects, but, but, I'm a much better dreamer than I am a *doer*.

Your vinyl beadboard looks wonderful...did you need a special paint that adheres to vinyl?
---
Hi, lafleur1,

No special paint needed. I just used the same Sherwin Williams semi-gloss trim paint that is all through the house. I painted the 'panels' of beadboard before we installed them, and then just did touch-up once they were cut to size and put up.

I just found the type that I used at HD and put the link below. Mine was taller, though, and we cut it down on a table saw.
Here is a link that might be useful: vinyl beadboard
---
Post a Follow-Up
Please Note: Only registered members are able to post messages to this forum.
If you are a member, please log in.
If you aren't yet a member, join now!
---
Return to the Home Decorating & Design Forum
Information about Posting
You must be logged in to post a message. Once you are logged in, a posting window will appear at the bottom of the messages. If you are not a member, please register for an account.
Posting is a two-step process. Once you have composed your message, you will be taken to the preview page. You will then have a chance to review your post, make changes and upload photos.
After posting your message, you may need to refresh the forum page in order to see it.
Before posting copyrighted material, please read about Copyright and Fair Use.
We have a strict no-advertising policy!
If you would like to practice posting or uploading photos, please visit our Test forum.
If you need assistance, please Contact Us and we will be happy to help.

Learn more about in-text links on this page here