Return to the Home Decorating Forum
|
Post a Follow-Up
---
| | | |
| --- | --- | --- |
| Same Wood Floors for the Entire House? | | |
Posted by
jeri
(
My Page
) on
Mon, Jun 8, 09 at 14:13
Hi Everyone :-)

DH and I are in the process of buying a 3300 sq ft fixer upper! Yikes! My husband calls it an "Adventure". This will be all DIY since we have more skills and time than we do discretionary funds. I'll be hanging around a lot and asking questions from time-to-time if you all don't mind too much.

Are there favorite publications and/or web sites I should subscribe to???

My first decorating question is about flooring. Everything needs to be replaced – not all right away – but at least one bedroom does. We like wood floors. Should we plan on doing the entire house in the same wood flooring? Is this an elegant thing to do? My gut says that it is, but I really have no experience and zero confidence. DH doesn't think we should do wood in the laundry room or the bathrooms. He probably has a point there.

Thoughts???
---
Follow-Up Postings:
| | | |
| --- | --- | --- |
| RE: Same Wood Floors for the Entire House? | | |
I have hardwoods in the same stain in 90% of my house. I do have tile in most baths (not the powder room), the mudroom and laundry room. It works out really well for us. Have fun with your project - can't wait to hear more about it (and i love to see pics). For maagazines - I usually browse through stacks and stacks when I'm at Barnes & Noble. They get really expensive to buy them all - and you just never know where you'll see a cute idea. Online there are lots of great sources of ideas too - hgtv.com, better homes and gardens, some home builder sites (cottage something - I'll have to look again). Congrats on the new house!
---
| | | |
| --- | --- | --- |
| RE: Same Wood Floors for the Entire House? | | |
We're still eyeball-deep in our own DIY remodel. Our plan is similar to lovestorenovate - hardwoods everywhere (same finish) except the bathrooms and possibly the foyer.
---
| | | |
| --- | --- | --- |
| RE: Same Wood Floors for the Entire House? | | |
The same wood everywhere except for baths and laundry rooms is a great idea.
Some prefer carpeted bedrooms, but I'm not one of 'em!

I'd check out this site, open houses 1-2 tiers 'up-market' from yours, and all over the web for the style of your house.
---
| | | |
| --- | --- | --- |
| RE: Same Wood Floors for the Entire House? | | |
We have hardwood everywhere on the first floor except the kitchen where we put cork and the foyer where we put tile. I love the look of wood everywhere. I think if you're going for an expansive open look, you need to consider the direction of the boards if you'll be starting in one room and doing the rest of the house sometime later. Plus dye lots for stain maybe slightly different if purchased at separate times.

Different wood species can look great in adjoining rooms as long as the transition between the rooms looks planned. I believe igloochic has some great examples of different species of wood in adjoining rooms. The pics are gorgeous.
---
| | | |
| --- | --- | --- |
| RE: Same Wood Floors for the Entire House? | | |
I would use the same wood flooring throughout the house, with the same color stain. We even have wood flooring in our foyer powder room. We put tile in the master bath and laundry room, but the office, kitchen, living, dining and master bedroom, which are all on the first floor, have hardwood floors and the flow is lovely.
---
| | | |
| --- | --- | --- |
| RE: Same Wood Floors for the Entire House? | | |
I don't have an old house, but my favorite magazine is This Old House. Not only does it have a lot of decorative pictures, it has a lot of common DIY projects and advice which really came in handy during our remodel/add-on.
---
| | | |
| --- | --- | --- |
| RE: Same Wood Floors for the Entire House? | | |
Thanks for the input everyone! :-)

I will get some pictures and load them. This was originally a custom built home (unusual for this area) – the original designer loved Octagons! You'll see what I mean and I hope you will help me decide whether we should embrace this quirk, or do our best to minimize it.

Back to the hard wood floors… I appreciate all the input. This is a single story house, so I think the flow will be nice. I was considering Bamboo in the kids rooms. I worry that Babmoo is too casual for the whole house, but it might be fun in the kids rooms – not sure… CostCo sells bamboo flooring as well as Harmonics Laminate. How do you guys feel about laminate?

Jeri
Here is a link that might be useful: Harmonics Flooring
---
| | | |
| --- | --- | --- |
| RE: Same Wood Floors for the Entire House? | | |
We have quartersawn oak throughout our home, except the mudroom and the upstairs bathroom. But downstairs, we did a walnut perimeter border, to mix things up. (We also have a walnut handrail for our staircase.)

upstairs: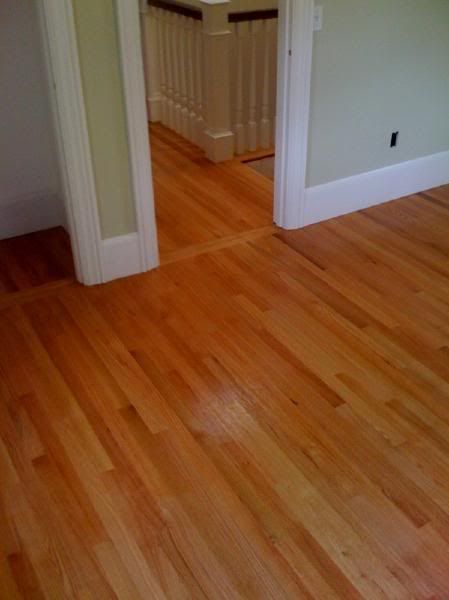 downstairs (i'd take better pics but we're still moving in and it's still being renovated so this is the only part that doesn't have tools and/or boxes covering them LOL.):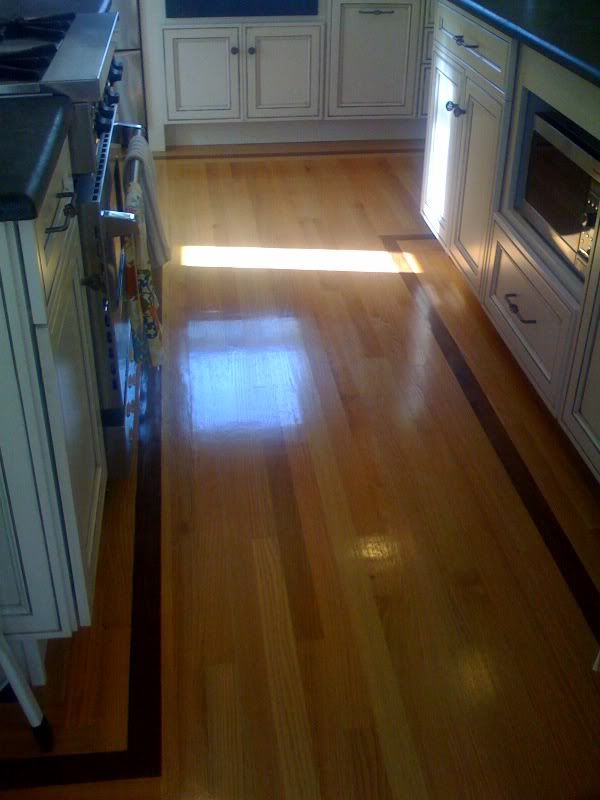 ---
| | | |
| --- | --- | --- |
| RE: Same Wood Floors for the Entire House? | | |
I love hardwood floors, but for budget, installation, and maintenance reasons, we're putting laminate throughout most of the downstairs. We found a beautiful handscraped style where each plank is actually separate, not just a picture like some. We've been getting tons of compliments on the floors, and it's not even complete yet.

Laminate is very easy to DIY (I've done three rooms already almost by myself), sounds fine with a good underlayment, and holds up perfectly to pet toenails (our 50 lb dog had put a lot of "patina" on the 90 year old heart pine floors in our last house)! In our nice but older neighborhood, hardwood floors would not have been a good return on the money. But if you can afford it, it's wonderful ;-)
---
| | | |
| --- | --- | --- |
| RE: Same Wood Floors for the Entire House? | | |
We have hardwood everywhere but the bathrooms, kitchen and laundry. Love it!

tina
---
| | | |
| --- | --- | --- |
| RE: Same Wood Floors for the Entire House? | | |
I have the same solid brazilian walnut throughout the entire house except the art studio where they refinished the original hardwood to the same color, and the 2 bathrooms which have slates (2 different kinds). We LOVE the flow from space to space. LOVE it. no regrets.
---
Post a Follow-Up
Please Note: Only registered members are able to post messages to this forum.
If you are a member, please log in.
If you aren't yet a member, join now!
---
Return to the Home Decorating Forum
Information about Posting
You must be logged in to post a message. Once you are logged in, a posting window will appear at the bottom of the messages. If you are not a member, please register for an account.
Please review our Rules of Play before posting.
Posting is a two-step process. Once you have composed your message, you will be taken to the preview page. You will then have a chance to review your post, make changes and upload photos.
After posting your message, you may need to refresh the forum page in order to see it.
Before posting copyrighted material, please read about Copyright and Fair Use.
We have a strict no-advertising policy!
If you would like to practice posting or uploading photos, please visit our Test forum.
If you need assistance, please Contact Us and we will be happy to help.

Learn more about in-text links on this page here