Return to the Home Decorating & Design Forum
|
Post a Follow-Up
---
| | | |
| --- | --- | --- |
| Will a round coffee table work in here? | | |
Posted by
avesmor
(
My Page
) on
Tue, Jun 12, 12 at 14:06
We have an old PB Madison coffee table in our great room. It's functional, but both DD and our furry one have gotten mild injuries from the corners of the table. We have another room where we can use it, so I'd just as soon get a new table as stick that "bumper" stuff onto the corners.

Would a round table just look really weird in here? I don't have much that's round other than lampshades, candles and rolled arms... but I have lots & lots of rectangles.

The room tends to have a heavy feel - dark colors and large furniture, so we were thinking either a glass top, or "spindly" legs, or just lots of open space under the table (versus a trunk table).

Here's the room while I was still arranging things. The sofa, loveseat and TV are still where pictured, but little things like the round side table tucked into the plant (DH wanted a "diving board" for her dollies), HEPA filter, and white power cord have all been fixed. The coffee table pictured is the one we're currently using, but the original top (3 walnut planks) has been put back on. The one in the pic was an alternate top DH made when the table was used in a different room.

We plan to ue our current seating for another year or two, if I can hold out that long. :) It's indestructible and we'd like to keep it until DD starts kindergarten *=& hopefully the majority of her "accidents" (of all types!) are mostly in the past. A cheap enough table, I'll just get rid of it when we get the new seating. A pricey one needs to be universal enough to with other seating options.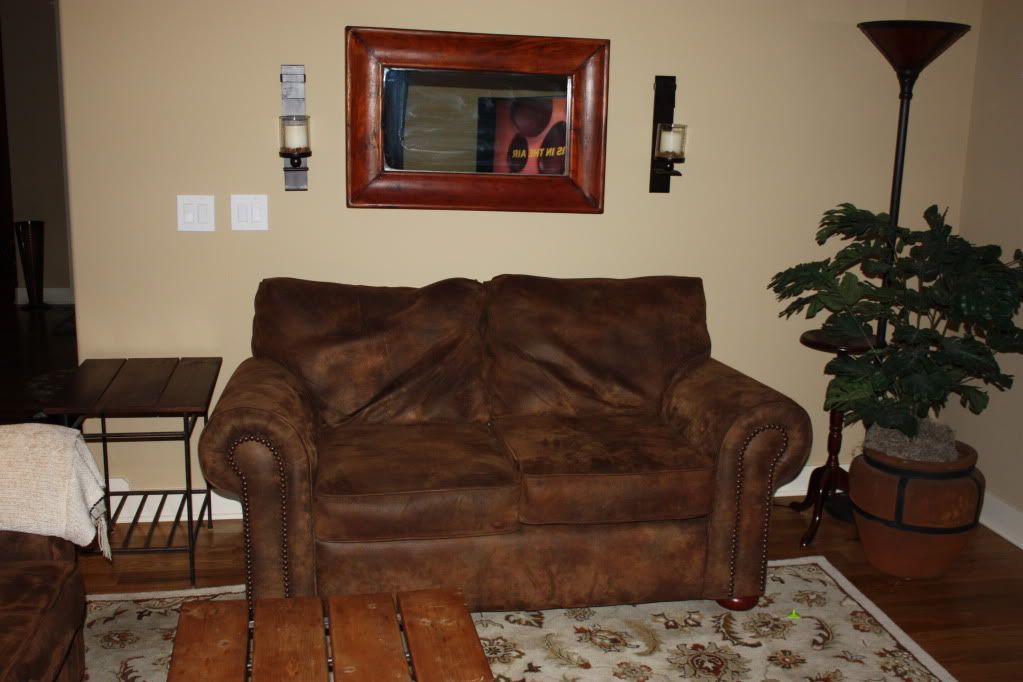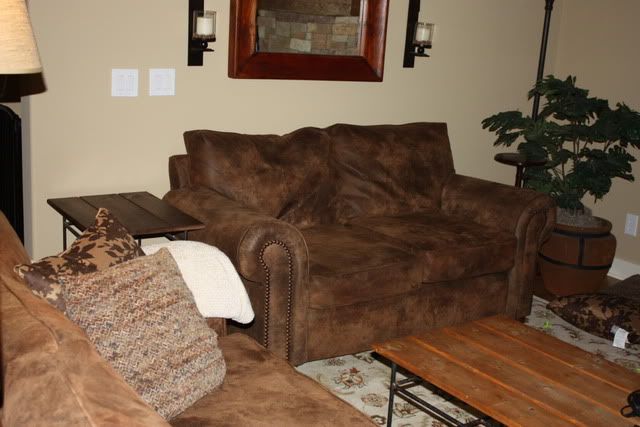 Here are some round options from a local store (all cheap enough that we could replace it when we get new seating if need be):

(we like the add'l seating bonus!)

Similar with a smokey top (can get 2 or 4 seats)

This mimics a bungalow table we JUST replaced in the kitchen, which starts about 15' behind the sofa :)

A bit ornate for my taste - love the hammered top, hate the twisted legs.

A bit contemporary for my taste, but just in case...
---
Follow-Up Postings:
| | | |
| --- | --- | --- |
| RE: Will a round coffee table work in here? | | |
I feel that a round coffee table works best when you have L shaped attached seating, which you do not. For anyone to reach the table with your present layout, they will have to stretch too far. Just my opinion.....
---
| | | |
| --- | --- | --- |
| RE: Will a round coffee table work in here? | | |
And I appreciate it. :) Pros, cons & opinions are exactly what I'm looking for.

Alternately, we've also talked about padded square/rectangular seating, like an ottoman table. Or no coffee table, since there's a sofa table and each piece has a side table.
---
| | | |
| --- | --- | --- |
| RE: Will a round coffee table work in here? | | |
Post a Follow-Up
Please Note: Only registered members are able to post messages to this forum.
If you are a member, please log in.
If you aren't yet a member, join now!
---
Return to the Home Decorating & Design Forum
Information about Posting
You must be logged in to post a message. Once you are logged in, a posting window will appear at the bottom of the messages. If you are not a member, please register for an account.
Posting is a two-step process. Once you have composed your message, you will be taken to the preview page. You will then have a chance to review your post, make changes and upload photos.
After posting your message, you may need to refresh the forum page in order to see it.
Before posting copyrighted material, please read about Copyright and Fair Use.
We have a strict no-advertising policy!
If you would like to practice posting or uploading photos, please visit our Test forum.
If you need assistance, please Contact Us and we will be happy to help.

Learn more about in-text links on this page here