Return to the Home Decorating & Design Forum
|
Post a Follow-Up
---
| | | |
| --- | --- | --- |
| Need help with my living room | | |
Posted by
dreamgoddess
(
My Page
) on
Sat, Jun 21, 14 at 13:50
I am so tired of the way my living room looks and really need some help with it. It was already crowded with stuff and feels chaotic, but now there is a 100 gallon aquarium sitting on the floor that I need to find a place for in this room. I'm ready to pull out my hair! I'll soon be asking for advice on rearranging the room.

I guess the first thing I need to do is choose a paint color because the room is in desparate need of a new paint job.

I love my curtains, so will not be changing them. They are a rosey pink in the daytime, but look more of a mauve color at night. The rug will also be staying.

There is a chair rail with paintable wallpaper below the rail. I'm thinking two colors for the wall - a lighter color on top and a darker color on the wallpaper.

My curtains and rug

What colors would you suggest for painting the walls? Advice is welcome and appreciated!
---
Follow-Up Postings:
| | | |
| --- | --- | --- |
| RE: Need help with my living room | | |
Gorgeous moulding around the windows!

You've got a lot going on with the curtains and the rug, so I'd keep the walls fairly neutral.

How about a very cool, lighter gray, like BM Metropolitan, on top, with one a couple shades darker on the bottom, or, for more drama, a charcoal on the bottom.
Here is a link that might be useful: BM Metropolitan
---
| | | |
| --- | --- | --- |
| RE: Need help with my living room | | |
I love the rug and would love the curtains also if it didn't have the valance. What color is your woodwork? Looks cream colored on my computer. I would suggest light grey for your walls....something that goes with the background color of your rug. Would really like to see the rest of your room...what color is your upholstered furniture?
---
| | | |
| --- | --- | --- |
| RE: Need help with my living room | | |
Tibbrix, I actually did consider a gray color, but my husband was undecided about it. I'll have to tell him you suggested it also!

Grandmaof3, the woodwork is a cream color right now, but I'll be painting it also. So, I'll actually need a trim color too. Believe me, you really don't want to see the rest of the room. It's a jumbled up mess right now!

Upholstered furniture is a hodgepodge...two light pink wing chairs, 2 raspberry colored Victorian lady/gentleman chairs, a burgundy recliner (my husband would never let me get rid of his chair) and the antique sofa is a lighter pink.

I do have a gorgeous Victorian sofa that I want to have restored and recovered in a cream fabric. Then I can put it in the living room and get rid of the light pink sofa.

To me, the room looks hideous right now. I want a peaceful room, but I also love excesses in decorating. Do the two have to be mutually exclusive??? I don't think I'm talented enough to combine the two into a room that looks good.
---
| | | |
| --- | --- | --- |
| RE: Need help with my living room | | |
I also agree with grandma of 3 and would ix-nay the a lances-vay. For one thing, they're a but much; they detract from the beautiful moulding around your windows; and the panel curtains you have are pretty and enough for those windows. I'd open them so they're hanging as panels.
---
| | | |
| --- | --- | --- |
| RE: Need help with my living room | | |
Oh, and I forgot to mention, the main color field on the rug is a sage green. It does really look gray in the first photo though.

Here is another photo that will hopefully show the color a little better.
Well, it still isn't showing the true color, but it is definitely sage green.
---
| | | |
| --- | --- | --- |
| RE: Need help with my living room | | |
"I want a peaceful room, but I also love excesses in decorating."

I struggle with this too. I love rooms that have something interesting to see everywhere you look but when I try it I get the heebie jeebies from too much stuff. I've found it is a lot easier to add things back than to take things away so I'd suggest taking everything out of the room except the recliner and whatever you usually sit on. Then take a picture, post it here and let these wonderful folks work their magic.

Also, try telling your husband that some experts online suggested a wonderful cool neutral called Metropolitan. It sounds so much more "decorate-y" than gray ;)
---
| | | |
| --- | --- | --- |
| RE: Need help with my living room | | |
I think I would give a nod to your husband and do something unexpected. Paint the bottom in the warm med brown on one of the roses. Cut that color in half and paint the upper with that. It looks like a warm golden brown. Pink and grey have been done to death. Same with pink and green. I think the warm brown would work really well with the pink but with out the dated 80s feel grey or green gives it.
---
| | | |
| --- | --- | --- |
| RE: Need help with my living room | | |
edeevee, I ran your suggestion about taking everything out except his recliner by my husband. He looked at me like I had lost my mind and said it's too much heavy furniture to move out.

Um...I hate to tell him, but when I choose a paint color, that furniture has to come out anyway. I can sort of get his point right now though. There is a piano, a huge entertainment center, a big curio cabinet, plus that 100 ga aquarium along with chairs, sofa and tables.

I looked at Metropolitan. Do you really think it would work with my curtains and rug?

Tribbix, I won't be able to hang the curtains open as panels once the aquarium is up and running. Too much sunlight coming in will cause an algae problem in the tank.
---
| | | |
| --- | --- | --- |
| RE: Need help with my living room | | |
I have a hard time figuring out the colors in the rug, i.e. is there gray in it or not? I'd probably pick one of the lighter colors from the rug, for example, a light cream/beige and then go with two shades darker on the bottom. Or if there's gray in the rug, I'd do the same with a warmer gray.
Also agree to get rid of the valances.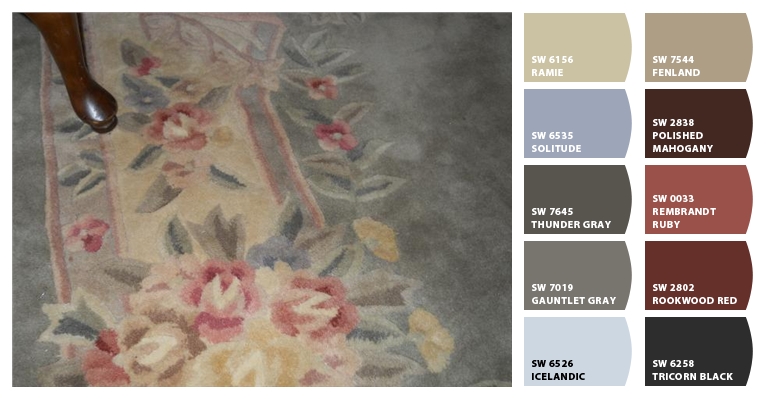 ---
| | | |
| --- | --- | --- |
| RE: Need help with my living room | | |
No gray at all in the rug. It is a sage green with light and dark pink, a touch of blue and cream/gold.

The top of the walls now are cream and the wallpaper is painted a gold color. I'd really like to get away from these two colors entirely.

I like Icelandic in the picture above, but not sure how it would look next to the curtains.
---
| | | |
| --- | --- | --- |
| RE: Need help with my living room | | |
Two colors on the wall is too much. Could we see the wallpaper?
---
| | | |
| --- | --- | --- |
| RE: Need help with my living room | | |
Here is a photo of the wallpaper. The same cream on the top of the wall was painted on the wallpaper. Then the gold was painted on top of it and wiped off. The paint job didn't really turn out like I wanted it to.

I want to get rid of the wallpaper and chair rail completely, but I'm being outvoted by my husband and children. So, I'm stuck with it.
---
| | | |
| --- | --- | --- |
| RE: Need help with my living room | | |
I really think the experts here (not me) need to see pictures of the entire room to get the right feel for colors with your furniture, upholstery, etc. it doesn't matter if you think it is a mess now. No one is judgemental, they just can give better advice seeing the whole room and what you are working with.
---
| | | |
| --- | --- | --- |
| RE: Need help with my living room | | |
I would be cautious about using Metropolitan. I used it in my husband's office and it often has a very blue cast to it (I find the Ben Moore colors often do that here-same is true of Palladian Blue which in our master looks nothing like everyone else's pictures). So perhaps it is just our light or something. It is also much darker on our walls than the sample shows. I love it, but I cannot picture it with everything else being in shades of pink.

Also agree that it would be helpful to see the whole room.
---
| | | |
| --- | --- | --- |
| RE: Need help with my living room | | |
Oh, my, keep that chair rail! You are so lucky to have the woodwork you've got in there!

I agree with the above poster who suggested brown for the walls. If you hit the right brown, it's an amazing room color.
---
| | | |
| --- | --- | --- |
| RE: Need help with my living room | | |
I like the Ramie or Fenland in the palette posted by nosoccermom. Painting the walls one color will downplay the wallpaper on the bottom without removing it.
---
| | | |
| --- | --- | --- |
| RE: Need help with my living room | | |
Love Junco's idea of painting the wall one color and just having the different textures. Very elegant!

Can one valance be removed? I don't care for how it's all bunched up and twisted. It detracts from the molding. Or could you have a simpler valance made?

Would love to see the raspberry chairs. It's one of my favorite colors, going back 50 years to when my favorite crayon combination was magenta and blue-green!
---
| | | |
| --- | --- | --- |
| RE: Need help with my living room | | |
I'll try to get some photos of the room later tonight. Right now, the family is sacked out in there watching a movie.
---
| | | |
| --- | --- | --- |
| RE: Need help with my living room | | |
What about this color by Pittsburg Paints? It's called Swiss Miss.
Here is a link that might be useful: Swiss Miss
---
| | | |
| --- | --- | --- |
| RE: Need help with my living room | | |
| | | |
| --- | --- | --- |
| RE: Need help with my living room | | |
I think a brown could look nice - but we don't know your furniture. You said a big entertainment center and lots of other pieces. It may be too many brown tones.

Are the walls a plain white now? A cream may look good. It would give your moldings more of pop but wouldn't over-crowd a (seemingly) full room.

What about a light fixture? That can draw you eye up away from the rest of the room. That might allow you to have your layered room by taking some emphasis away from the stuff.
---
| | | |
| --- | --- | --- |
| RE: Need help with my living room | | |
Get furniture sliders and just leave the furniture on it for awhile if needed so you can move it around. ( I found some inexpensive ones at Walgreens )

I like SW Revere Pewter and Glidden Oyster Bay. The Glidden Oyster Bay can look gray or sage green depending on the lighting. The SW Revere Pewter looks really tan/Taupe or gray.

Sounds like this is going to be a long project for you and a lot of work. You may want to consider the SureSwatch paint sample sheets. I found it so much easier because I could paint them all in one single area and then put them on a wall behind a sofa etc without having to move the sofa or do any prep of the area.

Good Luck.
.
---
| | | |
| --- | --- | --- |
| RE: Need help with my living room | | |
I'd definitely paint the whole wall, including chair rail, one color. Maybe a very pale golden cream like BM Rich Cream? Though that may be too yellowy. I haven't had my second cup of coffee yet so can't focus enough to suggest more specific colors but I wouldn't go with light blues or greens with all that pink unless you want an Easter egg look. I also agree with others to get rid of the valances.
---
| | | |
| --- | --- | --- |
| RE: Need help with my living room | | |
I have to say that I actually like the color you have or perhaps a slightly yellow cream or maybe even something like Manchester Tan or the Ramie.
Agree that light blue or green would be too much. Now, I wonder whether a very,very light pink (blush) might work. Your husband may never notice :)
Look at the thread on the pink bedroom.
---
| | | |
| --- | --- | --- |
| RE: Need help with my living room | | |
I would do cream or a very very light pastel green. The colors are so pretty!
---
| | | |
| --- | --- | --- |
| RE: Need help with my living room | | |
You say "there's a lot going on in the room" and "I want to simplify."

Easy start -- remove the valances. They are a bit fussy and foo-foo, and as others have said, they detract from your lovely woodwork.

Some rooms need more curls... your room needs fewer.
---
| | | |
| --- | --- | --- |
| RE: Need help with my living room | | |
Simplify by getting rid of those valences that belong in a madame's bedroom. Whatever color you choose, remember that the light coming in from those pink curtains and all the other pink in the room is going to reflect on the paint.
---
| | | |
| --- | --- | --- |
| RE: Need help with my living room | | |
First of all, what is the size of the room, what is the exposure, what rooms open from this room, what colors are they, what color is the flooring around the carpet - is there wall to wall carpeting underneath, or tile or is it hardwood, if so what wood and finish...are there pictures/paintings/photos that will be staying, lamps, accessories or only the rug and curtains....then of course what do the other furniture pieces which will be players look like?....and I also firmly agree that two-tone walls will be too broken up/choppy/cluttery/add to the potential chaos; two-tone = two things in a room you have already identified as having too much going on. Looking forward to seeing what develops!!!
---
| | | |
| --- | --- | --- |
| RE: Need help with my living room | | |
Wow, lots to think about from all the posts!

I fell asleep last night before I took photos of the whole room, so will try to get that done today. If the valances are foo-foo, wait until you see the rest of the room! LOL!!
---
| | | |
| --- | --- | --- |
| RE: Need help with my living room | | |
I hope this living room is going to turn out to be huge! So far I'm counting a sofa, 4 chairs plus a recliner and recliners are big, 3 large pieces of furniture including a piano, a 100 gallon aquarium (will that need a large table to put it on?) and assorted small tables.
---
| | | |
| --- | --- | --- |
| RE: Need help with my living room | | |
Patty0315, yes it is a lot of furniture in the room and some of it will probably have to find a home in another room. The aquarium does have a large 5' stand that it will go on. Both the aquarium and stand are sitting on the floor right now until my husband gets the stand refinished and the tank set up.

I finally have photos of the room. I have to warn everyone...graphic fussiness and lots of pink are in the room, so please be gentle!

This is my front door and you walk straight into the living room. The hall tree next to the door will stay and you can see the aquarium and stand sitting on the floor behind the sofa. There is a small drum table and a Victorian fern stand sitting in front of the window (behind the aquarium stand). The plant usually sits centered between these two pieces, but I had to move it to sit the aquarium stand in there. Victorian lady's chair beside the entertainment center.
The piano and please don't look at the dust that I now notice is on it! The sconces will stay, but will not all be on this one wall after I paint. I'm open to moving the hanging lamp, but I really hate to because it was a Christmas gift from my mother.
The bay window, which is the bane of my existance.
The huge recliner that my husband dearly loves and the curio cabinet behind it. I guess after seeing the rest of the furniture, you totally understand why my husband loves his recliner!
Fireplace and antique Victorian gentleman's chair beside the entertainment center. I will probably be removing the overmantle when we paint. I found it several years ago in an antique shop and it really doesn't go with the fireplace.
I have a mirror that my husband gave me that I'd like to put over the fireplace. Also, two of the sconces from over the piano will go here when I get the new mirror hung.
The entertainment center...the left and right sections are coming out of the room. I'm going to move them to my husband's office, so that will free up a little space.
This is the wall where the aquarium will be if I can figure out where to move the tv. I don't have a problem with getting rid of the middle section of the entertainment center and putting the tv on something else, but my husband really doesn't want me to do this.
Some more random shots...
I love antiques and the Victorian era, so this is the feeling I'd like to have in the room. Just a little simplified if possible.
The pink sofa will be coming out of the living room and this is the sofa that will actually be in the living room when I get it restored and reupholstered. I haven't quite decided what color fabric I'll be using, but it will probably be a cream color. (Please ignore the blanket thrown on the sofa and all the junk on the floor under it!)
So, now that I've shown pictures of the room, what color suggestions do y'all have?
I'm leaning toward the suggestion to paint the entire walls one color instead of two. If I do this, what about the chair rail molding? Should it be the same color as the walls or the trim color?
Any suggestions for arranging the room? The aquarium really needs to be on the wall where the entertainment center is now, but the seating arrangements need to be facing the tv. I'm stumped!
---
| | | |
| --- | --- | --- |
| RE: Need help with my living room | | |
First of all: your antiques are beautiful. Love them.

Second and continuing: I think there are some simple things you can do to get tone down the fussiness. All those scones- pair them back a bit. Four is two many on one tiny wall. Second, there are a few places where you have two smaller pieces of art(I'm not sure exactly what they are). Instead of putting one slightly to one side of the other overhead when you hang them on the wall, stack them directly vertical of each other. That might make the room more streamlined looking.

There is a lot of pink. Whatever color you choose for the 'new' sofa should cou ter balance that in some way. Something darker and/or more masculine. Your husbands chair is looking lonely in a sea of girlie-ness. It needs a friend.

I also think one or two chairs need to go. With th fish tank there will just be at two many. And, your art is hung too high. It should be at eye level.

Phew. Thank you for such a detailed look of your living room! I'm also interested in seeing what everyone else says.
---
| | | |
| --- | --- | --- |
| RE: Need help with my living room | | |
Well now, good to see the whole room. If you want to keep the complete Victorian feel, I have a suggestion that you may hate, but I think it could bring a totally different feel to your room without a huge change. Would you consider shades or shutters on the windows rather than the draperies? You could also simplify as far as accessories if you think you might like a simpler feel to the room. That might play nicely with your lovely furniture and your DH's recliner. ;)

You could also change the pillows-maybe creams and ivories.

It is a pretty room and definitely has the Victorian vibe.
---
| | | |
| --- | --- | --- |
| RE: Need help with my living room | | |
Selcier, I will be moving the sconces after I paint. Two of them will stay over the piano and two will go over my fireplace when I get the mirror hung there.

Thank you for the suggestions on the art. I like the idea of stacking them on top of each other. I'll remember to hang all the pictures lower when we paint.

Do you have any ideas for the color of the sofa when I get it reupholstered? Your comment about my husband's chair in a sea of girliness tickled me! He does have another recliner in his office that is a dark green color. Would it look better if I swapped the green one to the living room?

Cyn427, I ran your suggestion of the shades or shutters by my husband and daughters. My husband said "whatever you want to do". Don't you just love it when they say that! My 14 year old didn't like the idea at all. She doesn't want to change them. My older daughter was neutral. So, this is an idea I'll keep simmering in the back of my mind.

I really like the idea of creams or ivory for the pillows.

Still would love more suggestions on paint color. I think I'm definitely going to paint above and below the chair rail the same color. I can't remember who said it now, but I do agree that it has a choppy look with the different colors.
---
| | | |
| --- | --- | --- |
| RE: Need help with my living room | | |
Your room has a lot of lovely architectural detail that is completely lost with all of the clutter. The first thing I would do is remove everything from the room that isn't a heavy piece of furniture (knick knacks, art, planter, basically everything that weighs less than 20 pounds). Then, one by one, start putting back things that you absolutely love and stop when it begins to feel chaotic. As far as paint color goes, your room is so monochromatic that anything other than a creamy white (or pink) would look random. There's no other color to play off of. If all of your current furniture must stay in the room, I see no place for the fish tank. You have some lovely things in your room, but there's so much stuff there that it's difficult to focus on and appreciate anything. In your case, less is more.
---
| | | |
| --- | --- | --- |
| RE: Need help with my living room | | |
Can the dark pink chairs go in front of the window instead of the wing chairs? It's a little too pastel there. I'd move the wing chairs out since they aren't Victorian.

Can the aquarium go on one of the shorter walls by the recliner? I'd want to avoid taking away my largest wall for it. I had a 55 gallon once and you can't decorate around them too easily.

In general, I'd replace some of the pale pink accents with a deeper pink. The cream and pink need a little contrast, especially if the walls end up cream.
---
| | | |
| --- | --- | --- |
| RE: Need help with my living room | | |
You have very pretty furniture, but I am wondering whether you can remove some of it. Do you need all the chairs? Which ones do you actually sit on?
Also, I would definitely draw a floor plan. Maybe you can post it here. Lots of experts who can advise.
Also a heretic thought: Is there possibly another room you could set up for TV watching?
---
| | | |
| --- | --- | --- |
| RE: Need help with my living room | | |
My thought exactly, nosoccermom. They are literally trying to combine 2 rooms with totally different styles and purposes, one formal and one informal, into one room. Not only is it way too overcrowded and cluttered with furniture and 'stuff', but the 2 decorating styles- Victorian/formal/antiques/frou frou vs relaxed comfort/informal/family room entertainment area just don't mesh. Is there anyway the recliner, entertainment center, and aquarium can go elsewhere? You said your husband had a home office? Basement?
---
| | | |
| --- | --- | --- |
| RE: Need help with my living room | | |
If you take the pink couch out, then I would take the two pink chairs in the bay window out also. Your pretty ladies and mans chairs would look good in that bay. Is your TV a flat screen? Could you hang it on the wall....maybe above the aquarium? Green chair might look better or put some dark brown pillows on your couch. Walls and chair rail should be painted the same....cream colored and you could have some cream pillows along with the brown on your chairs and couch. And as I said before.....valances off the curtains...Not sure shades would fit your style but you need something like how the plain curtains will look when the valances are gone.
This post was edited by grandmaof3 on Mon, Jun 23, 14 at 14:26
---
| | | |
| --- | --- | --- |
| RE: Need help with my living room | | |
I don't think another recliner will do anything good for the room. There is too much in there already. A good gender neutral color would work on the new sofa. I'm tempted to say a cognac but I really don't know how that would go with all the pink.
---
| | | |
| --- | --- | --- |
| RE: Need help with my living room | | |
Oh! I cam across this link through another thread and I thought it would be helpful. It's all about design principles for interior decorating. There is more than one page of topics so keep going to 'older posts' till you get to the end.
Here is a link that might be useful: Interior decorating principles
---
Post a Follow-Up
Please Note: Only registered members are able to post messages to this forum.
If you are a member, please log in.
If you aren't yet a member, join now!
---
Return to the Home Decorating & Design Forum
Information about Posting
You must be logged in to post a message. Once you are logged in, a posting window will appear at the bottom of the messages. If you are not a member, please register for an account.
Please review our Rules of Play before posting.
Posting is a two-step process. Once you have composed your message, you will be taken to the preview page. You will then have a chance to review your post, make changes and upload photos.
After posting your message, you may need to refresh the forum page in order to see it.
Before posting copyrighted material, please read about Copyright and Fair Use.
We have a strict no-advertising policy!
If you would like to practice posting or uploading photos, please visit our Test forum.
If you need assistance, please Contact Us and we will be happy to help.

Learn more about in-text links on this page here