Return to the Home Decorating & Design Forum
|
Post a Follow-Up
---
| | | |
| --- | --- | --- |
| Pier 1 Perched Bird Table | | |
Posted by
cat_mom
(
My Page
) on
Sun, Jun 30, 13 at 13:48
I am often so impressed by the many, many talented people here on Home Dec, that I was inspired to tackle a few projects of my own recently. A few months ago, I "faux-painted" our 27 year old bedroom furniture (as part of our recently completed master bedroom renovation project--pics to follow soon!). Most recently I purchased the Pier 1 table, with the intent to spray paint it silver (inspired by another GW'er who had purchased the same table, and painted it gold I believe).

The table is in our spare room, next to my exercise bike--a little fancier than the room required (!) but it is the perfect size for a tight space, and it was on sale, with an add'l discount (10%) because the finish at the weld/seam on the top of the table was chipped (since I planned to spray paint it, it wasn't of major concern). I probably lost some of my savings with the cost of the spray paint, but I think I still did ok (I used Stove Bright's High Temp paint because it's easy to use, with far fewer runs, drips, sags, and over-sprays than Krylon spray paint IMO, and it's also pretty forgiving when respraying over any messed up areas--I am often impatient and end up spraying much heavier coats than I should! Add'l coats evened those areas out nicely. It also gives a really durable finish even on non-high heat items. I sprayed a light coat of their clear spray/clear coat over the finished table to "up" the sheen or luster).

Here is the finished table: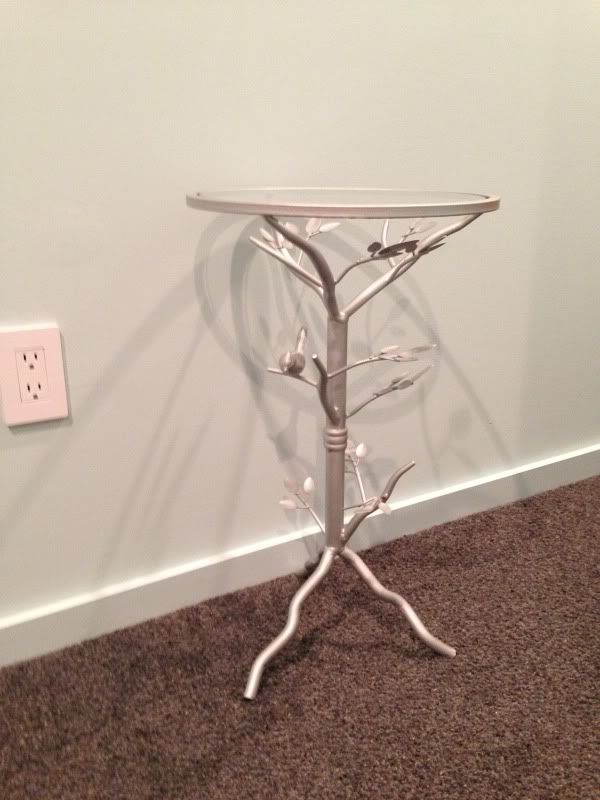 (I moved the table over to a bare wall to take the pics. Wall color is BM Antiguan Sky mixed up in Aura, matte finish for anyone wondering!)
The link below shows how the table looked originally. In person, the "accent" or "gilded" areas on the leaves and on the bird, were much more pronounced (a brass-gold kind of color).
Here is a link that might be useful: Pier 1 table link
---
Follow-Up Postings:
| | | |
| --- | --- | --- |
| RE: Pier 1 Perched Bird Table | | |
I love it! Might have to visit a Pier 1 soon....
---
| | | |
| --- | --- | --- |
| RE: Pier 1 Perched Bird Table | | |
Very cute. I am glad I'm not the only one who buys something "new" and plans on painting it! (or gel staining it). There is something that is ingrained in us that tells us it is just "wrong" to change something that is new, and we really need to get over it!

I once bought a Drexel Heritage huge dresser from Home Goods--originally over $2k. I hated the finish, and so did a lot of other people I guess too...since it was reduced to about $200. I took it home, gel stained it, painted the hardware and voila. Fabulous. There is really something special about the look in the shop keeper's eyes when you spill your plan...
---
| | | |
| --- | --- | --- |
| RE: Pier 1 Perched Bird Table | | |
Charming! I need to look away. I'm in about the 12th year of an extended bird period. I prefer not to do "themes," but they're always trying to move inside and some keep making it. :)
---
| | | |
| --- | --- | --- |
| RE: Pier 1 Perched Bird Table | | |
Thanks mabeldingeldine, bee, and rosie!

I actually "tipped my hand" by mentioning that I might, or was planning to paint the table, but I asked for the discount (because it was chipped) in case I decided to leave it the original color after all. I was glad she didn't hold my "intent to paint" against me!

Our "theme" tends towards trees, branches, twigs.... Our property has a lot of trees, so it's our way of meshing what we see out our windows, with our decor. :) I love the imagery you painted rosie--I keep picturing birds sitting on your windowsill, tapping on the glass to come in! LOL
---
| | | |
| --- | --- | --- |
| RE: Pier 1 Perched Bird Table | | |
You have so much talent and an eye for detail ! c ( and bargains ) :)
---
| | | |
| --- | --- | --- |
| RE: Pier 1 Perched Bird Table | | |
It's adorable! You definitely improved it, so light and airy ... or is that aerie :)
---
| | | |
| --- | --- | --- |
| RE: Pier 1 Perched Bird Table | | |
I love it! So much better than it's original finish!!!
---
| | | |
| --- | --- | --- |
| RE: Pier 1 Perched Bird Table | | |
| | | |
| --- | --- | --- |
| RE: Pier 1 Perched Bird Table | | |
Always like that table....love it this way!!~
---
| | | |
| --- | --- | --- |
| RE: Pier 1 Perched Bird Table | | |
Thanks!

I'd always liked the table, too, just couldn't think of a place for it. When I saw it was on sale, and saw the dimensions, I knew it would be the perfect size little (and oh-so-cute!) table to hold a cordless phone, and any reading material I might want nearby while riding my exercise bike.

I also knew that the only way it would work in the room would be if I painted it silver. Besides the aqua/Robin's egg/muted Tiffany wall color, other colors in the room include charcoal grey carpeting, a silvery screen shade on the window, and chrome/platinum metal shelving. So, how could it be anything but silver? :)
---
Post a Follow-Up
Please Note: Only registered members are able to post messages to this forum.
If you are a member, please log in.
If you aren't yet a member, join now!
---
Return to the Home Decorating & Design Forum
Information about Posting
You must be logged in to post a message. Once you are logged in, a posting window will appear at the bottom of the messages. If you are not a member, please register for an account.
Please review our Rules of Play before posting.
Posting is a two-step process. Once you have composed your message, you will be taken to the preview page. You will then have a chance to review your post, make changes and upload photos.
After posting your message, you may need to refresh the forum page in order to see it.
Before posting copyrighted material, please read about Copyright and Fair Use.
We have a strict no-advertising policy!
If you would like to practice posting or uploading photos, please visit our Test forum.
If you need assistance, please Contact Us and we will be happy to help.

Learn more about in-text links on this page here