Return to the Home Decorating Forum
|
Post a Follow-Up
---
| | | |
| --- | --- | --- |
| Paint or Stain the Front Door? | | |
Posted by
crescent50
(
My Page
) on
Thu, Jun 24, 10 at 13:33
We are nearing the end of our new build (at least the exterior part)!
I have been lurking & getting some good advice for the interior but need some help for finishing the outside. We are still waiting on porch rails and stairs & the door is missing grilles that will go in the transoms on the top and sides.
Until then, I have 2 questions & would appreciate any and all opinions or suggestions.

1 ) Front Door-- would you paint it or stain it?
Porch floors are mahogany & the door is fiberglass so I know it will not be possible to "match"the color. I am worried that stain on the door will look too close yet not close enough to the floor & seem like a mistake.
If we painted, what color? I was thinking black (to match the hardware and light fixtures) or cottage red or maybe even williamsburg blue-- definitely something classic. Any other suggestions?

2) Base of the Porch-- our builder told us that he could either finish the bottom of the porch with stone to match the house or he could build a traditional trellis baseboard in white.
What do you think would look better?

Thanks in advance for any help :)
---
Follow-Up Postings:
| | | |
| --- | --- | --- |
| RE: Paint or Stain the Front Door? | | |
Gorgeous house!!

Front door colors:

I ado adore glossy black front door (with a large knocker too!) LOL!

My front door: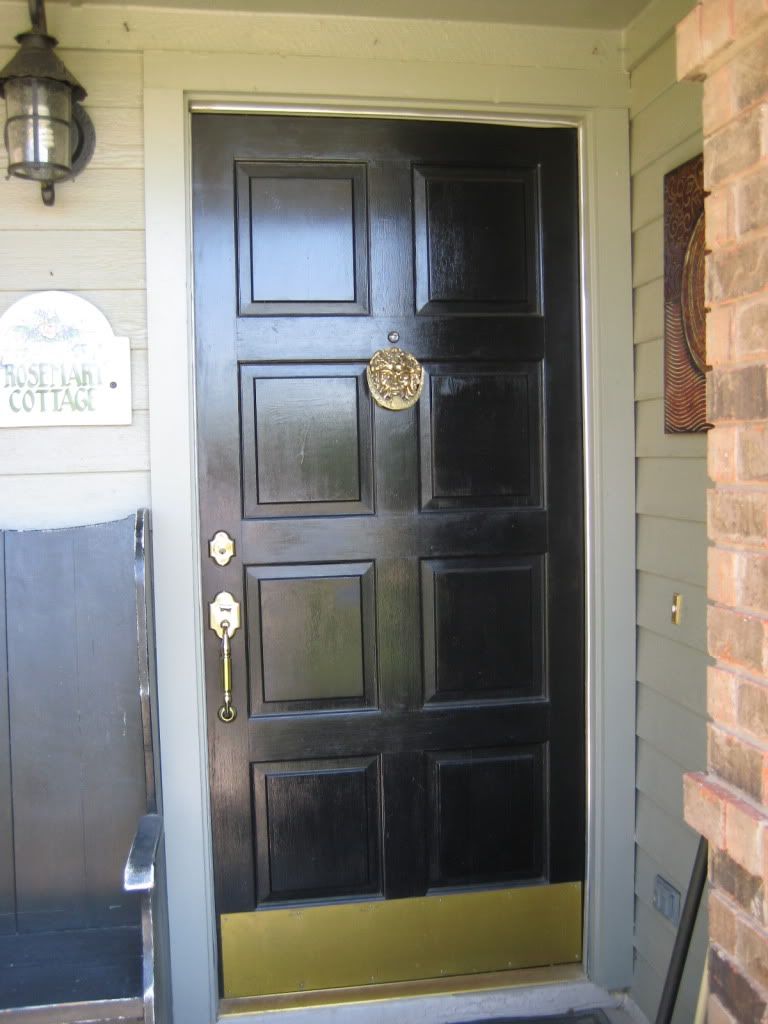 OR:
Deep claret red
Classic deep blue
Dark Tuscan gold
Hunter green
Eggplant
Dark sage green
Dark pumpkin

And a vote for finishing the porch with stone to match the walls ....and as a wall around a garden at the base of the large window on the right-hand side (if he has any stone left over)
P.S. Don't forget to name your lovely new home too! :)
Jan at Rosemary Cottage
---
| | | |
| --- | --- | --- |
| RE: Paint or Stain the Front Door? | | |
What a beautiful home you have there. Just gorgeous. As for the door I think that's a very personal thing. I like both stained and painted doors, but personally since your door is wood I'd stain it. There are so many colors out there to choose from it doesn't have to be a shade of brown anymore. You can have color and grain. The best of both worlds.
As for the porch I think your home would look lovely with the squared lattice like I "drew" for you linked below...
Here is a link that might be useful: Crescent50 home
---
| | | |
| --- | --- | --- |
| RE: Paint or Stain the Front Door? | | |
What a stunning home! I agree with Justgotabme, front doors are a personal thing and though some of the most beautiful doors I've seen are stained, there have been some very pretty painted ones too. A pop of color would be nice. The idea of lattice is a great one too because it will keep animals out but still allow you to see under the porch if you need to. It's pretty too.
---
| | | |
| --- | --- | --- |
| RE: Paint or Stain the Front Door? | | |
Thanks for the quick replies & nice comments. We have been dreaming about & working on this house for so long- it is so exciting to finally see it coming together!
Regarding the door- I hadn't thought about a stain that was not brown. I love the idea of having grain and color so will definitely need to check that out.

Jan- your front door is gorgeous-- the shiny black just seems so classy. Funny that you should mention naming the house. We love Nantucket & go there every year. I love checking out all of the houses & especially love reading what they have named them. I must have over 100 "inspiration" pictures from our trip last month.

Justgotabme-- thank you so much for the beautiful drawing-- it helps so much to see what the lattice would look like & I love the pop of white.
The stone is appealing but I was thinking that the lattice seemed a little lighter & am wondering if it is worth the $$ since landscaping will eventually cover most of it.
If anyone knows how to "draw" stone so I can compare, I'd be very grateful :)

Thanks again!
---
| | | |
| --- | --- | --- |
| RE: Paint or Stain the Front Door? | | |
I'd go with the stone, because as you said, landscaping will cover the base and the lattice would become a nightmare to keep up. I wouldn't want anything under the porch, and little varmints can get through the lattice.

As for the floor being fiberglass, a good painter will be able to match the color or your decking. Our painter matched a side garage door - in fiberglass, to our mahogany front doors. However, I think a pop of color may be what you need with all the lovely warm stone and siding of your beautiful house.
---
| | | |
| --- | --- | --- |
| RE: Paint or Stain the Front Door? | | |
My vote is for the stone! Timeless and classic, plus you won't have to paint it. Plus it will look great!
---
| | | |
| --- | --- | --- |
| RE: Paint or Stain the Front Door? | | |
It took me so long to do the lattice that I forgot all about doing the stone. I like the stone the best too. Fits the style of your home better in my humble opinion.
Here you go....

Yay! I found the code on Tiny Pic to embed it.
---
| | | |
| --- | --- | --- |
| RE: Paint or Stain the Front Door? | | |
I love the fibreglass doors. I would stain it with an ebony stain.
I would do stone on the porch, looks more rich looking.
---
| | | |
| --- | --- | --- |
| RE: Paint or Stain the Front Door? | | |
Beautiful house!!! The stone would be my first choice - but I would ask your builder about the amount of cross ventilation that is needed under your porch floor - would facing it with stone mean that you would get no air circulation under there? I understand that with wood floors such as these it is important to have ventilation.
---
| | | |
| --- | --- | --- |
| RE: Paint or Stain the Front Door? | | |
Thanks everybody!
Justgotabme-- I am so appreciative of you taking the time to do the stone mock up and I love it! It is true what they say, a picture is worth a thousand words!
Stone it is- I will be calling the builder today. Thank you again :)

Now on to the front door.... I am going to head to HD today to check out stain colors. So far, ebony or rustic red are the frontrunners.
Any additional opinions or suggestions are welcome.
---
| | | |
| --- | --- | --- |
| RE: Paint or Stain the Front Door? | | |
You can stain fiberglas, though it won't look exactly like mahogany. Maybe you want to paint it so it won't look like you "missed", that's personal. Any of the colors Jan suggested would look great. But here's my stained FG door (before I put the doorknob back on).
I did stone under my porch, but that's the only stonework on the house (pulled it all out to put hardware cloth under - critters can get through drystacked stone). IMHO, with all the stonework on your house, and the fact that you'd have to pay someone (what's the cost difference b/t that and lattice?) not DIY like I did, I'd go with the lattice. Just put hardware cloth (we went with 1/2" b/c of chipmunks) behind it. The little bits of white that will show behind you landscaping will "pop" and look nice with the porch trim and balustrade.
---
| | | |
| --- | --- | --- |
| RE: Paint or Stain the Front Door? | | |
Interesting point about ventilation... I will need to talk to the builder about that today.
ajsmama-- your door looks great. What color stain is that?
---
| | | |
| --- | --- | --- |
| RE: Paint or Stain the Front Door? | | |
That's Zar oil-based 118 Dark Mahogany. Just "paint" it on, feather it out with a dry brush. Topcoated with Sikkens Clear Satin Door and Window Cetol. Only thing about stain (can't say for paint) on FG is that if you get a scratch it's very hard to touch up. I found out when I was trying to get hairs (brush and my own) out of partially-dried stain, if you try to go back over it, it will lift on you. If you wait til it's dried, then the scratch won't take stain. I had to dab it on with a toothpick! Paint might be easier.
---
| | | |
| --- | --- | --- |
| Lattice | | |
Oh, BTW, if you do the lattice (good point about ventilation with wood floor), do PVC - no painting! Put galvanized hardware cloth up first, then the lattice.
---
| | | |
| --- | --- | --- |
| RE: Paint or Stain the Front Door? | | |
You are very welcome. I enjoy doing virtuals to help out, but I must say it makes it all the more enjoyable to have my time acknowledged and appreciated. So for that, I thank you.
How I missed that you door is fiberglass I don't know. You made that very clear, but it slipped in and out before I could grab hold of it. As far as I know you won't find any colors other than natural wood tones in the gel you need to stain fiberglass.
Here's links to the two brands that seem to be the best for the DIYer. I've not heard of the Bartley, but have used Minwax and am very happy with the results.
Minwax Gel Stain colors.
Bartely Gel Stain Colors
In Googling "how to stain a fiberglass door" I found out about Therma-Tru Fiberglass Door Stain. By what I read about it this is what I'd choose if we were to do this again. It's a kit made for staining fiberglass doors.
Here is a link that might be useful: Minwax Gel Stain colors
---
| | | |
| --- | --- | --- |
| RE:. Paint or Stain the Front Door? | | |
| | | |
| --- | --- | --- |
| RE: Paint or Stain the Front Door? | | |
I didn't care for the Thermatru stain (found a returned kit at HD) - too thin - and definitely prefer Cetol to the Thermatru top coat. Cetol held up much better to sun and rain than the sample (wood) I did with Thermatru. Thermatru's is water-based, Cetol is oil-based and I guess maybe I'm just biased - I don't think there is such a thing as a good exterior water-based clear coat. Faron recommended the Cetol so that's what I used. I only bought the kit (wrong stain color) for the sample FG piece and the brushes, but the brushes were cheap too.

Didn't have luck with Minwax gel (too thick) but as baby bear said, the Zar was "just right!" - a neighbor used it (different color) with great results on his FG door, so I took his recommendation. I know a lot of people use gel stains, but I think the gels might just all be too thick for a novice to use on FG, the Zar went on like paint and was very easy to dry brush. As it says in the link, it's all in the technique.
---
| | | |
| --- | --- | --- |
| RE: Paint or Stain the Front Door? | | |
ajsmama, I'm glad you've tried the Thermatru stain. I was only going by what I read. I thought I'd try it on the outside of our door one of these days since we now have an extra exterior door I could install long enough to work on the other one. Thanks!
---
| | | |
| --- | --- | --- |
| RE: Paint or Stain the Front Door? | | |
Here's Minwax gel Cherrywood on sample - maybe I wiped it off too much, I did let it sit and harden up a bit, didn't wipe it off right away like with wood. The FG just doesn't absorb anything, but the gel is too thick to just leave on w/o wiping off.
Here's the Zar (decided not to do my interior this color though it matches my floor, all the trim is honey pine). The flat end closest to the wood floor was wiped off after letting it sit a bit, the molded part was just dabbed on. This would be like brushing on (dabbed part) and dry brushing (wiped part).
You'd have to check the Cetol site for instructions for using it on FG - the brochure at the paint store doesn't say. I've got them written down somewhere. HTH
---
| | | |
| --- | --- | --- |
| RE: Paint or Stain the Front Door? | | |
Jan - I'm assuming your front door is wood? That is the EXACT style of door I want, but can't seem to find it in fiberglass. Ugghhh!!!
---
| | | |
| --- | --- | --- |
| RE: Paint or Stain the Front Door? | | |
wow - beautiful house!! i think a red painted door would be gorgeous against all the bricks. for easy painting, you can go through Home Depot's Feather River Door's paint program. they have black, brown, red, blue... etc. or a cherry mahogany door will look elegant and match your house well, too... anyway, just thought i share!
---
| | | |
| --- | --- | --- |
| RE: Paint or Stain the Front Door? | | |
i don't know. I'm kind of a 'when in doubt go black' person, which is always a rich, classy look no matter what, and goes with everything. otherwise I would stain the door a much darker rich brown and play with your decorations if you want to go brighter from time to time. Agree with EVERYONE, your house is wonderful!
---
| | | |
| --- | --- | --- |
| RE: Paint or Stain the Front Door? | | |
Thanks again for all the nice comments.
Our door is therma-tru fiberglass so it is good to learn about the different types of stain products.
We have decided to have the builder try and stain the door first (darker than the porch floor) and if we are not happy with it, we will paint it black.

My family was in town this weekend to celebrate my DD 3rd birthday & we got to show the house off to everyone. It was so exciting to get their feedback & share our excitement with them.
Thanks again for the suggestions & comments-- I will definitely post pictures when the door is done.
---
| | | |
| --- | --- | --- |
| RE: Paint or Stain the Front Door? | | |
Happy third birthday to your darling daughter!
Looking forward to seeing photos when your door is completed.
---
| | | |
| --- | --- | --- |
| RE: Paint or Stain the Front Door? | | |
Thanks justgotabme!
We have been in our rental for almost 2 years- I will be so happy when we don't have to host a party for 30 in our little condo with no yard.
As always though, the best part was being together with family so I won't complain too much :)
---
Post a Follow-Up
Please Note: Only registered members are able to post messages to this forum.
If you are a member, please log in.
If you aren't yet a member, join now!
---
Return to the Home Decorating Forum
Information about Posting
You must be logged in to post a message. Once you are logged in, a posting window will appear at the bottom of the messages. If you are not a member, please register for an account.
Please review our Rules of Play before posting.
Posting is a two-step process. Once you have composed your message, you will be taken to the preview page. You will then have a chance to review your post, make changes and upload photos.
After posting your message, you may need to refresh the forum page in order to see it.
Before posting copyrighted material, please read about Copyright and Fair Use.
We have a strict no-advertising policy!
If you would like to practice posting or uploading photos, please visit our Test forum.
If you need assistance, please Contact Us and we will be happy to help.

Learn more about in-text links on this page here