Return to the Home Decorating Forum
|
Post a Follow-Up
---
| | | |
| --- | --- | --- |
| I Want Gold - She Wants Pink...... | | |
Posted by
TheFoxesPad
(
My Page
) on
Sat, Jun 2, 12 at 12:57
Got the corner of DD's room painted white and we really like it. Here it is w/o the curtains rehung etc. along w/ the $18 Wing Back: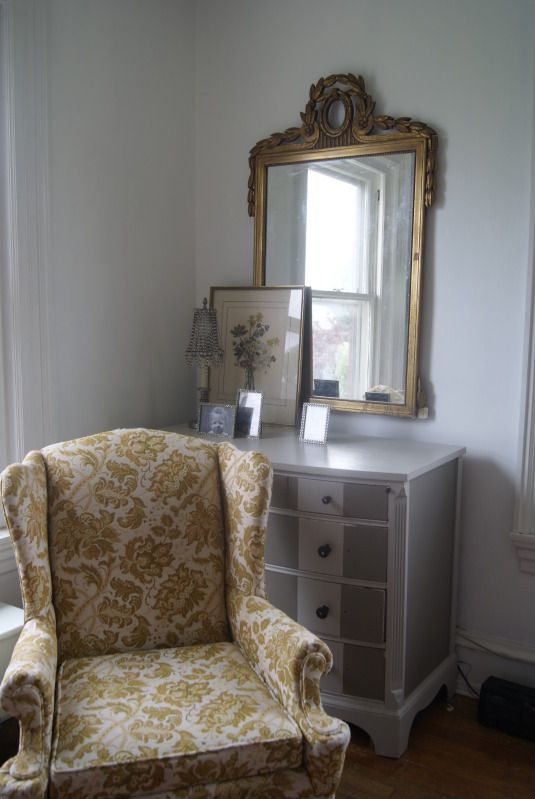 I really, really like the way the mustardy color in the wingback works the gold of the mirror frame and the yellow botanical that I scavenged. Unfortunately there is no pink in the chair pattern or botanical. The original plan was to slipcover this wing in white but when I see it w/ the other stuff I think that it's perfect just the way that it is and the upholstery is in very good condition.
DD is a huge fan of pink and I truly think that I can pull off a good mix of golden/ mustard and pink. I promised DD a pale pink ceiling once her ceiling is repaired.
W/ her primary bedding being white w/ pink sheets I think that I could simply find a solid mustardy colored quilt as well as a petal pink quilt to layer onto her bed. But where to find either one?
Can you help me find at least a solid mustard colored quilt that is machine washable?
Do you have any different thoughts, ideas or suggestions to incorprate both mustard and pink or a differnt color combo w/ pink? Moss green and pink?
Here is a close up of the chair fabric:

I also found this bedding but am hesitant because I don't really want to add an additional accent color to the room - but if you think that it would work, please let me know!

And then of course she has her pink table:

---
Follow-Up Postings:
| | | |
| --- | --- | --- |
| RE: I Want Gold - She Wants Pink...... | | |
Of course, it's fabulous.

Not to drive you crazy, but couldnt you paint the walls pink, and then put a pink throw and a pink pillow w gold tassels or somesuch on the chair?
---
| | | |
| --- | --- | --- |
| RE: I Want Gold - She Wants Pink...... | | |
That's a very mature look. How old is your daughter?
---
| | | |
| --- | --- | --- |
| RE: I Want Gold - She Wants Pink...... | | |
Here is a close up of the botanical, at this time the only piece of art in her room:

Instead of art over her 4 poster twin bed (positioned as daybed) I am hanging IKEA spice racks, painted the same color as her walls, over her bed so that her books are easily accesible for her like this. The wall of books will be practical and serve as the main focal point of her room.:

This is the inspiration pic that I'm loosely following:

I think pink walls on top of the gold and green chair, grey striped bureau, pink table and pink sheets will be too much for the more simple look. She has a glass front armoire that is currently ivory that I am painting the same pink as her pink table. She also has a 4' pink Christmas tree.
One of the things that I love about the way I've painted our house is the use of white walls and colored ceilings. It's unexpected so I thought a pale pink ceiling for her would be perfect.
She wants pink curtains so we are going to look at IKEA for her. I saw that they have pink curtains.
DD is 3. She picked out the rhinestone frames on a shopping walk through the house and she asked for the botanical print when she saw it leaning against a wall. Even though I'd planned on the mirror going into her room -she didn't know that and also asked if the mirror was for her when she saw it. She made those choices so I think we're good. In case you're wondering where the 'little girl' in the room is, besides the fact that SHE picked out the picture, mirror and frames and little light, she has a full range of Playskool toys like her giant kitchen and dollhouse and quite o collection of Tinkerbell stuff from Grandma. And it's all out there as it should be. Yes - I am THAT Mom.

---
| | | |
| --- | --- | --- |
| RE: I Want Gold - She Wants Pink...... | | |
I am not a fan of the chair fabric for a three year old. I would slip cover it in white. Then years down the road you can remove the slip cover.
The choice of bedding seems very mature too. I get not wanting baby fabrics but still....
What you will have is a very mature room, but with all her toys scattered about.
I like your inspiration room but you seem to be heading away from instead of to this look.
---
| | | |
| --- | --- | --- |
| RE: I Want Gold - She Wants Pink...... | | |
Why not use a white coverlet/quilt? Then, you would only have to find a pillow with the gold and pink for an accent. Plus, if the room is filled with other brightly colored toys, the white would add some calm separate from the walls.
---
| | | |
| --- | --- | --- |
| RE: I Want Gold - She Wants Pink...... | | |
Here's a pretty pattern from PB. You could buy one Euro sham and add it to an all white bedding scheme.
Here is a link that might be useful: Rosalie
---
| | | |
| --- | --- | --- |
| RE: I Want Gold - She Wants Pink...... | | |
I think the chair fabric will work if you add pale yellow & more white to the room and not mustard. The more pale yellow the room has, it will bring out the lighter yellow in the mustard. Notice how I'm emphasizing "Pale?" lol

You could even lay a yellow & white lapquilt on the back of the chair to take away from the mustard look.

My only problem..as much as I love the gray dresser, it looks too formal/cold for a child's room.
---
| | | |
| --- | --- | --- |
| RE: I Want Gold - She Wants Pink...... | | |
I like the gold with the pink and don't think I'd add the green. I like the idea of the pink ceiling.

I was looking around for a mustard quilt but didn't find anything so far. I'll look more later today. I like the bedding idea but if you can't find what you're looking for, I'd consider using the white coverlet/quilt like Fun suggested and pick up accents in the gold and pink.
---
| | | |
| --- | --- | --- |
| RE: I Want Gold - She Wants Pink...... | | |
I am such a fan of your style and talent. I see no reason to not use 'adult' patterns, colors, whatever...as long as they are kid friendly, why not? Sounds like your dd is injecting her personal touch in the room too.
I am just playing with your palette....looks like a soft green would be lovely.


Another quilt option. Pair it with pink/yellow/mustard/soft green sheets in patterns and/or solids?

Victorian Heart Hudson quilt
---
| | | |
| --- | --- | --- |
| RE: I Want Gold - She Wants Pink...... | | |
deedee that is susch a pretty palette!

And oakleyok I like the suggestion of 'pale' yellow.

Fun2behere - the Rosalie bedding is really pretty. I have a white quilt on layaway for her and she already has 2 white quilted euro's. I've gone back and looked at the Rosalie bedding at least 3 times while typing this!

I like the dresser in her room for the time being because it is easy for her to open and close. Eventually I would like to move it back to our room. I do have another dresser in the basement but the drawers are sooooooo hard for her to open and close due to so many layers of paint. DH can fix it but he's been so crazy busy at work. Which is a good thing!

Right before nap time I rehung the curtains in her room that I took down to paint. First off it softened the whole room so much and secondly it was immediately apparent to me that the chair should be slipcovered in white as originally planned.
---
| | | |
| --- | --- | --- |
| RE: I Want Gold - She Wants Pink...... | | |
Those little ones are not little for long, so why not make her room timeless?
As her tastes change, you can change the colour of the dresser (I rather like it as it it), update bedding, repaint furniture, etc.

I would take the chair out of the equation, finish the room and then put it back, adding something - a throw? a cushion? - with whatever colours you end up with to tie it all together.

I've done that sometimes when I can't figure out how to make something work, and then suddenly, it's just the accent needed.

Good luck, it's going to be lovely.
---
| | | |
| --- | --- | --- |
| RE: I Want Gold - She Wants Pink...... | | |
Just wanted to say that while I generally do not even like gold, I love what you've done so far. The chair and the mirror look fabulous together. You are making such a beautiful room for your daughter.
---
| | | |
| --- | --- | --- |
| RE: I Want Gold - She Wants Pink...... | | |
A white slipcover will definitely make it look more youthful.
---
| | | |
| --- | --- | --- |
| RE: I Want Gold - She Wants Pink...... | | |
Back again...the quilt Fun posted is really pretty. I really, really like the one Deedee found and can see it with other accents.

Please be sure to keep updating us!

That's a beautiful mirror, btw.
---
| | | |
| --- | --- | --- |
| RE: I Want Gold - She Wants Pink...... | | |
I'm glad you've had some positive feedback about the more sophisticated look/timeless decorating, etc. Reminds of of many years ago when my daughter transitioned from her crib to a (new) beautiful mahogany poster bed. I had a long talk with her beforehand about taking special care of the bed which would be hers to take with her when she grew up. She wanted it and never put a scratch on it, and proudly has it still in one of her guest rooms....She loves formal furniture and decorating....she had plenty of toys growing up, but even as a child found kiddifying or infantiliziing "decorating" demeaning. I think your daughter will love her room!!!!
---
| | | |
| --- | --- | --- |
| RE: I Want Gold - She Wants Pink...... | | |
but even as a child found kiddifying or infantiliziing "decorating" demeaning.
Demeaning?
---
| | | |
| --- | --- | --- |
| RE: I Want Gold - She Wants Pink...... | | |
With the usual assortment of Barbies,, pink castles, tutus and such, along with the attractive, but very un-youthful looking mustard print chair, i'm afraid it's going to have the the look of " little girl visiting granndmother's house"'. With a three year old there will often be clutter, and while all you have planned for her room may be very nice by themselves, it feels a bit of a mish mash to me. Is there carpeting or wood floor floors ? please don't be offended. I have loved the vignettes from your home, but have serious doubts about pulling this off....for a little girl's room. Keep it light and simple and step away from the chair! JMHO.
---
| | | |
| --- | --- | --- |
| RE: I Want Gold - She Wants Pink...... | | |
FoxesPad,

I love the room, as I love everything i have ever seen you do. I think you are right to give your 3yo input but not carte blanche. I have seen a few very lovely pinks lately that made me think of this room. I will try to find the image I am thinking of. I will say that I think the bedspread should be youthful, or at least not in the same vein as the chair. I am thinking Serena and Lily yellow and pink.

I have three kids. So far I have decorated a nursery for each, then a toddler room for each, and then their bedrooms our new house. Two are in elementary school, one is now a middle schooler.

So we have been through this nine times. We have never used a Disney anything, or any of the color wheel horrors of some children's rooms. Their rooms were always tasteful and in keeping with the rest of our home. For a few reasons.

First, I don't see why I should pay good money for a room I find unattractive. Second, they are never too young to learn good taste.

So, were our children denied in anyway? I don't think so. My son's nursery included a mural of our town, with a little piece of molding mounted in front of it just wide enough to run little antique cars on. He also had beautiful old tin ships mounted over his windows, and paper mache hot air balloons floating over the fireplace mantle. Little stuffed animals rode in the balloons. The walls were Linen White, the bedding blue chambray, and the floors were hardwood. He had plenty of toys but plenty of storage and his room was kept neat. The playroom was where dayglow plastic toys (ugh, always bought by someone else) ruled ... and that was where they stayed.

One daughter's nursery had a garden theme, with black and white gingham, apple green walls and lavender touches. We mounted white shutters and white wooden windowboxes inside the windows. The windowboxes had stuffed animals in them.

In our new house our kids were so excited to be involved in designing a room from scratch, including bathrooms and window choices etc. Early on, I had our architect create a to scale rendering of each of their rooms, which I then laminated as place mats. They had so much fun with that, including some math lessons.

In our new house, all three of them have camel colored wool sisal, and Farrow and Ball walls in various shades of off white. They each chose a theme. One daughter has a wall of framed horse art, all from Etsy, plus a collection of old cowboy boots on a shelf above her windows. Another daughter has a seashell theme. But rather than overdoing it, she wanted just a few specimen boxes of really nice shells. Hed bed is a very very pale pink linen with some sea shell pillows that are in the style of botanical prints. My son has an international license plate collection and a series of navigational maps that he got from a pilot.

We had a lot of fun with our kids rooms, and they have too. They were never deprived of Star Wars of HelloKitty. Just like I steer their clothing choices, I steer their decor choices.

I am sure when they are teens at least one of them will want to do something horrifying to their room, and I will give it some consideration and try to compromise.

BTW, I think "little girl visiting grandma" is actually a nice theme!
---
| | | |
| --- | --- | --- |
| RE:re I Want Gold - She Wants Pink...... | | |
Pine Cone Hill is also really nice ... see link for a really great pairing of pink and gold.

It can be pricey, but you can borrow the ideas and then find a way to execute them on etsy or target or just by using one item from them, like the pillow ...
Here is a link that might be useful: pink n gold
---
| | | |
| --- | --- | --- |
| RE:re re I Want Gold - She Wants Pink...... | | |
I looked on Etsy under "handmade" for pillows pink and gold.

A great suzani one came up!

Then i started wondering off and found these great tea towels....theyd make super pillows
Here is a link that might be useful: more pink n gold
---
| | | |
| --- | --- | --- |
| RE: I Want Gold - She Wants Pink...... | | |
Throw in some pink flower arrangements, some pink and gold art, a few pink and gold pillows, maybe a pink and gold small throw rug and you are set.
---
| | | |
| --- | --- | --- |
| RE: I Want Gold - She Wants Pink...... | | |
Super early work morning that I can't seem to get started on so here I am easing into it on GW while my coffee brews!

As much as I do like the pattern on the chair I think Ellendi makes a gret point: years down the road I can take the slip off when the look/ style changes. I know that they get totally mixed reviews but I'm going to order a white duck slipcover from Surefit and try one of them out first before investing in having one custom done right away.

Her floors are wood. I've been looking at Dash and Albert rugs and think I'm going to put one of those in her room. So many choices - so many vibrant colors and they look so different in person so I have to be careful what I see on line before I walk into the store.

The tea towels are really actually pretty perfect to whip into pillows for her. You have my wheels turning on those.

Mtnrdredux - your kids rooms sound really nice! While our boys room is pretty much red, white and blue it has always been a room that transitioned w/ them and has easily and cheaply so. They've also been able to 'change' their room much more frequently this way. They've gone from tin airplanes, helicopters and zepplins to super heroes w/o shelling out $$$$. Usually takes a trip to IKEA and a good birthday/ Christmas wish list for them. Good bones in a home are good bones in design too.

Coffee is done - I have to work.
---
| | | |
| --- | --- | --- |
| RE: I Want Gold - She Wants Pink...... | | |
That's a good idea about the dresser being kid friendly for her to open.

You can't go wrong with a white quilt and slip cover for the chair. This way you can add whatever color to the room she wants as she ages and changes her mind.

About toys. When did toys become declasse? Especially the colorful, hard plastic ones? Doesn't mean they can't have wood blocks too.
---
| | | |
| --- | --- | --- |
| RE: I Want Gold - She Wants Pink...... | | |
foxespad, it's nice to hear that you let your boys decorate their room as they wanted to, including using superheroes. I always felt my kids' rooms were THEIR rooms, especially as they got older, and didn't need to go along with the rest of the house, particularly the teenager rooms. This is just my opinion, others probably feel differently.

Your daughter's room is going to be beautiful and it's great that she's picking out many things for the room.
---
| | | |
| --- | --- | --- |
| RE: I Want Gold - She Wants Pink...... | | |
I think the room will be great. I don't find the dresser to be too old - I think it is a touch of whimsy. I love the mirror. However, I do not favor the fabric on the chair and love the idea of the white slipcover. Love those etsy pillows. I think you can pull it off. I love that your daughter has input into decorating her room.

tina
---
| | | |
| --- | --- | --- |
| RE: I Want Gold - She Wants Pink...... | | |
Fox, I found the image i was thinking of .. with the very pale pink walls. I love the use of gold, faded aqua, and pink in this room. One of my all time faves.

It seems to me the whole idea of the chair was it was $18; a custom slipcover is probably as much as similar new chair you could find at Home Goods or somesuch. I am huge fan of white duck, but I think you can pull it off the way it is. I think that is more interesting in gold floral. If it had a throw and a pillow on it, maybe even and old fashioned antimacassar, it'd look 100% different already ...

Oakleyok - I am a bit off center when it comes to toys, I admit. I think the vast majority of the plastic stuff is phenomenally ugly, and toxic (the smell of offgasing drives me crazy). Couple that with the very poor quality, the fact that it is made in countries with unfair labor practices, and that most kids have way too much of it. That said, when others buy things like that for my kids, i feeluncomfortable about giving them a tirade over it. But it was all sequestered in the playroom. Except for, I recall, a Bratz doll (think Vegas) that was bound and stuffed in the trunk as soon as they got it, and furtively discarded at an opportune time.
---
| | | |
| --- | --- | --- |
| RE: I Want Gold - She Wants Pink...... | | |
I think the chair is cool with its original fabric, especially in the setting you show. My daughter would love that room! She does have the pink walls though, but she has always loved old-fashioned or fancy over any of the characters or themes. She is always asking to go to the antique and secondhand stores and I could see her totally loving that chair in her room, as is. Our house looks like a secondhand store though, so I guess it is what she is used to. lol

But I do love how you have used it.
---
| | | |
| --- | --- | --- |
| RE: I Want Gold - She Wants Pink...... | | |
Also wanted to say, I love the idea of the white walls with the pink ceiling.
---
| | | |
| --- | --- | --- |
| RE: I Want Gold - She Wants Pink...... | | |
I just saw this piece of fabric on eBay with pink and some 'gold-ish', and just picturing the pillow it would make....swoon..although perhaps your 3 year old won't think so!
Here is a link that might be useful: COTTON FABRIC, PHEASANT FLORAL PRINT 44
---
| | | |
| --- | --- | --- |
| RE: I Want Gold - She Wants Pink...... | | |
Holy crap that fabric is beautiful! I just bought it! My3Dogs - you have the best eye for fabric. And here is what I've ultimately come up w/:

Bedding: I had a few pieces of this tucked away for her already. I'm going to order 1 Euro this week to round out a bedding set. Will layer w/ the white quilt currently on layaway and 2 white quilted Euro shams that she already has.:


Slipcover her chair in white duck slip from Surefit (here is a tailored one NOT from Surefit):


Her pink table:


Look at pink curtains from IKEA:


Her chandie (nds. rewired and crystals cleaned and restrung):

I am one that collects old books to read as well as display so I would like to find some old pink books for her bureau and mix them in w/ some beautiful gold ones that I already have:

Would like to see this rug in person. I noted that the colors are more subdued in person.
Her street corner bed project (minus the bedding - my mom bought it from me for her shop) and her art project on the wall (not allowed but what are ya gonna do?):

---
| | | |
| --- | --- | --- |
| RE: I Want Gold - She Wants Pink...... | | |
Well crap, crap and double crap!! I was just yesterday wondering where you'd been and then today I remember you changed your name on here! Ah ahahaha!!! I must be having a senior moment!

The room's going to look lovely! Those books are beautiful. I can't wait to see it all put together.

tina
---
| | | |
| --- | --- | --- |
| RE: I Want Gold - She Wants Pink...... | | |
Well, someone bought that piece I linked above, but here is another pretty gold and pink fabric for pillows in the link, and others I just found, also.

http://www.ebay.com/itm/Dark-Gold-Flowers-Butterflies-on-Medium-Pink-Quilting-Fabric-by-Yard-1719-/390421738729?pt=US_Fabric&hash=item5ae6f2f4e9

trim - http://www.ebay.com/itm/Pink-Gold-Sparkle-Braided-Fabric-Trim-1-4-wide-5YARDS-/310158740013?pt=Sewing_Trims&hash=item4836e6ca2d

http://www.ebay.com/itm/Vintage-Cotton-Fabric-PINK-GLITZY-GOLD-MEDALLIONS-/200645410444?pt=LH_DefaultDomain_0&hash=item2eb765fe8c

http://www.ebay.com/itm/BOOAK-Fabric-AMY-BUTLER-Heart-Pink-BROWN-Damask-GOLD-Lotus-Temple-Garland-FLOWER-/230681021263?pt=US_Fabric&hash=item35b5a90b4f

http://www.ebay.com/itm/PINK-GOLD-YELLOW-WOVEN-DAMASK-FLORAL-FABRIC-/190284383145?pt=US_Fabric&hash=item2c4dd543a9
Here is a link that might be useful: Duralee remnant
---
| | | |
| --- | --- | --- |
| RE: I Want Gold - She Wants Pink...... | | |
LOL My3Dogs - I bought the fabric!

I just picked up a few old pink and faded red hardback books of poems.
---
| | | |
| --- | --- | --- |
| RE: I Want Gold - She Wants Pink...... | | |
the books of poems are just great

i love that rug --- we have it in one of the powder rooms at our lakehouse

i like the hot pink with the mustard
---
| | | |
| --- | --- | --- |
| RE: I Want Gold - She Wants Pink...... | | |
Whew! I'm so glad that you got it. It's just so vintage looking and beautiful.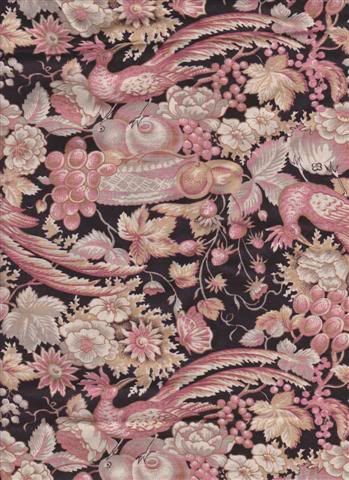 I actually bought some in the only colorway that I knew about, below, and then saw the one above after I saw your post about pink and gold. Depending on the site I looked at, I saw 'mine' look 4 quite different colors, but it all is the same fabric and has a 'cocoa' background. Different lighting and cameras give different looks. I hope yours is actually mostly pink!
---
| | | |
| --- | --- | --- |
| RE: I Want Gold - She Wants Pink...... | | |
My 3 - could you tell me the name/maker of the fabric in your colorway? Is that pink or red in it? Thanks!

tina
---
| | | |
| --- | --- | --- |
| RE: I Want Gold - She Wants Pink...... | | |
mtnrdredux:

Are the colors in the rug as 'VIBRANT' as they appear in the picture? I ask only because when I picked up a swatch of the Blue Heron it wasn't as 'crisp and clear' as it appeared on -line. Not a problem - just curious.

Thanks!
---
| | | |
| --- | --- | --- |
| RE: I Want Gold - She Wants Pink...... | | |
Re:the dresser and the 'sticky' drawers~~remove drawers, sliders, and all screws. Substitute baskets with your colors, and if you can't find them, paint them.

I also *love* the colors you've chosen, but for such a 'wee one' I would keep the color of the comforter lighter, rather than dark. When she gets a bit older, you could change it to a darker tone, which is more grown up. ;o)
---
| | | |
| --- | --- | --- |
| RE: I Want Gold - She Wants Pink...... | | |
Fox,

I think that is a fairly good representation of the color. I am a big D&A fan (in fact, i have Blue Heron in the MBA of our lakehouse). I think the photos on their site where they show the rugs actually on a floor are very helpful at to color.

One thing about the D&A rugs is they fade pretty easily, in my experience. But of course i dont have a "control rug" to see if it truly differs from most any other rugs (I am thinking of a large rug we have in the great room at the lakehouse, but then there is a wall of windows).

I found wax helped with sticky drawers i had on an old piece in my office.
---
| | | |
| --- | --- | --- |
| RE: I Want Gold - She Wants Pink...... | | |
Hi Tina, Sorry I'm just getting back here.

It's by Suzanne Kessler and is called Baker Bird or sometimes Harvest Bird. I bought mine on eBay where it was by FAR the least expensive, but I saw it on 4 sites, and each site had it appear differently, but I have never seen it in another colorway. Below is a link to another 4 yard piece that the seller I got mine from has.

Here is another auction, where it costs more, for less fabric, and you'll see how different the colors appear.
http://www.ebay.com/itm/Concord-Fabrics-Sharon-Kessler-Phesasant-Bird-Fruit-Floral-Brown-Green-2-3-4-Yds-/230706861876?pt=US_Fabric&hash=item35b7335734

Or, you can pay $32.99 a yard here. Same fabric, but note how it looks different from each vendor.

http://www.designerfabricsource.com/servlet/the-Magnolia-Company-Fabric/Categories
Here is a link that might be useful: 4 Yards Sharon Kessler Fruits and Birds
---
Post a Follow-Up
Please Note: Only registered members are able to post messages to this forum.
If you are a member, please log in.
If you aren't yet a member, join now!
---
Return to the Home Decorating Forum
Information about Posting
You must be logged in to post a message. Once you are logged in, a posting window will appear at the bottom of the messages. If you are not a member, please register for an account.
Please review our Rules of Play before posting.
Posting is a two-step process. Once you have composed your message, you will be taken to the preview page. You will then have a chance to review your post, make changes and upload photos.
After posting your message, you may need to refresh the forum page in order to see it.
Before posting copyrighted material, please read about Copyright and Fair Use.
We have a strict no-advertising policy!
If you would like to practice posting or uploading photos, please visit our Test forum.
If you need assistance, please Contact Us and we will be happy to help.

Learn more about in-text links on this page here