Return to the Home Decorating Forum
|
Post a Follow-Up
---
| | | |
| --- | --- | --- |
| Paint AND tear the carpet off the stairs? | | |
Posted by
sheesharee
(
My Page
) on
Sat, Jun 12, 10 at 12:49
Some of you may remember I was considering painting my stairs black or dark brown. I never committed. We in the process of finishing our basement and the floor will be Pergo brazilian cherry. The door at the bottom of the stairs leading into the basement will be open most of the time once finished.
I saw one more photo in blog land yesterday that put me over the edge.

Threegirlygirls blog after carpet tearing.(blog link below)

If I'm going to paint, I'm going to rip up the carpet on the stairs.
Here's what I have going on now.
front door


Ignore DH's boots.


I think I finally have DH ok with the look but he's not convinced the bare, painted stairs is a good idea. He says they're plywood and will look bad painted and will wear poorly.
This is what our attic stairs look like. If I remember right, this is what's under our carpet.

Lots of people in blogland seem to have the same ugly steps underneath. A little wood putty, sander, good primer and paint seem to fix it right up. Not sure how it's going to work long term.
I know my stairs are very standard, and you can only put so much lipstick on a pig, but I think they'd look better this way than they do now. I'm having a hard time painting them for some reason. Kind of like I had a hard time painting the builders oak vanity in my bathroom and the cabinet in my laundry room. I love them painted now but was hesitant.
I had mock ups I believe Awm did for me but they're not on this computer and I can't find them. :(
In a nutshell..
Paint newel, railings, treads, and the oak pieces outlining the edge of the steps – black/dark brown. Risers white.
1. What do you think?
2. How well do you think it will hold up? - Assuming I prep right, use good primer/paint and allow cure time.
3. Can I run the Pergo flooring in the landing area at the bottom of the steps to the stairs?
**Important notes**
-Buying new treads or replacing anything on the stairs isn't an option.
- We're not fixing the odd trim along the stairs right now. Maybe the next time when we have the drywaller come back.
-I don't want to use a runner on the steps. It's not in the budget and I HATE running the sweeper on the carpeted steps. Pulled it down on me once. Ouch.
-We're not ripping the carpet out of the hall/upstairs anytime soon, if ever. I like to vacuum (flat surfaces) and I like how it feels under my feet.
-Stripping or staining isn't an option. There are layers of sprayed sealer and lacquer on the railings/newel.. I'm not touching it. I'll use a binding primer. Can't use gel stain over lacquer. (at least the brand I looked at) It's paint or leave it alone.
Here is a link that might be useful: blog
---
Follow-Up Postings:
| | | |
| --- | --- | --- |
| RE: Paint AND tear the carpet off the stairs? | | |
Personally I wouldn't paint the treads. Even not so pretty wood could look better stained dark then painted in a dark color. I can see painting the risers and then using a dark walnut to stain the treads and the rest of the oak. Gel stain should work well for that.
---
| | | |
| --- | --- | --- |
| RE: Paint AND tear the carpet off the stairs? | | |
Justgotabeme, It says right on the gel stain (minwax) you can't use it over lacquer. (lacquer or shellac. Whichever it is, is what's on my stairs)

Also since the rest of the stairs are oak and the treads aren't. The wood would look really different stained wouldn't it?
---
| | | |
| --- | --- | --- |
| RE2: Paint AND tear the carpet off the stairs? | | |
You know I know it says that, but I know others that have sanded and then used gel stain to go over prefinished wood. Too bad you don't have an extra piece of wood that's finished the same way the oak is so you could play around with it.
And sorry, I was interrupted by my hubby or I would have read that last line about the gel stain. By the time I came back to reply I was thinking I'd read it all. I wish I had something around here I could play with to help, but we're doing all our own woodwork and we're using polyurethane. We did use gel stain on our fiberglass/grain textured door, but the surface itself isn't rough. And I also used it on smooth MDF, but there still could be a difference in adhesion on lacquer too. Bummer.

---
| | | |
| --- | --- | --- |
| rererere | | |
It's alright.
Did they lightly sand/scuff or did they completely sand the finish off? With all the layers I don't think it's going to be a task I can handle. I'm pretty sure I do actually have a piece of the railing I saved in the attic in case this ever came up. I'm nervous about the treads and railing looking really different. Although, Thriftydecorchic stained hers but with poly/stain mix. She also has her railing painted white and no newel. I really only want my risers white.

I feel much more comfortable working with paint.
Here is a link that might be useful: thrifty decor chic stairs
---
| | | |
| --- | --- | --- |
| RE3: Paint AND tear the carpet off the stairs? | | |
Sheesh I don't think they completely sanded off the finish. I wish I could remember for sure who did it, but with PolyShades all you'd have to do was dull the finish with TSP or some other product they make for doing that. I wish I lived close by and I'd come over so we could play around with the extra piece you have and see what we could come up with.
There is the possibility you could use the PolyShades, or Cabot PolyStain which is waterbased, for on the oak and used a water based stain for the stair treads in a color that would match. You could practice on any piece of raw pine.
Here is a link that might be useful: Thrifty Decor Chic Stair How-To
---
| | | |
| --- | --- | --- |
| RE4: Paint AND tear the carpet off the stairs? | | |
It's a big job no matter how you do it.
---
| | | |
| --- | --- | --- |
| RE: Paint AND tear the carpet off the stairs? | | |
I would paint them. I'd probably look at paint or a combo of paints that are similar to the floor color you are putting down there. You can be ambitious and try for a wood-grain look but that wouldn't be necessary for them to look good. I'd just choose a dark color for the treads.

I'll be ripping out carpet and painting floors/stairs at my parents house in about a week...also decorating the spare bedroom. I'll let you know how the stairs go. I think they are plywood, too. Luckily, their house leans toward rustic so I won't have to be too concerned about refinement!
---
| | | |
| --- | --- | --- |
| RE: Paint AND tear the carpet off the stairs? | | |
We have painted stairs that go to the basement. I'll ask DH what if they were plywood when he gets home, but they looked like your attic stairs. The paint has worn pretty well. We've been in this house for about 19 years, and we use the cellar a lot so there is a lot of up and down on the stairs.

My grandmother had treads that were painted black with white risers, and a newel that was painted black too. It was a traditional classy look, IMHO. She did have a carpet runner however.

You have been unhappy with your stairs for quite a while. I would go for it with the paint. When I look at the pics in the blog you linked, it appears that they did use stain on their newel and banister. And a gloss finish too. The result looks wonderful.
---
| | | |
| --- | --- | --- |
| RE: Paint AND tear the carpet off the stairs? | | |
Here's a photo of the flooring. I left DH pick it.


Justgotabeme - A wood staining party! It is good to know I have that railing piece. (found it) It will be a big job. The biggest one I ever tackled. I can't pull the carpet off and decide to stop, iykwim!

Alex - Please give me an update with how it goes with your parents stairs!

Barb - I was totally forgetting they make "floor paint". So I'm feeling a little better about that now. I'm glad to hear your paint is wearing well. I'm also ok with the treads looking more rustic since it's not supurb wood I'm dealing with. Maybe someday we'd put a runner on. I really like how they look. I just hate running the sweeper on the stairs now. Did you Grandma have black painted railing too or was that stained?
When you say about the blog I linked to, I'm assuming you mean Thriftdecorchic and not Threegirlygirls?

Here's a question, if I paint, should the sheen be the same on the treads as the railings/newel? I really wanted to use glossy but not sure if that will look goofy on the treads.

I'm really leaning towards a dark brown as I think black will be more harsh. I still love Igloo's mix of SW Woodsy Brown and black.
Trim color in Igloo's room.

---
| | | |
| --- | --- | --- |
| rerere | | |
wanted to add...

So will it look ok to have the flooring in the landing hitting the stairs?
---
| | | |
| --- | --- | --- |
| RE: Paint AND tear the carpet off the stairs? | | |
The treads on the stairs going to our basement are wood and not plywood, according to DH. Don't know if that makes a difference in how well paint wears.

I think Igloo's mix of the dark brown would look really great.

I was talking about the threegirlygirl's blog. It looks to me like the newel and banister are stained and the treads are painted? Hard to tell, but that is what it looks like. And it looks like they used a gloss on the newels and banister, but maybe not on the treads? Can you email them and ask?

Also in the pics, their stairs and flooring are similar to what yours would look like. You can see it in some of their pics to get a visual.
---
| | | |
| --- | --- | --- |
| RE: Paint AND tear the carpet off the stairs? | | |
Since you're doing the basement floor why not continue the Pergo up the stairs? How much more could that cost?
---
| | | |
| --- | --- | --- |
| RE: Paint AND tear the carpet off the stairs? | | |
Barb - Thanks for finding out for me. I might see if I can email that girl and ask. Yeah, I'm glad to see hers are like mine.

Natal - Never thought of that. Would they lay the boards on top of the plywood? I'm assuming they make stuff to finish off the edges. DH's friend is doing the floor so we'd have to talk to him. Paint or stain the newel then??

I actually think I'd rather paint it though.
---
| | | |
| --- | --- | --- |
| RE: Paint AND tear the carpet off the stairs? | | |
It's your choice, but Pergo vs. painted plywood would be a no-brainer for me. Especially if the cost wasn't prohibitive.
---
| | | |
| --- | --- | --- |
| RE: Paint AND tear the carpet off the stairs? | | |
I'd rather have painted plywood if I couldn't get the railing and newel stain to match the pergo. Not sure what I think of paint and pergo mix.

Off to look at pergo's site.
---
| | | |
| --- | --- | --- |
| RE: Paint AND tear the carpet off the stairs? | | |
GO FOR IT! wish I had stairs so I could do it! Just wanted to share the link to this SH blog post in case you haven't already seen it. Shows the darker painted stairs with different wood stains (floor/banister)
Here is a link that might be useful: Southern Hospitality blog
---
| | | |
| --- | --- | --- |
| RE: Paint AND tear the carpet off the stairs? | | |
Karenn - Oh, I love Rhoda's blog. That's actually how I found Threegirlygirls blog.

I found some stair photos. Knew they were somewhere. They're like my attic stairs.

From looking at all the shots I have, all the treads appear pretty knot free, except of course, the first two at the top.

---
| | | |
| --- | --- | --- |
| RE: Paint AND tear the carpet off the stairs? | | |
I tore the carpet off our stairs when we did hardwood floors. Ours were builder grade that looked like plywood, and the stair treads didn't *roll* in the front, like you would typically see in a stair tread.

I couldn't tell by your pics if yours had the nosing at the front or if the stair treads you have are just straight?

Buying pre-made stair treads with the nosing is about $20 bucks a piece unfinished at home depot. You could replace those and stain them, or, like us since we had 14 stairs to do, we did it with our hardwood flooring so we were sure it would match, then bought unfinished nosing for the fronts and returns.

I think the nosing I ordered was 3/4 inch wide, 1.97 linear foot, so pretty cheap compared to alot of others I priced. I bought if online, from an amish flooring place and I'll be happy to provide you the link if you're interested.

I think just painting them wouldn't match up real well with the flooring you have picked out since it has reddish tones in it, and a solid dark brown/espresso color wouldn't be the best..but then again i'm no designer at all!

Here's my stairs: You can see the color variations in some of the planks, which also matches the floor variations, and why we went with using the hardwood we had purchased, didn't think just a solid stain would match the floors as well: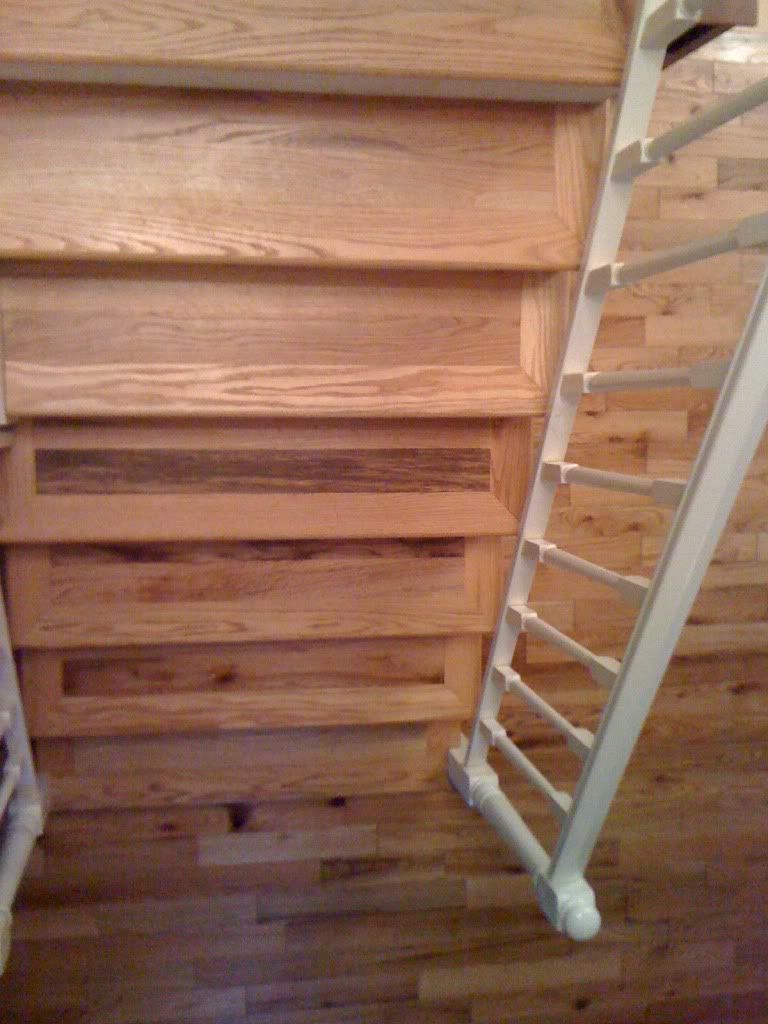 Here's a pic of a similar color of prefinished flooring used on stairs to that of your flooring. You'll notice a lil difference in color where the nosing meets the planks!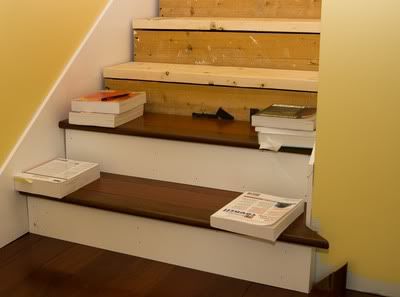 ---
| | | |
| --- | --- | --- |
| RE: Paint AND tear the carpet off the stairs? | | |
Dana - Thanks so much for showing your stairs and that info. Your stairs look really nice. We also have 14 steps. I double checked and the treads do stick out and round over so that's good. With everything else we have going on right now I'm sure DH isn't going to be for replacing the treads. He's not estatic about me wanting to tear the carpet off in general. If you don't mind providing that amish flooring place I'd like to take a peek. I still would be stuck trying to match stain and I'm not confident I can do it.

I see what you're saying about the paint after scrolling up to see Igloo's trim and the floor. I just got back from holding paint samples to the flooring and I actually think SW Woodsy Brown (without the black added in like Igoo's) matches nice.

If I go through with this using paint, I'll use Zinsser BIN shellac primer to seal the knots. I'm pretty sure I can get a respirator from my Dad.
---
| | | |
| --- | --- | --- |
| rererere | | |
Woosy Brown is the bottom color. It seems to match the dark in the floor pretty well.
Please ignore painters tape. I'm touching some things up.

---
| | | |
| --- | --- | --- |
| RE: Paint AND tear the carpet off the stairs? | | |
Oh I would love to have a wood staining party with you Alisha. If only!
---
| | | |
| --- | --- | --- |
| RE: Paint AND tear the carpet off the stairs? | | |
I really like the woodsy brown! I say go for it! As we speak my dear boyfriend is outside spraying an old brass small chandelier gloss black. It was previously in our foyer and has been in the closet collecting dust. I figure if I don't like how the black turns out, I can always go white, etc.

So if you don't like how it turns out, you can always paint with another color, or even do a stair runner, I saw on designed to sell where they did a jute stair runner over painted brown stairs and it turned out beautifully!
---
| | | |
| --- | --- | --- |
| RE: Paint AND tear the carpet off the stairs? | | |
Alex - I was wondering if you ever tackled the stair project at your parents? How did it turn out?

Update for myself, the stairs are pine, btw. I'm going to pay someone to tear the carpet off, padding, tack strips, staples etc. The price I was quoted (well known local guy) was cheap and it will be money worth spent. I feel like I'm cheating but oh well. Messed up my knee back in June and I'm still on the mend so being in a crouched position more than I have to isn't great.

I'm calling to schedule today so I'll post pics of an outcome when it's done.
---
| | | |
| --- | --- | --- |
| RE: Paint AND tear the carpet off the stairs? | | |
I just finished this project myself, pretty much following Thrift Decor's instructions.

It honestly was NOT hard at all, and I am not a DIY expert by any means. I had never even stained furniture before. I did not use a gel stain, just a regular old Minwax stain. I've only applied one coat of poly so far, but they look super (IMO). I need to apply more coats, and go back and do some minor caulking, but I'm very pleased with the outcome.

Just in case anyone else is thinking about it!
Here is a link that might be useful: Photos of Basement Stairs Before and After
---
| | | |
| --- | --- | --- |
| RE: Paint AND tear the carpet off the stairs? | | |
If you're going to paint floor/stairs, BM is the way to go. You can have the paint mixed in any color. Here's some stairs I did a while back.
---
| | | |
| --- | --- | --- |
| RE: Paint AND tear the carpet off the stairs? | | |
Drybean - Looks good! Glad to hear it's not as bad as I'm not thinking. Carpet tear off is scheduled for next Tues. morning.

Paintergirl - That's all paint? Looks really nice! I was going to use SW's floor paint. Which BM paint do you recommend?
---
| | | |
| --- | --- | --- |
| RE: Paint AND tear the carpet off the stairs? | | |
Yes, it's all paint. The stair treads are oak, but I painted them to look like inlay. I did use some oil paints for the faux bois, but it's not necessary.
I have never used SW floor paint, but I'm sure it's good, as well. I'm just pleased with how BM floor paint holds up and it's literally called BM Porch & Floor paint. Used it for stairs and floors, interior and exterior. Easy to use, water clean-up. And, any color.
---
| | | |
| --- | --- | --- |
| RE: Paint AND tear the carpet off the stairs? | | |
Paintergirl - That's neat. I'm assuming you do lots of decorative painting?

I just went back to check again but I didn't think BM had a porch and floor paint that was water based? The only one I'm seeing is the Alkyd Enamel Porch and Floor and it says use mineral spirits for clean up. I would actually prefer to use BM just because it would be closer to me and I have a gift card. :)
Here is a link that might be useful: BM Porch and Floor
---
| | | |
| --- | --- | --- |
| rerere | | |
I think I found it. Did a search on their site for water based floor paint and MSDS info came up for Latex Floor and Patio paint. I'm assuming that's what you used.

I wonder why 'all' their products aren't listed out in one area.
---
| | | |
| --- | --- | --- |
| RE: Paint AND tear the carpet off the stairs? | | |
Yes, that's it, latex. Very user-friendly.
And, I do dec. painting for a living.
---
Post a Follow-Up
Please Note: Only registered members are able to post messages to this forum.
If you are a member, please log in.
If you aren't yet a member, join now!
---
Return to the Home Decorating Forum
Information about Posting
You must be logged in to post a message. Once you are logged in, a posting window will appear at the bottom of the messages. If you are not a member, please register for an account.
Please review our Rules of Play before posting.
Posting is a two-step process. Once you have composed your message, you will be taken to the preview page. You will then have a chance to review your post, make changes and upload photos.
After posting your message, you may need to refresh the forum page in order to see it.
Before posting copyrighted material, please read about Copyright and Fair Use.
We have a strict no-advertising policy!
If you would like to practice posting or uploading photos, please visit our Test forum.
If you need assistance, please Contact Us and we will be happy to help.

Learn more about in-text links on this page here