Return to the Home Decorating & Design Forum
|
Post a Follow-Up
---
| | | |
| --- | --- | --- |
| How would you decorate this mantel? | | |
Posted by
nhbaskets
(
My Page
) on
Sat, Jun 21, 14 at 12:30
We've been in our new build house for a month and I'm finally starting to think about decorating. Our mantel has a 55" tv over it...not exactly my choice, but that wasn't a battle I was going to win.
The cable that runs off the side will be going away at some point, thankfully. Any suggestions on what to put on the mantel? I have 11" to the bottom of the tv and 8" on either side.
This is a shot of the rest of the room. It's open to the kitchen.
---
Follow-Up Postings:
| | | |
| --- | --- | --- |
| RE: How would you decorate this mantel? | | |
My first thought, with the TV there and not a huge (tall) space to fill, was a row of low votive candles/holders, maybe all the same?
---
| | | |
| --- | --- | --- |
| RE: How would you decorate this mantel? | | |
Low plant on one side and a pair of low candle sticks on the other side. Nothing in the center.
---
| | | |
| --- | --- | --- |
| RE: How would you decorate this mantel? | | |
I really like your room! You could put an elongated planter up there, maybe copper or a basket, with pothos or ivy in it. Then let the leaves fall down and curl around.

I have done this- I couldn't find anything to put the plants in inside the planter. So I used several small pots lined up. It was a pain to take care of, but it looked nice. (I didn't want to water it while it was sitting on the mantel). You could also use silk plants if you like them. You can stuff dry moss around them to soften the look even more.
---
| | | |
| --- | --- | --- |
| RE: How would you decorate this mantel? | | |
Thanks for the suggestions! I like the idea of a plant that drapes down, but I certainly do not have a green thumb and would be buying a new one every few weeks. Silk plants aren't my thing either.

What do you think about this? These are small prints I have of the four seasons. They are just leaning now, but I could hang them centered in the space.
---
| | | |
| --- | --- | --- |
| RE: How would you decorate this mantel? | | |
I think something in a shape that's not as rectangular s the TV might work better.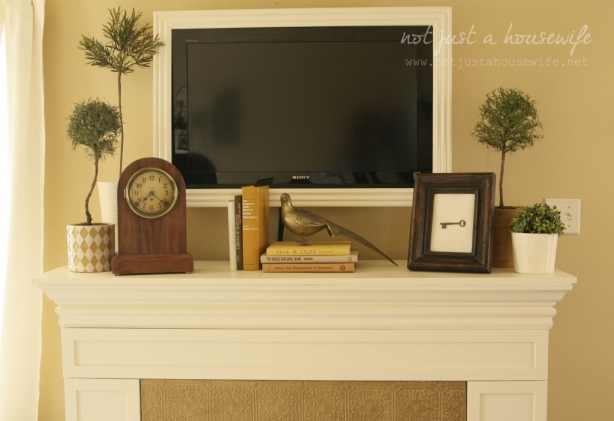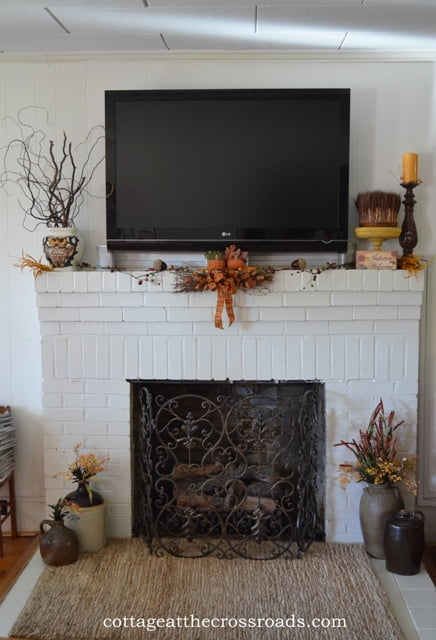 ---
| | | |
| --- | --- | --- |
| RE: How would you decorate this mantel? | | |
Your fireplace and mantel are lovely. However, I think if you're going to put a TV over the mantel, it already owns that space. All those little vignettes are gonna get overshadowed and look silly every time something's on the tube, and we know how dreadful some of those images are. Doesn't matter what you're watching, the TV rules that space.

I don't have a problem with TV in general, but I think decorating around it isn't disguising the fact that it's a TV. I'd move it somewhere else, somewhere lower.
---
| | | |
| --- | --- | --- |
| RE: How would you decorate this mantel? | | |
I have no suggestions for what to place on the mantel, but I'd definitely move the tv down so that there's no room to put anything in front of it, only on either side of it.
---
| | | |
| --- | --- | --- |
| RE: How would you decorate this mantel? | | |
Nosoccermom posted some beautiful mantel vignettes, I would love them on their own or surrounding a pretty picture - just not a TV. In her first picture, I like JUST the greenery at the ends; in the second, I like JUST the little short candles in the shallow tray; in the fifth one I LOVE the Christmas garland; and I also like the silver candles on the ends in the fifth picture (candles only).

I would just keep it VERY simple.
---
| | | |
| --- | --- | --- |
| RE: How would you decorate this mantel? | | |
Thank you again for the comments and special thanks to Nosoccermom for the photos. Unfortunately, we are stuck with the tv over the mantel for now. Again, not what I would have chosen, however, it's how the house is wired and DH likes it. As for moving it down, again, we're stuck with it at its current height due to where the electrician placed the boxes. I would have preferred it lower. I agree that no matter what is put on the mantel, it will not disguise the fact that there is a big black screen hanging on the wall.
---
| | | |
| --- | --- | --- |
| RE: How would you decorate this mantel? | | |
I like the little seasonal pictures sitting on the mantle under the tv. I would space them evenly from the end edge of the mantle, and maybe add a one more - something that images your own favorite season. Also on each side of the tv I'd hang a long pic in black frame (I'd pick trees but whatever you - the example is lifted from a search). Nothing should be put on the mantle that will be taller than the mantle.
---
Post a Follow-Up
Please Note: Only registered members are able to post messages to this forum.
If you are a member, please log in.
If you aren't yet a member, join now!
---
Return to the Home Decorating & Design Forum
Information about Posting
You must be logged in to post a message. Once you are logged in, a posting window will appear at the bottom of the messages. If you are not a member, please register for an account.
Please review our Rules of Play before posting.
Posting is a two-step process. Once you have composed your message, you will be taken to the preview page. You will then have a chance to review your post, make changes and upload photos.
After posting your message, you may need to refresh the forum page in order to see it.
Before posting copyrighted material, please read about Copyright and Fair Use.
We have a strict no-advertising policy!
If you would like to practice posting or uploading photos, please visit our Test forum.
If you need assistance, please Contact Us and we will be happy to help.

Learn more about in-text links on this page here