Return to the Home Decorating & Design Forum
|
Post a Follow-Up
---
| | | |
| --- | --- | --- |
| HELP - light fixture advice needed | | |
Posted by
mdln
(
My Page
) on
Fri, Jun 13, 14 at 11:57
Hello,

Planning on this light for my foyer. Looking for another light, ceiling mount with max height of 20'' or less, that will coordinate with this - to go in a hallway.

Due to open concept both will be visible from living & dining room.

Any suggestions??? THANK YOU!

cross-post with lighting
---
Follow-Up Postings:
| | | |
| --- | --- | --- |
| RE: HELP - light fixture advice needed | | |
No house pictures? Hard to know anything about what might work without some idea of your home.
---
| | | |
| --- | --- | --- |
| RE: HELP - light fixture advice needed | | |
I have nothing. This is a fire restoration and I have to replace my entire house (lost everything, including my 3 cats). Unfortunately, electrical work needs to be completed before I can move in and make other purchases.

Thank you for asking.
---
| | | |
| --- | --- | --- |
| RE: HELP - light fixture advice needed | | |
| | | |
| --- | --- | --- |
| RE: HELP - light fixture advice needed | | |
Oh, I am so very sorry for your loss, especially the precious cats. I know that houses can be rebuilt,but animals and people, pictures can never be replaced. So sorry.

Is it a fire restoration or a rebuild? If it is a total rebuild, do you have your architect or builder plans? Do you know what the height of your ceiling will be? How much natural light will you have otherwise? Your hall will probably be pretty dark (or not). I do not have very good vision so it is hard to read the specs on your current light. How wide, how long and how tall is your hall so that will give someone an idea of what kind of lighting you will need.

I am truly sorry for your loss. May everything turn out very well for you and hope that you will find blessings even in this disaster.
---
| | | |
| --- | --- | --- |
| RE: HELP - light fixture advice needed | | |
Thank you patricia43. Everything else does not matter in comparison to the loss of my kitties. I cannot even type this without crying.

The house was gutted to the studs & foundation. Ceiling height is not changing. The fixture I had in that hallway was 15-20'' in height and I used a 75w bulb, so am looking for something that will meet those specs - and not clash with this fixture that I picked out for the foyer. The ET2 Inca (pictured) is 16'' wide and 8.5'' in height.

@ beverly27 - where did you get your fixture?

THANK YOU!
---
| | | |
| --- | --- | --- |
| RE: HELP - light fixture advice needed | | |
I'm so sorry to hear about your home and your kitties :( The same thing happened to a friend of mine and it was so awful.

I'm assuming you know there is a coordinating ceiling mount fixture in the same line as your foyer light? Maybe you don't want matching? But, just in case, I thought I'd post it....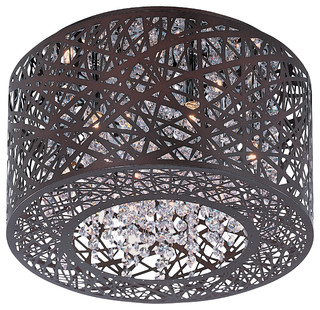 Maybe something plainer?
$149 from shades of light
Here is a link that might be useful: E21300 - Inca Flush Mount Ceiling Fixture
---
| | | |
| --- | --- | --- |
| RE: HELP - light fixture advice needed | | |
Thank you olychick for your very kind words. "So awful" is a good description.

I considered 2 of the same design, but concerned about it looking too matchy-matchy. Also, because I'm making so many selection choices in such a short period of time, fear I may not like it - once it is up. If I don't, I only need to buy/replace 1 fixture (vs 2).

I like the one you found! Thank you.
---
Post a Follow-Up
Please Note: Only registered members are able to post messages to this forum.
If you are a member, please log in.
If you aren't yet a member, join now!
---
Return to the Home Decorating & Design Forum
Information about Posting
You must be logged in to post a message. Once you are logged in, a posting window will appear at the bottom of the messages. If you are not a member, please register for an account.
Please review our Rules of Play before posting.
Posting is a two-step process. Once you have composed your message, you will be taken to the preview page. You will then have a chance to review your post, make changes and upload photos.
After posting your message, you may need to refresh the forum page in order to see it.
Before posting copyrighted material, please read about Copyright and Fair Use.
We have a strict no-advertising policy!
If you would like to practice posting or uploading photos, please visit our Test forum.
If you need assistance, please Contact Us and we will be happy to help.

Learn more about in-text links on this page here