Return to the Home Decorating & Design Forum
|
Post a Follow-Up
---
| | | |
| --- | --- | --- |
| Master bathroom help-crosspost from bathroom forum | | |
Posted by
NATEBEAR
(
My Page
) on
Mon, Jun 2, 14 at 11:56
I just posted this on the bathroom forum:

Hello, everyone. I'm new to the bathrooms forum. I've been preparing myself to undertake a kitchen renovation for a few years now, however, life has thrown a curve ball. Today, I am faced with a leak requiring a complete master bath renovation in a home I was set to move into in a week.

The problem is I am uninspired and don't know much about bathroom remodeling.

Can anyone help me reconfigure the space? I have basic measurements of the walls. I drew the existing layout on graph paper guessing the size of the current components. I can move the doorway anywhere along its current wall, maybe even substituting it for a pocket door.

Does anyone want to help me with the pretty stuff (tile selection, vanity, etc.)? I will also cross post this on the home decorating forum.

Here are my thoughts:

1. Budget is $10,000 or less. Less is more, IYKWIM. :)

2. Function is priority. I would like to remove the tub & enlarge the shower. I love my current shower space at 41"W x 54"L.

3. I would like a portion of the vanity at table height for seated hairstyling and makeup application. Also, I would prefer that spot did not have a door swinging into it. That is my current situation and it's annoying as most of my bathroom time is spent at the vanity.

4. My style is british colonial/the island look.

For those gracious enough to read this far, here is the graph drawing:
Here are two pictures of the space:
Would anyone like to help me pick out bathroom finishes for this project and/or kick me in the right direction? So far, I have been uninspired by Houzz.
---
Follow-Up Postings:
| | | |
| --- | --- | --- |
| RE: Master bathroom help-crosspost from bathroom forum | | |
Assuming you're already getting direction in the bathroom forum about layout, I've got some ideas about finishes.

Yes, unfortunately the Houzz bathrooms that coin themselves "British Colonial" are often nothing more than a mahogany vanity and a palm frond.

I might suggest this general theme of white/light walls, mahogany/teak furniture, and a island-inspired mosaic floor to tie it together. I'm enchanted with this floor below.
---
| | | |
| --- | --- | --- |
| RE: Master bathroom help-crosspost from bathroom forum | | |
I would incorporate part of the extra closet into your bathroom. Your shower could be in there, or your stool could be in there. Have a shallow linen closet in the hall and a door from your bathroom into the shower or stool area. That will give you room for a nice vanity with sit-down...You don't indicate if there are windows in your bath, so am assuming there are not any.
---
| | | |
| --- | --- | --- |
| RE: Master bathroom help-crosspost from bathroom forum | | |
Thank you, peony4! I like that floor.

Grandmaof3, I hadn't considered that idea. It sounds promising. Thank you! There are no windows. There is a skylight over the current tub.
---
| | | |
| --- | --- | --- |
| RE: Master bathroom help-crosspost from bathroom forum | | |
If you don't need the 'extra closet', that would be a great space to add to but your budget may exceed $10k. Since you had a leak, is there an insurance payment involved? Not to get personal information involved, but does your homeowner's insurance cover some of the damages? Just curious if this would help you recover some of the cost of the renovation.

I would also re-think angling of the toilet and consider putting up a pony wall between the sink/vanity and the toilet. It appears you have room and it would give some privacy to that area.

We just reno'd our MBa last fall and I would recommend you talk with a couple of custom cabinet makers. It was actually cheaper than I thought and I was able to pick the stain, drawer/door configuration, etc. Ordered my pulls and knobs separately because I found what I wanted elsewhere and the guy was really accommodating. I re-purposed existing mirrors by having them removed, cut-down and re-framed at a custom frame shop. The glass place came and removed them cut them to the new size, took them to frame shop for me (small fee) and the frame shop delivered and re-hung them (we had 2 large mirrors).
---
| | | |
| --- | --- | --- |
| RE: Master bathroom help-crosspost from bathroom forum | | |
I've included two options for layout. In both, I tried to keep the plumbing as close as possible to the original locations in order to cut down on cost.

The second option is the "luxury" option and I suspect the cost of converting closet to shower would come close to eating your budget. That said -- if you like a nice big shower this would be a way to get it!

In both layouts I tried to avoid putting the sitting area directly opposite the toilet because it would be nicer to avoid staring at the toilet when you're doing your hair. Also putting the vanity right underneath the skylight would introduce harsh overhead light that I thought might interfere with the toilette.

There is a way to get a separate toilet closet into either of these designs but it would eat up a lot of space, and you might have to go down to a 30"W shower in the first design to make room for the closet.

To keep costs lower, I tried to use standard sized cabinetry as well. And I like the idea of finding a pretty unfitted dresser for storage right underneath the skylight in plan 2.
---
| | | |
| --- | --- | --- |
| RE: Master bathroom help-crosspost from bathroom forum | | |
This post was edited by robotropolis on Tue, Jun 3, 14 at 12:18
---
| | | |
| --- | --- | --- |
| RE: Master bathroom help-crosspost from bathroom forum | | |
Moving plumbing is almost certainly going to put you over budget...unless you know a good plumber who owes you a big favor!

You could turn the closet into a linen/bath supply storage and sit-down vanity area.
---
| | | |
| --- | --- | --- |
| RE: Master bathroom help-crosspost from bathroom forum | | |
Hi all! I wanted to pop in to say thank you to outsideplaying, robotropolis, and alex9179 for taking the time to read my post. Lately, my attention has been with family business. I'm sorry for letting so much time pass without thanking the posters who responded last.

outsideplaying, thank you for taking a look. :) Unfortunately the home is uninsured. I will be taking your advice and straightening the toilet. As for the pony wall, I considered it but changed my mind in favor of showing more continuous flooring. I looked into a local custom cabinetry shop & was unimpressed with their suggestions. Then, I started researching the type of vanity peony4 posted above and that's when I first realized I should show as much of the flooring as possible. My research led me to Palmer Industries, a sink leg manufacturer. I will be ordering these sink legs:
robotropolis, a huge thank you for those layouts and inspiration pics! :) They've been such a big help. I've decided on the first option, but have exchanged the seating area in favor of a closet. With the large vanity being on legs, I figure I'm getting the seating area there and I'll need the storage the closet provides.
alex9179, thank you for the suggestions and I do hope you're wrong about the plumbing putting me over budget. *fingers crossed* However, I do have more money to dedicate to this project if needed. So far, I'm at $1,650 with the vanity and flooring.
I am most excited about finding my flooring. It is a 24x24 mosaic in rectified porcelain: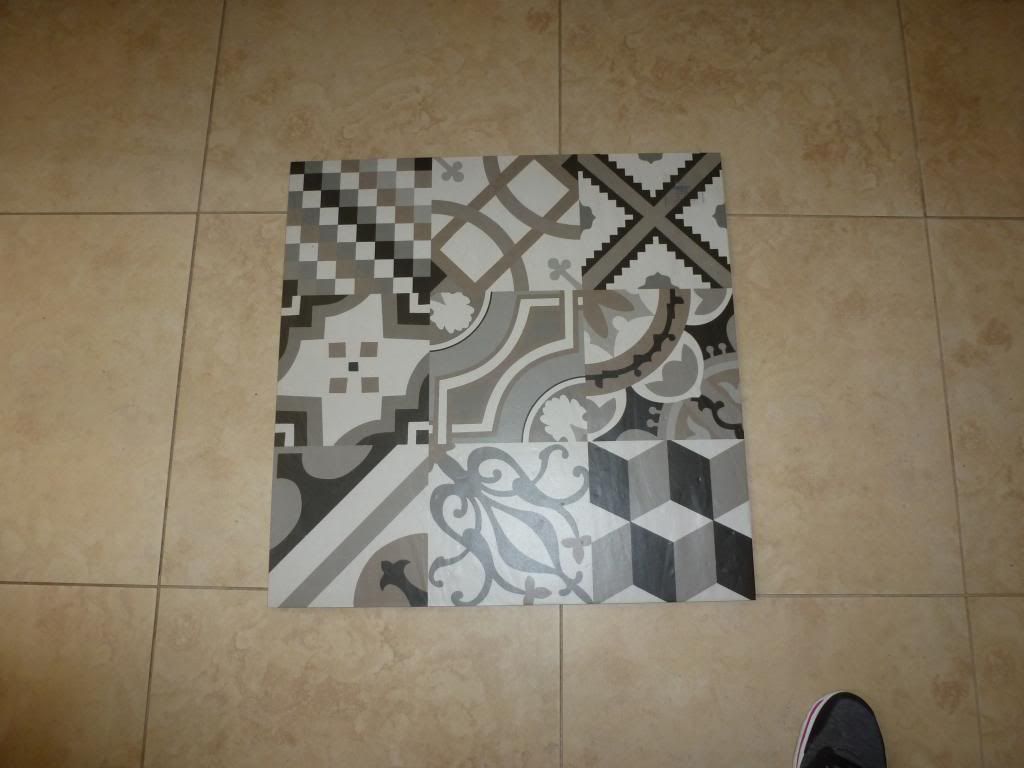 More thoughts, suggestions, or critiques are welcome from all. :)
---
| | | |
| --- | --- | --- |
| RE: Master bathroom help-crosspost from bathroom forum | | |
I almost forgot...I need some suggestions for the shower. I found a cast iron shower pan by Kohler in the 36x60 size I need. It comes in white or black. I was thinking about a white subway tile in a running bond pattern for the walls. I'm afraid if I go with the white shower pan there will be too much white on white. I noticed that in these inspiration pics the next element closest to the flooring is black:

My ideas for breaking up the white on white in the shower:
1. black shower pan
2. a black framed glass enclosure with possibly a black shower faucet
3. white shower pan with white wall tiles but adding a black border at the top and bottom or framing the white tiles in black
Please help! I'm out of ideas. :)
Editing to add a couple additional pictures of the space: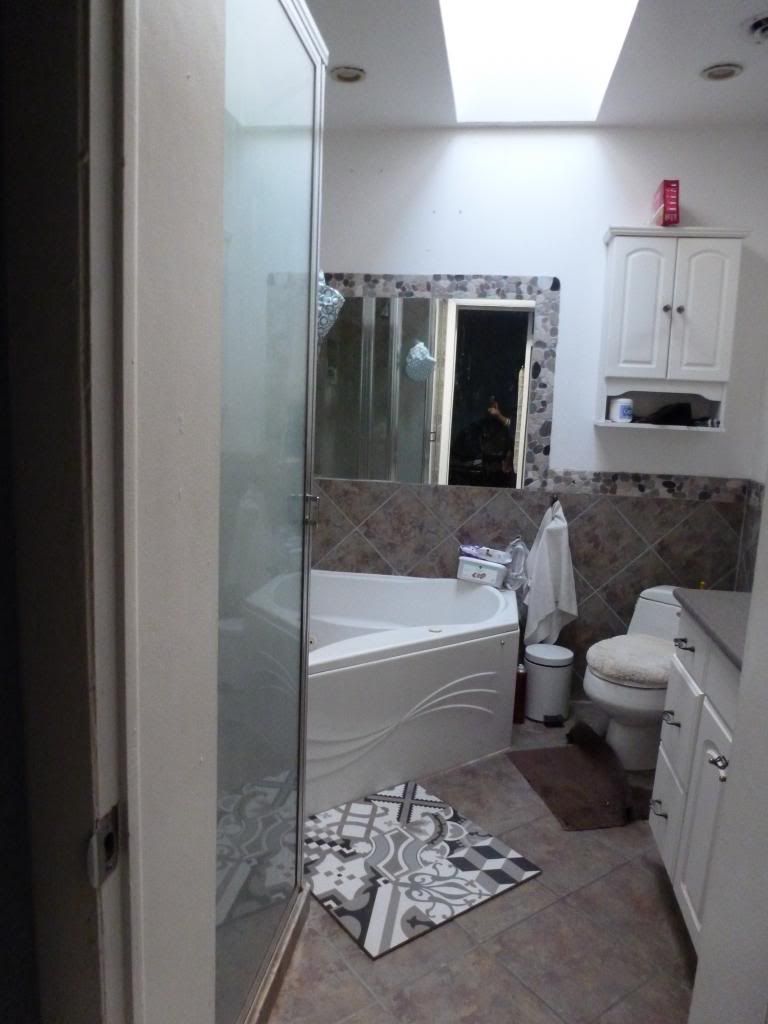 This was taken as I was standing on the current tub. This area will become the new shower: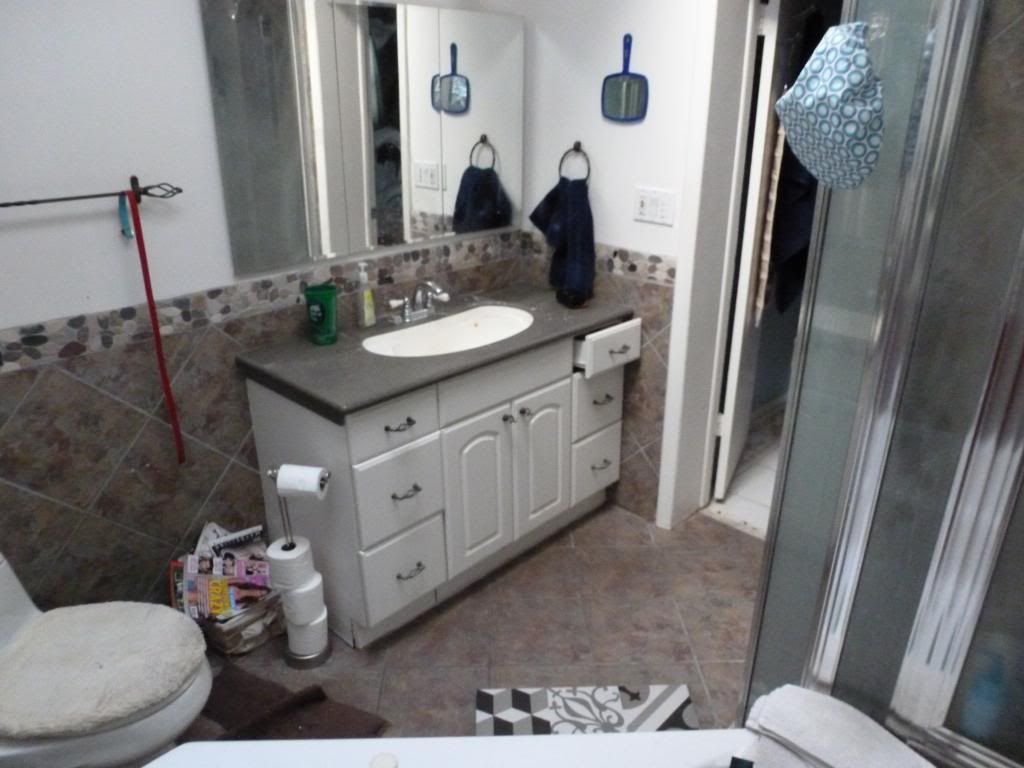 This post was edited by NATEBEAR on Tue, Jun 17, 14 at 8:04
---
| | | |
| --- | --- | --- |
| RE: Master bathroom help-crosspost from bathroom forum | | |
I think it's going to be beautiful! Don't use a black shower base...you'll regret it, I'm sure. Impossible to keep looking clean and nice...soap scum. hair, etc. I would say the same for black tile. What about having some of the floor tile cut down for trim in the shower? Or pick up the gray showing in that tile. It would still look great and you'd be so much happier with the cleaning aspect.

I wouldn't use black fixtures either, but the chrome of the sink legs. It's classic and would look lovely. If you want black - do as you're planning with mirror frames and then add dramatic art on the walls.

Or you could do something dramatic with paint.

As far as eliminating your sitting area - will you be able to see yourself in the mirror if seated at that vanity?
---
| | | |
| --- | --- | --- |
| RE: Master bathroom help-crosspost from bathroom forum | | |
olychick, thank you for taking a look. :) I'm relieved to hear you think a white shower pan is best. I am heading out now to find porcelain marble look tiles for the shower walls to pick up the gray as you suggested. I want a shiny finish to the walls. Tell me if you think that's a misstep. I am avoiding marble as I have a marble topped vanity now that is pock marked with etchings.

As far as seeing myself in the vanity, yes, I think I will be able to do so. I was planning on a black framed mirror spanning the vanity. My current vanity is 32 1/4" high (as will be the new vanity) and when seated on my vanity stool my reflection is seen up to my chest. The only issue currently is that my knees are pressed against drawers.

I failed to mention that I was thinking of using absolute black granite for the vanity top for two reasons: one being cost and the other being to avoid etching. Will doing so deviate too much from my inspiration?

Lastly, I had the idea of applying pieces of beveled mirror framed by black molding floor to ceiling along the back wall and continuing behind the toilet (similar to this only floor to ceiling with the exception of base molding & crown):

Thoughts? Suggestions? Thank you for reading this far. :)
---
| | | |
| --- | --- | --- |
| RE: Master bathroom help-crosspost from bathroom forum | | |
Since you ordered the double legs for the vanity do y;ou have enough room to pull them apart far enough for your legs to fit under them in the middle. The granite top of course will bridge the two giving you sit down vanity space between the sinks. My black granite feels a little ruff in the bathroom and not in the kitchen so I think either its starting to pit or there is a hairspray build up. I am soaking right now in windex so I will let you know in bit its pitting or buildup.
---
| | | |
| --- | --- | --- |
| RE: Master bathroom help-crosspost from bathroom forum | | |
madeyna, thank you for taking a look. I was unclear when posting a picture of the vanity above. My vanity will be one 48" long unit with just one sink, not two small units as pictured there. The style of the legs will be the same as pictured. Thanks for offering to get back to me about your black granite's performance in the bathroom.
---
| | | |
| --- | --- | --- |
| RE: Master bathroom help-crosspost from bathroom forum | | |
If you look at your inspiration pics they are both very light and bright except for the floor and the tubs painted black. I can't quite picture the mirrors with the black molding as shown, but it's not MY bathroom. I like the lighter molding, tho. Not sure what you mean by behind the toilet...not to the floor, right? I doubt anyone wants to look at THAT!

To get some of the British Colonial look you want, maybe instead of a built in closet you could look for a large armoire in a dark wood finish for storage...there are so many reasonably priced ones on craigslist these days.

Not sure about the black counter, but it seems it could look good with the floor. I love that floor. So nice to see someone doing something besides stone or stone look.
---
| | | |
| --- | --- | --- |
| RE: Master bathroom help-crosspost from bathroom forum | | |
This thread is very interesting and I like the style you are going for. I don't have much to add on layout or style except that I absolutely hate the polished absolute black counter we put in the main bathroom. It is impossible to keep clean looking and is always water spotted again as soon as as the sink is used. It wasn't that expensive so we'll replace it one day. I would recommend that you go with something with more variation and a less shiny finish.
---
| | | |
| --- | --- | --- |
| RE: Master bathroom help-crosspost from bathroom forum | | |
I like the idea of painting the room one of the grays in the tile and then doing white shower base, sink and counter top. Instead of black accents, you could use the dark gray color in the tile. I don;t think I would like that much mirror in a small bathroom, definitely not to the floor.
---
| | | |
| --- | --- | --- |
| RE: Master bathroom help-crosspost from bathroom forum | | |
olychick, thanks for keeping me in check with my inspiration. I just finished searching through 1,274 listings for armoires in my area! I found 3 that were close but not quite right.

I'm surprised to hear from madeyna and tracie.erin that black granite is not as indestructible as I thought.

tracie.erin, thank you for taking a look and for the compliment. :)

karenseb, thank you for taking a look. :) I'll be leaving the painting for last as there are so many other elements to decide on first. Do you have any suggestions for a material to use for the white countertop?

The consensus seems to be that mirroring the wall is a bad idea! I hope I can find an awesome piece of art for the wall instead.

This afternoon, I stopped by Home Depot searching for a porcelain marble look tile I read about on the bathroom forum. No luck there.

Well, demolition began today. I am both excited and nerve wracked. There's much more pressure to get these decisions made now.
---
| | | |
| --- | --- | --- |
| RE: Master bathroom help-crosspost from bathroom forum | | |
I soaked my granite with windex and it scrubbed clean and smooth to the touch. Thankfully what I though could be pitting was just hairspray build up. Mine doesn,t show every smug because its got tiny flexs of copper in it. It was called black galaxy when I bought it but I have seen it with other names. If your just glancing at it you don,t even notice the copper flexcs are there until you look for them. I used it in the kitchen as well and have to say one of the great things about granite is you can set hot things on it. We regulary set hot cast iron pans on it and the kids have their hair strainers heating up and cooling down on it every day. If you could find a white or gray or even black granite with just a little bit of color in it I think you would find it stays clean looking.
---
| | | |
| --- | --- | --- |
| RE: Master bathroom help-crosspost from bathroom forum | | |
madeyna, I'm glad to hear it was just hairspray buildup. You must have perfectly coiffed hair. ;)
---
Post a Follow-Up
Please Note: Only registered members are able to post messages to this forum.
If you are a member, please log in.
If you aren't yet a member, join now!
---
Return to the Home Decorating & Design Forum
Information about Posting
You must be logged in to post a message. Once you are logged in, a posting window will appear at the bottom of the messages. If you are not a member, please register for an account.
Please review our Rules of Play before posting.
Posting is a two-step process. Once you have composed your message, you will be taken to the preview page. You will then have a chance to review your post, make changes and upload photos.
After posting your message, you may need to refresh the forum page in order to see it.
Before posting copyrighted material, please read about Copyright and Fair Use.
We have a strict no-advertising policy!
If you would like to practice posting or uploading photos, please visit our Test forum.
If you need assistance, please Contact Us and we will be happy to help.

Learn more about in-text links on this page here