Return to the Home Decorating & Design Forum
|
Post a Follow-Up
---
| | | |
| --- | --- | --- |
| Fireplace and mantle help needed | | |
Posted by
ShellKing
(
My Page
) on
Sat, Jun 9, 12 at 11:53
Here is our current fireplace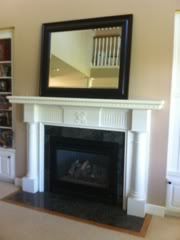 We are getting new carpet, so now is the time to redo the greenish/black tile and the mantle. The fireplace itself has to remain in place. I'd like to take this opportunity to update the look -- but still have it fit in with our house, which has all white trim. I thought I could introduce some stone, but keep a white mantle. I cannot raise the fireplace; it must stay on the floor.
Does anyone have any ideas or advice?
Here are a couple ideas I like:

---
Follow-Up Postings:
| | | |
| --- | --- | --- |
| RE: Fireplace and mantle help needed | | |
The two looks you posted are very family room casual - is that where you are going? The mantel you have is pretty formal in design, so I am wondering if your decor and the rest of the woodwork in the space are equally formal?

I don't see either one of those working in a more formal space. A wonderful textural slate could be terrific, though.
---
| | | |
| --- | --- | --- |
| RE: Fireplace and mantle help needed | | |
I agree with les. Slate would look great for your mantle.
---
| | | |
| --- | --- | --- |
| RE: Fireplace and mantle help needed | | |
I think that's the problem -- the rest of the room is not formal. I'll post some pictures. Thanks!
---
Post a Follow-Up
Please Note: Only registered members are able to post messages to this forum.
If you are a member, please log in.
If you aren't yet a member, join now!
---
Return to the Home Decorating & Design Forum
---
Instructions