Return to the Home Decorating & Design Forum
|
Post a Follow-Up
---
| | | |
| --- | --- | --- |
| Fireplace and mantle help needed | | |
Posted by
ShellKing
(
My Page
) on
Sat, Jun 9, 12 at 11:53
Here is our current fireplace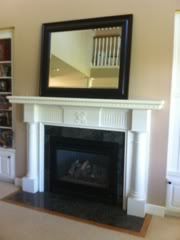 We are getting new carpet, so now is the time to redo the greenish/black tile and the mantle. The fireplace itself has to remain in place. I'd like to take this opportunity to update the look -- but still have it fit in with our house, which has all white trim. I thought I could introduce some stone, but keep a white mantle. I cannot raise the fireplace; it must stay on the floor.
Does anyone have any ideas or advice?
Here are a couple ideas I like:

---
Follow-Up Postings:
| | | |
| --- | --- | --- |
| RE: Fireplace and mantle help needed | | |
The two looks you posted are very family room casual - is that where you are going? The mantel you have is pretty formal in design, so I am wondering if your decor and the rest of the woodwork in the space are equally formal?

I don't see either one of those working in a more formal space. A wonderful textural slate could be terrific, though.
---
| | | |
| --- | --- | --- |
| RE: Fireplace and mantle help needed | | |
I agree with les. Slate would look great for your mantle.
---
| | | |
| --- | --- | --- |
| RE: Fireplace and mantle help needed | | |
I think that's the problem -- the rest of the room is not formal. I'll post some pictures. Thanks!
---
Post a Follow-Up
Please Note: Only registered members are able to post messages to this forum.
If you are a member, please log in.
If you aren't yet a member, join now!
---
Return to the Home Decorating & Design Forum
Information about Posting
You must be logged in to post a message. Once you are logged in, a posting window will appear at the bottom of the messages. If you are not a member, please register for an account.
Please review our Rules of Play before posting.
Posting is a two-step process. Once you have composed your message, you will be taken to the preview page. You will then have a chance to review your post, make changes and upload photos.
After posting your message, you may need to refresh the forum page in order to see it.
Before posting copyrighted material, please read about Copyright and Fair Use.
We have a strict no-advertising policy!
If you would like to practice posting or uploading photos, please visit our Test forum.
If you need assistance, please Contact Us and we will be happy to help.

Learn more about in-text links on this page here