Return to the Home Decorating & Design Forum
|
Post a Follow-Up
---
| | | |
| --- | --- | --- |
| June's decorated Porches and Patios | | |
Posted by
oakleyok
(
My Page
) on
Mon, Jun 24, 13 at 11:34
Ms. Trail has been lax on the job! lol.

Show us your porches and/or patios you have decorated for summer. If anyone does container gardens for flowers I'd love to see them. I'm going to do that next summer, but it will take all winter to figure it out.

My flower's are just now starting to grow because of the cold spring we had. This is one side of the front porch. Chalk art courtesy of my grand's.
I'll throw this picture in for good measure. My grandson doing what little 4 year old boys do.
---
Follow-Up Postings:
| | | |
| --- | --- | --- |
| RE: June's decorated Porches and Patios | | |
Your porch is lovely, and what a beautiful photo of your grandson!

I am waiting on painters to finish an almost year long project. Well, it's been a year since we started. Then we had a winter break while waiting for pergola cedar to season. Once the painting is complete (hopefully by the end of the week) I will post my porch/patio photos here. Was planning on doing so in a separate post.
---
| | | |
| --- | --- | --- |
| RE: June's decorated Porches and Patios | | |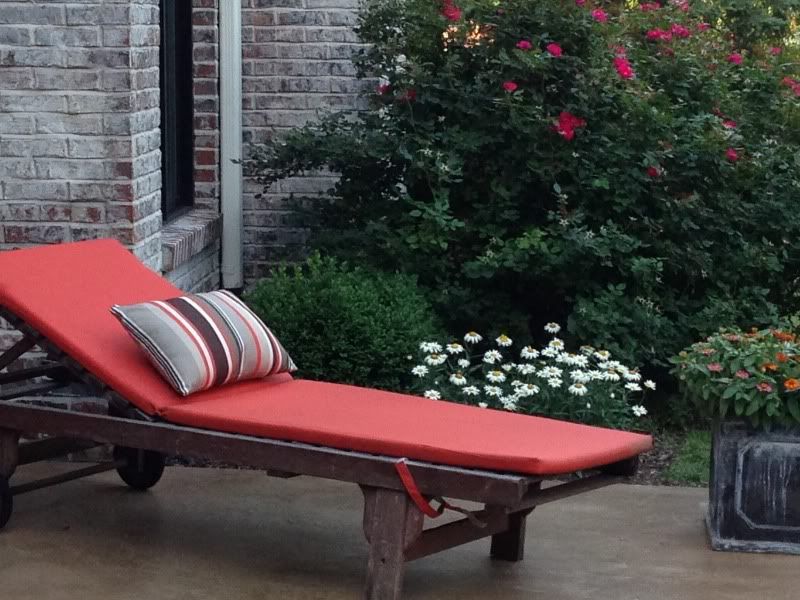 I have a hard time getting things to grow in the covered patio bc it's 20' deep. Any ideas?
This post was edited by pps7 on Thu, Jun 27, 13 at 20:33
---
| | | |
| --- | --- | --- |
| RE: June's decorated Porches and Patios | | |
pps, your patio is utterly beautiful! And I see a Badminton net in the background, the one sport other than baseball that I excel at! lol

A dear friend told me to use Ferns and some types of Begonia's for the areas that get no sun. I did and they're doing pretty good! I think the lighter leaf Begonia's are for shade, the darker ones for sun.

Impatiens are good as long as they get some good indirect light.
---
Post a Follow-Up
Please Note: Only registered members are able to post messages to this forum.
If you are a member, please log in.
If you aren't yet a member, join now!
---
Return to the Home Decorating & Design Forum
Information about Posting
You must be logged in to post a message. Once you are logged in, a posting window will appear at the bottom of the messages. If you are not a member, please register for an account.
Please review our Rules of Play before posting.
Posting is a two-step process. Once you have composed your message, you will be taken to the preview page. You will then have a chance to review your post, make changes and upload photos.
After posting your message, you may need to refresh the forum page in order to see it.
Before posting copyrighted material, please read about Copyright and Fair Use.
We have a strict no-advertising policy!
If you would like to practice posting or uploading photos, please visit our Test forum.
If you need assistance, please Contact Us and we will be happy to help.

Learn more about in-text links on this page here