Return to the Home Decorating & Design Forum
|
Post a Follow-Up
---
| | | |
| --- | --- | --- |
| Finishing this LR | | |
Posted by
zeitgast
(
My Page
) on
Tue, Jun 17, 14 at 10:53
Hi GW

Just got the art on the wall and the furniture delivered for the beach house. Now I need to finish the room. It's pretty small like 12' x 16' space in an open concept room.

Area Rug:
Was thinking about jute/sissel/seagrass type rug but i know they can be hard to clean etc. Any suggestions for an alternative? Accent colors are like those throw pillows or anything in the painting. Stripe chairs seem to be dictating a more neutral rug which is why I though natural fiber. Looked on homedecorators.com and lots of other places but not seeing anything that works. Suggestions and pics would be great.

Tables:
Do I go with a console table behind sofa? End tables? Coffee table? Table between the chairs?

Lamps:
If I go with a console table was thinking about putting two lamps back there. Alterantively maybe a tripod wood floor lamp.

Right side of pic:
What to do with that wall (if anything). seems a bit out of balance with window to the left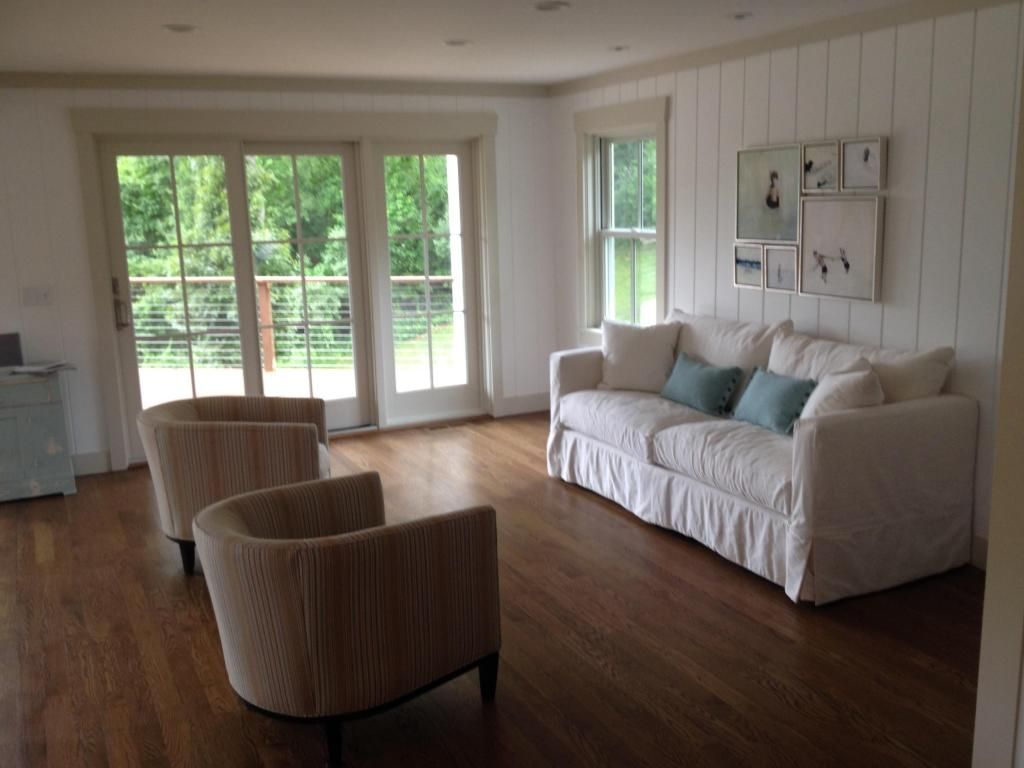 ---
Follow-Up Postings:
| | | |
| --- | --- | --- |
| RE: Finishing this LR | | |
| | | |
| --- | --- | --- |
| RE: Finishing this LR | | |
I LOVE your space and what you have so far!

I would add the you posted and maybe a muted pattern smaller rug on top?

I would add side tables (round) with lamps on either side of the sofa. I would add a table and lamp in between the chairs. I think a nice square tufted ottoman with some tapered legs would look great in your space. Also, Maybe a nice green potted tree to the right of your sofa for balance with the window?

I know these are far from your colors but I think they do a nice job of layering rugs in this home.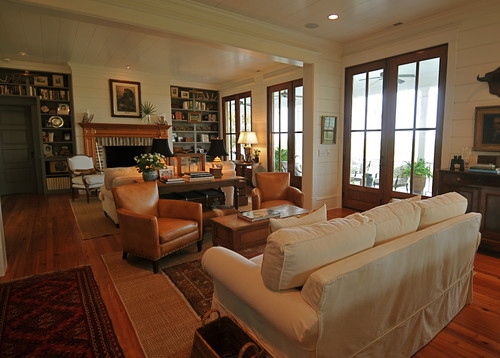 ---
| | | |
| --- | --- | --- |
| RE: Finishing this LR | | |
Seagrass is super easy to live with. It basically repels dirt and any spills. I've had it for years under table where we eat all our meals. I bought mine at natural area rugs and am very happy with it.
---
| | | |
| --- | --- | --- |
| RE: Finishing this LR | | |
Have you considered an indoor-outdoor rug? I like the Dash and Albert Cleo Blue, or something similar to pick up the blue in your room.
---
| | | |
| --- | --- | --- |
| RE: Finishing this LR | | |
Indoor outdoor is the way to go, when they get soiled you take them outside and clean them. You'll need end tables and a coffee table. I'd look for light natural wood for those, even a driftwood color would work. Look on Etsy.com I'd keep the lamps organic like stone or natural materials. Will you be adding window treatments? If so I'd only do a very gauzy one.
---
| | | |
| --- | --- | --- |
| RE: Finishing this LR | | |
A large tripod floor lamp would help balance the other end of that wall :)
---
| | | |
| --- | --- | --- |
| RE: Finishing this LR | | |
I love your space and can't wait to see more! For the blank wall i would put a vintage window frame with mirror glass to mimic your real windows.
---
| | | |
| --- | --- | --- |
| RE: Finishing this LR | | |
artillery thanks never thought of layered rugs. hmmm that could bring some color in without being too overbearing

nosoccormom thanks for the website suggestion-- great stuff on there.

suero i am impressed with your photoshop skills. Indoor/outdoor rug makes a ton of sense. We get a lot of sun in the room and i was concerned about fading (chairs are actually Sunbrella for that reason). Dash and Albert has great stuff. Been trying to avoid white in a rug b/c the kids are already making a mess of the slipcover sofa (at least its a slip cover). Wondering if that is still a concern with indoor/outdoor???

yayagal i got some great stuff on easy and agree that organic is the way to go. not putting window treatments on the sliders but will be putting in simple looking light filtering roller shades on the windows. Agree on the end tables but not sure yet on a coffee table-- was thinking glass top with a driftwood base but the kids will make a mess of that and i am concerned about safety. Aktillery's ottoman suggestion might be a good call. It is a small space so not wanting to overcrowd it.

errant and tannatonk like the ideas for the blank space thanks
---
| | | |
| --- | --- | --- |
| RE: Finishing this LR | | |
| | | |
| --- | --- | --- |
| RE: Finishing this LR | | |
thanks Beverly I tried a bunch of art layouts but not that one-- looks better thanks!! Was concerned about too many stripes but that actually looks interesting hmmm. Really appreciate you mocking that up too it helps to be able to "see" it
---
| | | |
| --- | --- | --- |
| RE: Finishing this LR | | |
i think the art should come down until you're settled on what else goes in there. it feels very tight ...not really something i want in a beach house. i don't think the arrangement works... sorry.
---
| | | |
| --- | --- | --- |
| RE: Finishing this LR | | |
zeitgast,

Maybe consider a seagrass woven coffee table for in front of the sofa.

Could you tell me who's sofa you decided to purchase? Looks very nice in the room.
---
| | | |
| --- | --- | --- |
| RE: Finishing this LR | | |
thanks kateskouros i get what you mean and do sincerely appreciate the honest opinion

good idea (again) Beverly thx

tannatonk you can see the kitchen-- just posted on kitchen forum (link below)
Here is a link that might be useful: kitchen
---
| | | |
| --- | --- | --- |
| RE: Finishing this LR | | |
Gorgeous room -- and your kitchen is totally fantastic!! :)

O.K.:

a)Right-hand-side of the sofa: Add a tall white cabinet (shelves and a closed door cabinet on the bottom) If you can -- wire through a puck light at the top .... useful for a bar ...

b)Left-hand-side of the sofa: Small white cabinet with lamp that could be seen through the small window and the doors .... very charming at night

c)Between two chairs: White-painted vintage cabinet (like the ones in the seventies) with a lamp (fish the wire under the area rug)

d)I do like the rugs from Dash & Albert ....just be sure to get one that is large enough for the whole seating area (if you want to test out a size -- simply create a "rug" with open newspaper pages ....
---
Post a Follow-Up
Please Note: Only registered members are able to post messages to this forum.
If you are a member, please log in.
If you aren't yet a member, join now!
---
Return to the Home Decorating & Design Forum
Information about Posting
You must be logged in to post a message. Once you are logged in, a posting window will appear at the bottom of the messages. If you are not a member, please register for an account.
Please review our Rules of Play before posting.
Posting is a two-step process. Once you have composed your message, you will be taken to the preview page. You will then have a chance to review your post, make changes and upload photos.
After posting your message, you may need to refresh the forum page in order to see it.
Before posting copyrighted material, please read about Copyright and Fair Use.
We have a strict no-advertising policy!
If you would like to practice posting or uploading photos, please visit our Test forum.
If you need assistance, please Contact Us and we will be happy to help.

Learn more about in-text links on this page here