Return to the Home Decorating & Design Forum
|
Post a Follow-Up
---
| | | |
| --- | --- | --- |
| White or off white drapes? | | |
Posted by
ShellKing
(
My Page
) on
Mon, Jun 18, 12 at 10:36
I'm buying new drapes for our master bedroom following a remodel of our master bath that included new lighting, crown molding, carpet and paint in the bedroom.

I want to order Ballard Design Cotton Twill Panels and have a choice between Off White Twill and Super White Twill. Any suggestions? I know that when I was choosing cellular shades for my kids' rooms last week -- the whitest choice was too white to go with our 'white' trim around the windows and that the off white color was a much better match. I'm wondering if the same thing is going to apply in this case.

This is the room before the crown molding, light, carpet and paint.. The wall colors are still tan, just a slightly different tan. They are now Sherwin Williams "Latte" The carpet will be a darker tan/brown once that's installed next week.
Here is about what our bedding looks like:
Thanks for any input or suggestions.
---
Follow-Up Postings:
| | | |
| --- | --- | --- |
| RE: White or off white drapes? | | |
It's very hard to tell before you see the fabric itself - but I use all white bedding, and like the bedding to be the whitest thing in the room, so I'd try the off white first.
You can send them back and swap them if you don't think they work.
---
| | | |
| --- | --- | --- |
| RE: White or off white drapes? | | |
I think that's a great way to think about it -- make the bedding 'pop" and not compete with the drapes. That makes so much sense to me now that you've said it. THANKS!!
---
| | | |
| --- | --- | --- |
| RE: White or off white drapes? | | |
You're welcome. Let us know how it turns out!
---
| | | |
| --- | --- | --- |
| RE: White or off white drapes? | | |
I would think twice about white or off white. If you are going to have darker carpeting and all that dark wood in the room, very light drapes are going to feel odd, imo. What about a color close to the wall color? Or pull the color of the stripe in the bedding?

Whatever you do, be sure you extend the rods out a bit further from each side of the window. You can use a fuller look in the drapery to balance the heaviness of the furniture and give you some softness.
---
| | | |
| --- | --- | --- |
| RE: White or off white drapes? | | |
Yes, my room certainly looks dark and heavy in that picture above! I think it's much softer with bedding and pillows. The new crown molding is white, as is the slip covered reading chair. But I see what you mean about the drapery color. For example this picture doesn't use white drapes, and I like it a lot.
Maybe I'll get drapes and a matching bench in Ballards check pattern? Black check or tan check? both swatches match my paint and furniture. I think the black is more dramatic. Here's a picture of the brown ones: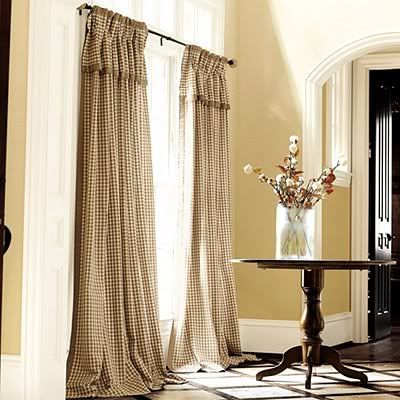 Should the drapes skim the carpet or pool on it like all the catalogs show?
---
| | | |
| --- | --- | --- |
| RE: White or off white drapes? | | |
My great room is painted sw latte and the Pottery barn peyton linen blend curtains in oatmeal are close to the wall color and look great in there if you are looking for a darker drape instead of the white.
---
| | | |
| --- | --- | --- |
| RE: White or off white drapes? | | |
I'm liking the check idea, and in your room, I think the brown would be prettier and softer, particularly with the trim on your bedding.

On the subject of puddling - if you don't mind having to meticulously rearrange them every time you vacuum, and they don't get in your way, go ahead. But I think puddling can look too heavy in a normal sized room like yours. Notice how big and open the space in your inspiration photo is...in that shot, the shape of the curtains is part of the design.

And if you have critters, they may like to sleep in the puddles. I know this from experience...!
---
| | | |
| --- | --- | --- |
| RE: White or off white drapes? | | |
Thanks! I'll be sure to update with pictures.
---
| | | |
| --- | --- | --- |
| RE: White or off white drapes? | | |
Ok, the curtains I'd like to use just arrived and I quickly hung one panel up to see how it looks.

What do you think? I have french doors and two windows in my bedroom room. I've only ordered 2 panels at this point (and a bench in the matching fabric). I really like them, but am wondering about the rod height? Also should I do more panels on the windows that flank the bed or have shades made out of the same fabric (like the inspiration photo above)?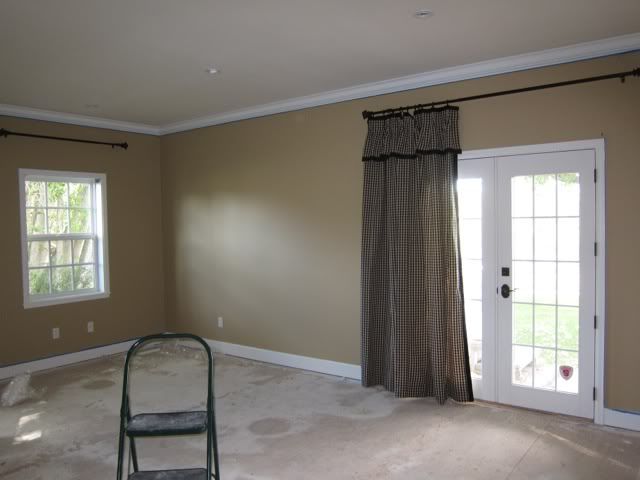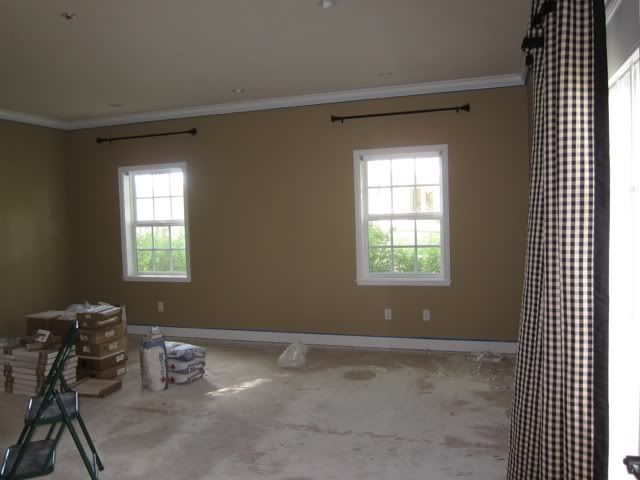 ---
| | | |
| --- | --- | --- |
| RE: White or off white drapes? | | |
I really like those drapes. I think you might want to lower the rods (and widen them) so the fabric just touches the floor as the height is now they almost look too short. Puddling the drapes would probably be too much especially if you use the doors. These drapes look so much more substantial than the ones in your first photo and I think you should be fine with just two panels for each window. Just make sure you leave enough clearance between the bed and the wall so the drapes will have enough room to fall correctly and not look smushed.

I was beginning to think shades would be good on that wall, but now I wonder if the drapes will help balance out the heaviness of the furniture. Used alone, shades may make the windows seem really small.
---
| | | |
| --- | --- | --- |
| RE: White or off white drapes? | | |
i'd want to hang them from the top of the wall myself, and use them that way on every window with valances of some sort.
---
| | | |
| --- | --- | --- |
| RE: White or off white drapes? | | |
I think when the carpet and the carpet pad are installed the curtains will hit the floor and be the correct length. My others option would be to buy the 84" length instead of the 96" and to lower the rod by 12" I don't think there is room to buy the 108" drapes? My ceilings are 9' - but I think that might be a really tight squeeze to get them to fit.

I am excited about the matching bench and the matching pillow. Can't wait to get that tile in the bathroom and the carpet on the floor!
---
| | | |
| --- | --- | --- |
| RE: White or off white drapes? | | |
I wasn't even paying attention to the fact that carpet wasn't in the room...you're right that'll probably fix the tiny length issue. Wouldn't suggest going with the 84" length and lowering the rod that much. I think it looks great at the length it's currently at. Going to be a really pretty room.
---
| | | |
| --- | --- | --- |
| RE: White or off white drapes? | | |
Here are updated photos. I need to adjust the drapes so they just skim the new carpet. But, I'm really liking them. The two windows on each side of the bed have existing blinds which work well for light and privacy control. What do you think of adding valences to match the drapes?

I'm open to other ideas for the room too. It needs a light fixture in the ceiling.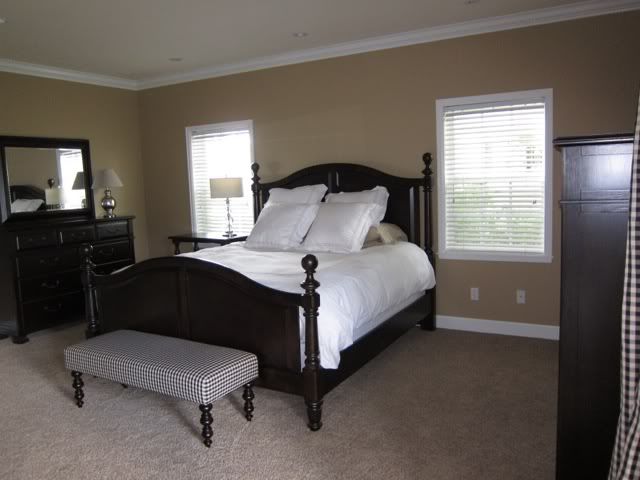 This is the light I'm thinking of adding.:

---
| | | |
| --- | --- | --- |
| RE: White or off white drapes? | | |
Love that light. I like those drapes and the bench looks fab! But, I definitely would not do valances. My opinion, but I don't care for valances in a bedroom (mainly in a kitchen only). I wonder how it would look to have one panel for each window - pulled to the outside. Not sure about the width though.

tina
---
| | | |
| --- | --- | --- |
| RE: White or off white drapes? | | |
The drapes look better spread out more. I added the extension bar to the rod and pulled them apart a little more. Still tweaking the length so they just skim the carpet.
---
| | | |
| --- | --- | --- |
| RE: White or off white drapes? | | |
I think the valances would be a nice addition to the windows. I would hang them on rods that match the curtain rods, and hang them as high as possible to give more visual height on that wall.

In looking at your drapery, which is great in there and much better than white would have been imo, I have to ask. Have you pressed those drapes? The valances look very wrinkled, and the panels look to have some wrinkles as well. If you haven't pressed them yet, do that (or take them to your dry cleaners for pressing) before you make the final decision about how they should hang. Pressing them will make them longer.
---
| | | |
| --- | --- | --- |
| RE: White or off white drapes? | | |
I don't really like valances on their own, even pretty ones that match your curtains. Can you do plantation shutters there, or the same curtains?
---
| | | |
| --- | --- | --- |
| RE: White or off white drapes? | | |
I agree with kswl...I would put the same drapes on your windows. I don't care for valences alone. I love the chandelier! Your room is coming together beautifully!
---
| | | |
| --- | --- | --- |
| RE: White or off white drapes? | | |
Thanks for all the advice. I'm still debating about adding anything to the windows on each side of the bed. I am keeping the wood blinds because they are perfect for controlling light and privacy.

Should I add valences? I think full drapes might be too much. Here's a photo without and a second photo where I cut & pasted some valences. Also a picture of the other corner where the drapes are on the french doors.

What do you think?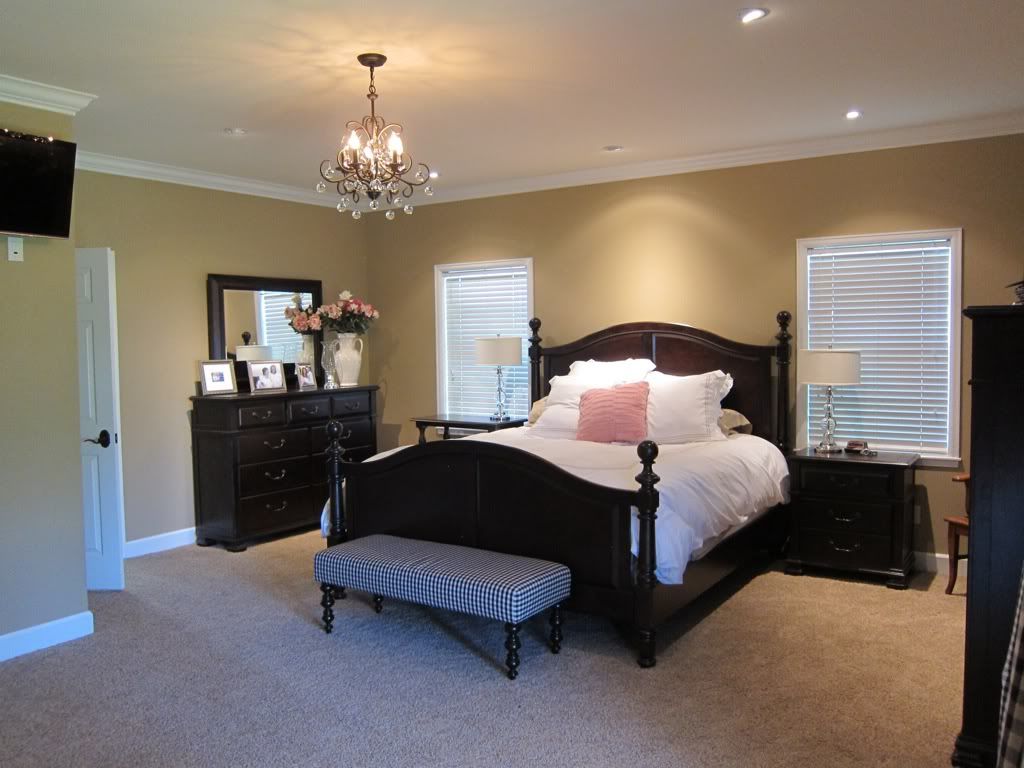 ---
| | | |
| --- | --- | --- |
| RE: White or off white drapes? | | |
don't think i would do valances... what about a panel for each window pulled back to the outer sides with a tassel or hardware??
---
Post a Follow-Up
Please Note: Only registered members are able to post messages to this forum.
If you are a member, please log in.
If you aren't yet a member, join now!
---
Return to the Home Decorating & Design Forum
Information about Posting
You must be logged in to post a message. Once you are logged in, a posting window will appear at the bottom of the messages. If you are not a member, please register for an account.
Please review our Rules of Play before posting.
Posting is a two-step process. Once you have composed your message, you will be taken to the preview page. You will then have a chance to review your post, make changes and upload photos.
After posting your message, you may need to refresh the forum page in order to see it.
Before posting copyrighted material, please read about Copyright and Fair Use.
We have a strict no-advertising policy!
If you would like to practice posting or uploading photos, please visit our Test forum.
If you need assistance, please Contact Us and we will be happy to help.

Learn more about in-text links on this page here