Return to the Home Decorating & Design Forum
|
Post a Follow-Up
---
| | | |
| --- | --- | --- |
| re-upholstery yardage help | | |
Posted by
bbstx
(
My Page
) on
Thu, Jun 27, 13 at 9:54
Using the picture below as inspiration, DD is recovering 2 wing chairs, solid fabric on the interior and cushion, and a pattern on the exterior. The exterior fabric has a 9" horizontal repeat and an 8 1/8" vertical repeat. It is 54" wide.

According to all the yardage charts I can find, the chairs will each take a 6 yards of fabric IF I were doing each chair in solid fabric.

Can anyone give me a idea of how much solid fabric and how much print fabric I should buy for each chair? I would wait to ask the upholsterer, but the fabric outlet will be closed all next week and today is the only day I can go get the fabric for her.

TIA!
---
Follow-Up Postings:
| | | |
| --- | --- | --- |
| RE: re-upholstery yardage help | | |
Can you send the upholster your pic and see if she comes up with an amount? If those are the chairs you have, I would suggest more yards due to the cushions and back for the entire chair. Although you do not have a skirt to add yardage wise, so 6 may do it. Otherwise I would guess 3 yards of pattern due to the match required. Read I said "guess". Your upholsterer really needs the chairs to make a decision on what is needed. Measurements don't always help due to actual furniture design which changes how the fabric is used.
---
| | | |
| --- | --- | --- |
| RE: re-upholstery yardage help | | |
Can you post pics of the wing chair(s)?

Welting needs to be factored into the yardage, also. Is there welting/piping on the chairs & cushions? Will the welting be done in the print or the solid fabric? Measure the amount of print welt and the solid welt you will need and let us know.

I'll post more later on today.
---
| | | |
| --- | --- | --- |
| RE: re-upholstery yardage help | | |
Good idea, tech, except I'm in a rural area and the upholsterer is even rural-er. I think his technology limit is a telephone (I had a super upholsterer once who didn't even have a phone - at least not one he would answer. You just showed up at his shop with your furniture and your fabric and he would call when it was finished. He was great and so inexpensive. Guess he kept his overhead down!) And if I can get the fabric today, the upholster says he can do the job next week.
---
| | | |
| --- | --- | --- |
| RE: re-upholstery yardage help | | |
Laurie, the chairs are in storage right now. Attached is a chair that is very similar. We will not do contrasting welting. Each section will be welted to match itself. If there is an area where it is not distinct which ought to be chosen, the default will be to use the solid fabric. I will post a picture of the fabric in the next message.
---
| | | |
| --- | --- | --- |
| RE: re-upholstery yardage help | | |
Below is the fabric for the outside of the chair. Solid colored fabric matching the background will be used for the cushion and inside area.
---
| | | |
| --- | --- | --- |
| RE: re-upholstery yardage help | | |
I'm not a professional...just a DIYer and currently re-covering a wing chair for the first time. For my other projects, I ended up using a little less fabric than what the standard charts showed. Likely due to not having to match up patterns and also because I take off each piece and use it as a pattern to cut out the new fabric pieces.

However, it's always best to order a bit more & have leftover...for accent pillows, etc.
I would estimate 3 yards of your patterned fabric may be fine. Order 4 yards to be conservative or if you want pillows. Maybe 3-4 yards of the solid fabric, too.

I have noticed that cutting for welt takes up "usable space" due to cutting the fabric on the bias (like cutting a large rectangular shape). It doesn't leave you with a large enough usable remainder of fabric (or limited use).

My wing chair is all one fabric. I ordered 7 yards of a floral/paisley fabric (55" wide) that (for my chair) doesn't need a lot of adjustments for pattern match. and I have not yet cut out the pieces for the seat cushion. I have already cut and sewn all the welt needed for this wing chair and also for another smaller non-wing chair (that I will do with the same fabric once this is complete).

After cutting all pieces (except seat cushion) including welt for a second chair , of the 7 yards, I have used about 4 yards.
After cutting the cushion pieces, if I don't have enough remaining for the smaller chair, I'll order more. But, as of now, I think I'll have plenty left over for the second smaller chair.

Pictured below is the chair in progress. Up to this point, I've used about 3 yards.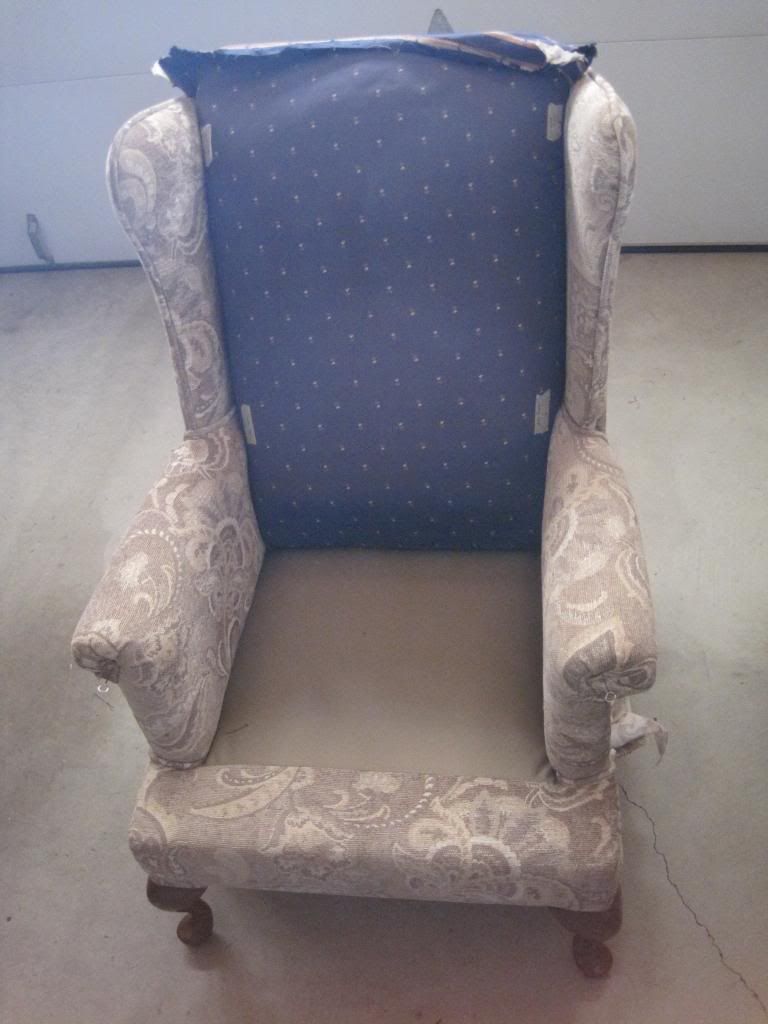 ---
| | | |
| --- | --- | --- |
| Correction | | |
When I was describing cutting out fabric for welting...I meant to say triangular shape...not rectangular shape.
---
| | | |
| --- | --- | --- |
| RE: re-upholstery yardage help | | |
I ended up buying 7 yds per chair...just to be safe. For each chair, I bought 4 yds of the solid, and 3 yds of the pattern. I hope I'll remember to post photos when they are complete. No photos means (a) it didn't turn out at all as I imagined; or (b) I forgot.

DD bought the sofa today. It gets delivered on Saturday!!!
---
| | | |
| --- | --- | --- |
| RE: re-upholstery yardage help | | |
Yes, please show us photos when done. The fabric you posted looks really nice. The pattern may be called Greek Key (I think) and it's going to look fantastic : )
---
Post a Follow-Up
Please Note: Only registered members are able to post messages to this forum.
If you are a member, please log in.
If you aren't yet a member, join now!
---
Return to the Home Decorating & Design Forum
Information about Posting
You must be logged in to post a message. Once you are logged in, a posting window will appear at the bottom of the messages. If you are not a member, please register for an account.
Please review our Rules of Play before posting.
Posting is a two-step process. Once you have composed your message, you will be taken to the preview page. You will then have a chance to review your post, make changes and upload photos.
After posting your message, you may need to refresh the forum page in order to see it.
Before posting copyrighted material, please read about Copyright and Fair Use.
We have a strict no-advertising policy!
If you would like to practice posting or uploading photos, please visit our Test forum.
If you need assistance, please Contact Us and we will be happy to help.

Learn more about in-text links on this page here