Return to the Home Decorating & Design Forum
|
Post a Follow-Up
---
| | | |
| --- | --- | --- |
| What size/shape table for my new TINY dining room? | | |
Posted by
arlosmom
(
My Page
) on
Thu, Jun 12, 14 at 9:17
Hi all. I've not been around for a while. We've recently purchased a home significantly smaller than our old house. It's all part of the master plan for an easier lifestyle! The bedrooms and bathroom are going to be real challenge to make work, but for now I'm trying to figure out our options for the dining room.

The house is an old victorian cottage that's been thoroughly updated with lots of modern elements. The kitchen is open to the dining space with a peninsula separating the two. We'll have 2 bar stools at the peninsula. Here is a rough sketch with approximate measurements that I took when initially looking at the house: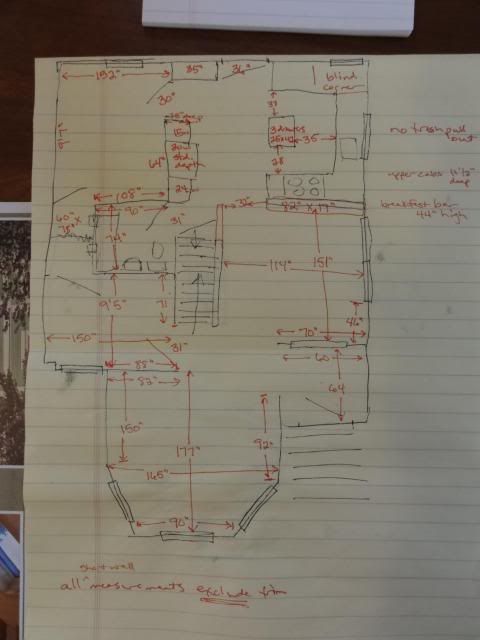 From the front steps, you enter into a small entry with an opening to the left into the living room, and another opening straight ahead into the dining space. The living room is also open to the dining/kitchen via a wide cased opening. I hope you can make sense of my sketch.
The dining area is 114" by 151" (about 9.5' by 12.5') and serves as the main walkway from the front door and living room to the kitchen, bath, rear bedroom and back deck along one side. We need to be able to maintain fairly good walk space along the wall by the stairs when the dining table is in use. For the most part, it will be just the 2 of us. We don't do a lot of entertaining, but we want to be able to accommodate 4 people easily. Rarely will we need to accommodate 6 (we have an additional 3 small dining chairs we can pull in as needed). I don't mind if it's a little snug when we have company, but it still needs to function.
We've ordered four Saarinen executive side chairs as our dining chairs and now we're trying to figure out what table will work best.
I'm mulling two different table options, but I'm very open to suggestions.
The first option I'm considering is a vintage danish teak draw table. We'd need ~50" between the legs for 2 chairs on each side. In looking on ebay, it looks like a fairly standard size is about 54" by 36", with leaves that pull out at either end.
The other option I'm thinking about is a round tulip table, maybe 45-48" in diameter. We'd keep it fairly close to the windows most of the time and only pull it out and into the space when we needed to use all 4 chairs. I think we could fit 6 people around it in a pinch. We'd have the peninsula nearby for additional surface space for serving dishes, etc.
Any thoughts on which option would look better and be easier to live with? Thanks in advance!!
---
Follow-Up Postings:
| | | |
| --- | --- | --- |
| RE: What size/shape table for my new TINY dining room? | | |
Do you have room to build in a window seat in front of the double window which can be used for seating? The table can be pushed closer when not in use and pulled out when needed.
---
| | | |
| --- | --- | --- |
| RE: What size/shape table for my new TINY dining room? | | |
I like the tulip table, but it would help to see pictures. Oh and plus I just want to see pictures!

Best of luck to you and your husband. Between his ingenuity, your fabulous taste, and all the hard work you both put into these matters, I know it will be fantastic.

I am sure the person who bought your home is so excited to have it, such a charming and unique space you two had created.
---
| | | |
| --- | --- | --- |
| RE: What size/shape table for my new TINY dining room? | | |
I second the idea of a window seat or a bench. Then the table can be pulled to one side. I have done that in two dining rooms that are also walk ways and it makes the room function so much better. If you have a chandelier, it can be moved (costs some money in electrical work and patching and painting) or swagged (less expensive) to center over the table.
---
| | | |
| --- | --- | --- |
| RE: What size/shape table for my new TINY dining room? | | |
There's probably physically enough room to build a bench, but I don't think it will work with the windows. One of the things we love about the house is that it has 10 foot ceilings and really tall windows. The windows in the dining space come pretty close to the floor. We don't like backless benches...we're too old for that. : )

The previous owners had a really narrow rectangular table...maybe 30" across? I think the space could handle a wider table than that though...they also had a fairly large piece of storage furniture in there.

Here are just a couple of photos from when a month ago when we took possession that might help.

This was taken from the living room looking back into the dining space. You can see the peninsula at the left of the photo and the door into the entry at the right:
This is taken from the kitchen back toward the entry and the living room to give you an idea of the full width of the compact dining space:
And this is the living room, small but just right for us:
None of these give a good idea of how bright the space is...the brightness kept throwing off my camera's exposure and I'm not a good enough photographer to know what to do about that.
mtn, thanks for your kind words. This new place has great bones and is a really good starting place for our next adventure.
---
| | | |
| --- | --- | --- |
| RE: What size/shape table for my new TINY dining room? | | |
My vote is for the round table. I switched out to one two years ago in my tiny space and I love how easy it is to work around in a small space
---
| | | |
| --- | --- | --- |
| RE: What size/shape table for my new TINY dining room? | | |
Your DR and U-shaped kitchen is similar to ours. I would advise that you get rid of the redundant, uncomfortable, crowded peninsula seating and add cabinets and/or bookcases underneath the overhang. There are some nice examples on Houzz. We never even bought stools to go under our raised bar because it would have looked silly to have so much seating in our small DR. We remodeled our kitchen two years ago and changed to a one-level peninsula with 12" deep cabinets on the ends and open cubbies for books and pottery in the middle. From an ugly bar to beautiful DR cabinetry!

We have a Danish teak table with the same dimensions. We put two chairs on the long sides. The chairs are 17 1/2" wide. We have seated six comfortably with the leaves extended. When we have four, we pull out one leaf to set out the food.
---
| | | |
| --- | --- | --- |
| RE: What size/shape table for my new TINY dining room? | | |
Definitely concur with may flowers idea, drop the stools & make better use of the space with shelves or shallow cabinets.
---
| | | |
| --- | --- | --- |
| RE: What size/shape table for my new TINY dining room? | | |
What about a drop leaf table nestled next to the window with two chairs at each end for everyday use when it's just you and DH. The area will look more spacious with plenty of "hallway" to get from room to room. You can open the table up and pull it out when you have company and bring in more chairs.
---
| | | |
| --- | --- | --- |
| RE: What size/shape table for my new TINY dining room? | | |
I think a round or hexigon table would suit your small space. For the two of you for every day dining, two stools would be fine. My son has a peninsula in his kitchen with no stools. Even with a small square table in their dining area, I think it looks like something is missing. Though a bookcase under instead of stools would be okay but would not leave it open with no stools.
---
| | | |
| --- | --- | --- |
| RE: What size/shape table for my new TINY dining room? | | |
A pedestal table is a must if you want to squeeze more people around a small table, since there are no legs to interfere with chairs.
---
| | | |
| --- | --- | --- |
| RE: What size/shape table for my new TINY dining room? | | |
madeyna, do you have a picture of your round table in your tiny space that you could share? I'd love to see it.

may_flowers, we're actually really excited about our peninsula seating. We had a peninsula in our kitchen two houses ago and both thought it was wonderful. My favorite part was that it kept people out of my kitchen while I was cooking -- they'd just plop themselves at a bar stool with a glass of wine and keep me company but not be underfoot. Plus we loved to hang there ourselves with a cup of coffee and the newspaper. Our new dining chairs are 22.5" wide, so I need to make sure 4 of them work with whatever table we end up with. Two chairs on each of the 2 longs sides of the table was what I was envisioning too if we end up with a danish teak table.

We've done SERIOUS downsizing as a part of this move, and actually don't need any additional storage. I'm working very very hard to have less.

joaniepony, I'd be open to a dropleaf table if I could find one with very clean, modern lines. I could see keeping one leaf up and one leaf down with the table perpendicular and butted up to the window. That way I think I'd still have a place for all four chairs.

grandmaof3, thanks for your insight. I agree that the peninsula would look like something was missing without barstools. Plus, we've already ordered stools that will be delivered next week, so there's that.

Thanks all. If anyone has or sees pictures of small dining spaces with tables that work well, I'd love to see them!
---
| | | |
| --- | --- | --- |
| RE: What size/shape table for my new TINY dining room? | | |
birdlover66, we must have been posting at the same time. Yes, if we go with a round table, it will most definitely be a pedestal. Much more flexibility that way!
---
| | | |
| --- | --- | --- |
| RE: What size/shape table for my new TINY dining room? | | |
When I did a quick search, I found several modernist extendable or expansion tables, mostly in chrome and glass. Perhaps something of that nature would work for you.
---
| | | |
| --- | --- | --- |
| RE: What size/shape table for my new TINY dining room? | | |
Here is a picture from the folks at Young House Love. This is their current kitchen and dining area (they do have a separate formal dining room). It looks to be a similar size and layout to yours and a round pedestal table looks perfect in the space.
---
| | | |
| --- | --- | --- |
| RE: What size/shape table for my new TINY dining room? | | |
Your DR space reminds me of mine. I also considered shelves under the peninsula countertop because of redundancy but my furniture salesperson recommended against it (resale and functionality). Instead she suggested backless comfortable stools which I got and I LOVE. (even my old and tired back!). Even though I did not think I or company would use them a lot, I do and am so glad I got them.

As for a table, I found a 36x60 which fits my space perfect. I got it at a local furniture making place, but it really wasn't that expensive. They did carry that size, but a similar place should be able to make one to size. I could not find that size anywhere else. I think I found a close size, but I really think anything at all bigger would have felt squished. As you can see from these pics, walk through space is a major factor in this weird layout.
---
| | | |
| --- | --- | --- |
| RE: What size/shape table for my new TINY dining room? | | |
geokid, I forgot about Young House Love's kitchen...I've seen theirs before. It looks great. I'm afraid their kitchen is bigger than mine though.

wendyb, your space looks wonderful. In the pictures it doesn't look cramped at all to me. You might have more room widthwise and less room lengthwise than I do. I can see how traffic patterns could be a challenge. If we go with a rectangular table I'll probably run it lengthwise in our space.

I looked around the web for a while yesterday and I came up with this photo which looks like similar space and layout to what I have. This has a round table, but I'm not sure what size it is (I think I'd be looking for somewhere in the 44-48" range). It has both chairs and barstools:
I also found this one which has chairs similar to what I've ordered. Mine are the armless version though and mine have wood legs not chrome. Also, this space is quite a bit larger than mine. I definitely like the chairs with this style of table: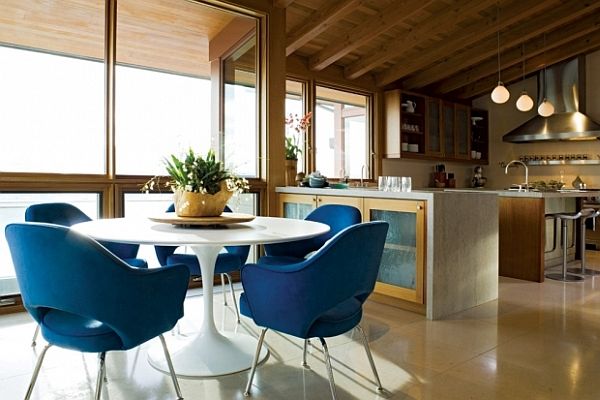 ---
| | | |
| --- | --- | --- |
| RE: What size/shape table for my new TINY dining room? | | |
I'm pretty sure that top white round table is the ikea table.
---
| | | |
| --- | --- | --- |
| RE: What size/shape table for my new TINY dining room? | | |
9 1/2 x 12 1/2 isn't tiny. It's more than adequate. It can easily hold a 48" round table with ample space for four chairs to pull out, plus give you a walkway.
---
| | | |
| --- | --- | --- |
| RE: What size/shape table for my new TINY dining room? | | |
crl, that's good info. I looked on Ikea's website and their table is 41". It looks like it fits the space in the picture just fine with a few inches to spare.

suero, good that you think it's wide enough. DH and I really want to make a round table work. The walkway needs to come out of the 9 1/2' width. I was figuring I need to keep 36" to 42" free for the walkway, no? Maybe I just need to mock it up in the space .
---
| | | |
| --- | --- | --- |
| RE: What size/shape table for my new TINY dining room? | | |
Here's a schematic. The border is the size of your area, to the inch. I show two chairs tucked under the table when not in use, the ones near the wall pulled out, so you can see how much room there is around them. Each leg of the big X is 10 feet long.
---
| | | |
| --- | --- | --- |
| RE: What size/shape table for my new TINY dining room? | | |
oh, you're doing that fancy math...trigonometry! I was thinking (correctly) that I had to put the chairs on the diagonal axses. I'm loving this. I've always liked round tables but didn't think one would work in our space. I'm thrilled that we can go as high as 48"!
---
Post a Follow-Up
Please Note: Only registered members are able to post messages to this forum.
If you are a member, please log in.
If you aren't yet a member, join now!
---
Return to the Home Decorating & Design Forum
Information about Posting
You must be logged in to post a message. Once you are logged in, a posting window will appear at the bottom of the messages. If you are not a member, please register for an account.
Please review our Rules of Play before posting.
Posting is a two-step process. Once you have composed your message, you will be taken to the preview page. You will then have a chance to review your post, make changes and upload photos.
After posting your message, you may need to refresh the forum page in order to see it.
Before posting copyrighted material, please read about Copyright and Fair Use.
We have a strict no-advertising policy!
If you would like to practice posting or uploading photos, please visit our Test forum.
If you need assistance, please Contact Us and we will be happy to help.

Learn more about in-text links on this page here