Return to the Home Decorating & Design Forum
|
Post a Follow-Up
---
| | | |
| --- | --- | --- |
| Entertainment Consoles?? | | |
Posted by
zoey75
(
My Page
) on
Tue, Jun 10, 14 at 7:43
My old tube tv is finally on it's way out. I went shopping this weekend for a entertainment console for a new flat screen tv. I was shocked to see the poor quality of all the ones I saw (this is probably why my other flat screen tv is sitting on a coffee table for 3 years) . I would really like something solid, simple, classic and not too expensive. It is this even possible? The tv will be mounted on the wall & I need something to hold the cable box & kids video games. I would really appreciate it if anyone can point me in the right direction. Thanks in advance!!

**Just added picture of the space**
This post was edited by zoey75 on Thu, Jun 12, 14 at 10:50
---
Follow-Up Postings:
| | | |
| --- | --- | --- |
| RE: Entertainment Consoles?? | | |
I don't care for TV consoles. I think they are tacky. Just my opinion, of course.

While I don't have them, I do like the articulating arms that are attached to walls to which you hook up the TV. The put floating shelves up to hold the other equipment, like the cable box.
This post was edited by Tibbrix on Tue, Jun 10, 14 at 8:17
---
| | | |
| --- | --- | --- |
| RE: Entertainment Consoles?? | | |
What's your price range and what style? You could always look for a buffet or bureau on CL or at antique stores if you really want something that might be better made than today's furniture.

We bought ours from Wayfair.com. I think it looks nice and seems solid enough with drawers, etc. no problems so far. We did not want to spend a lot as we will probably move in a few years and won't take much of our current furniture with us. I think it was around $600.
---
| | | |
| --- | --- | --- |
| RE: Entertainment Consoles?? | | |
If you're not prepared to spend a lot of money, you're not going to find anything in wood. Most modest cabinets will be made from some type of compressed wood.

If you're being utilitarian and cost conscious, I would recommend you simply mount a few small components from Besta, from IKEA. You can select your finish and components, It mounts easily to the wall and won't break the bank.
---
| | | |
| --- | --- | --- |
| RE: Entertainment Consoles?? | | |
I would like to stay under $500 if I have to order online. I would prefer to be able to see it in person.

Thanks! I will take a look at Wayfair.com

Maybe something like this (or even simpler). I like the glass in the center.
---
| | | |
| --- | --- | --- |
| RE: Entertainment Consoles?? | | |
We lucked out and found ours at JCP...a floor model they were getting rid of...a real bargain...good for us esp since we were at the end of our house build and so was our budget.

I agree a lot of them look more like dorm room material rather than furniture. Maybe if you go to overstock? Or a real furniture store?
---
| | | |
| --- | --- | --- |
| RE: Entertainment Consoles?? | | |
Thank you all....

I also like the style of this one too but I am trying to stay away from oak.
This post was edited by zoey75 on Tue, Jun 10, 14 at 8:37
---
| | | |
| --- | --- | --- |
| RE: Entertainment Consoles?? | | |
At this price point, you will not likely find anything in wood, and so many of the faux wood pieces look cheesy to me. I'm not a fan of entertainment consoles in general, but would consider something like this one from Room and Board. They start at $499.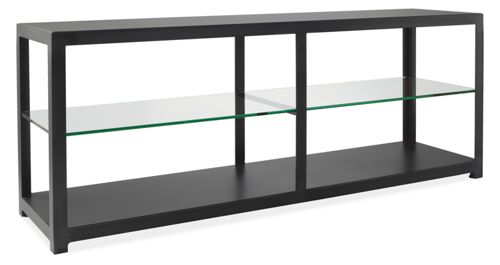 ---
| | | |
| --- | --- | --- |
| RE: Entertainment Consoles?? | | |
I have a 3 piece entertainment console from Hooker Furniture. They have lots of single unit console too. Ours is very nice quality. We got a very good deal on it at an audio/video specialty store. You might also look at local furniture stores and wait for one of their sales.
Hooker has many different sizes, styles and types of wood consoles.
Here is a link that might be useful: Entertainment consoles
---
| | | |
| --- | --- | --- |
| RE: Entertainment Consoles?? | | |
I will echo the suggestion to repurpose something vintage. Better quality for the money.
---
| | | |
| --- | --- | --- |
| RE: Entertainment Consoles?? | | |
If you or a friend are members at Costco, they have some nice ones

http://www.costco.com/CatalogSearch?langId=-1&storeId=10301&catalogId=10701&keyword=tv+console&sortBy=PriceMin:0
---
| | | |
| --- | --- | --- |
| RE: Entertainment Consoles?? | | |
I have bought two at Sam's Club in the last few years - one for DD and SIL for a Christmas present and one for myself.
Both were the Whalen brand that Sam's sells.

I can't say enough about the quality of them - they are awesome, finish is great, love the style, etc. They have a very well designed magnetic back with good cutouts for your electronic accessories, drawers and doors work great. Sam's usually brings out one or two new styles in the fall, changing them up a bit.

I think I paid about $450 for each of these. My daughter had actually bought a "name brand" from a furniture store - can't remember what it was - for around $1200 and it was damaged and had to be returned. When her husband set the new Sam's Club Whalen up, he said it was far superior to the $1200 one.

I saw a new style in the store a couple of weeks ago, that had the "RH" reclaimed wood look, which I don't care for, but seems to be quite popular. If you can wait, see if they bring a new style or two out later in the fall - they seem to be a seasonal thing there to go along with all the new Christmas flat screen purchases :).
---
| | | |
| --- | --- | --- |
| RE: Entertainment Consoles?? | | |
Wow..I cant thank you all enough for the suggestions and reviews. I really like Hooker and will check out Costco, Sam's & BJs all great ideas!! Vintage is another great idea. I was thinking maybe a Amish piece too??
---
| | | |
| --- | --- | --- |
| RE: Entertainment Consoles?? | | |
I personally don't think they are "tacky" if you get the right style for your home and sometimes we just new function over form. I love having the storage in the drawers, and the glass front doors, for add-on pieces that require remote control access.

I have also admired the repurposed pieces that many here on GW have used - old dressers, buffets, etc - but I am not that creative nor that energetic.
---
| | | |
| --- | --- | --- |
| RE: Entertainment Consoles?? | | |
Tuesday2008,

Thanks so much for the detailed review of the Whalen, I think I found one at Best Buy that might work. And I am not a huge fan of the reclaimed wood look either ;)
---
| | | |
| --- | --- | --- |
| RE: Entertainment Consoles?? | | |
I think consoles look great if it's the perfect size for the TV and decorated properly. :)

We got ours at Ultimate where we bought the TV. The trim is brown wood with a black glass top and black glass shelves to hold all the units. It couldn't have been more than a few hundred dollars. Heavy and stable.

The tv is scooted to the far side of the console with decor on the other side.

Good luck!
---
| | | |
| --- | --- | --- |
| RE: Entertainment Consoles?? | | |
I have one from Pier One I like a lot. It is a rubber wood - whatever that is.
---
| | | |
| --- | --- | --- |
| RE: Entertainment Consoles?? | | |
I purchased this one for my basement. My dh had to put it together. It was simple. The first one came in with a little damage. Amazon sent a new one out immediately and we sent the damaged one back.

It looks great and is very heavy for the price. I didn't want to break the bank for my basement family room.
---
| | | |
| --- | --- | --- |
| RE: Entertainment Consoles?? | | |
Have you thought of looking in consignment stores? They usually have a large selection, since many people are buying flat screen tvs and installing them directly on the wall. Thus they no longer need a cabinet of any type.
---
| | | |
| --- | --- | --- |
| RE: Entertainment Consoles?? | | |
I saw a couple nice ones at HomeGoods recently. Of course, their selection really varies from store to store and they don't often have a lot to choose from, but it still might be a place to look.
---
| | | |
| --- | --- | --- |
| RE: Entertainment Consoles?? | | |
The TV in our living room sits on my grandma's cedar chest. The DVR and DVD player are on the floor underneath.
---
| | | |
| --- | --- | --- |
| RE: Entertainment Consoles?? | | |
I am looking as well and think the same as you in that the consoles in the mid-price range are made like crap. Even most of the high mid is overpriced crap. I have been trolling Craigslist for a while and hope to find a seventies piece of furniture I can convert. Ideally I would like something with center doors that I can remove but have more doors on each side to hide stuff. I will settle on two center doors with drawers I can convert into shelving if I have to. This particular time period has more heights that I want, 26" to 30" -ish high. Much of the 1990 till late 2000's credenzas, buffets or whatever you call them in your area were higher like 35" and up. Even cheap seventies stuff is made better than our "better" of today. I really don't get why people like all open shelving with no backs or sides…what a mess of cables.
---
| | | |
| --- | --- | --- |
| RE: Entertainment Consoles?? | | |
I went to my local Homegoods and they had a few in my price range. None that fit my needs today but I think they might be my best option and I will keep checking.
This post was edited by zoey75 on Tue, Jun 10, 14 at 15:11
---
| | | |
| --- | --- | --- |
| RE: Entertainment Consoles?? | | |
I don't think they're necessarily tacky either. They're a good solution for particular space needs and whatever look you're after. The way my living room is configured, it doesn't lend itself well to mounting on the wall.

I got mine at Crate & Barrel. I forget the line, but they have plenty of similar things. It was more assembly than I'd bargained for, but felt really proud of myself for rising to the challenge.
---
| | | |
| --- | --- | --- |
| RE: Entertainment Consoles?? | | |
We got ours at Home Decorators Collection dot com.
I saw several there that I liked, I couldn't be completely sure because I wasn't touching/feeling/seeing it in person.
But I waited a few weeks and sure enough, HDC had a pretty good sale with Free Shipping on one of the consoles I had been considering so I went ahead and purchased it.

When the console arrived I was rather impressed. It looked even better in person than it did on the web site. The quality wasn't that of 100% real wood, but most of the console that was visible was real wood, the legs were very solid/sturdy and the drawer mechanisms worked extremely well.....and are still working just as well today, 3 years later.

When the Flat Screen TVs started getting popular I was really against purchasing one because of the mess of cable/coax/wires dangling that were so obvious.
I was used to having all of that wire stuff hidden inside our old, huge entertainment center where the old TV had been housed for years.
Our old TV finally bit the dust.
I dug in my heels about purchasing one because I refused to have that wire/cable mess staring at me when I walked by.
Yes, picky about certain things, I am. :)
Then I learned about Transmitter & Receiver System with IR Remote Extender.
No DVR, Cable Box, DishNetwork thingy is anywhere in sight......all behind the closed doors of the console.
My son then purchased the Transmitter & Receiver System with IR Remote Extender and has his TV on his wall but all the boxes and cables are in his closet.

No wires, cables, 4 black boxy things in view.....I'm a happy Mom. :)
---
| | | |
| --- | --- | --- |
| RE: Entertainment Consoles?? | | |
I agree, a lot of the consoles are over-priced and so cheap looking. I have a buffet type cabinet I have my flat screen on. Bought it off craigslist. I took the doors off to expose the shelf and have my cable box and Blu-ray player set up on the shelf. I had to drill a hole in the back to run the wire through for the plugs and hdmi cable etc.
---
| | | |
| --- | --- | --- |
| RE: Entertainment Consoles?? | | |
My wood media console/stand is from Crate and Barrel. I've been quite happy with it and it was under $500. You could also purchase some sort of console or side board (even antique) of local classifieds or Craigslist. I've heard that you can do something with remotes so that you don't need glass doors on the media console.
---
| | | |
| --- | --- | --- |
| RE: Entertainment Consoles?? | | |
| | | |
| --- | --- | --- |
| RE: Entertainment Consoles?? | | |
We put ours on a sideboard table that has a bottom shelf for components and even some funky decor. It's old wood charm, sturdy, simple, has two small drawers for tv remotes and stuff, and the tv fits perfectly. We found it at a local furniture store.

Since your tv is going on the wall I think your options are greater. Do look for something better than a regular console thing.
This post was edited by sasafras on Wed, Jun 11, 14 at 22:26
---
| | | |
| --- | --- | --- |
| RE: Entertainment Consoles?? | | |
I was thinking...maybe it would be better if I found something that would hide the TV better like an armoire? We have a family room too but my kids often use the living to watch tv too, especially when my husband is in there after work.

Here is a pic of my space & the current old tube tv that is dying (fitting a newer flat screen in the old armoire I don't think will work, current tv in there is a 36")...maybe someone has a better idea :)
This post was edited by zoey75 on Thu, Jun 12, 14 at 10:53
---
| | | |
| --- | --- | --- |
| RE: Entertainment Consoles?? | | |
I've been looking for an entertainment center for years. One problem for me is the weight of some of them. A lot of them are just too heavy. I want to be able to move it to clean around it.
---
| | | |
| --- | --- | --- |
| RE: Entertainment Consoles?? | | |
I just picked up a chinahutch . The bottom of this particular one would make a perfect place to set a flat screen on or above. In our area china hutchs are free or not much more than $100 . Expanding your search to include hutchs might be a good option for you as well. I have another much more elaberate hutch so when I saw this one on the side of the road with a free sign on it I passed it buy then though better of it and turned around a looked it over. Its solid oak has a perfect finish ,a very plain square design. I am going to paint the top to match my daughters furnature and it will go in her room and the bottom will go in the craft room.
---
| | | |
| --- | --- | --- |
| RE: Entertainment Consoles?? | | |
Zoey, is that the best place in the room for a TV? It looks like it's right next to the front door.

Some friends recently built a new house, and they mounted their TV on the wall. There is a power outlet behind the TV, and they fished cables through the wall to come out near the floor, where they put a sideboard-like console for components.

BTW, I love your wood floors!
---
| | | |
| --- | --- | --- |
| RE: Entertainment Consoles?? | | |
Measure diagonal the area you have in your TV cabinet now. That is the size of a flat screen the furniture will accommodate. I went from an old TV to a flat screen and put it in the same cabinet...and I can close the doors if I want.....grands watch it all the time. I have a 32 inch but salesman told me I could have used a 39 inch. Don't need to push the flat screen to the back of the cabinet....just put it where it is comfortable watching.
---
| | | |
| --- | --- | --- |
| RE: Entertainment Consoles?? | | |
annkh ...Unfortunately it is the best place. We have a 50's ranch and the wall parallel with door has a huge picture window and the couch is under it. The wall across from the tv also has a window and the loveseat is under it. And the wall across from the couch is a pass thru to the kitchen. Thanks, the floors are original oak and refinished when we did an addition 6 years ago.

Here are two pics...when we painted a few years ago.
This post was edited by zoey75 on Thu, Jun 12, 14 at 13:25
---
| | | |
| --- | --- | --- |
| RE: Entertainment Consoles?? | | |
| | | |
| --- | --- | --- |
| RE: Entertainment Consoles?? | | |
Our TV sits on the buffet that goes with our mid-century dining room set. We found a taller china cabinet to go in the dining room, and the buffet got repurposed as a TV console. We have the "boxes" sitting on top with the ginormous television and the surround sound speakers. Some vintage buffets have swinging-door storage that could possibly make room for the "boxes" but ours doesn't. Drawers in the center and two narrower swinging door sections on each side. If you're one who has lots of video games that need to be tucked away, it could be perfect for you.
---
Post a Follow-Up
Please Note: Only registered members are able to post messages to this forum.
If you are a member, please log in.
If you aren't yet a member, join now!
---
Return to the Home Decorating & Design Forum
Information about Posting
You must be logged in to post a message. Once you are logged in, a posting window will appear at the bottom of the messages. If you are not a member, please register for an account.
Please review our Rules of Play before posting.
Posting is a two-step process. Once you have composed your message, you will be taken to the preview page. You will then have a chance to review your post, make changes and upload photos.
After posting your message, you may need to refresh the forum page in order to see it.
Before posting copyrighted material, please read about Copyright and Fair Use.
We have a strict no-advertising policy!
If you would like to practice posting or uploading photos, please visit our Test forum.
If you need assistance, please Contact Us and we will be happy to help.

Learn more about in-text links on this page here