Return to the Home Decorating & Design Forum
|
Post a Follow-Up
---
| | | |
| --- | --- | --- |
| Yacht like bedroom- WWYD | | |
Posted by
angc
(
My Page
) on
Thu, Jun 12, 14 at 1:08
This is a house on the market in our town. It is a charming Cape Cod wonderful neighborhood. I scrolled through the pics and loved everything until I got to the 2nd floor with is currently a MBR suite with an entry hall,small bath, and unusual bedroom. The current owners have treated it truly like a yacht with shiplap walls, built-in dressers, and a platform bed. Great use of space, but could you sleep there? I am wracking my brain trying to figure out a cost effective solution. Maybe simply floating an upholstered headboard would be enough? It is awfully tight headroom overall. In fact, it don't quite meet code for clearance so this is nonconforming space. It would also need a bath redo but that's another post. I'm fascinated by the house overall and we're always in the market to move! I'm just having a hard time wrapping my head around this space.
Landing at top of stairs
Bed area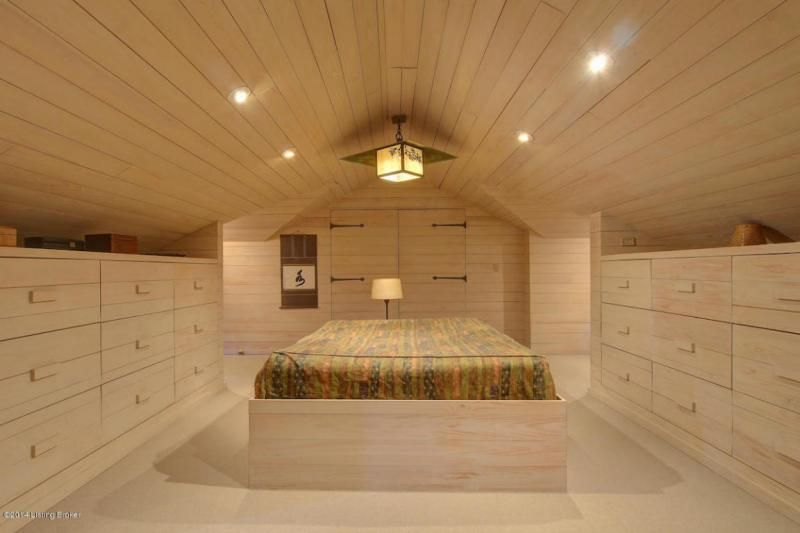 Stiing area and bath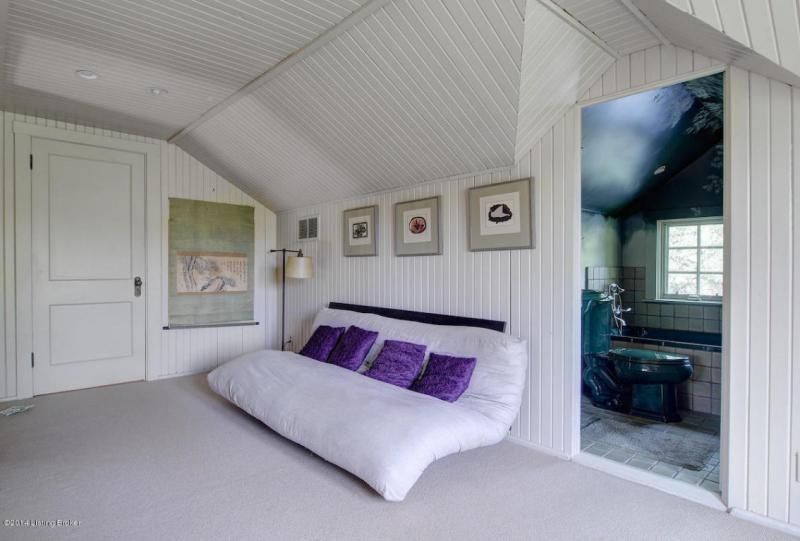 Exterior shot Hello gorgeous!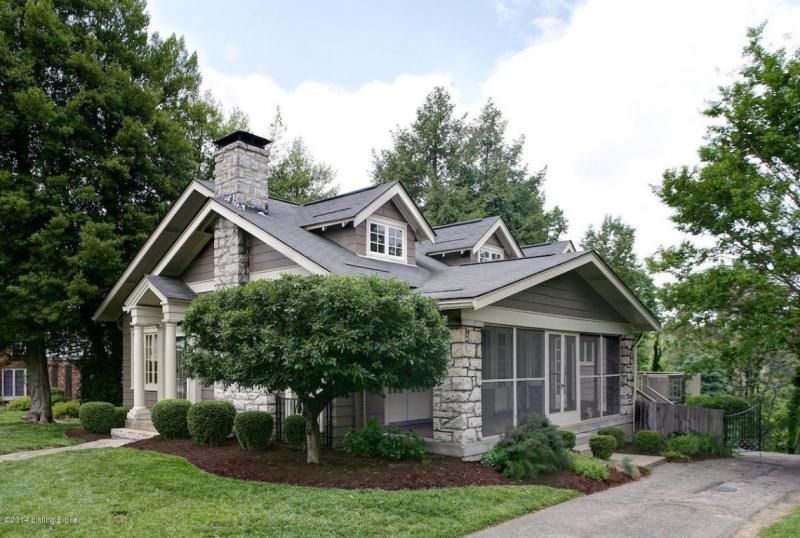 ---
Follow-Up Postings:
| | | |
| --- | --- | --- |
| RE: Yacht like bedroom- WWYD | | |
I would only buy a house with that space if it already had all the square footage I needed on the other floors and this was bonus attic space for a kids room or playroom. Depending on the climate, that upstairs area might get pretty hot in the summer, even with AC.
---
| | | |
| --- | --- | --- |
| RE: Yacht like bedroom- WWYD | | |
When I was a newlywed, DH and I rented a tiny historic house and the second floor bedroom had a ceiling like a ship's bow.. DH is 6'4 and had to constantly duck his head. We didn't have much furniture but the little that we had was difficult to place.

I agree with Chispa that it would be a good bonus space but probably not practical for a master. I do love the pics that you posted and the house looks very intriguing.
---
| | | |
| --- | --- | --- |
| RE: Yacht like bedroom- WWYD | | |
I could easily sleep there but I'd put my bed on the side of the room where the round table is to make it feel more like a bedroom.

And then you can lay in bed at night and stare at the *long* space to figure out what to do with it. lol.

I like the house and I wouldn't let the odd room keep me from buying it.
---
| | | |
| --- | --- | --- |
| RE: Yacht like bedroom- WWYD | | |
chispa- The upstairs space would need to be practical. We'd have to use it as a MBR. The first floor has 2 small bedrooms and the only other bath. I agree that if the rest of the house was larger, I wouldn't worry about upstairs. If only there was a first floor MBR suite I'd put one of the girls upstairs in a heartbeat. There are a total of 6 dormers and a huge double window, so the cross ventilation could be wonderful.
deee-I'm 5'10 and DH is 6'. The idea of constantly ducking or (more likely) forgetting to duck and banging our heads isn't really appealing! We'd lose our sense of humor about the situation pretty quick!
oakleyoak- The room with the table is the upstairs landing. See the door in the pic with the futon? That opens into the landing. DH would have his desk there. I figured the bath could expand into the area with the futon. The yacht room makes my chest tighten a little just looking at the picture. It's a bit claustrophobic.

It would be a hard house for an addition. The lots drops off dramatically in the back. Also, I love everything about the scale and placement of the house. I wouldn't want to alter it much. There is an unfinished basement that could be a terrace level suite if we wanted to spend the money. The house is priced in line for the neighborhood which features lots of quirky elevations and layouts due to the terrain. We're a family of 4. DD1 heads to college Fall 2015, with DD2 only a year behind her. It would be very close living when everyone is home. Two kids in college also means no funds for a redo for at least 5 years. Only cosmetic changes allowed.
---
| | | |
| --- | --- | --- |
| RE: Yacht like bedroom- WWYD | | |
The house is really pretty. I don't mind the overall idea but definitely some problems. DH and I are both short...for a tall person, all the bending and crouching would get old pretty fast. I also don't like the floating bed--no where to lean pillows for reading, etc. The landing/entry hall seems like a waste of space with just a table there. And yes, heat in the summer could be a problem.
---
| | | |
| --- | --- | --- |
| RE: Yacht like bedroom- WWYD | | |
Gosh, I just love that house! I've always loved a Cape or bungalow and would choose a small house over a large one any day. But I'm 5'2" and ceiling and door heights have never posed a problem for me.

But for your needs I would consider that even when your kids leave for school, they are likely to be home for breaks and summer and holidays - often with friends in tow. We moved after our kids left for college and I'm glad we didn't downsize too much. Now they come for week long visits w/ spouses & grandkids!
---
| | | |
| --- | --- | --- |
| RE: Yacht like bedroom- WWYD | | |
I don't think there is a half measure here. This is one of those things that you either need to love it as it is or pass.

Adding a headboard, which I think would be practical counts as loving it as it is.

If you don't think the headroom is adequate, it would never be without major reconstruction of the roof.
---
| | | |
| --- | --- | --- |
| RE: Yacht like bedroom- WWYD | | |
pretty to look at, but the bedroom would make me claustrophobic.

would like to get a closer look at the bathroom!
---
| | | |
| --- | --- | --- |
| RE: Yacht like bedroom- WWYD | | |
Sorry, but I would pass. From the outside is is 100% charming, but I could never sleep in that bedroom. The only solution is not cost effective and would effect the charm, and that is to raise the roof.
---
| | | |
| --- | --- | --- |
| RE: Yacht like bedroom- WWYD | | |
angc-

Personally speaking, I adore it and think it's a way cool bedroom with tons of storage, an appealing sleekness and a great deal of versatility. Have you actually been in the house to get the feel of the space? If not, I recommend looking at it, it's the only way you will know if you like the vibe or not.

Regarding the space at the landing, it looks as if you could put a bed there for a more traditional look, but I'm not sure of the dimensions, and realtor photos are notoriously deceiving.

Thanks for sharing, I have a new bedroom inspiration pic.

sandyponder
---
| | | |
| --- | --- | --- |
| RE: Yacht like bedroom- WWYD | | |
I think it's fabulous and has tremendous potential! Then again, I love quirky spaces that are made cozy, as evidenced by how much time I spend in our attic-converted master. DH has a hard time dragging me away from my reading chair.
---
| | | |
| --- | --- | --- |
| RE: Yacht like bedroom- WWYD | | |
Sunny--how wonderful and cozy.

angc--love the outside. I don't know about that upstairs. I think I would have to walk through it and see how it "feels".
---
| | | |
| --- | --- | --- |
| RE: Yacht like bedroom- WWYD | | |
That would be a house I would immediately fall in love with if I walked through it. But the practical part of me would have to think about actually living there. I am a "fussy" sleeper. Adding a headboard would help, but I could not sleep in the center of the room like that. I also would have trouble with no windows in the immediate sleeping area. As someone else mentioned, I would have to move my bed to the stair landing, though it's hard to tell how much room there is in that area.
Now that I think about it, I think I would sacrifice the en suite and put children up there as sort of a shared bedroom situation. It seems like a lovely house otherwise!
---
| | | |
| --- | --- | --- |
| RE: Yacht like bedroom- WWYD | | |
I think if you took down all of the wood and put up regular sheet rock (plaster look), it would give the room a less claustrophobic feeling.
---
| | | |
| --- | --- | --- |
| RE: Yacht like bedroom- WWYD | | |
I think the shiplap is part of the problem its just busy enough to drive someone crasy even in a picture. My converted attic space is shiplap on the end walls and I sheetrocked the tiped sidewalls and the ceiling to tone down the feel. I rarely use ours but it is really cozy and guest love it. I say spend some time in the space and see how it the head room feels. The ship lap can be tamed with wallpaper if the head room feels okay
---
| | | |
| --- | --- | --- |
| RE: Yacht like bedroom- WWYD | | |
From looking at the sitting area with the futon and the door to the landing.....can that door wall be taken out? Head of the bed in front of the window would be ideal for me. Sitting area and husband's desk could be in what is now the bedroom....Wouldn't think it would be costly to take out that dividing wall.
---
| | | |
| --- | --- | --- |
| RE: Yacht like bedroom- WWYD | | |
With all the drawers, it feels to me like they plopped the bed in the middle of a closet. If there was room, I'd put the bed where the futon is in the photo.

Lack of windows would bug me a lot. Perhaps a skylight or two would help? Looking at the room with the bed, where is the light coming from on each side? The photo from outside shows 3 dormer windows - I see one in the bathroom. Where are the other two?

Could you sketch a floor plan of the upstairs?

The storage looks fantastic. The screen porch looks wonderful. If the location is good, I'd try pretty hard to make that bedroom work!
---
| | | |
| --- | --- | --- |
| RE: Yacht like bedroom- WWYD | | |
Is there a door at the bottom of the stairs so that the landing would be private if the bed is there?
---
| | | |
| --- | --- | --- |
| RE: Yacht like bedroom- WWYD | | |
I wouldn't even hesitate to buy that house. I love everything about it...master included. If a bed can't work where the round table is, I'd add a headboard to the floating bed and see about adding some skylights so I could lie there and see the sky....and I'd make them openable if necessary for ventilation.
---
| | | |
| --- | --- | --- |
| RE: Yacht like bedroom- WWYD | | |
Can you & DH even step up to the drawers without bending or banging your head? It would give me a serious pause if the center is the only place you could stand straight up. Could you put the girls upstairs & take over both downstair bedrooms for a master suite?
---
| | | |
| --- | --- | --- |
| RE: Yacht like bedroom- WWYD | | |
The outside of the house is gorgeous and I can see why you love it. I think it really depends on whether you can functionally live in that bedroom. If you have to duck to get things out of the drawers or even just get in and out of bed, I think that's a major red flag. I also think this is a resale issue because it is a drawback for potential buyers who would be having the same concerns you are.

Could you put a real bed in the bedroom? I think as is it is a little "blah". A cute bed frame floating in the middle would make it more homey in my opinion. The landing area looks really cute.
---
| | | |
| --- | --- | --- |
| RE: Yacht like bedroom- WWYD | | |
Overall, I like the funky room and can see your love for the house.

Thinking about living there, I think I would feel like the bed was parked in the middle of a closet. A headboard would make it feel more anchored, but it wouldn't give you nightstands. I don't think I could get by without a nightstand, so I'd look at putting the bed where the table is shown. If the MBR is all that's upstairs, is there a problem claiming that space for the bed? Is the bed built-in? Would the floor have to be redone?

All of that assumes there is enough head room to not have to duck when you walk through. If not, I'd forget it unless you had the ability to combine the BRs down and make a master suite and divide the upstairs into 2 BRs.
---
| | | |
| --- | --- | --- |
| RE: Yacht like bedroom- WWYD | | |
I wouldn't feel comfortable with that bedroom - reminds me of a coffin!!! The landing, with the large window, would be where I put the bed.
---
| | | |
| --- | --- | --- |
| RE: Yacht like bedroom- WWYD | | |
It's a gorgeous house and I love the big screened porch, but that master bedroom would be a deal breaker for me. Is there a window in there at all? It does look more like a closet than a bedroom.

But the reason it wouldn't work for me is that dh is 6'4" and that ceiling would only be tall enough for him right in the center.
---
| | | |
| --- | --- | --- |
| RE: Yacht like bedroom- WWYD | | |
I dunno - it reminds me of what it might feel like to be swallowed by a whale - ie inside a whale's belly. I might move the bedroom to the sitting room or landing, but it might help to walk through it also.
---
| | | |
| --- | --- | --- |
| RE: Yacht like bedroom- WWYD | | |
OK, the coffin comment may have dealt the death blow!
I haven't been inside yet. The pictures alone are enough to give me serious pause. I assume the photos are distorted in some way, but usually those lens make the room look larger not smaller. I've been waiting for an Open House.
The girls will be off the college soon, but it is try that it may be another decade before they're in houses of their own. My first instinct is that this is not the right home for us right now, but....I dream of this house, really!

Upon closer examination, it appears the landing is open to the futon/bath area. The door opens into the sleeping berth. If that is the case, removing that wall entirely would help with the light situation, but the headroom stays the same. I agree that removing the beadboard and shiplap would make a big difference, visually. There is nothing to be done with the headroom short of major construction. I did think about combining the first floor bedrooms, but then we're again approaching high construction costs and a still quirky layout.

If it was 100k less, I'd buy it in a heartbeat. That would allow us to Combine the 1st floor bedrooms and expand the bath. Add a full dormer to one side of the upstairs, probably to the left which would allow a hallway and actual headroom. Rework that space into 2 bedrooms and a large bath. We'd put another 50k into that terrace level. Finishing it and adding a laundry room, 2nd family room and storage. A 150k investment at this price point doesn't pay off. I'll keep watching for price reductions and Open Houses. I'm putting together a Moodboard I'll be sure to share.
---
| | | |
| --- | --- | --- |
| RE: Yacht like bedroom- WWYD | | |
The bed appears to be built in the transept with two dormers on opposite sides, I think the head-on pic of the bed is deceiving, as you can't see what is in the two "choirs" (dormers or is one a dormer and the other a bathroom?)
I'd be all over it. It looks architect-designed, and I bet the headroom meets or exceeds code.
Casey
---
| | | |
| --- | --- | --- |
| RE: Yacht like bedroom- WWYD | | |
If you're interested, don't wait for an open house.
---
| | | |
| --- | --- | --- |
| RE: Yacht like bedroom- WWYD | | |
Sorry to say that I also quickly thought of being on a large coffin. If there is a door, and I was locked in: heart attack from claustrophobia in minutes! Sunny's cozy attic bedroom ( i have always loved) has a window, and that makes all he difference. Charming otherwise.
---
| | | |
| --- | --- | --- |
| RE: Yacht like bedroom- WWYD | | |
I agree with Lucy, make an appointment and go see it. Especially if you dream of the house. Realtor pictures don't give the whole story, and you'll be able to tell very quickly whether the house will work for you or not.
I live on a boat, so I'm used to the built-ins and quirky space. You will not find a bed floating in the middle of walkway space on a boat - no way! Anyway, My initial thought looking at the pictures is that that room needs contrast. And skylights. I can lay in bed at night and look through our hatchcover at the sky, and it's beautiful. Our built-ins are teak, our bulkheads (wall surfaces) are tan. All that monochromatic surface in the house you're considering makes it more claustrophobic to me than the design. And I'd also guess that the room meets code and that you can stand up at the drawer fronts.
You can't know til you actually see it. It's the realtors job to show the house, make an appointment.
---
| | | |
| --- | --- | --- |
| RE: Yacht like bedroom- WWYD | | |
It's adorable. Where are the closets?
---
| | | |
| --- | --- | --- |
| RE: Yacht like bedroom- WWYD | | |
But there is a dormer window on each side to the right and left of the head of the bed. It's not a windowless room.

There are three dormers on the front and I am assuming there are dormers on the back, there is at least one.
---
| | | |
| --- | --- | --- |
| RE: Yacht like bedroom- WWYD | | |
If you have to look for 9999 reasons and ways for which to buy and make it workable, it is most likely a money pit and my pragmatic side would not allow me to spend restless nights dreaming of how I could turn this into the cottage mansion of my dreams.
---
| | | |
| --- | --- | --- |
| RE: Yacht like bedroom- WWYD | | |
Overall good space and lovely house.

Agree that the bed appears to be in the middle of the closet.

Will a bed in the size you need fit where the futon is?
---
| | | |
| --- | --- | --- |
| RE: Yacht like bedroom- WWYD | | |
It is an utterly charming home, so I can relate to the temptation. However, it appears to me that the home was professionally staged and photographed to drastically minimize its fatal flaws--primarily lack of useable square footage. I think that if the owner's could have found a reasonably affordable way to increase the upstairs space they probably would have--as nothing about this home looks like someone was trying to cheap out.

So it doesn't seem like you'd be physically comfortable in this space as it is, and I don't think you'd be able to recoup any investment to improve the upstairs bedroom. I think it would require major structural work that would change the charming exterior of this home.

If it was just you and your husband downsizing to this home, you could convert the two small downstairs bedrooms (or live in a small bedroom), then use the second floor as bonus space for guests. Even if you wanted to keep the upstairs master suite, think about aging in a space like that.

The charm of that house is certainly seductive, but in my experience charm easily wears off after one is living with it and dealing with the often associated compromises!
---
| | | |
| --- | --- | --- |
| RE: Yacht like bedroom- WWYD | | |
I have lived in a cape with my master bedroom and bath in the attic. The a/c never quite made it up there in the summer, needed fans over the duct output to fan the cool air up and improve circulation all summer. In the winter it would be too hot because heat rises.

This huge fluctuation in temperature caused cracking sounds as the old wood rafters would heat up in the summer mornings, though there were no actual structural issues. It also caused issues in the master bath as well.

The biggest issue was that it had been renovated in the 50's or 60's and had inadequate insulation in the walls. This could have been solved by ripping off the roof and spraying in foam, or ripping it out and starting again.

Either way, it wasn't worth it for a home that would never sell over 250K range so I moved to a ranch.
---
| | | |
| --- | --- | --- |
| RE: Yacht like bedroom- WWYD | | |
A home such as that one needs an owner who will appreciate it's size and who is willing to be flexible with the space. The footprint IS what it is.

I love it and would buy it in a second!
---
| | | |
| --- | --- | --- |
| RE: Yacht like bedroom- WWYD | | |
How big a deal would it be to add skylights, lots of them or all windows at the long end of the room? As it, it would make me feel claustrophobic
---
Post a Follow-Up
Please Note: Only registered members are able to post messages to this forum.
If you are a member, please log in.
If you aren't yet a member, join now!
---
Return to the Home Decorating & Design Forum
Information about Posting
You must be logged in to post a message. Once you are logged in, a posting window will appear at the bottom of the messages. If you are not a member, please register for an account.
Please review our Rules of Play before posting.
Posting is a two-step process. Once you have composed your message, you will be taken to the preview page. You will then have a chance to review your post, make changes and upload photos.
After posting your message, you may need to refresh the forum page in order to see it.
Before posting copyrighted material, please read about Copyright and Fair Use.
We have a strict no-advertising policy!
If you would like to practice posting or uploading photos, please visit our Test forum.
If you need assistance, please Contact Us and we will be happy to help.

Learn more about in-text links on this page here