Return to the Home Decorating & Design Forum
|
Post a Follow-Up
---
| | | |
| --- | --- | --- |
| The 25 year impasse has been resolved! (Update, pics & questions) | | |
Posted by
treasuretheday
(
My Page
) on
Thu, Jun 28, 12 at 0:58
Some of you may recall earlier this year I posted for my 77 year old parents who were stuck and unable to agree on what to do with their family room. For 25 years, the unfinished fireplace was covered with plywood. They couldn't agree on what to do with the fireplace because they couldn't get past the fact that my mom hated the room's yellowed paneling and my dad wouldn't consider painting it. I found a company to clean and enhance the paneling, getting rid of the yellow tint and deepening the color slightly.

These were the before pictures (the chandelier was there only temporarily while their dining room was being painted.):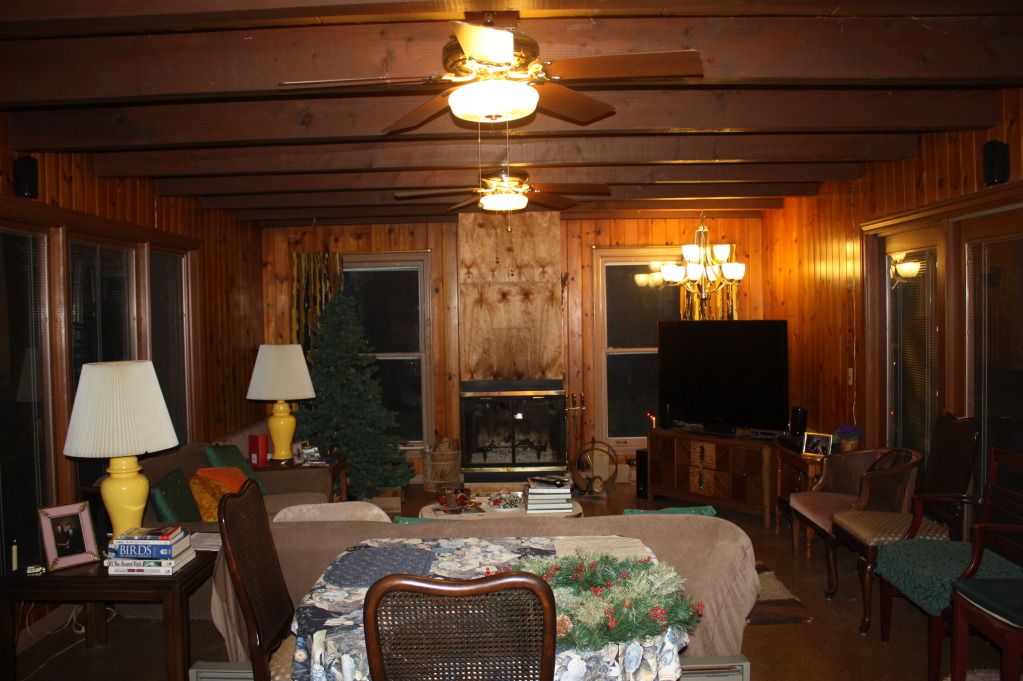 The lovely fireplace...
The overwhelming consensus on GW was that they should put stone on the fireplace. After looking at lots of inspiration pics with me, they decided that they would both be happy with that and even managed to agree on WHICH stone(!)
With that settled, they were on a roll and chose tile for the hearth, carpet, curtains and paint! They've even ordered a new sofa, loveseat, coffee table and TV credenza. The new furniture should arrive in a couple of weeks.
This is the room today, with their old furniture (IRL the carpet matches better than it looks in the photographs):
They are thrilled and proud of their fireplace: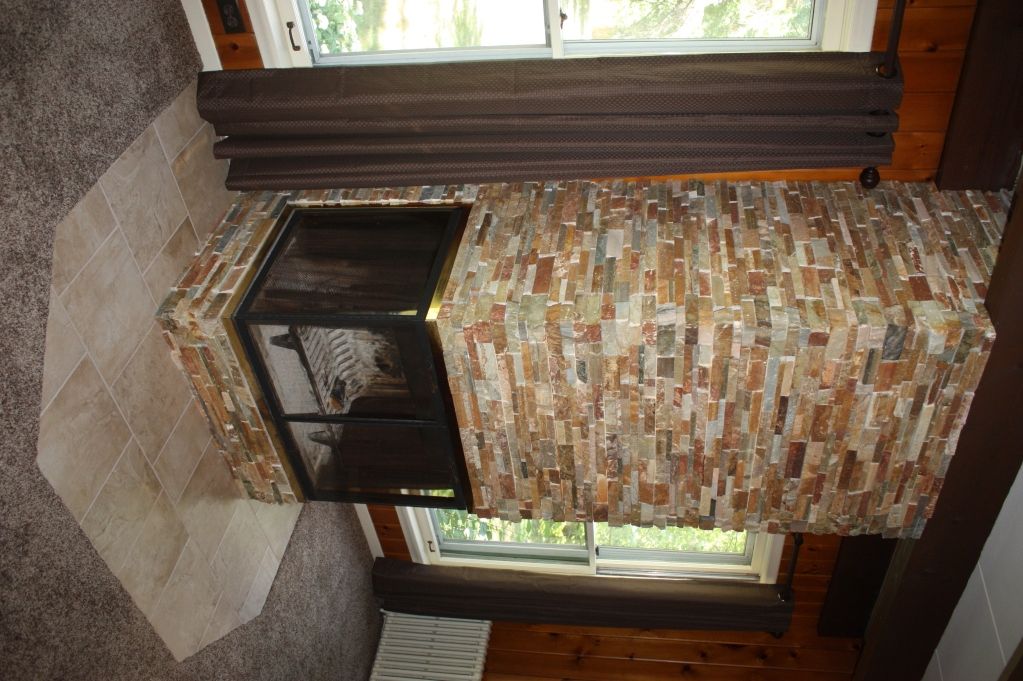 This is a view of the other end of the room, where you enter from the dining room.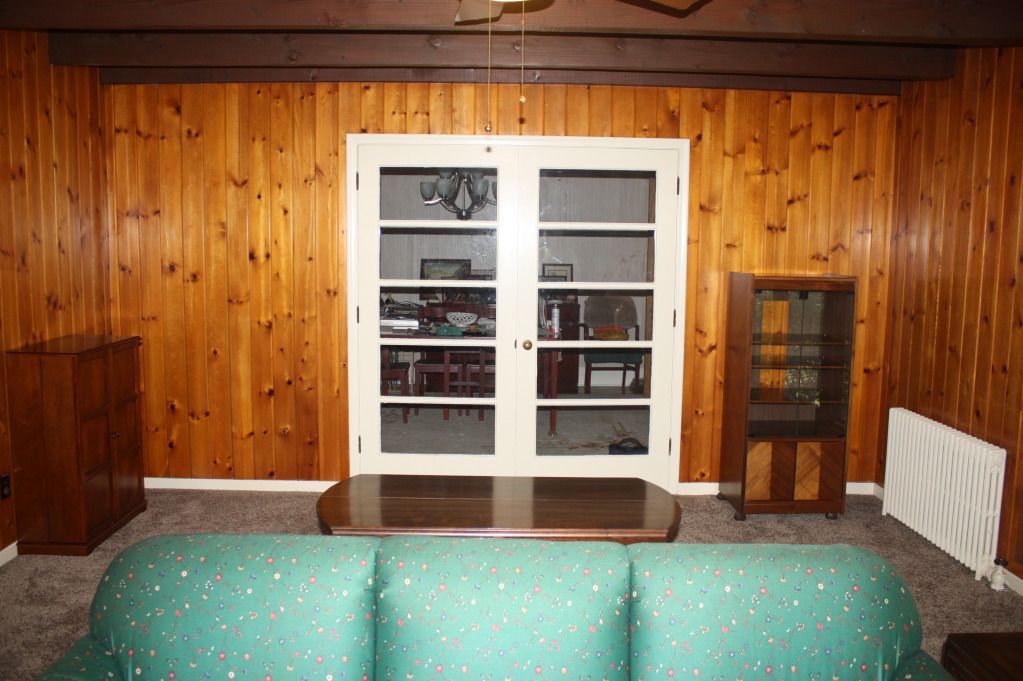 The drop-leaf table behind the sofa will stay because they eat most of their dinners in this room. The two cabinets in the corners need to stay but would you put them together on the left side? What, if anything, would you suggest for the right side? The heat from the radiator would be a factor but it's ok if the doors can't swing all the way open... they are used to that.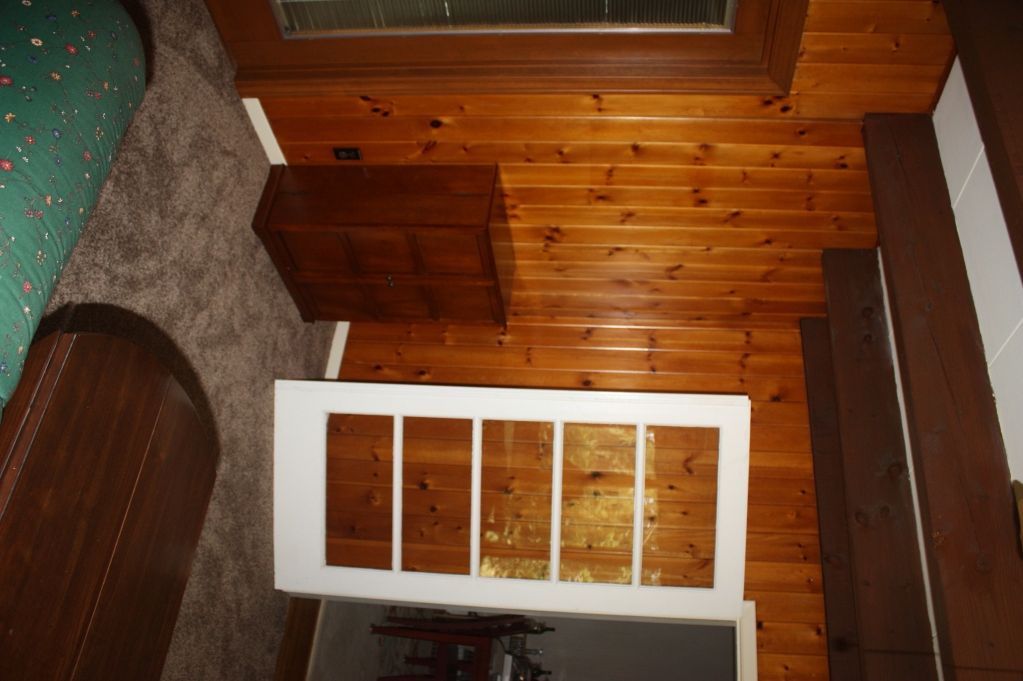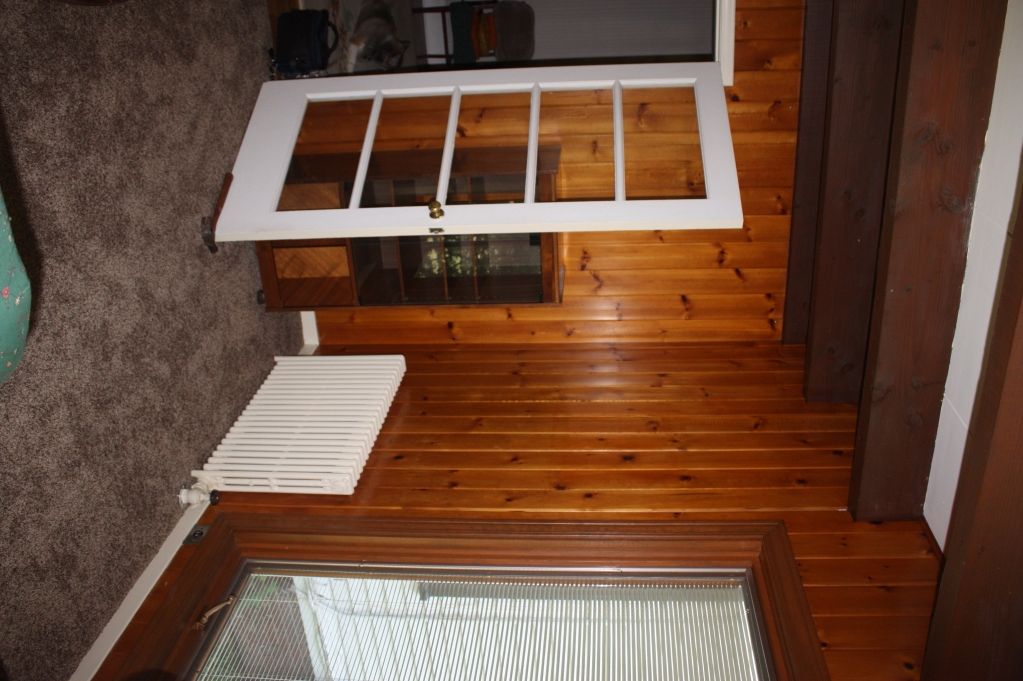 They have a pair of these lamps in their living room and are considering bringing them into the family room. The new couches will be a dark brown.
What do you think? Obviously, they'd need new shades.... what would you suggest?
It's great to see them finally making all of these changes to the house that I grew up in. We moved to the house when I was seven so they've spent 43 years with a cold linoleum floor!
My parents are very practical and frugal people who have done very little decorating through the years. They appreciated your previous help and would welcome any other suggestions.
Thanks so much!!
Here is a link that might be useful: Previous thread re my parents' impasse
---
Follow-Up Postings:
| | | |
| --- | --- | --- |
| RE: The 25 year impasse has been resolved! (Update, pics & questi | | |
I think they made marvelous choices so far. I love the room as it feels like you're outdoors. I can't wait to see the furniture. What colors will be put in the room and then we can decide on the lamp shades. I would change the cabinet that is to the right of the french door by getting a piece of cardboard or plywood and attaching a back to it but first put a nice piece of fabric over the backing so you won't see the wood wall through it. A sage green would look nice or one of the shades of the stone fireplace and then put a little stack of books, a nice piece of art and a collection of some sort to warm up the area. I think a nice piece of art would look good on the left wall too.
---
| | | |
| --- | --- | --- |
| RE: The 25 year impasse has been resolved! (Update, pics & questi | | |
What a cheerful and cozy room it is now! It must be so comfy for relaxing. I love the combination of colors in the fireplace; it's truly beautiful.

I would have a cabinet on each side of the French doors and I agree with Yayagirl's suggestions for finishing the one with shelves.

You must feel wonderful knowing that your parents can change and that you helped them with such an important detail in their lives...
---
| | | |
| --- | --- | --- |
| RE: The 25 year impasse has been resolved! (Update, pics & questi | | |
Lookin' good! Can't wait to see the new furniture, too!
---
| | | |
| --- | --- | --- |
| RE: The 25 year impasse has been resolved! (Update, pics & questi | | |
Honestly, it doesn't look very different. Maybe that was the whole point for them, to improve it without making a big difference in the way it feels? It's interesting that the tiles and stone they chose mimic as closely as possible the existing colors of the paneling and even the plywood chimney breast. I guess they just really don't like change---- good job helping them make the changes they did!
---
| | | |
| --- | --- | --- |
| RE: The 25 year impasse has been resolved! (Update, pics & questi | | |
Congrats on making a place that is familiar and comfortable for your parents.
I think what is still missing are the homey touches. A throw thrown over the (coming son) new couch, throw pillows, some pictures or photos ont eh wall, a plant or two etc.
---
| | | |
| --- | --- | --- |
| RE: The 25 year impasse has been resolved! (Update, pics & questi | | |
I'm more amazed at the difference in the room by the pictures taken at night and day!

I like the choice of rock for the FP, it gives an airy feel to the room.

Good job!
---
| | | |
| --- | --- | --- |
| RE: The 25 year impasse has been resolved! (Update, pics & questi | | |
It really looks nice!- a comfortable, cheerful, and pretty room.
Their views out of the windows are just lovely.
---
| | | |
| --- | --- | --- |
| RE: The 25 year impasse has been resolved! (Update, pics & questi | | |
Wow. What a difference. I am looking forward to seeing the new furniture. Love the fireplace. I wish your Dad would have given in on changing the knotty pine paneling. I just can't stand that stuff, in general. I had it my den and had it pulled down and now I have sage green walls there.

But to each his own and I think the improvements are wonderful.
---
| | | |
| --- | --- | --- |
| RE: The 25 year impasse has been resolved! (Update, pics & questi | | |
I'm really impressed by your negotiating skills!
Parents are very hard to raise...

It looks vastly better - now I would lighten and brighten those expanses of wood with some large-scale prints in very simple frames with a lot of clear white ground - and the glass will throw the light around.

Since the options for the two cabinets are limited, I would put them on either side of the door to the DR. And I'd hang a pair of good-sized square mirrors above them, with the tops at the same height, and something on the lower cabinet to bring the composition into balance, to reflect the windows. and open that space up visually. A print leaning against the wall would work, and two lamps, one taller and one shorter, so that their tops land at the same height, would help, too.
---
| | | |
| --- | --- | --- |
| RE: The 25 year impasse has been resolved! (Update, pics & questi | | |
I have "dealt" with the elderly for years and truly understand their strong reluctance to change! You are lucky that they have let you change as much as you have.

Of course, many of us (IF IT WERE OUR HOME) would have jumped in there and painted the knotty pine walls to lighten things up, ordered light colored upholstery, changed out the flooring, etc. But it is not our home - IT IS THEIR'S. In their minds, if something works - it is just fine!

You are to be congratulated for helping them do this much. It will be clean, it will be comfortable, it will be familiar, and it will be home. That is all that matters.

I will throw in a couple of suggestions - it looks like the drapes are new, but with all the neutral brown tones and knotty pine, a colorful, print drape would look nice - something like a jacobean or paisley print, perhaps with some greens, blues, terra-cotta combinations. Also, colors like that in the throw pillows.

Love those orange lamps if they work when you get finished. I bet your mom likes those bright colors!

Tuesday
(A daughter and daughter-in-law - know what you are dealing with).
---
| | | |
| --- | --- | --- |
| RE: The 25 year impasse has been resolved! (Update, pics & questi | | |
I'll bet they smile everytime they walk in the room. Great job. I would take the cabinet on the right and remove the glass doors and like others said, put in a much lighter backing. I think we had a similar piece. If the shelves are adjustable you might remove one and that would give you a bit more room for deco items and books.

There's going to be a lot of shades of brown so now it the time to look for lighter and colorful pillows and artwork. Since the table is staying, maybe they would be willing to have chair cushions recovered in something new.

Love the look of the new fireplace, it's a huge difference. I'm a little concerned about the curtains that are right next to it but it looks like they can move them over when they light a fire (if they'll remember).

Great job!
---
Post a Follow-Up
Please Note: Only registered members are able to post messages to this forum.
If you are a member, please log in.
If you aren't yet a member, join now!
---
Return to the Home Decorating & Design Forum
Information about Posting
You must be logged in to post a message. Once you are logged in, a posting window will appear at the bottom of the messages. If you are not a member, please register for an account.
Please review our Rules of Play before posting.
Posting is a two-step process. Once you have composed your message, you will be taken to the preview page. You will then have a chance to review your post, make changes and upload photos.
After posting your message, you may need to refresh the forum page in order to see it.
Before posting copyrighted material, please read about Copyright and Fair Use.
We have a strict no-advertising policy!
If you would like to practice posting or uploading photos, please visit our Test forum.
If you need assistance, please Contact Us and we will be happy to help.

Learn more about in-text links on this page here