Return to the Home Decorating & Design Forum
|
Post a Follow-Up
---
| | | |
| --- | --- | --- |
| Is this light the right size for my entry? | | |
Posted by
deedles
(
My Page
) on
Tue, Jun 19, 12 at 0:53
I've found the perfect light for my entry... just wondering if the size is okay.

The entry is small 9x10ish with 9 ft. ceilings which will be 4x6 fir beams with old knotty pine planks.

So here is the light: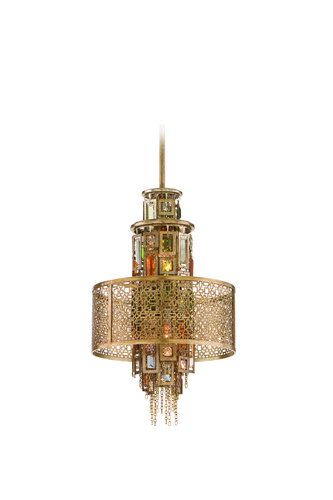 The dimensions are 21" long x 12" diameter.
and here is the window in my entry...well one of the large ones is the window in my entry and I find design elements of the window in the light.
So, is this the right size pendant for my small entry?
---
Follow-Up Postings:
| | | |
| --- | --- | --- |
| RE: Is this light the right size for my entry? | | |
Yes, I think it should be just right. Interesting light!
---
| | | |
| --- | --- | --- |
| RE: Is this light the right size for my entry? | | |
I think it's wonderful!
You may need additional lighting in there, however, as the colored glass will dim and color the light significantly. Do you have the option of wall sconces, or wall washers in the ceiling, as well as this light?
---
| | | |
| --- | --- | --- |
| RE: Is this light the right size for my entry? | | |
Not really on the extra lighting. It's such a small room and mostly doorways.

If a wall washer light goes in the ceiling that out, DH would never hear of cutting more holes in the wood ceiling. He'll tell me to find a different light. I guess I should think of the actual light that made it out of the fixture. I really love that fixture, though. I think it holds 120 watts of lightbulb.
---
| | | |
| --- | --- | --- |
| RE: Is this light the right size for my entry? | | |
As usual, I will be the voice of dissent.

While that fixture is certainly unique, I'm not a fan of it as it is very froufrou relative to the very simple line of the craftsman style windows and the rustic pine and fir ceiling.

Also, not clear that the height of the fixture will work...in a 9' ceiling, and a pendant, it will allow only 3" of hanging to have the bottom of the fixture at 7'. For me, 7' would be a minimum clearance for people to comfortably walk under (my carpenters are 6'1" and 6'4"). So with only 3" of hanging it will look almost like a flush mount fixture.

I'm also thinking that the fixture's diameter will be small for the space.

I see that fixture as better in a stairwell where the space is narrower and the height is there for clearance.

To be sure, take a shopping bag and stuff it with crumpled newspaper and wrap with painters tape as necessary to shape it into the approximate size of the fixture and then hold it up there...it will help you visualize the fixture in the space.
---
| | | |
| --- | --- | --- |
| RE: Is this light the right size for my entry? | | |
Ah. Forgot about the wood ceiling.
So now I vote with Annie, since additional lighting is not an option. Despite the smallness of the room, an entry hall should be aglow with abundant light. It's the welcome point of your house, and particularly when it's small, it should shine like a beacon.
In my view....
---
| | | |
| --- | --- | --- |
| RE: Is this light the right size for my entry? | | |
my concern with the light is it's diameter... the 12" diameter seems like it would be too small for an entry light in an entry that size...i could see it in our mudroom area that is ~ 10' X 4' ...
can you put it in a powder room??

i really like the light tho- very pretty- and think it could look nice with the wood and the window.
---
Post a Follow-Up
Please Note: Only registered members are able to post messages to this forum.
If you are a member, please log in.
If you aren't yet a member, join now!
---
Return to the Home Decorating & Design Forum
Information about Posting
You must be logged in to post a message. Once you are logged in, a posting window will appear at the bottom of the messages. If you are not a member, please register for an account.
Please review our Rules of Play before posting.
Posting is a two-step process. Once you have composed your message, you will be taken to the preview page. You will then have a chance to review your post, make changes and upload photos.
After posting your message, you may need to refresh the forum page in order to see it.
Before posting copyrighted material, please read about Copyright and Fair Use.
We have a strict no-advertising policy!
If you would like to practice posting or uploading photos, please visit our Test forum.
If you need assistance, please Contact Us and we will be happy to help.

Learn more about in-text links on this page here