Return to the Home Decorating Forum
|
Post a Follow-Up
---
| | | |
| --- | --- | --- |
| white cabinets with dark trim? | | |
Posted by
ashleymking
(
My Page
) on
Sat, Jun 12, 10 at 0:35
I'm in the process of finalizing my design decisions for a complete kitchen overhaul, and I'm really torn on the color I should choose for my cabinets.

Background: Our house is a 1930 brick tudor with original very dark stained, cherry wood trim throughout the main living areas (living room & dinning room) on the main floor. The kitchen and the bedrooms have painted trim--it's currently a cream, but I'm planning to change it to a more crisp white.

Here's the dilemma:
We're planning on knocking out the wall between the dinning room and kitchen to make the space feel larger. I'd prefer to do crisp white cabinetry and a carrera mable look-alike granite. However, I'm concerned that the stark white will be too much of a contrast to the dark wood trim in the adjoining dinning room. Is this going to look ridiculous? I've tried finding design images that show a similar look, but I haven't found antything--this concerned me even more.

If it's too much of a contrast, I've picked out a cream color for cabinets, but then that leaves me stumped for the countertops. I don't like the look of cream cabinets and white-ish granite. I'm also willing to consider painting the remaining trim white, but I worry this will affect our resale value as our house is in our neighborhood that prides itself on the historic integrity of the homes.

What do you think? Will I be making a mistake if I go with the true white cabinets? Will the design between the two rooms flow? Is there anything I can do to enhance this? (i.e. I thought about buying a dinning room rug with light colors and a lot of white in it)
---
Follow-Up Postings:
| | | |
| --- | --- | --- |
| RE: white cabinets with dark trim? | | |
ashleymking, sorry I didn't get back to you on your other thread. I thought I had some pictures of kitchens with dark trim but I can't find them. If you like the dark trim I think it will be just fine to mix the white cabinets and dark trim. I think it is more of a balancing act than anything else. Be sure to add some wood somewhere in your kitchen to make it flow and carry the eye. Yes it will be alot of contrast but IMO that can make a lovely room. Here are a few pictures that show great balance as well as alot of contrast. I think if any of these rooms had stained trim around the doors it would look beautiful. The first picture is of my girl Ina's kitchen.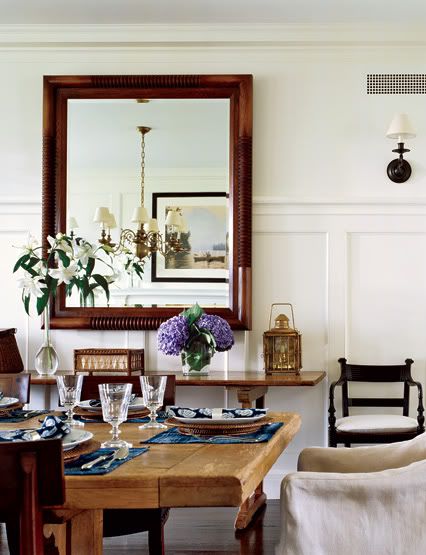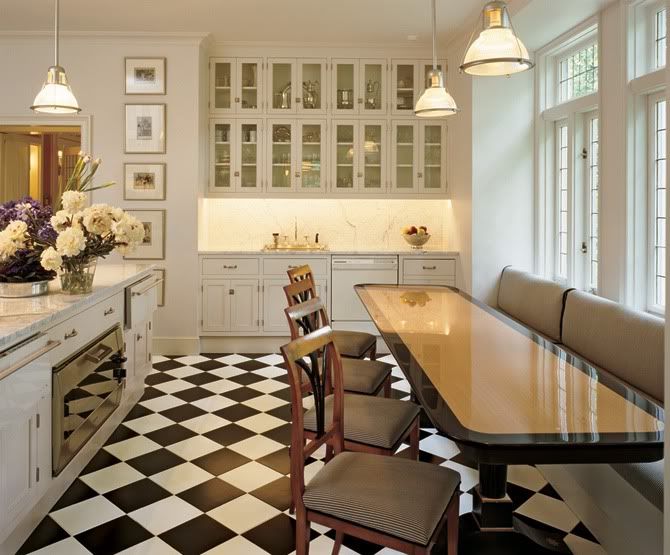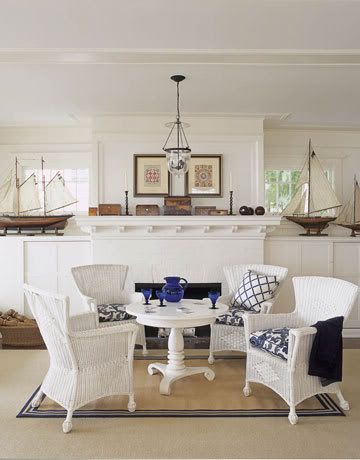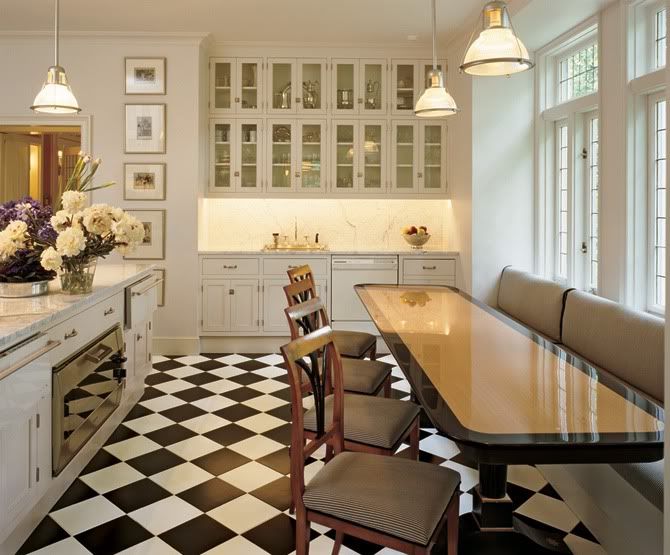 ---
| | | |
| --- | --- | --- |
| RE: white cabinets with dark trim? | | |
Would you consider a greenish-gray color insteaad of white? It would look great with white marble and it would be a little softer than white. Here are a few examples:

Allison's kitchen
http://www.atticmag.com/2008/11/french-gray-island-kitchen/

Willow's pantry:
http://willowdecor.blogspot.com/2009/01/my-new-butlers-pantry-before-and-after.html

Sally Wheat's kitchen:
http://lindsaychristensendesign.com/blog/2010/01/21/color-therapy-fieldstone-by-benjamin-moore/

Segbrown's kitchen:
http://ths.gardenweb.com/forums/load/kitchbath/msg1213550215424.html

But if your heart is set on white, that will look great too. I love mixing stained and painted finishes.
---
Post a Follow-Up
Please Note: Only registered members are able to post messages to this forum.
If you are a member, please log in.
If you aren't yet a member, join now!
---
Return to the Home Decorating Forum
Information about Posting
You must be logged in to post a message. Once you are logged in, a posting window will appear at the bottom of the messages. If you are not a member, please register for an account.
Please review our Rules of Play before posting.
Posting is a two-step process. Once you have composed your message, you will be taken to the preview page. You will then have a chance to review your post, make changes and upload photos.
After posting your message, you may need to refresh the forum page in order to see it.
Before posting copyrighted material, please read about Copyright and Fair Use.
We have a strict no-advertising policy!
If you would like to practice posting or uploading photos, please visit our Test forum.
If you need assistance, please Contact Us and we will be happy to help.

Learn more about in-text links on this page here